Could Aiken pull off a congressional surprise?
Political expert says singer has 'zero' chance of winning N.C. district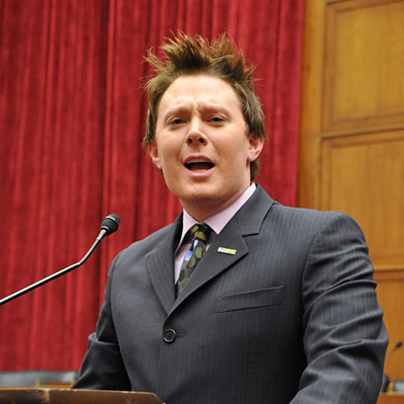 The possibility of a Clay Aiken candidacy for Congress has generated significant buzz as political observers say the gay singer and "American Idol" runner-up has plenty to offer, although big questions remain about whether he could pull off a win.
Last week, the Washington Blade first reported that Clay Aiken was "actively considering" a run for North Carolina's 2nd congressional district. In a follow-up report, the Washington Post confirmed that Aiken was weighing a bid for the seat, which is currently held by Rep. Renee Ellmers (R-N.C.).
Democratic sources familiar with his plans told the Blade that Aiken has spoken with the Democratic Congressional Campaign Committee, met with political operatives in Washington and Raleigh and paid a visit to the D.C.-based Hart Research Associates to examine polling.
It's unclear when — if at all — Aiken will make an announcement on whether he'll pursue a bid for Congress. Via Twitter, Raleigh news affiliate WRAL-TV reported that Aiken told a station producer prior to the Blade report that he wasn't running for Congress, but the singer hasn't said anything about a run directly since the Blade broke the story last week.
Ian Palmquist, former chief of Equality North Carolina, said he thinks the general election in a district largely comprised of the Raleigh suburbs, will be tough for any Democrat, but not impossible for Aiken.
"Clay Aiken has some real strengths: He's from the district, he's a former teacher, he's well-liked, and saying he has name recognition is an understatement," Palmquist said. "To be a strong candidate he would have to show voters a more policy-oriented side than they know him for now and earn the support of key primary constituencies, including African Americans."
Palmquist added Aiken's fame alone from his music and Broadway career after his 2003 stint on "American Idol" won't be enough to propel him to victory.
"His fan base doesn't necessarily align with his progressive politics, so he would have to expand his base of support significantly to succeed," Palmquist said.
Although a Republican currently sits in U.S. House seat for North Carolina's 2nd congressional district, the area was formerly represented by a Democrat in Congress prior to redistricting and the Tea Party boomlet in 2010.
Still, the district is favorable to Republicans. Ellmers won re-election in the district by taking 55.9 percent of the vote in the 2012 election — a year that was favorable to Democrats. Moreover, Republican presidential nominee Mitt Romney in the same year beat Obama in the district by 15.6 points.
Stuart Rothenberg, editor of the Rothenberg Political Report, said Aiken doesn't have a prayer in the general election against Ellmers.
"His chances of winning the general election? Probably approaching zero," Rothenberg said. "And that's being generous. Both McCain and Romney carried the district easily. It isn't competitive, especially in a midterm election with President Obama's job approval sitting where it is nationally."
Aiken, who came out as gay in 2008 in People magazine, also would have competition for the Democratic nomination to run for the seat. Former North Carolina Commerce Secretary Keith Crisco officially announced his candidacy on Monday. Also in the ring is Houston Barnes, an attorney.
The filing deadline to participate in the primary is Feb. 28. The primary itself in North Carolina is set for May 6.
The DCCC hasn't responded to the Blade's request for comment on a potential run by Aiken for weeks — before and after the initial report. DCCC spokesperson David Bergstein wouldn't confirm his interest in running to other media outlets, including Politico, but said Ellmers deserves a challenger.
"Congresswoman Ellmers is responsible for the most unpopular and reckless Congress in history that's put the middle class at greater risk but it's up to potential candidates to talk about whether they're interested in running for Congress, not us," Bergstein reportedly said.
The Ellmers campaign declined to comment on the possibility of going up against Aiken during the general election.
Although the "American Idol" runner-up is best known for his music and Broadway career, he's also drawn on his fame to promote causes as an activist. He co-founded the the National Inclusion Project, formerly the Bubel/Aiken Foundation, which seeks to help children with disabilities. Tapped as a national ambassador for the United States Fund for UNICEF in 2004, Aiken has travelled to Afghanistan, Indonesia, Uganda, Mexico, Kenya and Somalia as part of aid missions.
He's also taken part in LGBT activism. In 2012, just before North Carolina voted to approve a ban on same-sex marriage known as Amendment One, Aiken appeared on CBS' "Face the Nation" to speak out against the measure.
In 2010, the singer appeared at a briefing on Capitol Hill on behalf of the Gay, Lesbian & Straight Education Network, or GLSEN, to urge passage of anti-bullying legislation with LGBT protections known as the Student Non-Discrimination Act and the Safe Schools Improvement Act.
Daryl Presgraves, a GLSEN spokesperson, said GLSEN started working with Aiken four years ago, and in addition to wanting to use his platform to protect LGBT youth, he showed a specific interest in policy.
"After he gave a powerful and moving speech at a congressional briefing we held in 2010 in support of the Safe Schools Improvement Act and Student Non-Discrimination Act, it wouldn't have surprised any of us at GLSEN if you told us that he would consider running for office one day," Presgraves said. "He has a clear passion for helping others and recognizes the power to do so through policy."
Pete Buttigieg calls out Tucker Carlson over attack
Fox News host mocked transportation secretary over paternity leave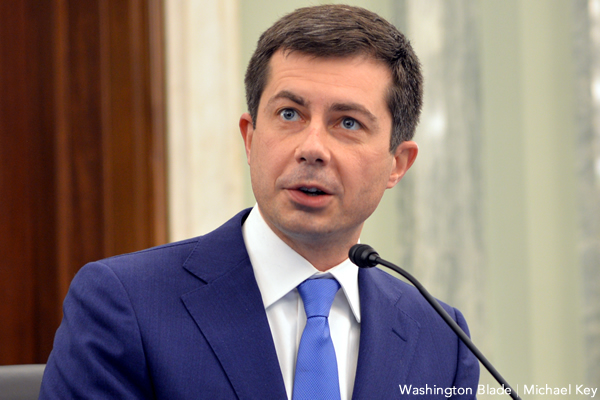 Appearing remotely on MSNBC's Nicolle Wallace's politics program Friday, U.S. Transportation Secretary Pete Buttigieg called out Fox News host Tucker Carlson for the attack on his parental leave.
"This attack is coming from a guy who has yet to explain his apparent approval for the assassination of Harvey Milk, " Buttigieg said.
During his Thursday evening program Carlson said, "Pete Buttigieg has been on leave from his job since August after adopting a child—paternity leave, they call it—trying to figure out how to breastfeed. No word on how that went. But now he's back in office as the transportation secretary and he's deeply amused, he says, to see that dozens of container ships can't get into this country."
Sec. Pete Buttigieg calls out Tucker Carlson for the attack on his parental leave, "This attack is coming from a guy who has yet to explain his apparent approval for the assassination of Harvey Milk, " pic.twitter.com/DsyQgCyUNO

— Sarah Reese Jones (@PoliticusSarah) October 15, 2021
Tucker Carlson mocks Pete Buttigieg for taking paternity leave: "Paternity leave, they call it, trying to figure out how to breastfeed, no word on how that went." pic.twitter.com/zFnp6uSser

— nikki mccann screamírez 👻 (@NikkiMcR) October 15, 2021
'Mercenarismo': El delito que la Seguridad del Estado de Cuba usa para presionar al activista LGBTQ Raúl Soublett
Se realizó la interrogación el 9 de octubre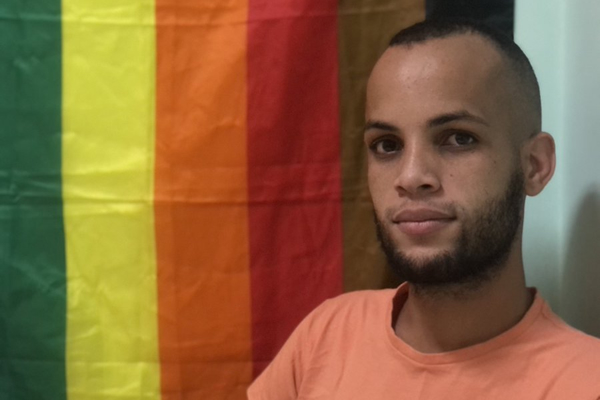 Tremenda Nota es el socio mediático del Washington Blade en Cuba. Esta nota salió en su sitio web el 9 de octubre.
LA HABANA — El activista LGBTIQ+ Raúl Soublett López fue amenazado este sábado durante una entrevista con la Seguridad del Estado con un proceso penal por "mercenarismo".
"Cualquier tipo de lucha en #Cuba puede ser criminalizada. A Raúl Soublett López ahora lo quieren procesar por mercenarismo y la notificación se la hace un tipo que tiene tanto miedo que no da ni su nombre real", denunció la periodista María Matienzo en sus cuentas de Facebook y Twitter.
Según Matienzo, el argumento de la Seguridad del Estado para probar el «mercenarismo» de Raúl Soublett es una serie de videos contra el racismo y la homofobia que produjo el activista.
Al menos uno de esos videos fue publicado por Tremenda Nota.
Camino al Código de las Familias, uno de los videos de Raúl Soublett señalados por la Seguridad del Estado como "mercenarismo"
La Alianza Afro-Cubana, una organización independiente que coordina el propio Soublett, informó este viernes que el activista había sido citado en la mañana del sábado para una entrevista con "agentes de la Seguridad del Estado" en una unidad de policía ubicada en Playa, La Habana.
En coincidencia con la citación, este sábado Raúl Soublett debió asistir a la universidad, donde cursa el último año de una licenciatura en Pedagogía.
María Matienzo advirtió en Facebook que "las citaciones con menos de 72 horas de antelación son ilegales también".
El mismo día que citaron a Soublett, el presidente Miguel Díaz-Canel se reunió con activistas LGBTIQ+ y funcionarios del Centro Nacional de Educación Sexual (Cenesex). Malú Cano, la coordinadora de la red TransCuba, que fue una de las invitadas, calificó el encuentro como una evidencia de la "voluntad política de avanzar en el reconocimiento de los derechos de las personas LGBTIQ+".
Matienzo, que también es lesbiana, observó la coincidencia entre ambos incidentes.
"Ante una comunidad #LGTBIQ que se reúne con el poder en #Cuba, quieren procesar al activista @RaulSoublett", observó en Twitter.
El propio Soublett posteó en Facebook: "Mientras hay activistas LGBTIQ+ que no se les escuchan, que los acosan, los citan para interrogatorios ilegales, en fin. Esa es la Cuba de ponle corazón. Hipócritas".
El pasado 25 de febrero, Raúl se reunió con la Seguridad del Estado y acabó autoagrediéndose como resultado de la presión.
"Fue interrogado por más de cuatro horas, según me describe las cuatro horas más horribles de su vida, en la cual usaron los más bajos recursos de intimidación, chantaje, coacción y sobre todo mucha violencia tanto psicológica como verbal", relató en esa ocasión el periodista Héctor Luis Valdés Cocho.
Según el Código Penal vigente en Cuba, el delito de "mercenarismo" consiste en incorporare "a formaciones militares integradas total o parcialmente por individuos que no son ciudadanos del Estado en cuyo territorio se proponen actuar" a cambio de "un sueldo u otro tipo de retribución material".
Las sanciones previstas para estos casos son hasta 20 años de cárcel o muerte.
Un experto en Derecho consultado por Tremenda Nota, que pidió reservar su identidad, considera que "esta amenaza no pasa de ser un recurso de tortura psicológica". "Ese delito es improcedente en este caso y eso sería obvio para cualquiera", añadió.
Texas House approves anti-trans youth sports bill
HB 25 now heads to state Senate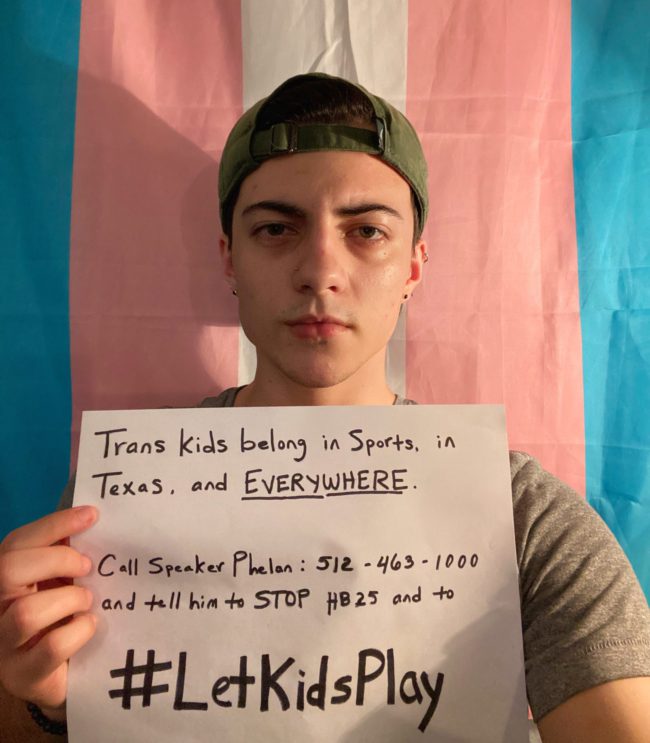 Texas House Republicans were able to push through the anti-trans youth sports measure Thursday evening after hours of emotional and at times rancorous debate, passing the bill in a 76-54 vote along party lines.
Under the provisions of Texas House Bill 25, all trans student athletes in grades K-12 will be prohibited from competing on sports teams aligned with their gender identity. The bill will now head to the Senate, where it is expected to pass.
The Texas Tribune reported that the University Interscholastic League, which governs school sports in Texas, already requires that an athlete's gender be determined by the sex listed on their birth certificate. Republican Rep. Valoree Swanson, R-Spring, the author of HB 25 has said the bill would simply "codify" existing UIL rules.
However, UIL recognizes any legally modified birth certificates. That policy could accommodate someone who may have had their birth certificate changed to match their gender identity, which can sometimes be an arduous process.
HB 25 would not allow recognition of these legally modified birth certificates unless changes were made because of a clerical error. It's not clear though how it will be determined if a birth certificate has been legally modified or not. According to the UIL, the process for checking student birth certificates is left up to schools and districts, not the UIL the Tribune reported.
"To say that tonight's passage of HB 25 is devastating is an understatement. For the past 10 grueling, exhausting, and deeply traumatic months, trans youth have been forced to debate their very existence—only to be met by the deaf ears and averted eyes of our state's leaders," Landon Richie, a GenderCool Project leader, University of Houston student and Transactivist told the Washington Blade after the vote.
"Make no mistake: This bill will not only have detrimental impacts on trans youth, who already suffer immense levels of harassment and bullying in schools, but also on cisgender youth who don't conform to Texas's idea of 'male' or 'female.' To trans kids everywhere: you belong, you are loved, you are valued, you are deserving of dignity, respect, care and the ability to live freely as your true and authentic selves, no matter where you are. We will never stop fighting for trans lives and a future where trans kids are unequivocally and unwaveringly celebrated for who they are," Richie said.
"The cruelty of this bill is breathtaking, and the legislators who are pushing it forward are doing irreparable harm to our state. Texas is a place where people value freedom and respect for diversity. This bill is a betrayal of those cherished values, and future generations will look back on this moment in disbelief that elected officials supported such an absurd and hateful measure," Shannon Minter, legal director for the National Center for Lesbian Rights told the Blade. "The families of these kids deserve better, and the burden is now on the rest of us to do everything in our power to stop this dangerous bill now," he added.
During the debate on the measure, state Rep. James Talarico, (D-Round Rock), a former middle school teacher, began his remarks by apologizing to the trans kids and families who have gone to the Capitol time and time again this year. He tells the chamber he speaks now as a legislator, and educator, and a Christian.
He quoted Republican Rep. Valoree Swanson, R-Spring, the author of HB 25 who said "if one girl wins a game, it's worth it." He says he has a different moral yardstick. "If one trans kid dies for a trophy, this bill is grotesque."
He ended speaking to his "fellow believers" in the chamber. "The worst part in these hearings have been in hearing the Bible used against trans kids to support these bills. Even tonight, 'God's law' was used to present an amendment." He then quoted the first two lines of the Bible, where God is referred to with two different Hebrew words, one masculine/one feminine. "God is non-binary." He then prevented an interruption in the chamber and continued telling trans kids that he loves them.
Fellow Democratic state Rep. Jessica González, (D-Dallas County), vice-chair of the Texas House LGBTQ Caucus asked the chamber how many trans Texas kids they are willing to hurt. She reminded her fellow representatives that cisgender women and girls will also be hurt by the bill. She shared a personal story about being outed in high school by a friend, having her locker, home, and car vandalized and losing all of her friends. "Kids are cruel."
González told lawmakers that her brother encouraged her to try out for soccer, and she was bullied with comments like "shouldn't she be trying out for the boys' team." She went from feeling a bit accepted to being an outsider again. She then reflected on carrying those feelings into adulthood and said that this bill will have long-term affects on trans kids. She asked legislators to listen to the stories of the trans kids who have bravely testified, saying kids will contemplate suicide or complete suicide.
Representative Diego Bernal, (D-San Antonio), told the chamber that some representatives can't wrap their heads around knowing that there is no problem but there is *real* harm to trans kids, and for whatever reason, that's not enough it seems to stop moving these bills.
He said that he has heard "if they already have mental health issues and suicide ideation, this can't make it worse" and "if the debate is harming them, let's just vote." The he breaks down the Texas statute's definition of bullying, telling lawmakers, "The bullying statute doesn't have an intent requirement. It doesn't matter if you don't mean to cause them harm. We are bullying these students. Know that by law … our own definitions and our own words, we are. And we don't have to."
"Texas lawmakers voted today to deliberately discriminate against transgender children. Excluding transgender students from participating in sports with their peers violates the Constitution and puts already vulnerable youth at serious risk of mental and emotional harm," Adri Perez, policy and advocacy strategist at the ACLU of Texas said in a statement to the Blade.
"There is no evidence that transgender kids pose any threat. It is indefensible that legislators would force transgender youth and their families to travel to Austin to defend their own humanity, then blatantly ignore hours of testimony about the real damage this bill causes. Trans kids and their families deserve our love and support—they've been fighting this legislation for months. Texans will hold lawmakers accountable for their cruelty," she added.
The statewide LGBTQ+ advocacy group Equality Texas in a tweet after the vote said; " We will not stop fighting to protect transgender children." Then added "We'll continue to educate lawmakers—replacing misinformation with real stories—and demand the statewide and federal nondiscrimination protections we need to prevent further harms."
We'll continue to educate lawmakers — replacing misinformation with real stories — and demand the statewide and federal nondiscrimination protections we need to prevent further harms.

— Equality Texas (@EqualityTexas) October 15, 2021