Kerry says U.S. 'deeply concerned' about Nigeria anti-gay law
Sec'y of State says draconian measure 'inconsistent' with int'l legal obligations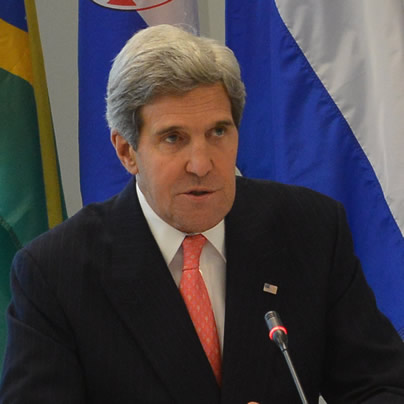 Secretary of State John Kerry said Monday the United States is "deeply concerned" about a draconian anti-gay measure signed into law in Nigeria that includes punishments of up to 14 years in prison.
"The United States is deeply concerned by Nigeria's enactment of the Same Sex Marriage Prohibition Act," Kerry said. "Beyond even prohibiting same sex marriage, this law dangerously restricts freedom of assembly, association, and expression for all Nigerians."
According to Reuters, Nigerian President Goodluck Jonathan signed the measure on Monday. It contains penalties of up to 14 years in prison and bans not only same-sex marriage and same-sex "amorous relationships," but also membership in LGBT rights groups.
Kerry's said the Nigeria law is "inconsistent" with country's international legal obligations and "undermines" democratic reforms as well as human rights protections within Nigeria's constitution.
"People everywhere deserve to live in freedom and equality," Kerry concludes. "No one should face violence or discrimination for who they are or who they love. We join with those in Nigeria who appeal for the protection of their fellow citizens' fundamental freedoms and universal human rights."
The national assembly had passed the measure last May, but the Nigerian president reportedly had delayed signing it into law.
A White House official said Kerry's statement on the anti-gay law "reflects our views," but referred to the State Department for more information.
Kerry's full statement follows:
STATEMENT BY SECRETARY KERRY

Deep Concern with Nigeria's Enactment of the Same Sex Marriage Prohibition Act

The United States is deeply concerned by Nigeria's enactment of the Same Sex Marriage Prohibition Act.

Beyond even prohibiting same sex marriage, this law dangerously restricts freedom of assembly, association, and expression for all Nigerians.

Moreover, it is inconsistent with Nigeria's international legal obligations and undermines the democratic reforms and human rights protections enshrined in its 1999 Constitution.

People everywhere deserve to live in freedom and equality.  No one should face violence or discrimination for who they are or who they love.

We join with those in Nigeria who appeal for the protection of their fellow citizens' fundamental freedoms and universal human rights.
Longtime D.C. LGBTQ rights advocate, event promoter Jacob Pring dies at 47
Popular events included parties for people with HIV and 'Gay Day' at National Zoo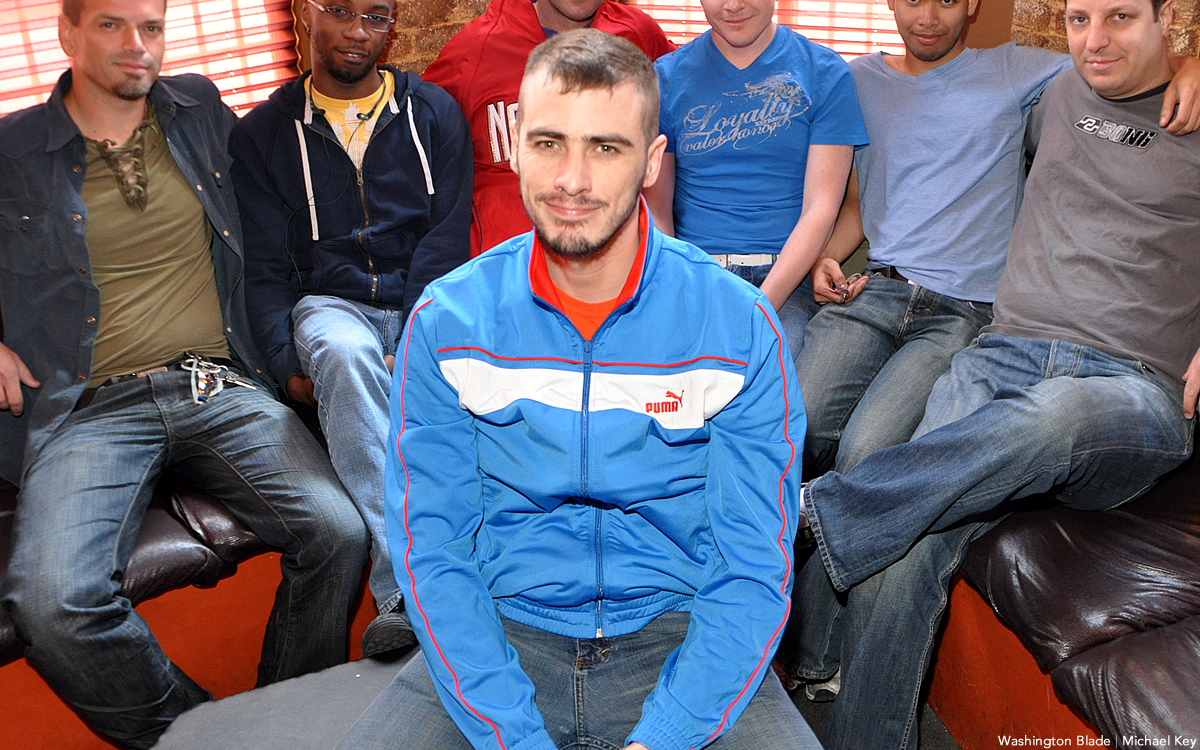 Jacob Nathaniel Pring, a D.C.-area LGBTQ rights advocate whose career included working as a mortgage loan officer and Lyft driver by day while organizing social events and parties at night and on weekends at D.C. gay bars and other venues, including "Gay Day" at the National Zoo, died Sept. 26, at his home in Springfield, Va. He was 47.
His longtime friend Nicholas DiBlasio said another friend and housemate at the group home where Pring lived found him deceased in his room. DiBlasio said Pring's passing was sudden and unexpected and friends and family members were awaiting the results of toxicology tests associated with an autopsy performed by the Virginia Office of the Chief Medical Examiner to determine the cause of death.
"Jacob was a good man, and he had an engaging personality and a marvelous smile," according to Sasha Chijoku, one of his housemates who posted a tribute to Pring on Facebook. "Above all, Jacob's personality was big, and the only thing that was perhaps bigger was his smile," she wrote.
DiBlasio and others who knew him and posted messages on social media said Pring for many years organized and promoted weekly leather-oriented events at gay clubs and other LGBTQ supportive clubs. Among them were the events held at the D.C. gay bar Green Lantern and the LGBTQ-friendly nightclub Crucible called CODE and XXX parties.
In a January 2013 interview with the Washington Blade, Pring said between 100 and 150 mostly gay men turned out for those events.
"There's always new people coming in," he said. "People bring their friends. It's fun. No attitude, no drama."
DiBlasio said Pring was born and raised in Pennsylvania. Pring's Facebook page says his hometown was Levittown, Pa. Pring's LinkedIn page says he studied computer engineering at Temple University in Philadelphia from 1998-1999 and studied biology at the University of the District of Columbia from 2014-2017, where DiBlasio says he believes Pring received his bachelor's degree.
"I served in the U.S. Air Force and the Air National Guard," Pring stated in a September 2020 Facebook posting. "I chose to do my part to keep our country safe," he wrote, adding, "This stuff about Trump saying crazy things he has said makes me so angry! Please vote that asshole out! Please!"
Pring, an outspoken supporter of LGBTQ rights, makes it clear in his social media postings that he was a staunch Democrat.
While a student at UDC in 2015, Pring created a student military veterans group called VIRTUES, which he said stood for "Values, Integrity Readiness, Tenacity, Unity, Excellence, and Service."
In his LinkedIn page, Pring says he worked from 2003 to 2006 as a Senior Mortgage Consultant for the firm Preferred Service Mortgage and in the following year, he held a similar position with Access National Mortgage. It says that beginning in 2020 he served as a loan officer with Intercostal Mortgage LLC.
DiBlasio said about a year later in 2021 Pring switched jobs to resume working as a Lyft driver, which he had been doing periodically in earlier years.
David Mariner, former executive director of the D.C. Center for the LGBT Community, praised Pring for creating yet another important event – Gay Day at the Zoo – which Mariner said served and continues to serve as a fundraising event for the D.C. Center
"He was out as an HIV-positive person and created social spaces for poz men," Mariner said in a Facebook posting this week.
Mariner was referring to Pring's launching of a series of "Poz" events for both people with HIV and their friends and loved ones.
"The Poz events bring faces to the disease & helps eliminate the STIGMA surrounding people with HIV/AIDS," Pring stated in a Facebook message. "The DJs are HIV+ & Jacob Nathaniel Pring himself has been Poz for 7 years!" his message states.
Pring's friends have pointed to other social media postings by Pring discussing his own struggles with substance abuse and depression. But in recent years, Pring's postings have said the support he received from counseling and support groups helped him "walk away" from drug use.
"I have had a blessed life," he wrote in a Sept. 7, 2020, Facebook posting. "Walking away from the drugs for good has me sitting here reminiscing of younger days," he wrote. "We don't get to go back but we sure do get to live an older life. I switched gears," he continued.
"Sex ran my life for 30 years. Now, I feel like a retired older elder," he stated. "I have lived life to the fullest. I can't imagine what life has left in store for me. But I have reached a new mental frontier. I feel lucky and blessed to have made it to this new age of living!!!"
But DiBlasio said about one year later the death of Pring's mother, to whom he was very close, took an emotional toll on him. "That was about a year ago and that hit him pretty hard," DiBlasio said.
Another one of Pring's friends, who identifies himself on Facebook as Mike Di, appeared to sum up Pring's life as he was known to many of his friends and loved ones in a posting on the day he learned of Pring's passing.
"Jacob, I am so sad to hear the news of your passing tonight. The progress you made over the past 10+ years putting yourself through school, tackling the demons, living clean, etc. It was all remarkable and I'm so proud of you," he wrote.
"I'm grateful that you left about a thousand pics of yourself (& with friends) here on your Facebook," Di said. "It's a gift really…you can never be forgotten, nor the highs and lows of the last 15 years of your life that are documented in the pics."
Chijoku added in her tribute to Pring, "He was a fine man, and certainly Heaven is being greeted right now with the toothiest grin I've ever had the pleasure to know!"
No immediate plans could be found for funeral arrangements or a memorial service.
DiBlasio said Pring was predeceased by his mother and is survived by his father, at least one brother and one sister, and many friends. Among the friends are Nicholas DiBlasio, Sasha Chijoku, Todd Westberg, Babak Movahedi, John Madej, and Tommy Sanders.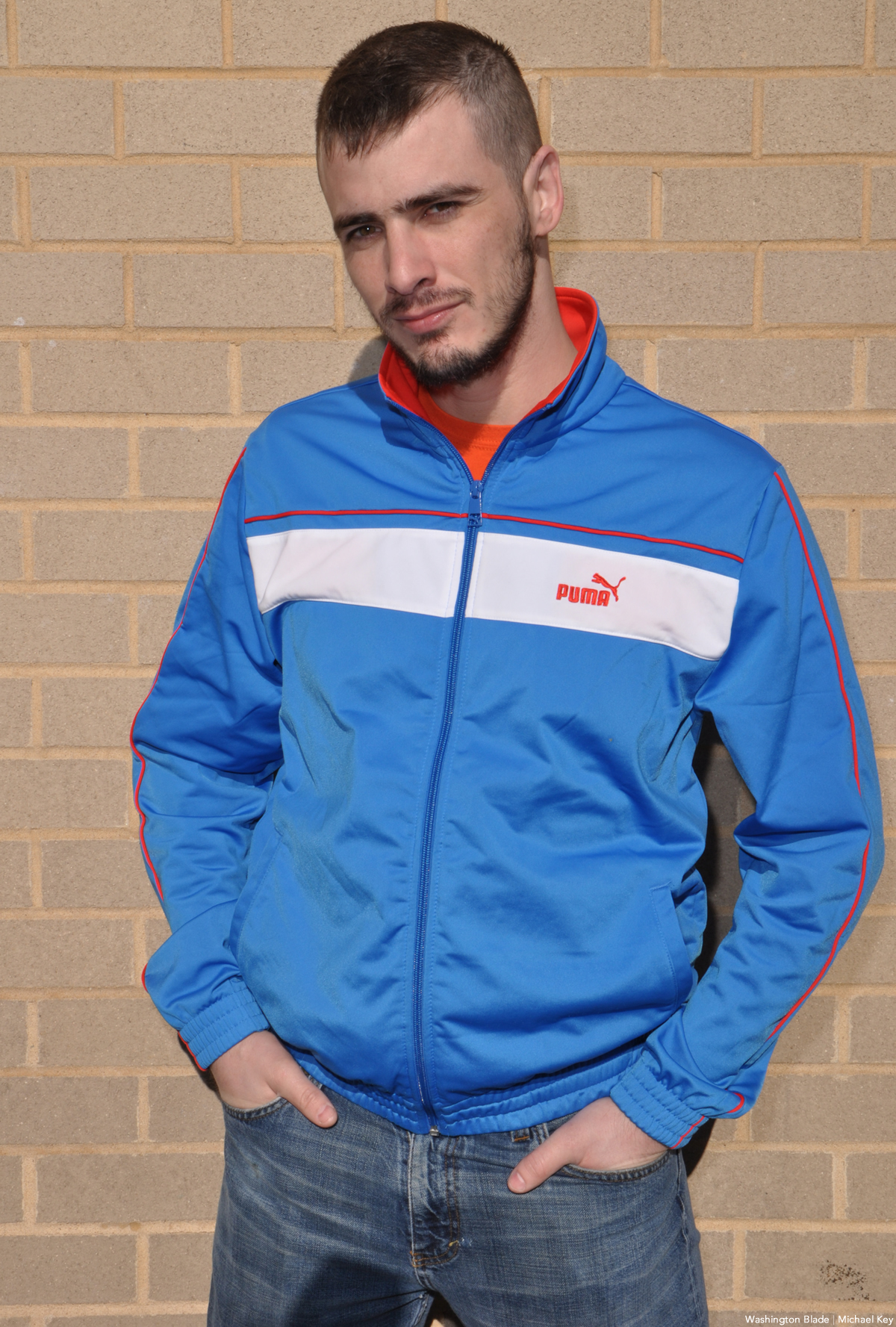 The unvaccinated are 14 times more likely to contract monkeypox: health officials
Guidance updated to allow shots in places other than forearm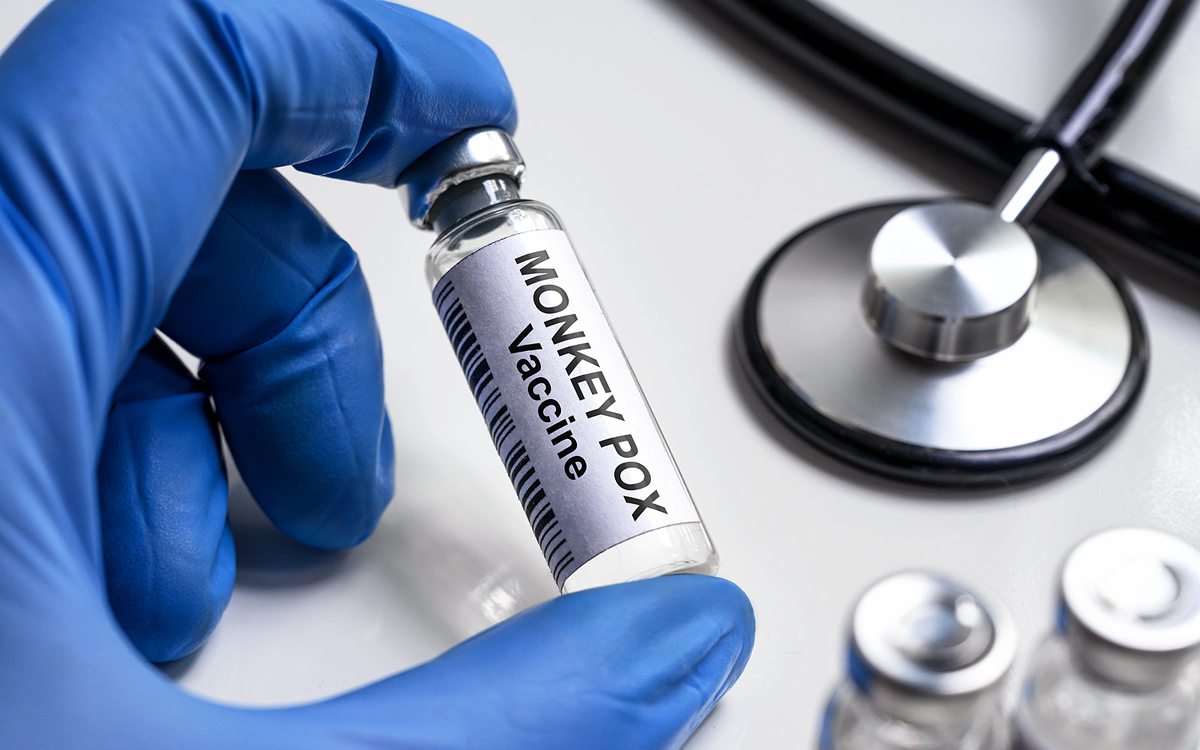 U.S. health officials are celebrating preliminary data on the vaccine used in the monkeypox outbreak, which has led them to conclude eligible persons who didn't get a shot were 14 times more likely to become infected than those who are vaccinated.
The new data, as described by health officials on the White House monkeypox task force during a call with reporters on Wednesday, comes as the overall number of new cases of monkeypox is in sharp decline, although considerable racial disparities persist in the remaining cases as Black and Latino people are overrepresented in the numbers.
Rochelle Walensky, director of the Centers for Disease Control & Prevention, said during the conference call the preliminary data — collected from 32 states between July 2022 and September 2022 — provides an early shapshot of the effectiveness of the vaccine and cause for optimism on the path forward.
"These new data provide us with a level of cautious optimism that the vaccine is working as intended," Walkensky said. "These early findings and similar results from studies and other countries suggest even one dose of the monkeypox vaccine offers at least some initial protection against infection."
Walensky during the conference call admitted the data is incomplete in numerous ways. For example, the data is based on information on individuals who have obtained only the first shot as opposed to both shots in the two-shot vaccination process. (The data showing positive results from individuals who have only one shot contradicts previous warnings from the same U.S. health officials that one shot of the monkeypox vaccine was insufficient.)
The data also makes no distinction between individuals who have obtained a shot through subcutaneous injection, a more traditional approach to vaccine administration, as opposed to intradermal injection, which is a newer approach adopted in the U.S. guidance amid the early vaccine shortage. Skeptics of the new approach have said data is limited to support the idea the intradermal injection is effective, particularly among immunocompromised people with HIV who have been at higher risk of contracting monkeypox.
Not enumerated as part of the data were underlying numbers leading health officials to conclude the unvaccinated were 14 times more likely to contract monkeypox as opposed to those with a shot, as well as any limiting principle on the definition of eligible persons. Also unclear from the data is whether individual practices in sexual behavior had any role in the results.
Despite the positive data on the monkeypox vaccine based on one shot, U.S. health officials warned during the conference call the two-shot approach to vaccine administration is consistent with their guidance and more effective.
Demetre Daskalakis, the Biden administration's face of LGBTQ outreach for monkeypox and deputy coordinator for the White House monkeypox task force, made the case that for individuals at risk obtaining a second dose is "really important."
"So we see some response after the first [shot] in the laboratory, but the really high responses that we want to really get — that you know, level 10 forcefield as opposed to the level five forcefield — doesn't happen until the second dose," Daskalakis said. "So the important message is this just tells us to keep on trucking forward because we need that second dose at arms that people haven't gotten the first should start their series of two vaccines."
Also during the call, health officials said they would be expanding opportunities for vaccines as pre exposure prophylaxis, as opposed to practices in certain regions granting vaccines in their limited supply to individuals who meet certain criteria or have had risk of exposure.
The Centers of Disease Control & Prevention, officials said, is also updating its guidance to allow injection of the vaccines in places other than a patient's arm.
Daskalakis said fear of stigma about getting a noticeable shot in the forearm after obtaining a monkeypox vaccine was a key part of the decision to issue the new guidance on implementation.
"Many jurisdictions and advocates have told us that some people declined vaccine to monkeypox because of the stigma associated with the visible but temporary mark often left on their forearm," Daskalakis said. "New guidance from CDC allows people who don't want to risk a visible mark on their forearm to offer a vaccine on their skin by their shoulder or their upper back. Those are areas more frequently covered by clothes."
Former FreeState Justice executive director denies allegations against them
Jeremy LaMaster denies they launched 'coordinated attack'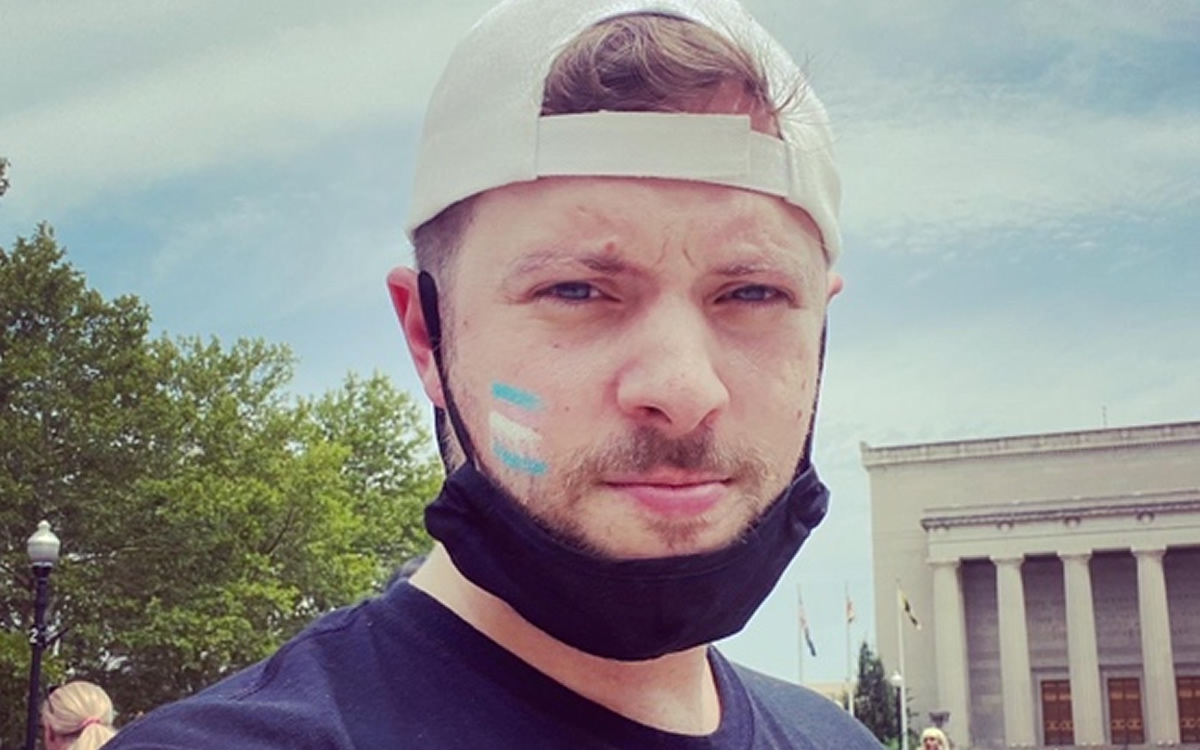 The former executive director of FreeState Justice on Tuesday denied they have launched a "coordinated attack" against their former organization.
Jeremy LaMaster on Sept. 19 announced their resignation after they said FreeState Justice"s board of directors declined their request to step down.
FreeState Justice two days later in a federal court filing against LaMaster said they "immediately began a coordinated attack on FreeState's operations; in particular, its IT assets" after they left a Sept. 16 meeting in which the board informed them they "were relieved of their duties, and the final two weeks of their employment were to be spent cooperating in the transition of FreeState's operations."
"When FreeState discovered LaMaster's improper interference, it terminated their employment effective immediately, ordered them to cease and desist and to rectify their actions," reads the court filing. "LaMaster did not abide and continued to hijack and misappropriate FreeState's IT infrastructure and documents."
"What would hacking into someone's email and deleting an email do," LaMaster told the Washington Blade during a FaceTime interview.
LaMaster, who uses they/them pronouns, told the Blade they started "working on this transition stuff" once they returned home from the Sept. 16 meeting and "I started getting error messages for our intake system."
"After the Sept 16 meeting, someone else, not me, began deactivating email accounts, including mine, breaking workflows for our client intake and other processes, causing a lot of problems for our IT infrastructure," said LaMaster on Wednesday in a follow-up text message.
LaMaster said they began to receive text messages on Sept. 18 about "criminal charges" and "allegations."
LaMaster told the Blade they tried to call now FreeState Justice Executive Director Phillip Westry on Sept. 18, but he did not accept his call.
"I sent an email to the team about this is what happened, this is what I was doing,'" said LaMaster. "Some of our things are down. Please let me know."
LaMaster said they sent a Slack message to Westry and now Deputy Executive Director Tina Jones on the morning of Sept. 20 in order to "help transition IT." LaMaster told the Blade they "learned about the restraining order and a number of IT issues and allegations when everyone else did."
LaMaster, who is representing themself, attended a court hearing in Baltimore on Monday.
LaMaster told the Blade that they said they could provide passwords to their FreeState Justice email account. LaMaster said they provided the passwords to all other software systems the organization uses.
LaMaster sent the Blade a screenshot of a text message thread between them and Jones.
"Please provide the the (sic) appropriate login credentials and administrator access to all FreeState Justice systems," Jones told LaMaster. "Please do not attempt to access any systems or the office."
"As I mentioned yesterday — I do not know the passwords off the top of my head and will need to either 1) test them or 2) reset them. This required accessing the systems," responded LaMaster. "I'm not being obtuse — but you've all made a large number of false (and impossible) accusation based on the very limited understanding of our tech, or tech in general (not being rude, but y'all know it's true.)
"Like I said, I think a phone call or Zoom, we can even record it so that I cam (sic) do/show exactly what I am doing," added LaMaster. "I'm here for the lawyer robot responses and the desire for retaliation to continue to block FreeState legal services delivery, and then turn around and blame you (sic) lack of cooperation and knowledge on me."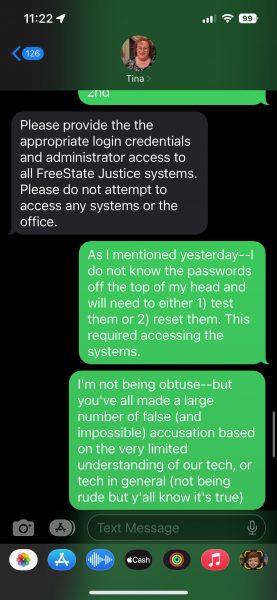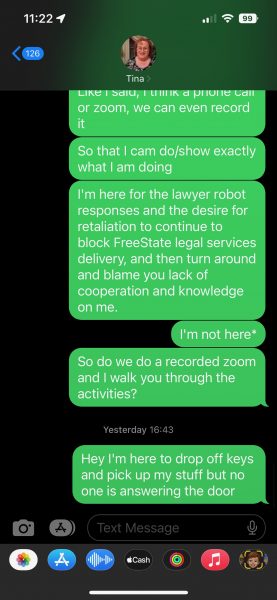 LaMaster told the Blade they were "supposed to return items and keys and such" to FreeState Justice's offices at 4:30 p.m. on Tuesday, but "no one was there." The text thread shows LaMaster texted Jones at 4:43 p.m. to let her know that they're "here to drop off keys and pick up my stuff, but no one is answering the door."
"They're still holding my personal belongings and not accepting my keys and FSJ (FreeState Justice) checks," LaMaster told the Blade.
Board has 'white supremacist culture'
LaMaster in June 2020 succeeded Mark Procopio as executive director.
LaMaster in their resignation letter said they stepped down after board members refused their request to immediately step down "due to persistent violations of our board handbook, consistent failures in their fiduciary responsibilities, and using positions of power to engage in partisan lobbying within FreeState Justice and their repeated refusal to add new members and leadership to the board."
LaMaster in his email noted they "exhausted every avenue over the past two years to get our board fully staffed and running, and I made good faith efforts to work with the board to ensure that our clients and low-income LGBTQ Marylanders remained at our center."
"Instead, the board has refused to accept any new board members since 2021 and refused to staff and run core board activities as per our handbook," wrote LaMaster. "Instead, they have worked to consolidate power and amend the board handbook in secret to lower the minimum number of board members required and ensure that our policy positions prioritize relationships with legislators, not the best interests of our clients and community. I have provided clear warnings and consistent concerns over these issues that were repeatedly ignored."
LaMaster reiterated his criticism of the board when they spoke with the Blade.
"As with most nonprofits, I'm sure if you talk to any executive director, they will tell you the large number of challenges that comes to board and nonprofit boards and cultivating and building them and supporting them. There have been chronic issues for two years now," they said.
"I think everyone gets a pass with the (COVID-19) pandemic, but at some point, stop getting passes," LaMaster added. "There was just a lot of really poor decision making that was costing the organization money, and really not fulfilling core responsibilities laid out in our board handbook."
LaMaster specifically noted the board's abrupt decision in May 2022 to stop offering COVID-19 vaccines to people experiencing homelessness after FreeState Justice's landlord "did a full Karen" and "went to the board and was complaining about a whole lot of things, the majority of which were not true."
"It basically screwed six or seven of our homeless clients out of getting their second dose," they said.
LaMaster also said board members did not take their calls for more advocacy on behalf of LGBTQ students in Maryland seriously. LaMaster further accused board members of threatening FreeState Justice's 501(c)(3) status because of their ties to politicians they didn't specifically identify.
"We don't exist to help politicians get easy wins and in the General Assembly," said LaMaster. "We exist to provide widespread advocacy work and transparent information to the community."
LaMaster also accused board members of engaging in unethical behavior.
They said Brianna January, the board's vice president, repeatedly asked FreeState Justice staff to secure funding that would allow her to be hired as the organization's policy director. LaMaster provided the Blade with a text message in which January asked them to hire her.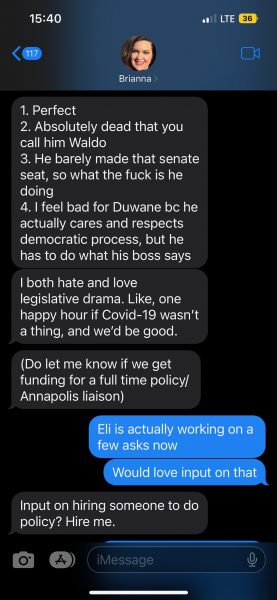 LaMaster further reiterated their previous claim the board engages in white supremacism.
"When I say white supremacist culture within the board, this response is case and point of that culture, of that type of culture," they said.
Westry on Wednesday declined to comment on LaMaster's allegations.
"FreeState Justice has provided comments on this issue to several publications about the ongoing litigation with Jeremy LaMaster," Westry told the Blade in an email. "We are in active litigation with LaMaster and will offer no further comment."