Nevada AG re-evaluating defense of marriage ban
Masto says previous arguments against gay nuptials 'are likely no longer tenable'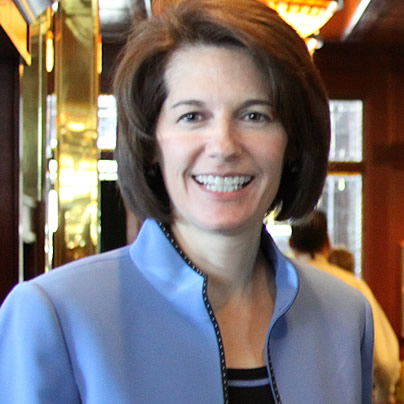 The attorney general of Nevada has announced she's re-evaluating her defense of the state's marriage ban in court, saying her previous arguments are "likely no longer tenable."
Nevada Attorney General Catherine Cortez Masto, a Democrat who filed a 55-page legal brief on Tuesday defending her state's ban on same-sex marriage, said in a statement late Friday she's reconsidering her position following a significant ruling in favor of gay rights.
"A potentially significant case was decided by the Ninth Circuit on Tuesday of this week, the same day that a brief was filed on behalf of the State in Nevada's same-sex marriage case," Masto said. "The Ninth Circuit's new decision, entitled SmithKline Beechum Corp. v. Abbott Laboratories, appears to impact the equal protection and due process arguments made on behalf of the State. After careful review of the SmithKline decision these arguments are likely no longer tenable in the Ninth Circuit."
Masto took criticism not only for defending her state's ban on same-sex marriage when other Democrats, most recently Virginia Attorney General Mark Herring, have declined to defend similar laws, but also for invoking incest and bigamy in her argument against marriage equality before the U.S. Ninth Circuit Court of Appeals.
But the brief was filed on the same day the Ninth Circuit handed down a landmark decision in case of SmithKline Beechum Corp. v. Abbott Laboratories. The three-judge panel on the Ninth Circuit ruled a court cannot exclude jurors from a case based on their sexual orientation, applying heightened scrutiny, a greater assumption a law is unconstitutional, to the decision.
As legal experts have pointed out, the application of heightened scrutiny in that case holds legal precedent in the Ninth Circuit on laws related to sexual orientation and makes it more likely courts within the jurisdiction will rule marriage bans are unconstitutional.
Although Masto argued in her brief Nevada's constitutional ban on same-sex marriage shouldn't be subjected to heightened scrutiny, her statement on Friday reveals she reconsidering that view.
"This office will conduct further review over the weekend in order to evaluate the State's argument in light of SmithKline," Masto said. "We will be discussing this with the governor's office next week."
Derek Washington, lead organizer for the LGBT group GetEQUAL Nevada, said he's "still gobsmacked" by the invocation of bigamy and incest in Masto's earlier brief and urged her to make a decision in favor of marriage equality.
"I have said from the beginning let's stop pussyfooting around while states all around us are getting marriage equality (and our money)," Washington said. "Let's go to the courts every which way. I want to go World War 3 on this. We are the wedding capital of the entire world. Economically Nevada needs marriage equality right now, not in a few years."
Candidates pledge support for anti-trans policies at second GOP presidential debate
Seven Republican hopefuls took the stage Wednesday night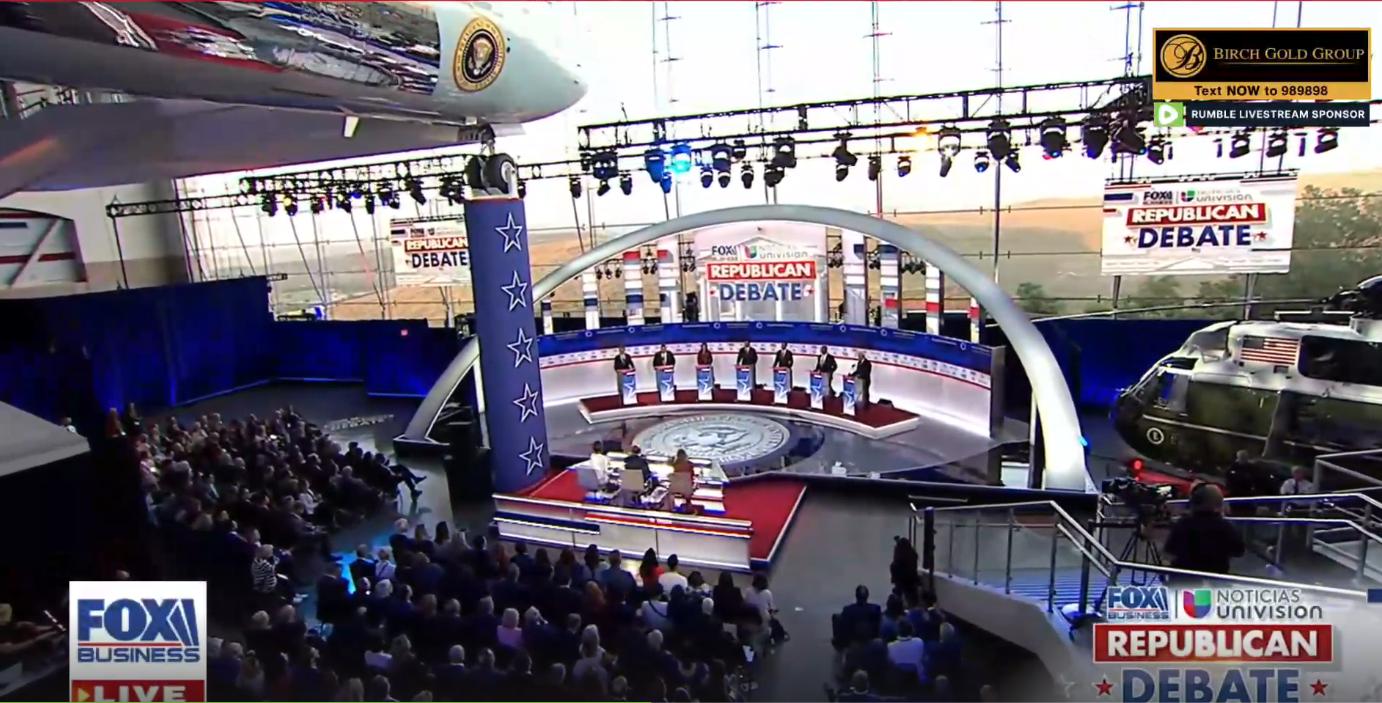 During the second Republican presidential debate Wednesday night, entrepreneur Vivek Ramaswamy and former Vice President Mike Pence pledged their support for a national ban on gender-affirming healthcare for minors along with policies requiring schools to forcibly "out" trans students to their parents, while Florida Gov. Ron DeSantis defended the anti-LGBTQ policies in his state.
They were joined on stage at the Ronald Reagan Presidential Library's Air Force One Pavilion by former South Carolina Gov. and U.N. Ambassador Nikki Haley, U.S. Sen. Tim Scott (S.C.), former New Jersey Gov. Chris Christie, and North Dakota Gov. Doug Burgum.
Former President Donald Trump, the party's frontrunner, was again a no-show- declining to participate, instead campaigning in Michigan meeting with striking UAW autoworkers and other labor leaders.
Responding to debate moderator and Fox News host Dana Perino's question about Christie's promise to protect "parental rights" by passage of a federal law, Ramaswamy proclaimed that "transgenderism," especially in kids, is "a mental health disorder."
After Perino redirected him back to her question, Ramaswamy said when school officials are aware of cases in which a student may be socially transitioning, they must be obliged to inform parents.
"The very people who say that this increases the risk of suicide by are also the ones saying that parents don't have the right to know about that increased risk of suicide," he said, adding, "To affirm a kid's confusion — that is not compassion, that is cruelty."
The former biotech executive then promised a federal ban on healthcare interventions for trans youth, relaying an anecdote about meeting two women on the campaign trail who, he says, now regretted the gender affirming surgical procedures they had undergone.
Ramaswamy said the women are now in their 20s but did not specify how old they were when the surgeries — double mastectomies and, in one case, a hysterectomy — were performed.
Genital surgeries are almost never performed on patients younger than 18, per the clinical practice guidelines on the treatment of gender dysphoria in minors, which are supported and considered medically necessary by every mainstream scientific and medical body with relevant clinical knowledge.
"The fact that we allow that to happen in this country is barbaric," Ramaswamy said, "so I will ban genital mutilation or chemical castration under the age of 18."
Perino asked Pence how he would protect the LGBTQ+ community as president, noting the rise and escalation of violent attacks documented by the U.S. Department of Homeland Security and research showing LGBTQ+ people are nine times likelier to be victims of violent hate crimes.
The former vice president's description of plans and policies on this front was brief and not terribly detailed. "I'll stand up for the safety and the civil liberties of every American from every background," he said before pivoting to affirm his support for rules requiring schools to effectively "out" transgender and gender nonconforming kids to their parents.
"Linn-Marr Community Schools in Iowa had a policy," Pence said, in which "you had you had to have a permission slip from your parents to get a Tylenol, but you could get a gender transition plan without notifying your parents."
"That's crazy," he said. "We're going to stand up for the rights of parents."
He concluded his answer with a pledge that "we're going to pass a federal ban on transgender chemical or surgery anywhere in the country," adding, "We've got to protect our kids from this radical gender ideology agenda."
Some of DeSantis's remarks also touched on the notion that progressive ideas about gender identity are being pushed on American youth in schools.
The governor defended education policies in his state that have been widely criticized as anti-LGBTQ+ and racist, proclaiming that "Our country's education system is in decline because it's focused on indoctrination, denying parents rights," but "Florida represents the revival of American education."
Georgetown University hosts panel on transgender, nonbinary issues
Lawmakers from Mont., Okla. among panelists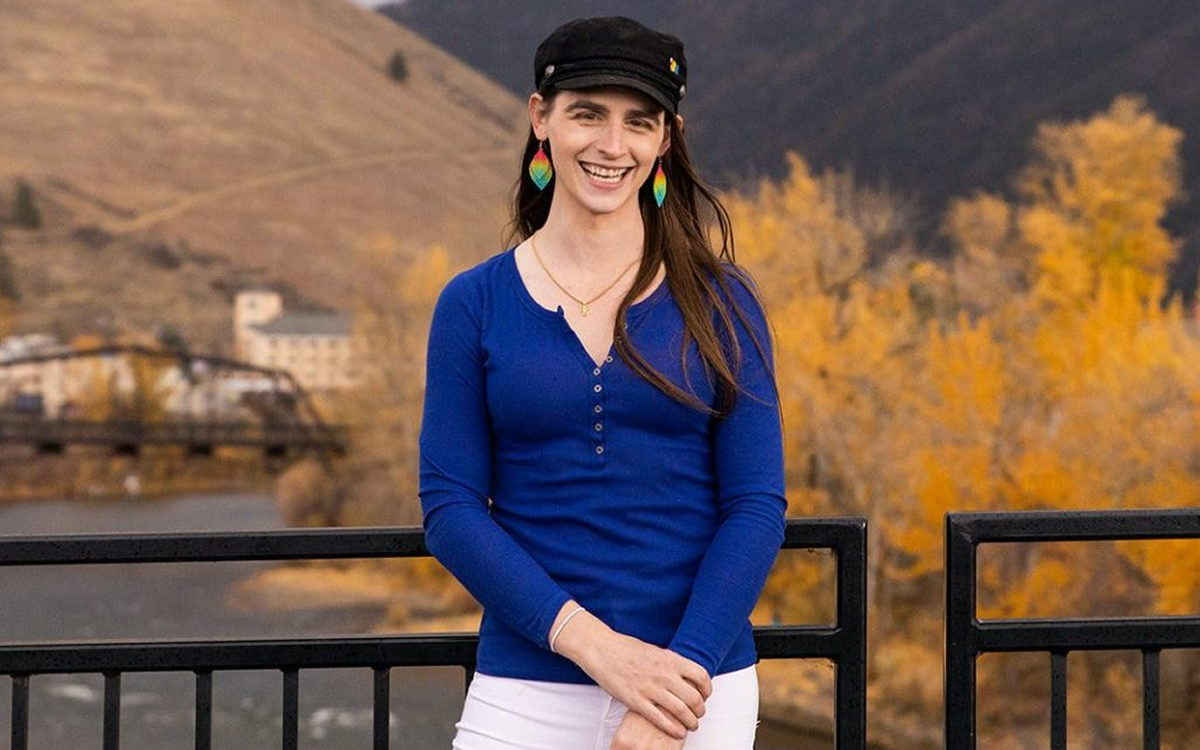 A panel on transgender and nonbinary issues took place at Georgetown University on Tuesday.
The panel included Montana state Rep. Zooey Zephyr and her fiancée, journalist Erin Reed, who are both trans, and nonbinary Oklahoma state Rep. Mauree Turner. Charlotte Clymer was also on the panel that Amanda Phillips, a nonbinary Georgetown professor, moderated.
The panel began with a discussion about anti-trans laws that have been enacted across the country.
Reed said the Alliance Defending Freedom and the American Principles Project developed a strategy in response to North Carolina's now repealed law that banned trans people from using public restrooms consistent with their gender identity.
They focused on states that are more "business-friendly and therefore harder to boycott, and started with sports. Reed said bans on gender-segregated sports put an "asterisk on [trans] identity" that made further attacks possible.
Clymer spoke on attitudes towards trans policies.
She referenced a survey that asked Americans if they supported nondiscrimination protections for LGBTQ individuals. Around 75 percent of respondents, including almost half of Republicans, said yes. Clymer said the next question that asked if such protections exist concerns her.
Roughly half of respondents said yes.
While there are two U.S. Supreme Court rulings — Obergefell and Bostock — that extended marriage rights to same-sex couples and employment protections to LGBTQ people respectively, Clymer noted there are no federal protections based on sexual orientation and gender identity.
Turner and Zephyr spoke about being censured for defending trans rights.
Oklahoma lawmakers in March censured Turner after they refused to turn into the authorities a trans person who had allegedly assaulted a state trooper. 
Turner said in Oklahoma, where there is no public debate, and politicians are openly anti-trans, residents are fighting against an "apathetic" and "heinous" legislature. On the topic of activism, they said being a "truth teller," and saying "absolutely not" is "what got [them] censured."
Zephyr's censure was in April after she criticized a bill to restrict gender-affirming health care in Montana. The protests that followed stemmed from trans issues, but Zepher said they were about much more.
"The protests […] were about recognizing that when you silence a legislator, you take away representation from their constituents," she said. "That fight became a larger fight about democracy."
The panelists talked about mental health and addressing it.
Turner said that being the representation they needed keeps them going.
"I didn't think I was going to make it through middle school," they said. "Representation matters for so many people […] if you can aid in being that representation, being that force that helps somebody else keep going, that is one of the most powerful experiences."
The panel agreed that finding community is important to mental health.
"Sometimes our best activism is finding our community," Reed said.
The panel also spoke about queer joy and strength.
"Queer joy is the thing they can't take away," Zephyr said.
Reed talked about photos of activists who were organizing before the Stonewall riots in 1969; they were smiling and enjoying their community.
"The queer story is a story of not just surviving in the margins but thriving in the margins," Reed said.
Turner added "trans lives aren't just lives worth fighting for, they are lives worth living."
A self-described "journalist" who didn't identify himself or his outlet asked the panel, "What is a woman?" Clymer turned the question back to him, and he said it "comes down to genetics."
Clymer began to explain that chromosomes don't always define sex. The audience member began to argue and ignored an event organizer who was asking him to leave. Security promptly escorted him out.
Reed continued Clymer's point that even biological sex is difficult to define.
"Last year, 15 different state legislators tried to define sex, did you know that none of them managed to do so in a way that was scientifically correct?"
The panelists also offered advice to allies.
Clymer said treading about trans issues and being informed about them is a great start.
"You've got to step up," she said.
Turner said allyship goes beyond relationships, and into the realm of being uncomfortable.
"Allyship is synonymous with action and moving forward," they said.
Boebert denigrates, misgenders trans Pentagon official
Comments targeted Assistant Secretary of Defense Shawn Skelly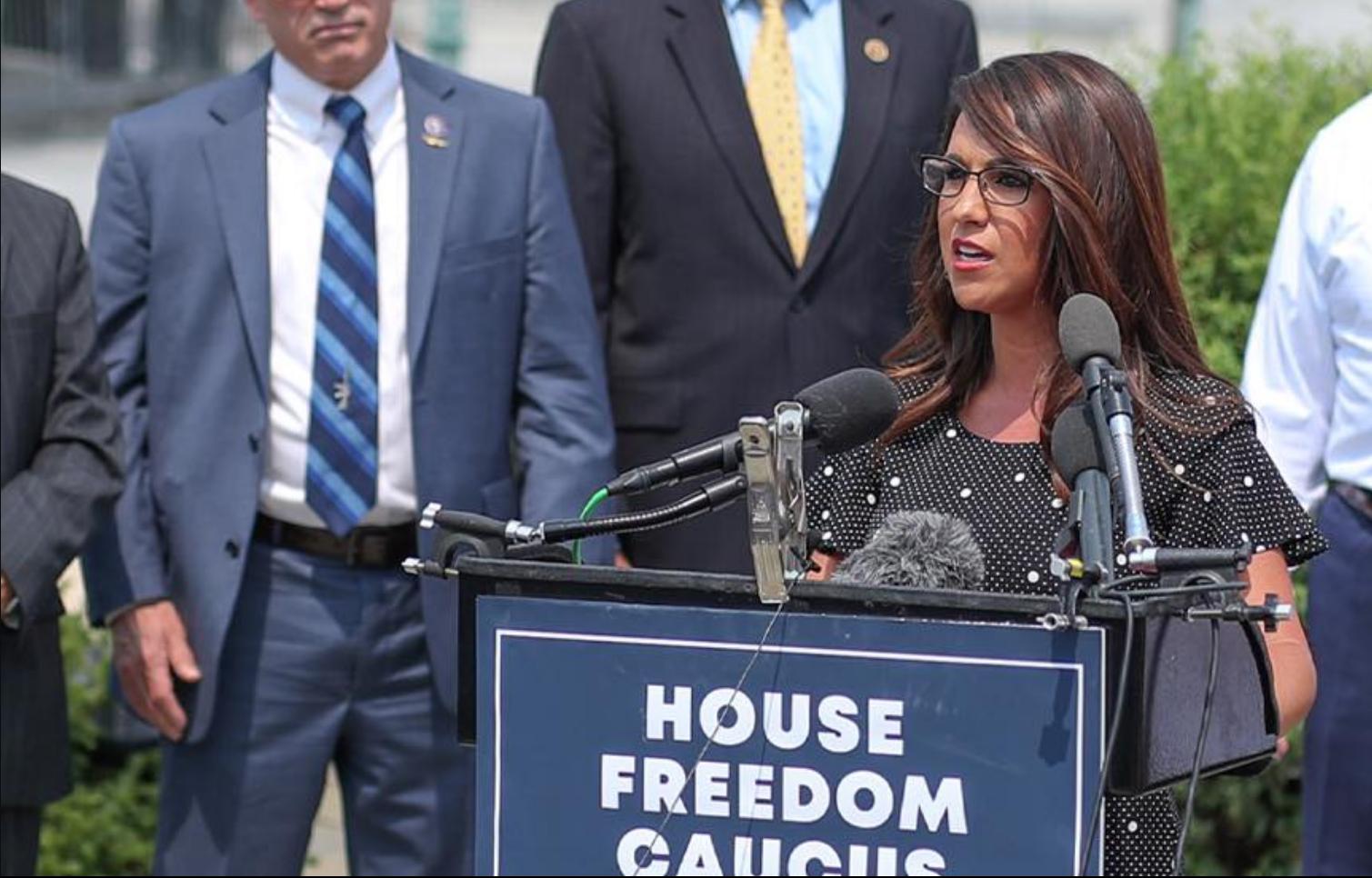 U.S. Rep. Lauren Boebert (R-Colo.) denigrated and deliberately misgendered Assistant Secretary of Defense for Readiness Shawn Skelly, the Pentagon's highest ranked transgender official, during a debate Wednesday over amendments to a defense appropriations bill.
In remarks that stirred outrage from her Democratic colleagues, the congresswoman called Skelly a "delusional man thinking he is a woman" and the embodiment of "woke-ism" before proposing an amendment that would reduce her salary to a dollar.
Skelly served on active duty in the U.S. Navy for 20 years as a naval flight officer before retiring with the rank of commander. Her record of service includes senior positions with the Defense and Transportation Departments during the Obama administration.
"Assistant Secretary Skelly has served in her role admirably, as she has done as her time as a naval officer," responded U.S. Rep. Betty McCollum (D-Minn.), stressing each of the feminine pronouns as she spoke.
The second-term Colorado representative countered with more transphobic comments: "if you want to call Mr. Skelly a her, his chromosomes are still XY, and we trust the science over here rather than delusion and playing dress up and imaginary games with our military readiness."
Boebert is among the more vocal members of an ultraconservative cohort of House Republicans who, in recent weeks, have sabotaged efforts to clear must-pass appropriations spending packages before Oct. 1 to forestall a government shutdown.
Members of the far-right faction have attached to these bills controversial, partisan, and often anti-LGBTQ amendments — effectively dooming their chances of passage by the U.S. Senate amid Democratic control of the chamber.
With respect to the Defense Department spending bill, for example, GOP members have advanced proposals that would defund healthcare services for transgender service members and ban Pride flags from military bases.
On X, U.S. Rep. Mark Pocan (D-Wis.), chair of the Congressional Equality Caucus, wrote that "Republicans claim to support the military but Rep. Boebert, just spent five minutes misgendering and attacking our Assistant Secretary of Defense for Readiness — just because she's trans. Ms. Skelly serves our country with honor. I can't say the same for Boebert."
The caucus added, "It's disgusting that a Member of Congress would use their platform on the House Floor to misgender and attack a top-ranking @DeptofDefense official and veteran just because she's a trans woman."
It's disgusting that a Member of Congress would use their platform on the House Floor to misgender & attack a top-ranking @DeptofDefense official and veteran just because she's a trans woman.

We stand with Ms. Skelly & thank her for her service and commitment to this country. https://t.co/J6wId22rGC

— Congressional Equality Caucus (@EqualityCaucus) September 27, 2023