Despite calls, anti-gay RNC member won't resign post
Priebus had called for Agema to step down 'for the good of the party'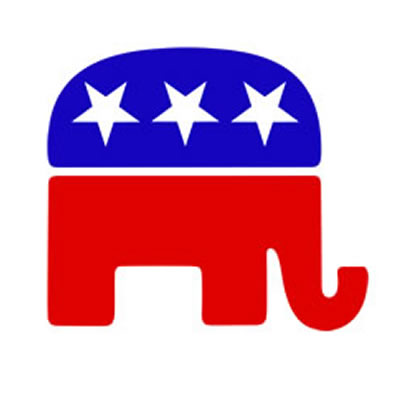 A member of the Republican National Committee who's taken heat for expressing anti-gay views indicated Friday he won't resign from his post, despite calls from the head of his party to step down.
Dave Agema, a former Michigan state lawmaker, said in a statement on his website that he intends to continue his role representing Michigan on the Republican National Committee in the face of "a few strident advocates for homosexual marriage."
"I have learned much over the last several weeks and will use the lessons learned to improve on my abilities to further the best interests of all people of Michigan, through my role as a proud member of the Republican National Committee," Agema said. "I have received great response at packed audiences, drawing voters to the GOP. I fully intend to honor the trust and fulfill the responsibilities to those in the Michigan Republican Party that elected me."
Agema refuses to resign just hours after the RNC announced Reince Priebus and Michigan Republican Party Chair Bobby Schostak have called on him to relinquish his post "for the good of the party." The RNC didn't immediately respond to a request to comment on Agema's refusal to step down.
The embattled Republican faced criticism for anti-gay remarks, saying via Facebook that Russia's anti-gay propaganda law is "common sense" and posting an article saying gay people are sexually promiscuous, rife with diseases and responsible for half responsible for the majority of murders in the country.
But Agema's comments aren't limited to anti-gay views. Agema also posted an old online attack piece questioning whether Muslims have contributed anything positive to American society.
Prior to Priebus' call for Agema's resignation, he faced criticism from gay Republicans and high-profile Michigan Republicans, most notably Betsy Devos, a former Michigan Republican Party chair and significant party donor. Reps. Candace Miller (R-Mich.), Justin Amash (R-Mich.), Fred Upton (R-Mich.) and Dave Camp (R-Mich) also called on him to step down.
Faced with this controversy, Agema is absent during the RNC winter meeting currently underway and has sent in his place former RNC member Chuck Yob.
Gregory Angelo, executive director of the National Log Cabin Republicans, has also called on Agema and called his defiance "truly pathetic."
"If Mr. Agema's views are as popular as he believes them to be, I would ask him to provide one — just one — individual who is willing to speak up in his defense," Angelo said. "To date there have been zero."
Renewing his request for Agema to resign, Angelo said if the Michigan Republican is so concerned about his leadership responsibilities "he should know that those responsibilities require him to resign and to resign immediately, for the best of the Party."
In his statement, Agema professes that he could have handled the situation better, but blames others for stirring controversy.
"My personal beliefs and public statements expressing them as a public figure, has been attacked by a few strident advocates for homosexual marriage seeking to change Republican, Michigan and America's mores and laws," Agema said. "Despite our American heritage of the right to speak freely — or perhaps because of it, my personal views on the sanctity of marriage have led to loud and heated statements among some, on all sides of this issue."
In regards to the anti-Muslim comments, Agema apologizes for the posting the online piece and expresses regret it was reposted as his words. He makes no similar apology for the anti-gay comments.
"I stand with peaceful Muslims who share my concern with radicalism and look forward to continuing to work with people of all faiths that uphold American values," Agema said.
Additionally, Agema swears he'll continue to use his position to defend Christians and others whom he said are victimized by the Obama administration.
"As an American who has spent his entire life remaining faithful to his religion, his family, and his country, I have been unwilling to compromise my principles, traditional values or support for the Word of God," Agema said.
Dennis Lennox, a Republican precinct delegate in Grand Traverse County in Michigan, said the RNC must show Agema the exit if he refuses to step down.
"This is an unprecedented and extraordinary situation that can only be resolved by the removal of Dave Agema from the Republican National Committee," Lennox said. "The Republican Party cannot afford to allow him to remain in his position even in his disgraced state. He must be defrocked or our party and our candidates and officeholders will be forced to continue discussing his hateful, bigoted and deeply offensive statements that have no place in our party."
Sources familiar with the RNC say no mechanism is in place in the rules to remove a rogue committee member. But, as Lennox observed, "There's nothing that doesn't allow it."
House GOP sinks their own spending bill, Dems object to anti-LGBTQ riders
Vote was 216-212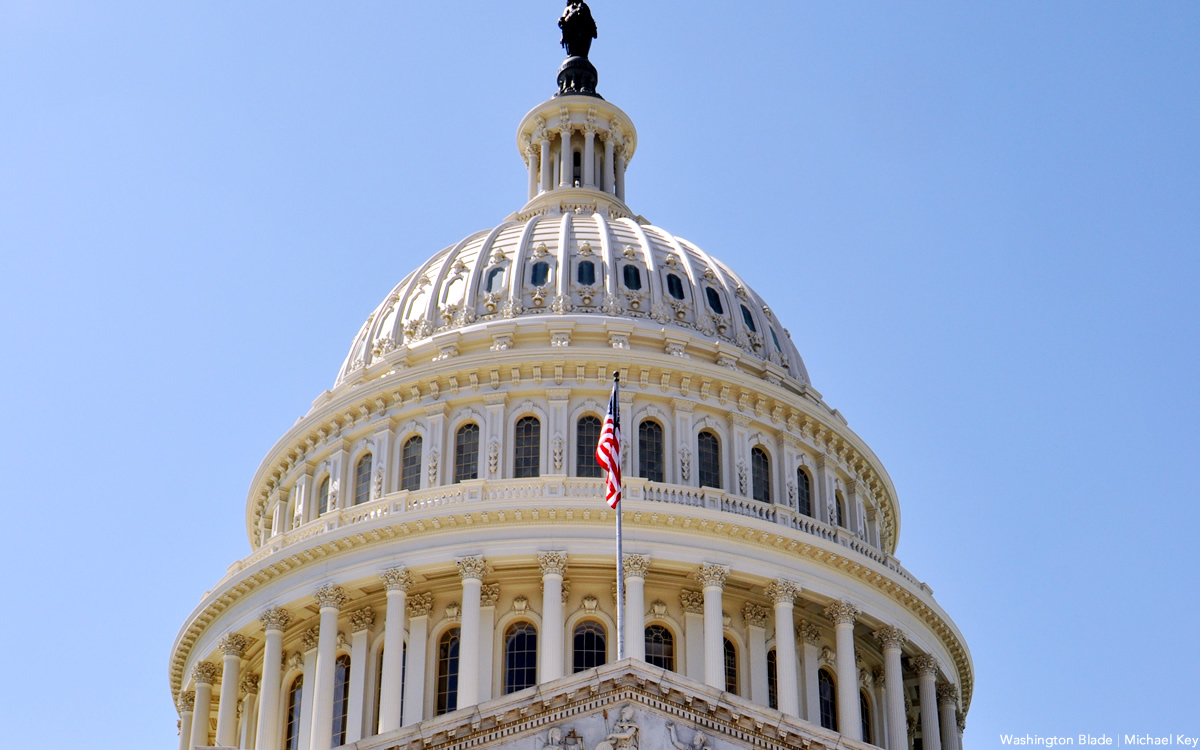 A group of four hardline House Republicans on Thursday joined Democratic colleagues to sink their own spending bill, a $886 billion military appropriations package full of riders from GOP members that include anti-abortion and anti-LGBTQ provisions.
The 216-212 vote raised the likelihood of a government shutdown if lawmakers are unable to forge a path forward before the end of September.
"Instead of decreasing the chance of a shutdown, Speaker McCarthy is actually increasing it by wasting time on extremist proposals that cannot become law in the Senate," Senate Majority Leader Chuck Schumer (D-N.Y.) said.
His counterpart in the House, Republican Speaker Kevin McCarthy (Calif.) expressed frustration with his own caucus, characterizing the impasse he has reached with colleagues as "frustrating in the sense that I don't understand why anybody votes against bringing the idea and having the debate."
"And then you got all the amendments if you don't like the bill," he continued. "This is a whole new concept of individuals that just want to burn the whole place down — it doesn't work."
A group of 155 House Democrats on Thursday issued a letter objecting to anti-LGBTQ provisions in the bill, the 2024 National Defense Authorization Act, addressing the message to U.S. Sens. Jack Reed (D-R.I.) and Roger Wicker (R-Miss.), chair and ranking member of the Senate Armed Services Committee, and U.S. Reps. Mike Rogers (R-Ala.) and Adam Smith (D-Wash.), chair and ranking member of the House Armed Services Committee.
The effort was led by Congressional Equality Caucus Chair U.S. Rep. Mark Pocan (D-Wis.) and the co-chairs of the Caucus's Transgender Equality Task Force, U.S. Reps. Sara Jacobs (D-Calif.) and Pramila Jayapal (D-Wash.).
Specifically, the letter argues several anti-equality amendments would "actively target LGBTQ+ service members and LGBTQ+ dependents and threaten the recruitment, retention, and readiness of our Armed Forces."
Among these are riders prohibiting coverage of gender affirming healthcare interventions for service members and their dependents; banning LGBTQ Pride flags, drag shows and other events; and restricting funding for certain books in schools operated by the Department of Defense Education Activity.
Eight jailed across Canada during anti-LGBTQ sex ed rallies
Prime minister condemned bigotry; counterprotests outnumbered demonstrations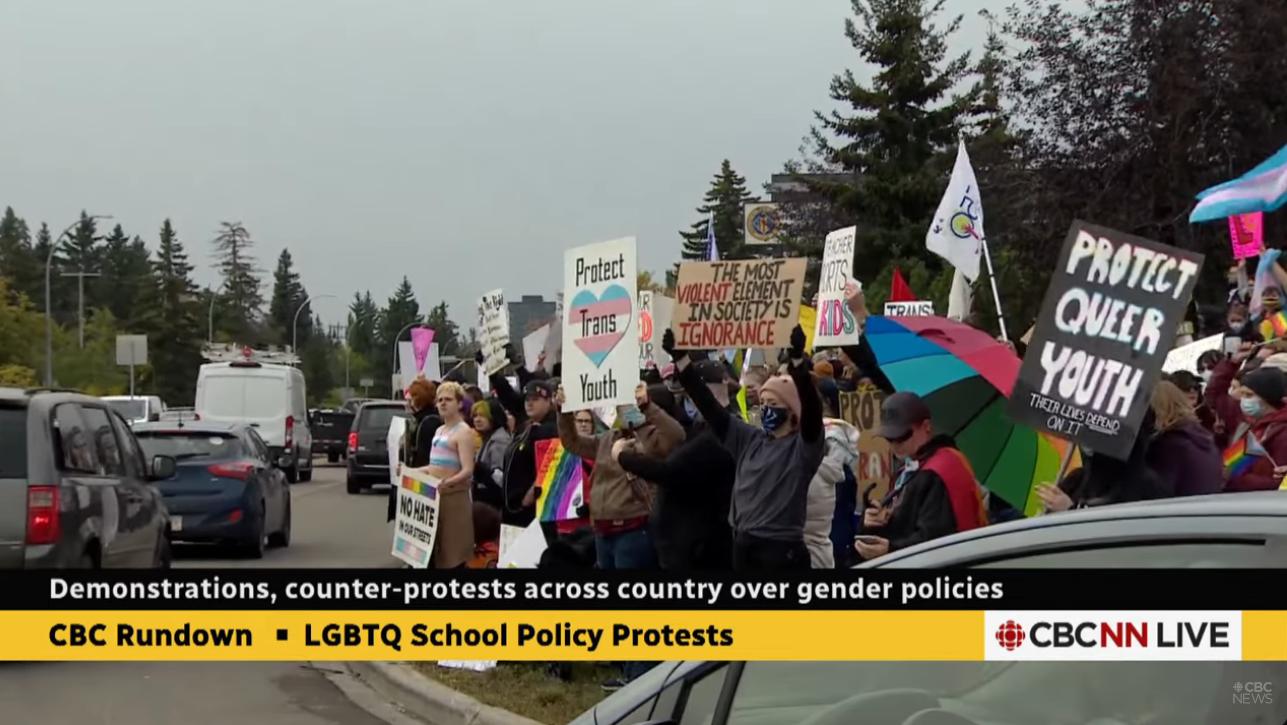 A highly coordinated series of anti-LGBTQ protests rocked more than 80 cities across Canada on Wednesday, in a significant escalation of tactics by Canada's anti-LGBTQ extremists.
The coordinated protests dubbed 1 Million March 4 Children are demanding an end to discussions on sexual orientation and gender identity in Canadian classrooms. They come as several Canadian provinces have enacted policies that require students to have parental permission to change their preferred name or pronoun used in schools, and shortly after the federal Conservative Party adopted a series of anti-trans policies at its national convention.
According to its website, 1 Million March 4 Children is calling for "the elimination of the Sexual Orientation and Gender Identity (SOGI) curriculum, pronouns, gender ideology and mixed bathrooms in schools." The website also lists among its supporters numerous groups that were opposed to masking policies during the COVID-19 pandemic, anti-vaccine groups, groups that promote conspiracy theories, and groups that support the truck convoys that laid siege to Ottawa and several U.S. border crossings last year.
Protests happened from coast to coast, in big cities, suburbs and small towns, but in most cases, they were met with coordinated counter-protests in support of LGBTQ rights who greatly outnumbered the protesters.
CBC reported that counter-protesters numbered roughly double the anti-LGBTQ protesters in St. John's, Newfoundland.
Inclusive sex education has long been part of school curriculums in most provinces in Canada and has generally enjoyed support from all major political parties.
While the protests where mostly peaceful, at least four anti-LGBTQ protesters were arrested after getting into altercations with counter-protestors in British Columbia, and police advised that the protest in front of the provincial legislature had become "unsafe."
Police in Nanaimo, British Columbia, tackled and arrested one man who attempted to flee after allegedly getting into a physical altercation at City Hall. Two protestors were also arrested in Victoria, British Columbia, as they demonstrated in front of the provincial legislature, and another protester was arrested in Vancouver. Police in both cities did not provide additional information.
Ottawa police also arrested two protesters for allegedly inciting hatred and another for causing a disturbance in at the protest in front of Parliament.
And Toronto police arrested 47-year-old protester Julia Stevenson for allegedly bringing a weapon to the demonstration outside the provincial legislature. Police did not give further details about what kind of weapon she is alleged to have been carrying.
Prime Minister Justin Trudeau, who was at the U.N. General Assembly in New York, condemned the anti-LGBTQ protests in a tweet on X, formerly Twitter.
"Let me make one thing very clear: Transphobia, homophobia and biphobia have no place in this country. We strongly condemn this hate and its manifestations, and we stand united in support of 2SLGBTQI+ Canadians across the country — you are valid and you are valued," he wrote.
Conservative Party leader Pierre Poilievre did not put out any statement on the protests, nor did deputy leader Melissa Lantsman, who is openly lesbian and has previously spoken out on LGBTQ issues on behalf of the party.
The leader of the left-leaning New Democratic Party Jagmeet Singh joined the counter-protestors who demonstrated in Ottawa and marched toward Parliament Hill.
"We know that there's a lot of folks that don't feel safe because of the rise in hate and division that's targeting vulnerable people," Singh told CTV. "But then you see a lot of people coming together, and it shows the strength of solidarity, of us supporting each other, of having each other's back."
Alberta Teachers' Association President Jason Schilling says the protesters are part of a North America-wide movement fomenting hatred against queer people using misinformation and lies.
"Using 'parental consent' as camouflage, this rally was part of a coordinated strike across North America to promote misinformation, intolerance and hate toward the 2SLGBTQIA+ community, as well as toward teachers who work to protect the safety and well-being of all students," Schilling said in a statement.
In many cities, the anti-LGBTQ protests were officially condemned by mayors and school boards.
Toronto Mayor Olivia Chow, who has publicly supported LGBTQ rights since the 1980s, issued a strong statement condemning the protests.
"We stand against all forms of discrimination, hatred and bigotry, and for the safety and well-being of all young people. Some wish to target our schools and libraries to spread hate. We know these must be spaces that welcome everyone, especially students," Chow wrote.
The city of Whitehorse, Yukon, issued a statement condemning bigotry in advance of the protests.
"While the city supports people's right to organize and protest, we stand by our 2SLGBTQIA+ community members and their right to live their true selves safely and free of harassment and hate. The promotion of anti-2SLGBTQIA+ ideas has no place in our community and messages that target fellow community members will not be tolerated," the statement says.
However, New Brunswick Primer Blaine Higgs, who was the first to introduce a "parental consent" policy for trans students, joined the protesters in front of the provincial legislature in Fredericton.
"I think our parents should become knowledgeable about what their kids are being taught and what is important for them to learn in schools and what's important for parents to make decisions on with kids that are under 16-years-old," Higgs told reporters.
British Columbia Conservative Party leader John Rustad went further in a statement on the protests. While he says he doesn't "officially" support the protests, if his party wins next year's election, he promised to cancel the province's sex ed curriculum and implied he would ban transgender girls from sports.
LGBTQ media 'excited' about Press Forward national media funds
Coalition of donors pledges $500 million for local news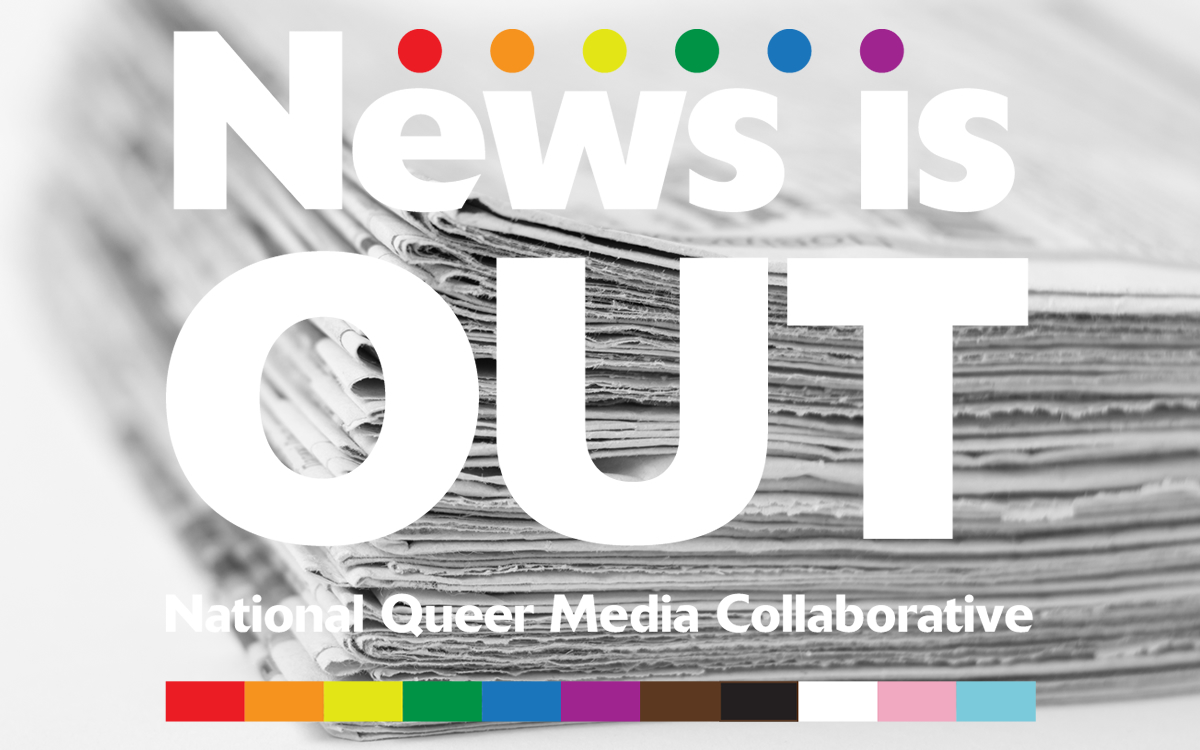 Members of News Is Out, a collaborative of six leading LGBTQ media organizations across the country, have expressed support and excitement about the newly announced national Press Forward effort to support local media in the United States. News Is Out members represent more than 200 years of LGBTQ news and culture coverage, with two member papers starting more than 50 years ago.
"This new effort from foundations, including MacArthur Foundation and Knight Foundation, truly will be a game-changer in the local media space," said Tracy Baim, co-founder of Windy City Times, which is part of a Chicago collaborative that is also advocating for local funding in that city. "Local media are critical to covering issues across the country, from LGBTQ+ and environmental issues to education and criminal justice reform. Philanthropy can provide an important complement to other needed revenues to help local media survive and thrive."
In the U.S., 7.1 percent of adults, or 18 million people, identify as LGBTQ, according to Gallup. About 21 percent of Gen Z identifies as LGBTQ. The media serving this community has been life-saving, resource sharing and an integral part of the movement for LGBTQ equality, News Is Out members said, adding that this media continues to fill a vital information need.
According to the Press Forward announcement, "A coalition of 22 donors announced Press Forward, a national initiative to strengthen communities and democracy by supporting local news and information with an infusion of more than a half-billion dollars over the next five years.
"Press Forward will enhance local journalism at an unprecedented level to re-center local news as a force for community cohesion; support new models and solutions that are ready to scale; and close longstanding inequities in journalism coverage and practice."
The Knight Foundation and the John D. and Catherine T. MacArthur Foundation have been leading the Press Forward effort.
News Is Out is supported in part by a technology grant from the Knight Foundation. The program is called the Queer Media Sustainability Lab
News Is Out is a nearly two-year-old alliance created launched by the Local Media Association, with initial funding from Google News Initiative. The members are Bay Area Reporter, Dallas Voice, Philadelphia Gay News, Washington Blade, Windy City Times and TAGG, a national queer women's magazine.
News Is Out members have collaborated on editorial, business and fundraising opportunities.
"LGBTQ media have always played a critical role in covering and informing our communities," said Lynne Brown, publisher of the Washington Blade. "While we have lost dozens of LGBTQ news media outlets in recent years, those of us who have survived are thriving in 2023. We have done so because we have innovated and sought new forms of revenue. The News Is Out Collaborative has assisted with support that propels us forward."
"LGBTQ+ media is needed now more than ever, as our communities face a backlash across this country," said Leo Cusimano, publisher of the Dallas Voice. "By working together in News Is Out, we have formed a strong alliance to help our members in technology training, editorial collaborations and much more. New funds into this ecosystem will be vital to strengthening the network of local LGBTQ+ media in this country."