Supporters rally for trans rights in Md.
O'Malley, other officials call for action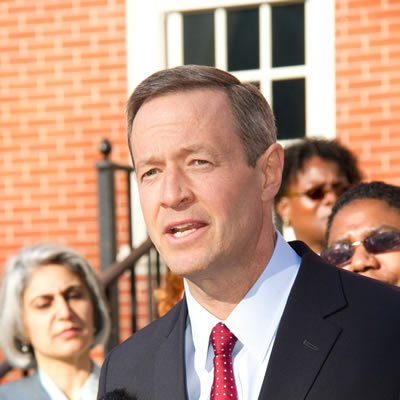 Bob Brittain was doing fairly well in Chestertown, Md., with a wife and family, earning more than $50,000 per year as a certified boat captain, assistant dock master and boat carpenter.  But since the age of three, he knew he was not comfortable with his gender. Two years ago, Bob transitioned to Susan Brittain, now 57, but still with her wife who has been fully supportive.
However, when Susan applied for other jobs, "the rules had changed," she explained. As soon as she identified as transgender, she was not hired for the positions she was seeking despite her qualifications. While Susan would benefit from a statewide law that would prohibit discrimination in employment, housing, credit and public accommodations, her concern is for others. "It's for the younger generation," Susan points out. "They should be productive and happy."
To that end, on Feb. 17, the Maryland Coalition for Trans Equality—a group with 54 components including Equality Maryland, PFLAG, Maryland NOW and a host of other progressive and religious organizations—held its annual Lobby Day at Lawyers Mall in Annapolis. The goal is to rally trans activists and allies and to meet with individual legislators in an effort to persuade them to pass the bill, which has been unsuccessful the past seven years.
More than 150 braved the sub-freezing chill to hear remarks by Carrie Evans, executive director of Equality Maryland; Del. Bonnie Cullison (D-Montgomery County); Sen. Rich Madaleno (D-Montgomery) who introduced the Senate version of the Fairness for All Marylanders Act (SB 212); Sara Wilkinson from the Maryland chapter of NOW; Del. Luke Clippinger (D-Baltimore) who introduced the House version (HB 1265); Patrick Paschall, a member of the Hyattsville City Council, which passed a gender identity non-discrimination measure; Gov. Martin O'Malley, who, along with Lt. Gov. Anthony Brown, Attorney General Douglas Gansler, Comptroller Peter Franchot, Senate President Thomas V. "Mike" Miller, House Speaker Michael E. Busch among other leaders, support the bill; activist and mother of a trans child Bonnita Spikes; and Del. Heather Mizeur (D-Montgomery) who is a candidate for governor.
The theme for this event was "It's time." Evans stated to loud cheers, "We want to pass this bill this year and make this the last Lobby Day."
Speaker after speaker alluded to the fact that this bill has languished in the legislature for too many years and it was time to break it free.  "This is the time to put the bill to rest," said Madaleno.  "We've had eight years of pushing the bill.  If we don't do it this year, we're going to be back and back and back for however long it takes."
Pointing to the successes in other Maryland jurisdictions—Baltimore City, Howard, Baltimore and Montgomery counties as well as Hyattsville — Hyattsville Council member Patrick Paschall stated, "Now is the time for the state of Maryland to follow the lead of local jurisdiction."
Others highlighted the unnecessary discrimination faced by transgender people and offered a call for inclusion.  "It's time for all Marylanders to be accepted for who they are," declared Cullison. Sara Wilkinson said, "We believe the feminist movement can and should embrace transgender people. NOW stands against all oppression."
A confident Clippinger predicted, "We are going to win this year because of the momentum we have."
O'Malley said, "We're all in this together. Everyone deserves to be treated equally with dignity and respect."
The Senate's Judicial Proceedings Committee is considering the bill and a vote is expected on Feb. 20. (Visit washingtonblade.com for updates.) SB 212 has 25 sponsors, more than enough to win on the floor. Last year, the bill died in the committee by a 6-5 vote.
Pepco, Exelon announce $2.7 million in funding for four minority-owned businesses
'It's good business sense to bring more people to the table'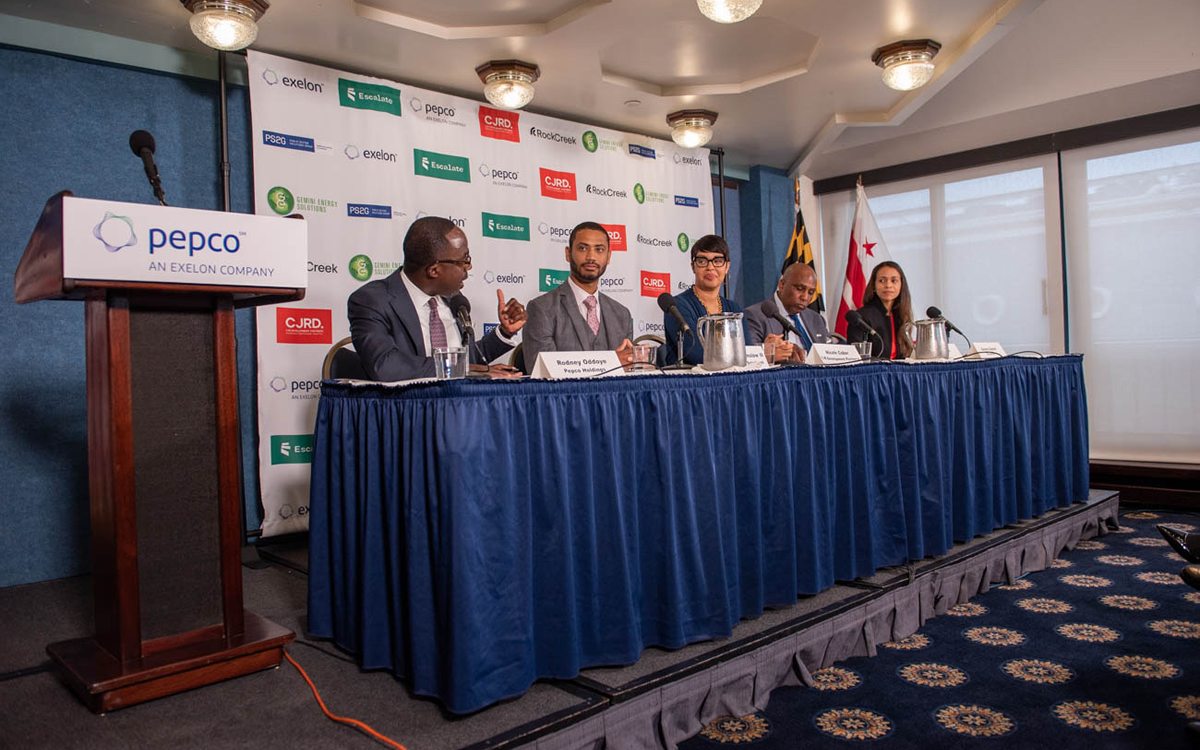 Pepco and Exelon announced a $2.7 million investment in four minority-owned businesses on Friday.
"Today's been a long time coming," said Pepco Vice President of Governmental and External Affairs Valencia McClure.
Pepco's parent company, Exelon, launched the Racial Equity Capital Fund (RECF) in 2022 to expand capital access to diverse businesses. This latest $2.7 million investment is just a portion of RECF's $36 million in funding.
At the announcement, D.C. Mayor Muriel E. Bowser spoke about the other ways Pepco and Exelon have "put their money where their mouth is" through their partnership with the D.C. Infrastructure Academy. She reported that all 22 of the residents that graduated from the program last week have a job offer from Pepco.
"We know that is not just a job, but a career," she said to the crowd's applause. "We know that working together, we can invest in D.C. residents, provide opportunity, and ensure that our D.C. businesses are a part of D.C.'s growing prosperity."
The four minority businesses that received funding were Gemini Energy Solutions, Public Sector Solutions Group, CJR Development Partners, and Escalate.
"It's good business sense to bring more people to the table," said fund recipient Nicole Cober, CJR Development's Principle Managing Partner.
Gemini Energy Solutions, which is Black owned, received $1 million, the most of the four companies. Its mission is to equitably scale energy efficiency to marginalized communities. For the founder and CEO Anthony Kinslow II, this investment means that he is able to get paid and advance the work of his organization.
"We are now able to accelerate the work in our software and technology development," he said. "What we were going to do in two years, we are now going to do in six months."
For Escalate, a workforce development platform focused on frontline worker retention, the funding means that it will be able to double the pay for frontline workers.
Public Sector Solutions Group CEO Darryl Wiggins emphasized that this investment was not just 'charity' work, but mission-driven work.
"The principle and the intent is greater than the money we receive," he said. Public Sector Solutions is Black owned.
Public Sector Solutions Group received a $600,000 debt investment; CJR Development, a minority and woman-owned small business, received a $600,000 debt investment; and Escalate, a majority Black and woman-owned company, received a $500,000 equity investment.
Exelon launched the RECF in partnership with RockCreek, one of the world's largest diverse-owned global investment firms, in 2022. The RECF expands capital access to diverse businesses so they can create more jobs, grow their companies and reinvest in their neighborhoods and communities, according to a statement from Exelon.
New RECF applications are accepted on a rolling basis. Interested businesses may apply online or contact RockCreek at [email protected] for more information.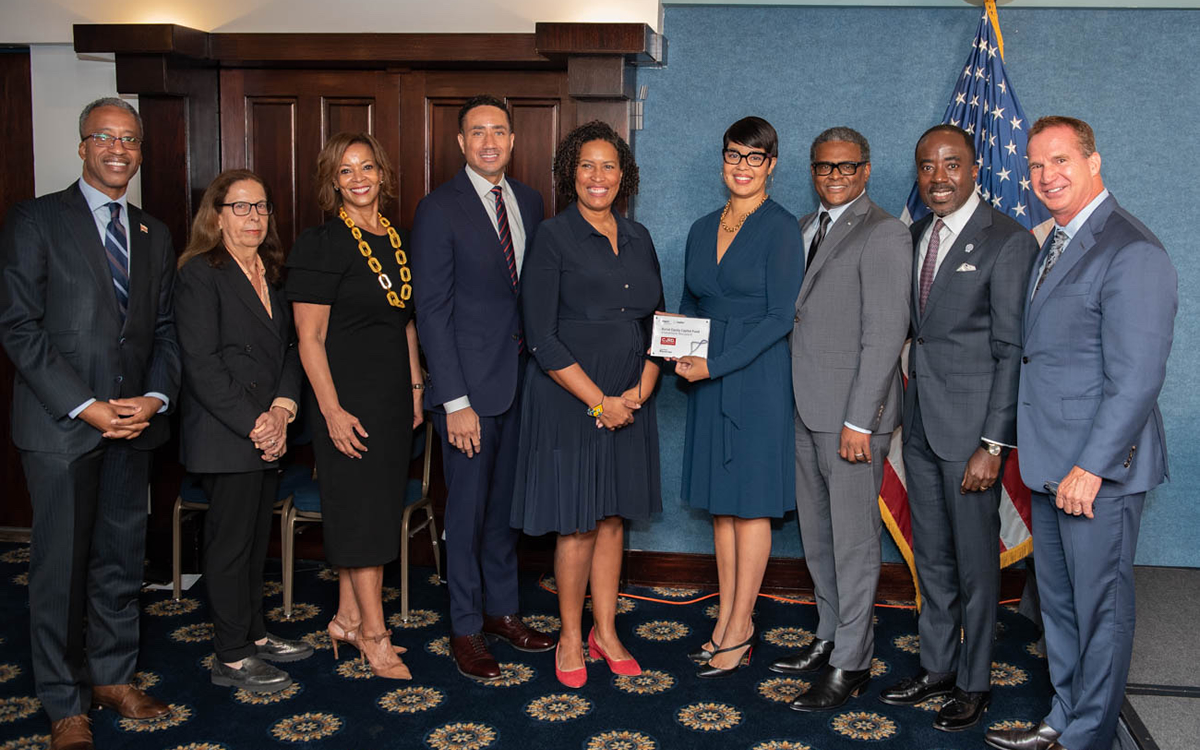 Comings & Goings
Armstrong recognized with Lifetime Achievement Award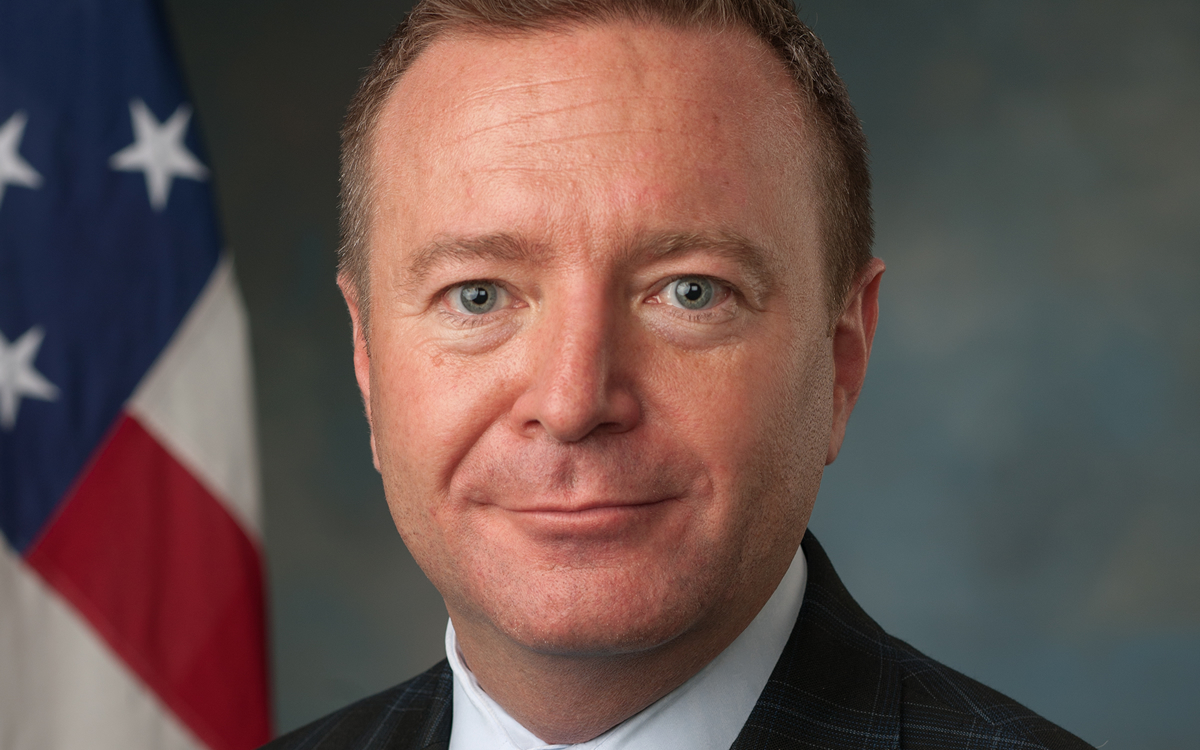 The Comings & Goings column is about sharing the professional successes of our community. We want to recognize those landing new jobs, new clients for their business, joining boards of organizations and other achievements. Please share your successes with us at: [email protected].
Congratulations to Lynden C. Armstrong on his Lifetime Achievement award from the Congressional Management Foundation in recognition of his exemplary public service in Congress.
Upon receiving the award Armstrong said, "This recognition is not just a personal achievement, but a testament to the unwavering dedication and hard work of colleagues and mentors who have been with me on this journey. I've dedicated my entire career to public service within the Senate, where recognition isn't the primary motivation for our work, making this recognition even more humbling." He is currently Deputy Assistant Senate Sergeant at Arms and Chief Information Officer.
Armstrong started his career with Sen. Pete Domenici (R-N.M.), where he rose to Deputy Chief of Staff in his more than 13-year stint. In 2004, during his tenure with Domenici, amid a debate on the Federal Marriage Amendment, Armstrong became a co-founder of the Gay, Lesbian and Allies Senate Staff (GLASS) Caucus. In 2014, he moved to the Sergeant at Arms CIO organization, where he established a new department within the CIO that was crafted to engage Senate offices in comprehending and harnessing technologies provided by the SAA.
Lynden has previously served as Chief Clerk on the U.S. Senate, Committee on Rules and Administration, and with the U.S. Senate, Joint Congressional Committee on Inaugural Ceremonies, as Deputy Inaugural Coordinator, 2012–2013. In that role among other responsibilities, he served as civilian liaison to the National Special Security Event Executive Steering Committee and subcommittees, including the Capitol, USCP, Crowd Management, Public Relations, Transportation, and credentialing, and as liaison to the Joint Task Force – National Capital Region.
AIDS Healthcare Foundation celebrates opening of new D.C. healthcare center
Ribbon-cutting marks launch of state-of-the-art facility on Capitol Hill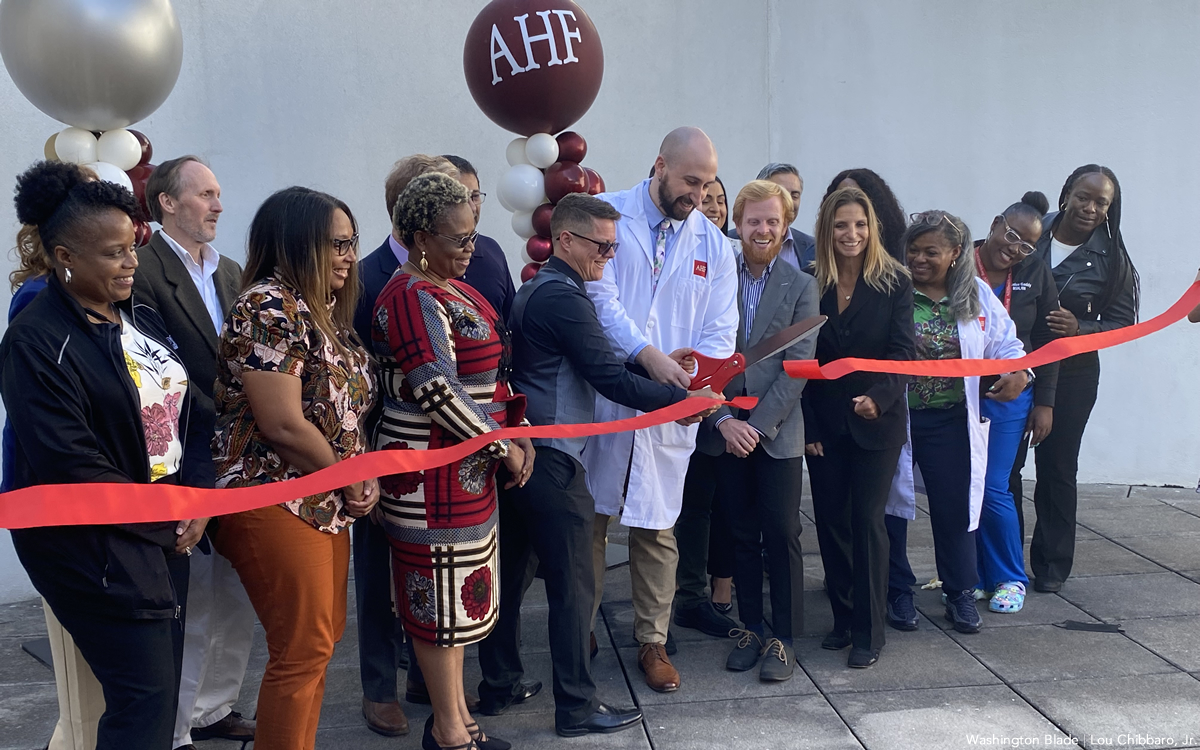 The AIDS Healthcare Foundation, the world's largest HIV/AIDS healthcare organization with its headquarters in Los Angeles, held a ribbon-cutting ceremony on Sept. 27 to mark the official opening of its Capitol Hill Healthcare Center.
The new center, which AHF describes as a state-of-the-art facility for the holistic care and treatment of people with HIV as well as a site for HIV prevention and primary care services, is located at 650 Pennsylvania Ave., S.E. a half block away from the Eastern Market Metro station.
A statement released by AHF says the Capitol Hill Healthcare Center will continue AHF's ongoing delivery of "cutting-edge medical care and services to patients regardless of insurance status or ability to pay." The statement adds, "The site also features a full-service AHF Pharmacy and will host Wellness Center services on Saturdays to offer STI testing and treatment."
The statement was referring to the testing and treatment for sexually transmitted infections. The D.C. Department of Health has said the highest number of STIs in the city have been reported for men who have sex with men.
Mike McVicker, AHF's Regional Director for its D.C., Maryland, and Virginia facilities, said the Capitol Hill center began taking patients in October of 2021 as AHF transferred its operations from its facility on Benning Road, N.E. about two miles from the Capitol Hill site. McVicker said the Benning Road site has now been closed.
AHF's second D.C. medical center is located downtown at 2141 K St., N.W. AHF operates three other extended D.C.-area health care centers in Falls Church, Va., Temple Hills, Md. and Baltimore.
"Our Capitol Hill Healthcare Center has no waiting room, so patients immediately are escorted to treatment rooms and serviced from a centrally located provider workstation," McVicker said. "The goal is to maximize efficiency using this patient-centered model to improve health outcomes and increase retention in care."
McVicker told the Blade the AHF Capitol Hill center is currently serving 585 patients and has a staff of 10, including Dr. Conor Grey, who serves as medical director. He said a separate team of five staffers operates the Saturday walk-in center that provides STI services as well as services related to the HIV prevention medication known as PrEP.
"I'm very excited to be a part of this team," Dr. Grey said at the ribbon-cutting ceremony, which was held in a courtyard outside the Capitol Hill office building where the AHF center is located. About 50 people, including D.C. government officials, attended the event.
"This is a beautiful thing to celebrate," Grey said. "So, I'm very happy to enjoy the day with all of you, and looking forward to a bright, productive future working together and fighting a common enemy that has unfortunately been with us."
Others who spoke at the event included Tom Myers, AHF's Chief of Public Affairs and General Counsel; Toni Flemming, Supervisory Public Health Analyst and Field Operations Manager for the D.C. Department of Health's HIV/AIDS, Hepatitis, STD, and Tuberculosis Administration (HAHSTA), and Dr. Christie Olejeme, Public Health Analyst for HAHSTA's Care and Treatment Division.
Also speaking at the event was Japer Bowles, director of D.C. Mayor Muriel Bowser's Office of LGBTQ Affairs.
Bowles called the AHF Capitol Hill center "another pivotal resource" for the LGBTQ community as well as for the city.
"We know, as has been previously stated, a low-barrier HIV prevention support is pivotal to the mayor's mission of eliminating HIV infections in the District of Columbia and the region," Bowles told the gathering.
"So, I'm very excited to see more services specifically provided to those in the Southeast and Northeast quadrants of our District," he said, referring to the AHF Capitol Hill center. "This is a great moment for our community, but also for D.C. as a whole."
In its statement released this week announcing the official opening of the Capitol Hill Center AHF notes that currently, 11,904 D.C. residents, or 1.8 percent of the population, are living with HIV. It points out that HIV disproportionately impacts Black residents, who make up about 44 percent of the population but comprise nearly three-quarters of the city's HIV cases.
AHF official Myers said the Capitol Hill center will join its other D.C.-area facilities in addressing the issue of racial disparities related to HIV.
"Our treatment model helps eliminate barriers for those already in care, those who may not know their HIV status, and those living with HIV who may not currently be in care," he said.
AHF says in its statement that it currently operates more than 900 healthcare centers around the world in 45 countries including 17 U.S. states. It has more than 1.7 million people in care, according to the statement. Founded in 1987, the organization has also taken on the role of public advocacy for federal and local government programs in the U.S. to address the HIV/AIDS epidemic, including efforts to lower the costs of HIV drugs.
During its work in the late 1980s and early 1990s AHF emerged as a strong advocate for addressing the special needs of gay and bisexual men who were hit hardest by HIV/AIDS at the start of the epidemic.