Utah couples 'humble and proud' after day in court
Att'y gen'l apologizes for putting them 'through this pain'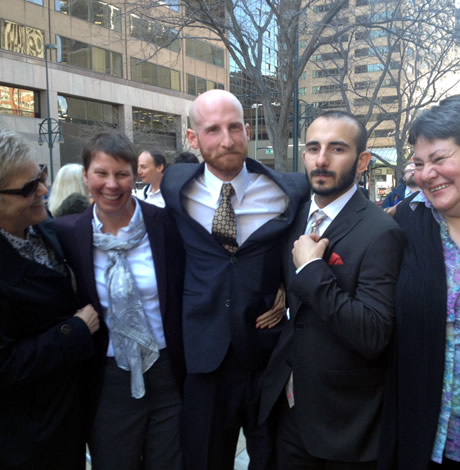 After more than an hour of legal arguments on the constitutionality of banning same-sex marriage, the scene at the Byron White Court House took on a hopeful tone as plaintiff couples spoke to the media about their involvement in litigation seeking marriage equality in Utah.
Derek Kitchen, the namesake of the case, known as Kitchen v. Herbert, said he stands before the court "humble and proud" that the court has given so much weight to the arguments in the case, then embraced his partner, Moudi Sbeity, and gave him a kiss.
Kody Partridge, who's also seeking the ability to marry her partner, Laurie Wood, expressed a similar sentiment when addressing reporters.
"We are hopeful that we will see a wonderful decision coming out of this court," Partridge said.
The two were among the six same-sex plaintiff couples who were present in the courtroom as oral arguments were heard before a three-judge panel of the U.S. Tenth Circuit Court of Appeals. Judges appeared split over whether they wanted to uphold the ban, known as Amendment 3, or overturn it as a result of the appeal.
Mark Lawrence, director of the Salt Lake City-based Restore Our Humanity, was also present outside the courthouse and was optimistic the court would rule favorably on the lawsuit he helped initiate.
"I think there's going to be a 2-1 decision," Lawrence told the Blade. "I think that was made pretty obvious when we heard the state, and my general impression of the whole thing is I think the state is trying very, very hard to take the humanity out of this case, or trying to make it a thing instead of a case about people, and I just don't think they can do that."
Speaking before reporters, Kitchen was reluctant to answer questions about the legal arguments presented during the case, nor would he venture to predict which way the judges would rule, saying, "That's not my job."
But he did talk more about the impact of anti-gay marriage laws on couples like him and his partner.
"We are loving and committed individuals who have committed to each other," Kitchen said.
During the news conference, a reporter said Utah Attorney General Sean Reyes was seen talking to the plaintiffs in the aftermath of the hearing and telling them, "Sorry for putting you through this pain."
Addressing reporters to emphasize the state's position that the marriage issue should be resolved not through the courts, but the "democratic process," Reyes acknowledged he spoke with plaintiffs and said something along those lines.
"I offered them my best wishes," Reyes said. "I did express to them that I was sorry that there was feeling pain. Again, this is not an easy thing to do when you know that the people you really care about on both sides of the issue will be affected very significantly and very personally. I wanted them to know that it wasn't personal; I wanted them to appreciate that I recognize their families are as important to them as my family is to me."
Kate Kendell, executive director of the National Center for Lesbian Rights, which is assisting in the case, said in a statement after the arguments she was heartened by what she heard.
"As a Utah native, today was a proud moment as Utah residents poignantly brought their families' stories to a federal appeals court and made a basic request for equal treatment under our nation's Constitution," Kendell said. "We are optimistic the court will agree that excluding same-sex couples from the right to marry causes harm and allowing couples to marry strengthens families and hurts no one. "
Kemp signs Georgia's healthcare ban targeting trans and nonbinary youth
LGBTQ, legal, and civil rights groups condemn the healthcare ban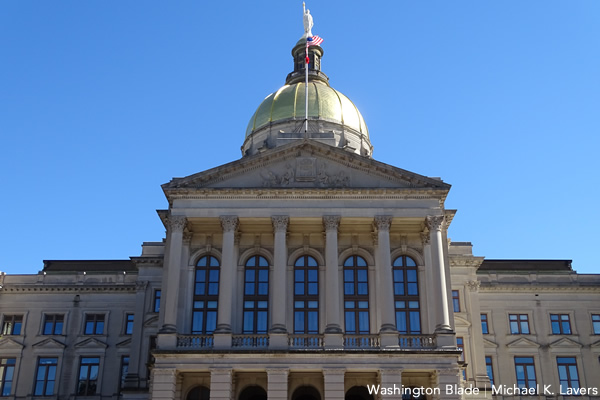 Georgia's Republican Gov. Brian Kemp on Thursday signed a ban on guideline-directed gender-affirming healthcare for transgender and nonbinary youth that was passed earlier this week by the GOP-controlled state legislature.
The law threatens to revoke the medical licenses of physicians who administer treatments for gender dysphoria in minor patients that are overwhelmingly considered safe, effective, and medically necessary by every scientific and medical society with relevant clinical expertise.
A previous version of S.B. 140 applied exclusively to surgical interventions, but the version signed into law Thursday also prohibits hormone replacement therapies, although treatment with puberty blockers is still allowed.
The move by GOP legislators to expand the healthcare interventions covered by the legislation follows pressure from conservatives like far-right U.S. Rep. Marjorie Taylor Greene, who represents Georgia's 14th Congressional District in the House and urged the state's lawmakers last week to make the bill more restrictive.
At the time, Greene also objected to the draft bill's "limited exceptions" carved out for cases where patients are treated for conditions other than gender dysphoria, including those diagnosed with "a medically verifiable disorder of sex development," provided the physician can attest they are medically necessary.
These provisions were kept intact in the bill's final iteration, which contains additional exceptions for the treatment of partial androgen insensitivity syndrome and in circumstances where the minor patient was being treated with hormone replacement therapies prior to July 1 2023.
A chorus of objections to and condemnations of the legislation have come from LGBTQ groups, along with legal and civil rights advocacy organizations and medical societies, clinicians, and scientists, including the Georgia Psychological Association.
The Human Rights Campaign, America's largest LGBTQ advocacy group, issued a statement shortly after Kemp signed the bill Thursday, declaring that Georgia had become "the largest state to legislatively enact such a discriminatory ban."
"Governor Kemp should be ashamed of himself — taking life-saving care away from vulnerable youth is a disgusting and indefensible act," Human Rights Campaign State Legislative Director and Senior Counsel Cathryn Oakley said in the statement. "This law harms transgender youth and terrorizes their families, but helps no one."
Despite the wave of legislation across the country barring access to or criminalizing gender affirming care, in most cases for minor patients, the group noted in Thursday's release that "polling by Patinkin Research Strategies released this month shows that only 26 percent of likely November 2024 voters in Georgia supported the legislation, while 66 percent opposed it" including 63 percent of independent and 59 percent of likely Republican voters.
According to the findings of a Human Rights Campaign study that were announced Wednesday, "more than half (50.4%) of transgender youth (ages 13-17) have lost or are at risk of losing access to age appropriate, medically necessary gender-affirming care in their state" – care, the group stressed, that "can be lifesaving."
Following the Georgia legislature's passage of the S.B. 140 earlier this week, the ACLU warned it would "[interfere] with the rights of Georgia parents to get life-saving medical treatment for their children" and prevent "physicians from properly caring for their patients."
The Southern Poverty Law Center released a statement by Beth Littrell, the organization's senior supervising attorney for its LGBTQ and Special Litigation Practice Group, calling the bill a "cynical partisan attack on transgender youth, medical autonomy, and parental rights" and urging Kemp to "leave personal healthcare decisions in the capable hands of parents, children, and their doctors."
Families with trans kids sue Florida over trans youth healthcare ban
Ban stands 'in direct contrast to evidence & science'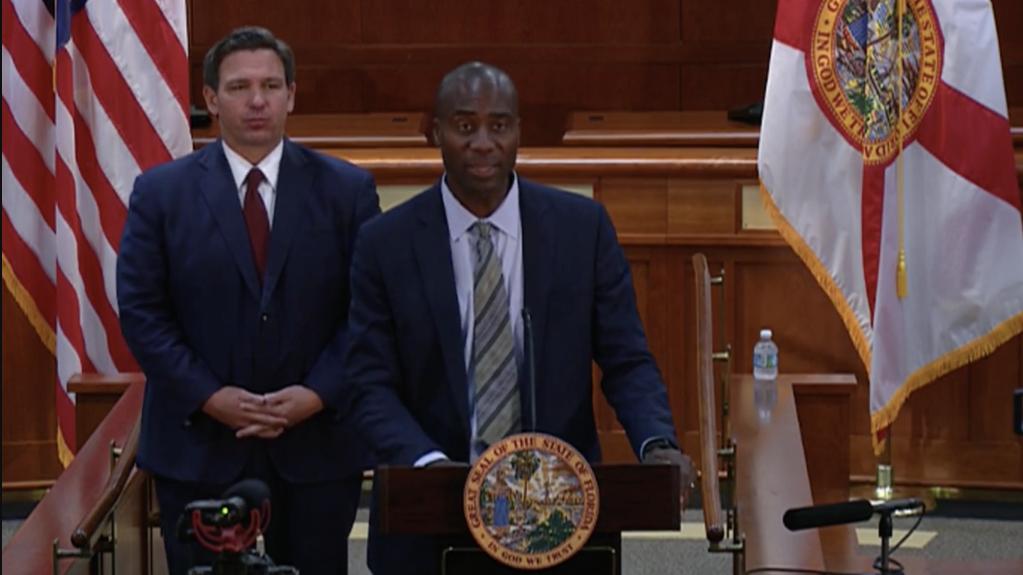 A lawsuit on behalf of four families with transgender children was filed Thursday in U.S. District Court for the Northern District of Florida, challenging the state's Boards of Medicine and Osteopathic Medicine's ban on gender affirming healthcare for minors.
The legal groups representing the four families, GLBTQ Legal Advocates & Defenders (GLAD), the National Center for Lesbian Rights (NCLR), the Human Rights Campaign and the Southern Legal Counsel, Inc. (SLC) noted in the suit that the bans contradict guidelines established through years of clinical research and recommended by every major medical association including the American Academy of Pediatrics, the American Medical Association, and the American Academy of Child and Adolescent Psychiatry.
The lawsuit also spells out that the policies unlawfully strips parents of the right to make informed decisions about their children's medical treatment and violates the equal protection rights of transgender youth by denying them medically necessary, doctor-recommended healthcare to treat their gender dysphoria.
The enactment of Florida's transgender healthcare ban, which went into effect on March 16, 2023, has faced considerable scrutiny as a politically-motivated process instigated at the urging of the governor and ignoring established medical and scientific consensus on medical care for transgender youth.
Statewide LGBTQ Equality rights advocacy group Equality Florida has decried the ban saying it was little more than a cultural war maneuver by Republican Governor Ron DeSantis who is widely expected to announce a run for the presidency in 2024.
In the summer of 2022, Florida Surgeon General Joseph Ladapo and the Department of Health asked the state Boards of Medicine and Osteopathic Medicine to adopt a categorical ban on all treatment of gender dysphoria for people under eighteen years of age.
In February and March of 2023, respectively, the Boards adopted formal rules prohibiting all access to safe, effective medical treatments for transgender youth who have received a gender dysphoria diagnosis but who have not yet begun puberty delaying medication or hormone treatments. Surgeon General Ladapo and all members of the Florida Boards of Medicine and Osteopathic Medicine are defendants in the families' suit challenging the ban.
"This policy came about through a political process with a predetermined conclusion, and it stands in direct contrast to the overwhelming weight of the evidence and science," said Simone Chriss, Director of Transgender Rights Initiative, Southern Legal Counsel. "There is an unbelievable degree of hypocrisy when a state that holds itself out as being deeply concerned with protecting 'parents' rights' strips parents of their right to ensure their children receive appropriate medical care. I have worked with families and their healthcare providers in Florida for many years. They work tirelessly every day to ensure the best health outcomes for their kids and patients, and they are worried sick about the devastating impacts that this ban will have."
"The Florida Boards of Medicine chose to ignore the evidence and science in front of them and instead put families in the unthinkable position of not being able to provide essential healthcare for their kids," said Jennifer Levi, Senior Director of Transgender and Queer Rights, GLBTQ Legal Advocates & Defenders.
"Parents, not the government, should make healthcare decisions for their children," said Shannon Minter, Legal Director of the National Center for Lesbian Rights. "This policy crosses a dangerous line and should concern anyone who cares about family privacy or the ability of doctors to do their jobs without undue government interference."
"It's alarming to see such a concerted, top-down effort to target a small and vulnerable population," said Sarah Warbelow, Human Rights Campaign Legal Director. "The Florida Surgeon General, Department of Health and Boards of Medicine should be focused on the real and serious public health issues Florida faces, not on putting transgender kids and their families in harm's way."
In a press statement by the legal teams representing them, the four families also weighed in:
"Like most parents, my husband and I want nothing more than for our daughter to be healthy, happy, and safe," said Jane Doe speaking about her 11-year-old daughter, Susan. "Being able to consult with our team of doctors to understand what our daughter is experiencing and make the best, most informed decisions about her care has been critically important for our family. She is a happy, confident child, but this ban takes away our right to provide her with the next step in her recommended treatment when she reaches puberty. The military doctors we work with understand the importance of providing that evidence-based, individualized care. We're proud to serve our country, but we are being treated differently than other military families because of a decision by politicians in the state where we are stationed. We have no choice but to fight this ban to protect our daughter's physical and mental health."
"This ban puts me and other Florida parents in the nightmare position of not being able to help our child when they need us most," said Brenda Boe, who is challenging the ban on behalf of herself and her fourteen-year-old son, Bennett Boe. "My son has a right to receive appropriate, evidence-based medical care. He was finally getting to a place where he felt hopeful, where being prescribed testosterone was on the horizon and he could see a future for himself in his own body. That has been ripped away by this cruel and discriminatory rule."
"Working with our healthcare team to understand what my daughter is experiencing and learning there are established, effective treatments that are already helping her to thrive has been an incredible relief," said Fiona Foe, who is challenging the ban on behalf of herself and her ten-year-old daughter, Freya Foe. "I know everyone may not understand what it means to have a transgender child, but taking away our opportunity to help our daughter live a healthy and happy life is cruel and unfair."
"Our daughter has been saying she is a girl since she was three – it hasn't gone away," said Carla Coe, a plaintiff in the lawsuit along with her nine-year-old daughter, Christina Coe. "Since she started being able to live as a girl she has been so much happier and better adjusted. Having the resources and support to make the best decisions for her wellbeing has been so important for our family. I'm scared this ban will take away the essential medical care she may need when she gets older. We just want to do what's right for our kid."
Takano to renew House Democrats' push for the Equality Act
Measure would extend federal anti-discrimination protections to LGBTQ Americans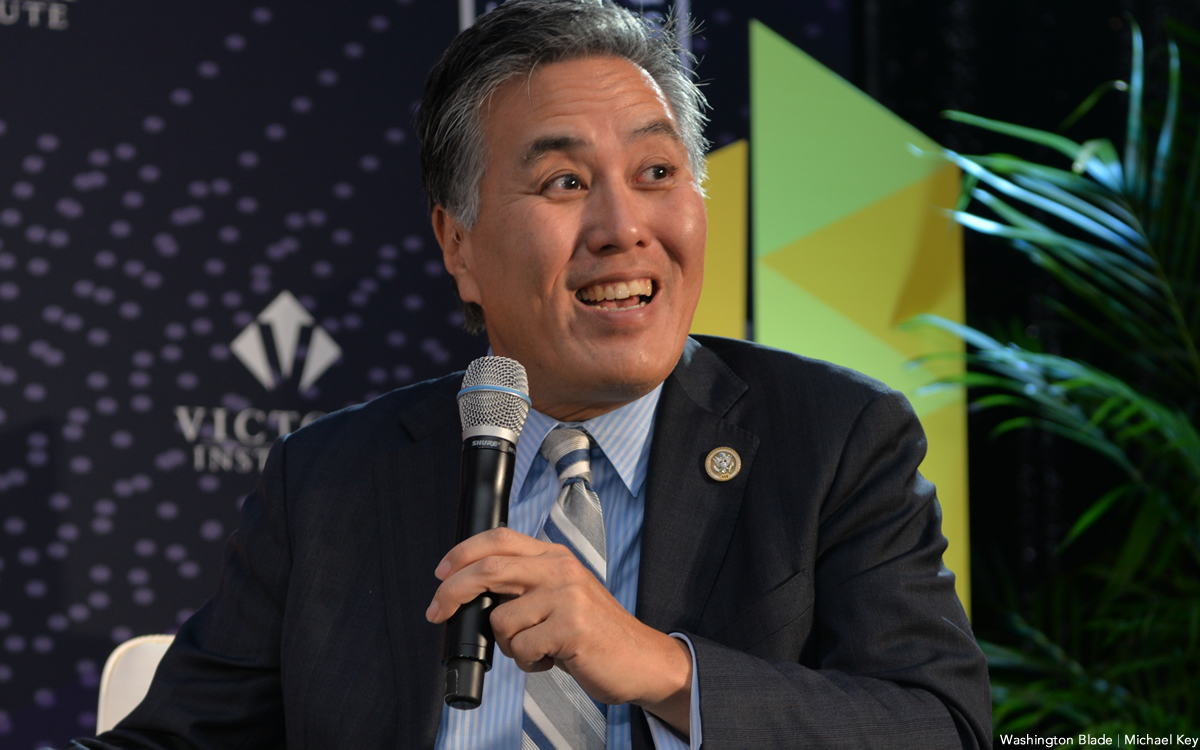 U.S. Rep. Mark Takano (D-Calif.), a co-chair of the Congressional Equality Caucus, issued a statement Thursday pledging to introduce the Equality Act during this Congress, legislation that would extend federal anti-discrimination protections to LGBTQ Americans.
The bill would prohibit discrimination on the basis of sexual orientation and gender identity in "employment, education, access to credit, jury service, federal funding housing, and public accommodations."
Four previous versions were introduced in the House by Rep. David Cicilline (D-R.I.) and in the Senate by U.S. Sen. Jeff Merkley (D-Ore.) in 2015, 2017, 2019, and 2021. The Biden administration and congressional Democrats have signaled that the legislation remains a major priority despite the Republicans now exercising their majority control of the lower chamber.
With Cicilline's planned departure from Congress on June 1 to lead the nonprofit Rhode Island Foundation, Takano thanked and credited his colleague "for his leadership on behalf of our community and stewardship of the Equality Act."
Cicilline, who drafted the legislation and chaired the Equality Caucus in the last Congress before Rep. Mark Pocan (D-Wis.) took over this year, noted the heightened importance of the Equality Act's passage amid the proliferation of anti-LGBTQ and especially anti-trans legislation.
"With homophobic and transphobic legislation being proposed in state legislatures across the country and here in Congress," he said, "it is far past time we act to finally outlaw discrimination against the LGBTQI+ community by passing the Equality Act."
The legislation is also backed by major LGBTQ advocacy groups including the nation's largest, the Human Rights Campaign. "There is overwhelming support for this bill among the American people and the business community, and we will continue fighting until this bill is signed into law," said the organization's President Kelley Robinson.
Robinson also thanked Cicilline for his leadership on the bill and said the Human Rights Campaign looks forward to working with Takano, "an incredible champion for our community" who "is the perfect leader for this effort" to "build on he work Congressman Cicilline started and get the Equality Act signed into law."