Gay athletes talk religion and faith
Church teachings complicate coming out process for many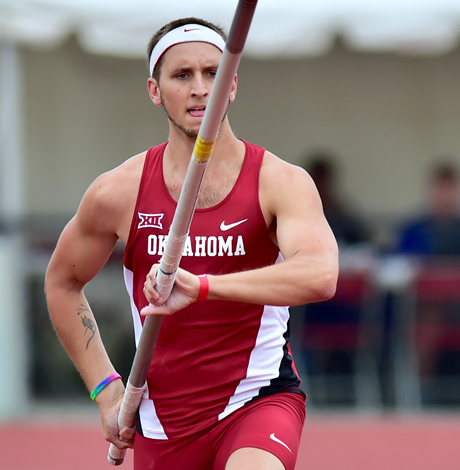 There have been a vast number of coming out stories told recently that share a common thread that it isn't easy to accept your sexual identity when it is not considered "normal."
The self-acceptance process is generally filled with shame, insecurities, fear and often depression. Homophobia is exactly what you don't want to experience when you are dealing with finding your true self.
There are other identities that you are not born with, those that are chosen, that also come with homophobia. Religion and sports can be extremely homophobic environments that can add even more emotion to the inner struggle of growing up gay.
It seems like an impossible bridge to gap. Why not just walk away from the two you can choose to walk away from, religion and sports?
Meet three men who are gay, played sports and grew up with religion. All three of them say it is not religion that bridged the three struggles, but rather their individual faith.
When you speak to Josh Sanders, there is a sense of calm that emanates from him. He describes his relationship with religion as being vertical and horizontal and more of a personal journey.
"The vertical is the relationship between me and God and the horizontal is me and the eyes of other people," says Sanders. "I should never look at myself through the eyes of others."
Sanders grew up playing basketball and intended to walk onto the team at Virginia Wesleyan but ended up dropping out to address his inner struggles. He began coaching a local high school team and enrolled at James Madison University. His path led to him to work with various Christian sports ministries and he became the athletic director at a Christian sports camp. After surviving six months of conversion therapy, he came out to his employer only to be told he couldn't return to the sports camp position that he had held for six years because of his sexuality.
"There is an exclusive tone to the intersection between religion and sexuality. It is the church versus the gay community," Sanders says. "I don't separate those two parts of myself. I can be both and there is nothing exclusive about that. If you can't acknowledge that I can be both, then you are not seeing all of me."
Sanders, who is living in the Virginia Beach area, has been getting involved again with sports as director of external engagement for GO! Athletes. He is also involved in its extension project, GO! Faith, which provides an inclusive space for young LGBT athletes, coaches and administrators of faith to come together for fellowship and encouragement.
"Biblical literalism is alive today but I think context is everything. It makes no sense to apply those writings to life today," says Sanders. "The Bible leads the direction of my faith, but it is my own personal interpretation."
Sanders attends a large evangelical church on occasion that is not LGBT friendly. He says he goes there because of the loving friendships he has made with some of its members.
"We [the LGBT community] are the ones that need to take the initiative to get people from the church to step outside their own experience and actually get to know us," Sanders says. "Once that happens, there can be change."
Tanner Williams was so shy as a kid that he was afraid to speak to people. He would wait outside after track practice in hopes of getting through a day without being called a fag. Because of his Southern Baptist upbringing in Ardmore, Okla., he spent a lot of time in those isolated moments wondering why he was gay.
In the sixth grade, his coach got him into pole vaulting and within two years, he won a national championship and followed that up with two state championships in high school.
"I was a really religious kid and I put all my trust in God and pole vaulting," says Williams. "I had no friends and my time was spent praying and talking to God."
During his freshman year at Oklahoma University, the mother of a girl he had been formerly promised to for marriage, began stalking Williams through a fake Twitter and Facebook account, threatening to out him, he says. A police report was filed and security was increased at the Big 12 Championships in Waco, Texas, where Williams was competing in the pole vault for the Sooners.
"I grew up with people telling me it's a choice to be gay and I fell for it," Williams says. "When things like harassment happen, it just reinforces the feeling that there is something wrong with you."
Williams began coming out to friends two years ago at age 19 and is now only occasionally attending church. He says he feels sorry for members of organized religion who propagate homophobia because they pick and choose what they believe in the Bible.
"They don't study the bible like I do and they don't look at it like I do." says Williams. "I study it and find the content for me, what God wants for me."
Williams is coming up on his senior year at Oklahoma University and will be graduating with a degree in business management and nursing. Last year at age 20 he married his partner, Scott Williams and he is looking forward to what the future has to offer.
"I love competing but I am ready to move on," Williams says. "I will be the only senior on the Sooners track team this year so I will be stepping forward as more of a leader. I guess that's my management side coming out."
When Akil Patterson was playing football for the University of Maryland, his mom was commuting from Frederick, Md., to get her master's degree and used to pick her son up for church. He always felt he wasn't being honest because the black church he attended was adamantly opposed to homosexuality. He sometimes brought his teammates along so he would feel more comfortable. It was during one of those rides to church that Patterson came out to his mom.
"I was struggling during my coming out process and I turned to my faith," says Patterson. "God doesn't get you out of things; he just helps you get through them."
After his football career ended, Patterson returned to the University of Maryland campus and became involved with coaching for their wrestling programs. The Terrapin Wrestling Club is also a regional Olympic training center for USA Wrestling and Patterson began competing in Greco-Roman wrestling.
Recently retired from sports, Patterson still attends church and says that everything a person needs is in the Bible and subject to one's own interpretation. He likes going to church because of the sense of camaraderie and fellowship and is attending a more affirming church now.
"When that black pastor says that being gay is wrong, everyone starts screaming and it creates a wolf pack mentality," Patterson says. "If the pastors would stop talking about it, people in the black community would follow. They will defend you and look out for you, but they don't want to hear about that part of you."
Patterson said that organized religion is directed at a certain type of people, those who are not secure in their faith.
"Those people are not rooted and don't understand how the book is translated. Too many of them think that faith is what you learned in church," Patterson says. "The church is religion but faith is beyond that. I am a man of faith."
Vulgar anti-gay slur halts championship final soccer match
The league has written rules and guidelines that call for the referees on the field to halt game play if fans ignore warnings
DENVER, CO. – The Confederation of North, Central America and Caribbean Association Football, (CONCACAF) league's final match in the Mile-High City Sunday was halted after fans disrupted the game play by shouting a homophobic chant directed at players on the field.
ESPN reported the pause occurred during the final moments of the second half before the game went to extra time in the U.S. men's national team's 3-2 win. Referee John Pitti resumed the match after three minutes as players on both sides pleaded with the crowd to stop using the chant.
The league has written rules and guidelines that call for the referees on the field to halt game play if a warning to the spectators by the announcer over the stadium's public address has already warned the crowd to cease and desist. Should the crowd not stop, then the referee has the authority to send the players to the locker rooms and can also call for the match to be abandoned.
ESPN also reported that this was the second tournament match to be halted due to anti-gay chants at Empower Field at Mile High. Mexico's semifinal win over Costa Rica was also briefly paused. That match also saw several fans ejected from the stadium.
Outsports Webzine reported this past Spring that the disgraceful "puto" chant —a vulgar slur for male prostitute — is ubiquitous at Mexican soccer matches, and up until recently, Soccer's governing body, Fédération Internationale de Football Association or FIFA, has been ambivalent towards its eradication. The organization has punished Mexico at least 12 times for the chant since 2015, and yet, it hasn't disappeared.
In March, FIFA opened an investigation into anti-gay chanting by Mexico supporters during an Olympic qualifier against the Dominican Republic ESPN noted.
WATCH: USA Beats Mexico FULL MATCH [CONCACAF Nations League Final] | from CBS Sports. Game play is halted at the 1 hour thirty seven minute mark on the YouTube video:
Niners kick-off Pride with NFL's 1st-ever gender-neutral gear
The team hopes to score another win for its diverse fanbase Thursday with a new retail line that isn't limited by binary gender styles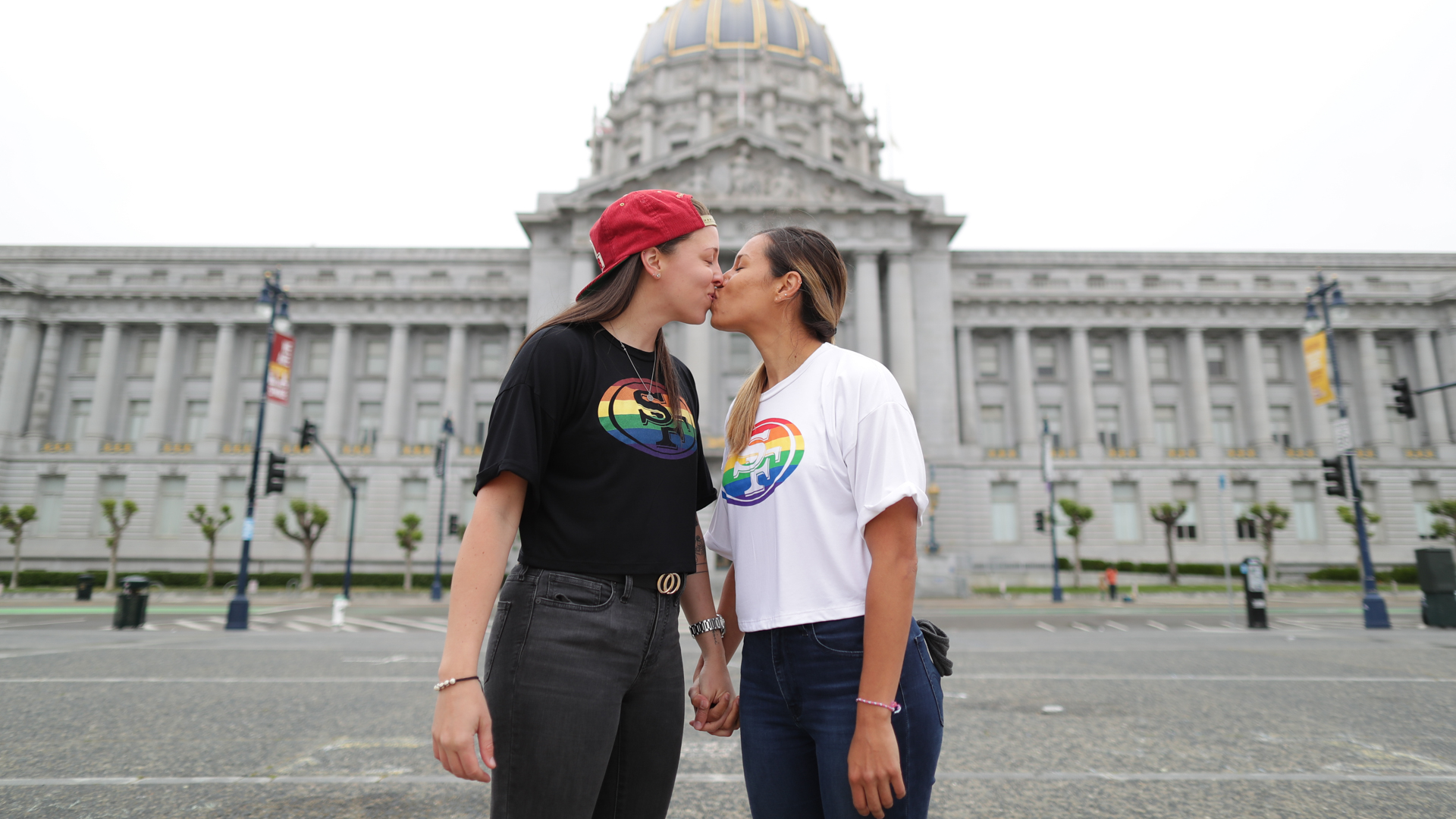 SANTA CLARA, CA. – The San Francisco 49ers have announced month-long plans for the organization's annual celebration of June LGBTQ+ Pride month. Led by 49ers PRIDE, the official fan club of 49ers Faithful who identify as LGBTQ+ and allies, the 2021 celebration will be highlighted by the 2021 49ers PRIDE Collection.
Every fan can feel seen
The San Francisco 49ers call their new retail line of rainbow-logo'd tops, tees and jackets "genderless." We think you'll call them cool- two years after the San Francisco 49ers led the NFL with the first official community for LGBTQ fans and allies, back in May 2019, the team hopes to score another win for its diverse fanbase Thursday with a new retail line that isn't limited by binary gender styles.
The new array of team-branded and Pride-themed clothing is the league's first and only "genderless" collection, according to a news release from the Niners. The threads are by Fanatics and the team promises 100% of the proceeds from this collection will benefit the San Francisco LGBT Center, the Oakland LGBT Center and The LGBTQ Youth Space: San Jose.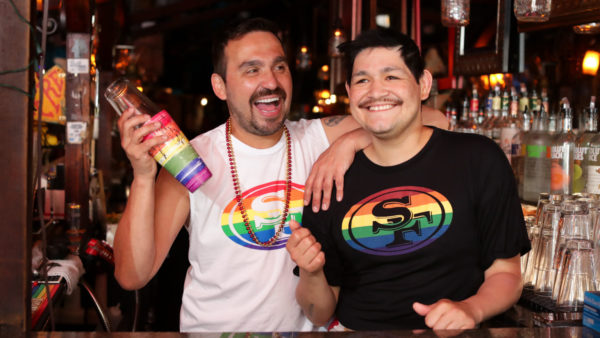 "Supporting the LGBTQ+ community in sports is a priority for the 49ers organization because sport has not always been inviting," the 49ers' Hannah Gordon told the Los Angeles Blade. Gordon is entering her tenth season with the 49ers and third as chief administrative officer and general counsel.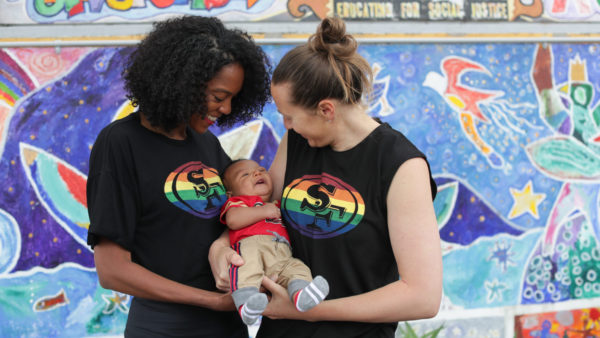 "We created 49ers PRIDE to make space for all of our LGBTQ+ fans and allies and it quickly became an incredible community. This year, we designed the first genderless retail line by an NFL team because we don't want there to be 49ers fan who wants gear but doesn't feel seen. If you want to support the Niners, we have something for you."
There will still be items available that fans who prefer a feminine cut can purchase at the team's online store, but the 2021 Pride collection is specifically geared toward Niners fans who aren't interested in reinforcing gender stereotypes when they support their team and fly their Pride colors.
"With this line, we have pieces that were designed so that however you identify, you can find a fit and any two people can express different styles with the same piece," said Gordon. "I love seeing how our fans wear these pieces and express their style. Doing it your own way is faithful to the Bay."
Click here to view the collection and find out more about 49ers Pride.
Pro rugby player comes out
Devin Ibañez played with New England Free Jacks pre-pandemic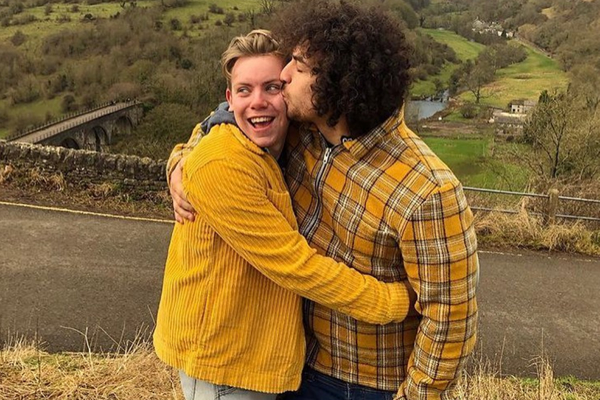 Major League Rugby player Devin Ibañez came out as a gay man on his social media platforms on Tuesday. Sharing pictures of embracing and kissing his partner Fergus Wade, the former New England Free Jacks athlete stated, "as of now I am the only openly gay rugby player to earn a contract with an MLR side. I hope that I will meet others like myself playing a high level of rugby and hoping to inspire the next generation of proud LGBTQ rugby players. So I will proudly call myself 'that gay rugger' in hopes that one day it won't sound strange in men's rugby"
Ibañez shares on his new Instagram account @thatgayrugger, "as 2020 comes to a close I took the time to reflect on my life and what aspects I could control and make positive changes to that would impact my day to day life and happiness."
He continues, "I want to start 2021 by celebrating the love of my life and my partner @ferguswade who has been with me through the highs and the (very) lows of the last three years."