New kickball league thriving in North Carolina
Stonewall Sports expands, finds eager players in unlikely places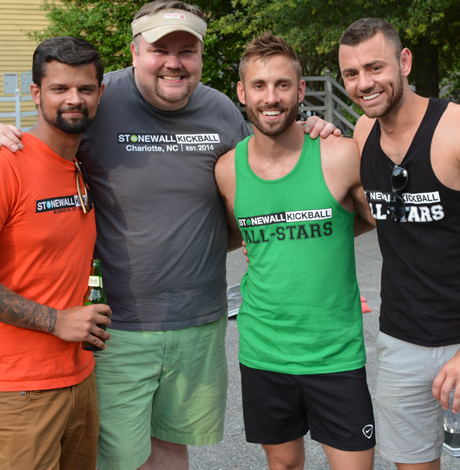 With an estimated metropolitan area population of six million, D.C. is home to a large and thriving LGBT sports community. There are roughly 35 teams and clubs competing, playing and socializing together, usually outside of the traditional bar scene. It seems that every time a new league is formed, it is immediately filled to capacity. In 2015, Capital Pride Volleyball and Stonewall Billiards completed their first seasons and will have to consider expanding for their second seasons.
The success in D.C. of these leagues can be attributed in part to the sheer number of people here, the transient nature of the area and the progressive thinking of many residents. Many of the LGBT players are having their own sports renaissance, finding their way back to the sports they were bullied out of playing in their youth and trying new sports.
But what about the rural areas around the country where homophobia remains prevalent and where there are still no safe spaces for members of the LGBT community to play sports?
Is it possible for LGBT sports leagues to be formed that offer that safe space when the numbers aren't there and the local community may not be ready for it?
In the smaller communities, it all begins at the grassroots level.
D.C.-based Stonewall Sports has created a prototype for LGBT sports leagues that has worked well for the five sports that it offers locally. The structure that Stonewall mandates includes organizational guidelines for the proposed sport, financial support to local charities and community outreach.
North Carolina became the target of the first Stonewall expansion effort and leagues are now in place in Raleigh, Charlotte, Greensboro and Wilmington.
Even with the Stonewall prototype, getting started and maintaining the momentum to keep the leagues running requires establishing a strong connection to the community. Raleigh and Charlotte were the first expansion cities in 2013 and the two smaller cities followed.
Stonewall Kickball-Greensboro started in the fall of 2014 with 70 players on five teams. There were some issues at the beginning with teams being too small and having to forfeit, but they expanded to 107 players in the second season this year.
With the Greensboro population at just over 250,000, to get those extra players, kickball commissioner Will Fisher started networking and going out and just talking to people. They are also competing to recruit players with a straight recreational kickball league in the area.
"There is not really a gay scene here," says Fisher. "And we don't have a lot of options recruiting from the colleges as most of them aren't over 21."
Greensboro ended up with a diverse group of kickball players — mostly gay, several straight players, some recovering from addictions and a mix of ages.
"This is a lot of people that didn't hang out together that are playing a sport and getting along fine," Fisher says.
Sponsorship for the teams in the league has come from varied sources such as an investment firm, a Cross Fit gym, a catering business and a straight bar that caters to gay clientele on Sunday nights. Even a dinnerware replacement company is on board. The players can be found helping out at their sponsor's events, doing set-up and break-down and the financial benefactor of their efforts is the local LGBT community center, Guilford Green.
The Stonewall prototype is working so well for them, that they are considering taking over volleyball from an old parks and recreation league.
Fisher, who is from Sanford, N.C., didn't play many sports growing up but was active in eventing, an equestrian sport.
"This is fun and I am really enjoying meeting people that I wouldn't have met otherwise," says Fisher. "Actually, I think I might know everyone in Greensboro now."
The launch of Stonewall Kickball-Wilmington in the spring of 2015 proved to be an even tougher challenge as the population in Wilmington is just over 100,000 people.
"There is no gay community here and most of the LGBT people in town don't want to go to the only gay bar," says Frank Wolfgram, Wilmington Kickball commissioner. "It's a small town and even though no one really knows each other, you still hear about everyone's business."
With no Pride events in the area, marketing was a key issue and word began to spread that a kickball league was forming. It was decided that it was necessary to have a few pick-up kickball games to see if everyone meshed. There were enough players to start a league — 60 players on five teams.
"When we were first getting ready to play, I was thinking to myself, 'please let everyone be nice to each other,'" Wolfgram says. "And they were; it was mind-blowing. Everyone was clapping and being really supportive."
Wolfgram is from Rochester, N.Y., and has been in Wilmington for five years. He played basketball and baseball growing up and says he has always been a sports fan. With the next season approaching, Wolfgram is already starting to wonder if they will come up with enough players to keep it going.
"I probably shouldn't worry too much about it," he says. "People enjoy getting muddy here."
The lesson from starting these leagues in small cities was that the community plays an extra large part in the success of the venture. The typical game day is filled with kickball, cornhole, kids, dogs and food.
"You have to wonder if the community is ready for 60 gays and their allies to walk into a bar all wearing matching T-shirts," says Martin Espinoza, co-founder of Stonewall Sports. "One thing to note is that the new leagues in North Carolina all have young leaders who are interested in helping the community."
Another positive development is that despite the physical distance between the four cities, they are forging a new community together. They are playing games, holding events and offering support to one another. This weekend they will all come together to spend a day at the Wet n' Wild water park in Greensboro. Ten people from Stonewall-D.C. will be there to join in the fun.
"It has been pretty amazing to watch this tight community form from four cities," Espinoza says. "They are always trying to one up each other. Greensboro even had the straight female mayor come out for the first pitch."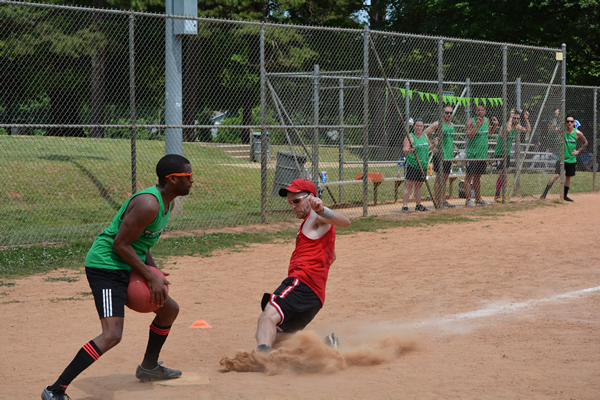 Vulgar anti-gay slur halts championship final soccer match
The league has written rules and guidelines that call for the referees on the field to halt game play if fans ignore warnings
DENVER, CO. – The Confederation of North, Central America and Caribbean Association Football, (CONCACAF) league's final match in the Mile-High City Sunday was halted after fans disrupted the game play by shouting a homophobic chant directed at players on the field.
ESPN reported the pause occurred during the final moments of the second half before the game went to extra time in the U.S. men's national team's 3-2 win. Referee John Pitti resumed the match after three minutes as players on both sides pleaded with the crowd to stop using the chant.
The league has written rules and guidelines that call for the referees on the field to halt game play if a warning to the spectators by the announcer over the stadium's public address has already warned the crowd to cease and desist. Should the crowd not stop, then the referee has the authority to send the players to the locker rooms and can also call for the match to be abandoned.
ESPN also reported that this was the second tournament match to be halted due to anti-gay chants at Empower Field at Mile High. Mexico's semifinal win over Costa Rica was also briefly paused. That match also saw several fans ejected from the stadium.
Outsports Webzine reported this past Spring that the disgraceful "puto" chant —a vulgar slur for male prostitute — is ubiquitous at Mexican soccer matches, and up until recently, Soccer's governing body, Fédération Internationale de Football Association or FIFA, has been ambivalent towards its eradication. The organization has punished Mexico at least 12 times for the chant since 2015, and yet, it hasn't disappeared.
In March, FIFA opened an investigation into anti-gay chanting by Mexico supporters during an Olympic qualifier against the Dominican Republic ESPN noted.
WATCH: USA Beats Mexico FULL MATCH [CONCACAF Nations League Final] | from CBS Sports. Game play is halted at the 1 hour thirty seven minute mark on the YouTube video:
Niners kick-off Pride with NFL's 1st-ever gender-neutral gear
The team hopes to score another win for its diverse fanbase Thursday with a new retail line that isn't limited by binary gender styles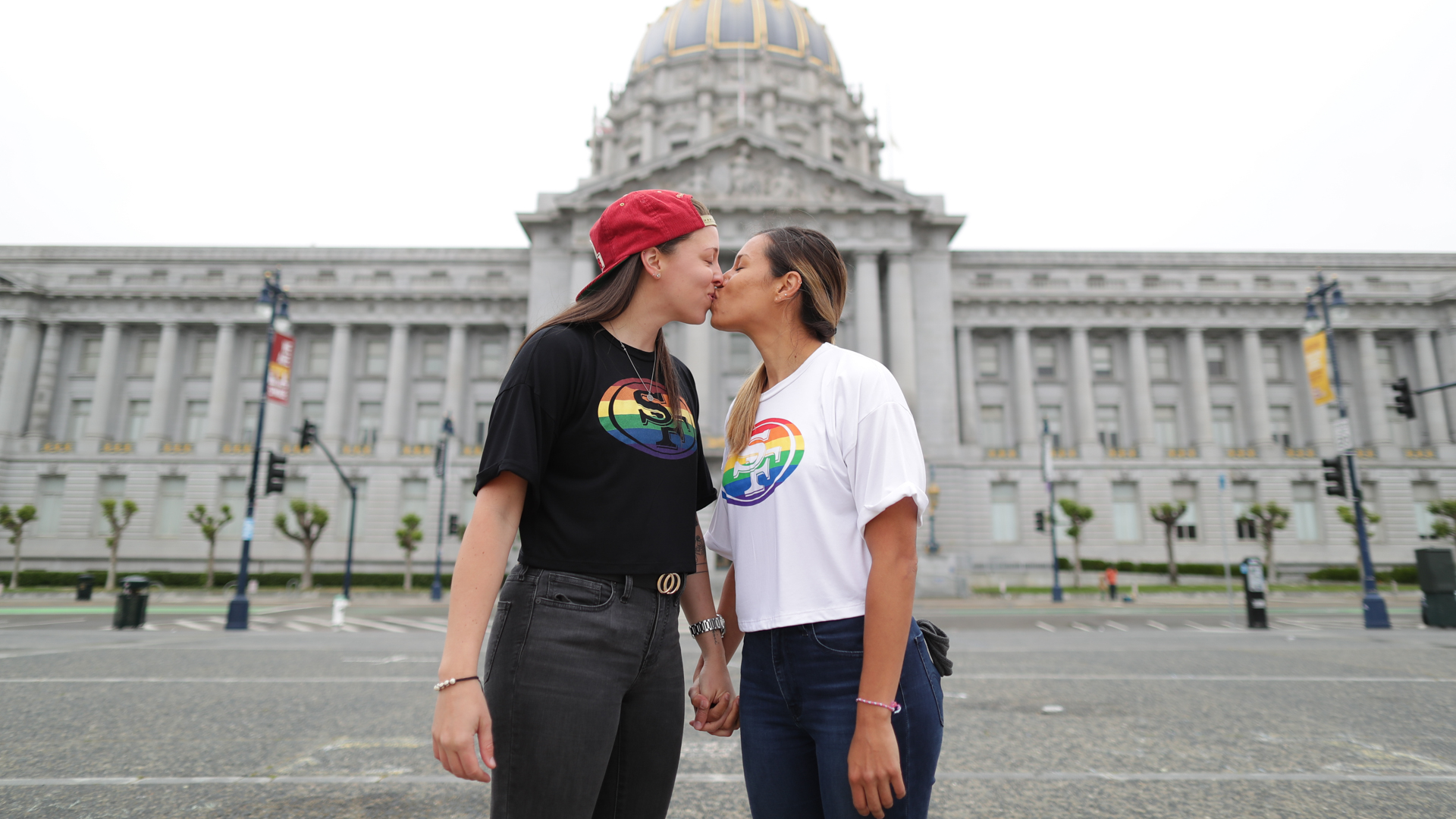 SANTA CLARA, CA. – The San Francisco 49ers have announced month-long plans for the organization's annual celebration of June LGBTQ+ Pride month. Led by 49ers PRIDE, the official fan club of 49ers Faithful who identify as LGBTQ+ and allies, the 2021 celebration will be highlighted by the 2021 49ers PRIDE Collection.
Every fan can feel seen
The San Francisco 49ers call their new retail line of rainbow-logo'd tops, tees and jackets "genderless." We think you'll call them cool- two years after the San Francisco 49ers led the NFL with the first official community for LGBTQ fans and allies, back in May 2019, the team hopes to score another win for its diverse fanbase Thursday with a new retail line that isn't limited by binary gender styles.
The new array of team-branded and Pride-themed clothing is the league's first and only "genderless" collection, according to a news release from the Niners. The threads are by Fanatics and the team promises 100% of the proceeds from this collection will benefit the San Francisco LGBT Center, the Oakland LGBT Center and The LGBTQ Youth Space: San Jose.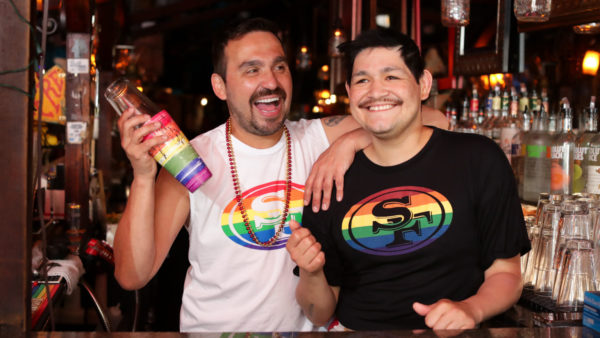 "Supporting the LGBTQ+ community in sports is a priority for the 49ers organization because sport has not always been inviting," the 49ers' Hannah Gordon told the Los Angeles Blade. Gordon is entering her tenth season with the 49ers and third as chief administrative officer and general counsel.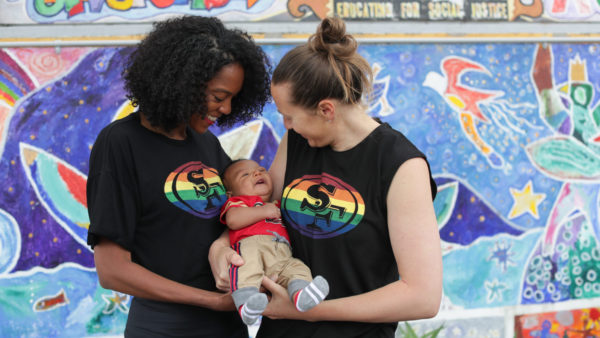 "We created 49ers PRIDE to make space for all of our LGBTQ+ fans and allies and it quickly became an incredible community. This year, we designed the first genderless retail line by an NFL team because we don't want there to be 49ers fan who wants gear but doesn't feel seen. If you want to support the Niners, we have something for you."
There will still be items available that fans who prefer a feminine cut can purchase at the team's online store, but the 2021 Pride collection is specifically geared toward Niners fans who aren't interested in reinforcing gender stereotypes when they support their team and fly their Pride colors.
"With this line, we have pieces that were designed so that however you identify, you can find a fit and any two people can express different styles with the same piece," said Gordon. "I love seeing how our fans wear these pieces and express their style. Doing it your own way is faithful to the Bay."
Click here to view the collection and find out more about 49ers Pride.
Pro rugby player comes out
Devin Ibañez played with New England Free Jacks pre-pandemic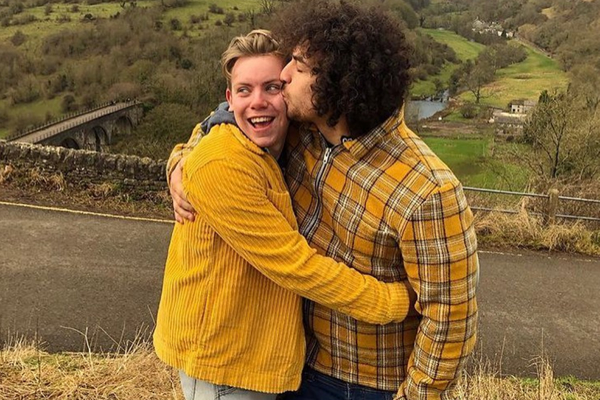 Major League Rugby player Devin Ibañez came out as a gay man on his social media platforms on Tuesday. Sharing pictures of embracing and kissing his partner Fergus Wade, the former New England Free Jacks athlete stated, "as of now I am the only openly gay rugby player to earn a contract with an MLR side. I hope that I will meet others like myself playing a high level of rugby and hoping to inspire the next generation of proud LGBTQ rugby players. So I will proudly call myself 'that gay rugger' in hopes that one day it won't sound strange in men's rugby"
Ibañez shares on his new Instagram account @thatgayrugger, "as 2020 comes to a close I took the time to reflect on my life and what aspects I could control and make positive changes to that would impact my day to day life and happiness."
He continues, "I want to start 2021 by celebrating the love of my life and my partner @ferguswade who has been with me through the highs and the (very) lows of the last three years."