New kickball league thriving in North Carolina
Stonewall Sports expands, finds eager players in unlikely places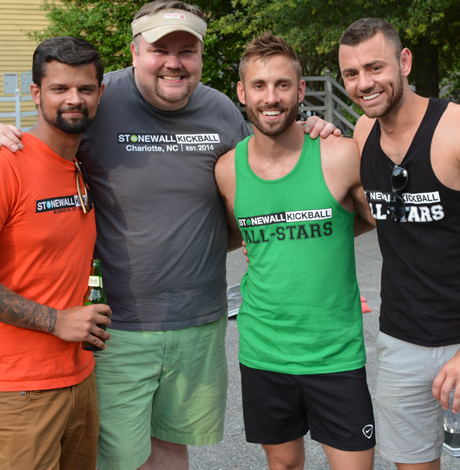 With an estimated metropolitan area population of six million, D.C. is home to a large and thriving LGBT sports community. There are roughly 35 teams and clubs competing, playing and socializing together, usually outside of the traditional bar scene. It seems that every time a new league is formed, it is immediately filled to capacity. In 2015, Capital Pride Volleyball and Stonewall Billiards completed their first seasons and will have to consider expanding for their second seasons.
The success in D.C. of these leagues can be attributed in part to the sheer number of people here, the transient nature of the area and the progressive thinking of many residents. Many of the LGBT players are having their own sports renaissance, finding their way back to the sports they were bullied out of playing in their youth and trying new sports.
But what about the rural areas around the country where homophobia remains prevalent and where there are still no safe spaces for members of the LGBT community to play sports?
Is it possible for LGBT sports leagues to be formed that offer that safe space when the numbers aren't there and the local community may not be ready for it?
In the smaller communities, it all begins at the grassroots level.
D.C.-based Stonewall Sports has created a prototype for LGBT sports leagues that has worked well for the five sports that it offers locally. The structure that Stonewall mandates includes organizational guidelines for the proposed sport, financial support to local charities and community outreach.
North Carolina became the target of the first Stonewall expansion effort and leagues are now in place in Raleigh, Charlotte, Greensboro and Wilmington.
Even with the Stonewall prototype, getting started and maintaining the momentum to keep the leagues running requires establishing a strong connection to the community. Raleigh and Charlotte were the first expansion cities in 2013 and the two smaller cities followed.
Stonewall Kickball-Greensboro started in the fall of 2014 with 70 players on five teams. There were some issues at the beginning with teams being too small and having to forfeit, but they expanded to 107 players in the second season this year.
With the Greensboro population at just over 250,000, to get those extra players, kickball commissioner Will Fisher started networking and going out and just talking to people. They are also competing to recruit players with a straight recreational kickball league in the area.
"There is not really a gay scene here," says Fisher. "And we don't have a lot of options recruiting from the colleges as most of them aren't over 21."
Greensboro ended up with a diverse group of kickball players — mostly gay, several straight players, some recovering from addictions and a mix of ages.
"This is a lot of people that didn't hang out together that are playing a sport and getting along fine," Fisher says.
Sponsorship for the teams in the league has come from varied sources such as an investment firm, a Cross Fit gym, a catering business and a straight bar that caters to gay clientele on Sunday nights. Even a dinnerware replacement company is on board. The players can be found helping out at their sponsor's events, doing set-up and break-down and the financial benefactor of their efforts is the local LGBT community center, Guilford Green.
The Stonewall prototype is working so well for them, that they are considering taking over volleyball from an old parks and recreation league.
Fisher, who is from Sanford, N.C., didn't play many sports growing up but was active in eventing, an equestrian sport.
"This is fun and I am really enjoying meeting people that I wouldn't have met otherwise," says Fisher. "Actually, I think I might know everyone in Greensboro now."
The launch of Stonewall Kickball-Wilmington in the spring of 2015 proved to be an even tougher challenge as the population in Wilmington is just over 100,000 people.
"There is no gay community here and most of the LGBT people in town don't want to go to the only gay bar," says Frank Wolfgram, Wilmington Kickball commissioner. "It's a small town and even though no one really knows each other, you still hear about everyone's business."
With no Pride events in the area, marketing was a key issue and word began to spread that a kickball league was forming. It was decided that it was necessary to have a few pick-up kickball games to see if everyone meshed. There were enough players to start a league — 60 players on five teams.
"When we were first getting ready to play, I was thinking to myself, 'please let everyone be nice to each other,'" Wolfgram says. "And they were; it was mind-blowing. Everyone was clapping and being really supportive."
Wolfgram is from Rochester, N.Y., and has been in Wilmington for five years. He played basketball and baseball growing up and says he has always been a sports fan. With the next season approaching, Wolfgram is already starting to wonder if they will come up with enough players to keep it going.
"I probably shouldn't worry too much about it," he says. "People enjoy getting muddy here."
The lesson from starting these leagues in small cities was that the community plays an extra large part in the success of the venture. The typical game day is filled with kickball, cornhole, kids, dogs and food.
"You have to wonder if the community is ready for 60 gays and their allies to walk into a bar all wearing matching T-shirts," says Martin Espinoza, co-founder of Stonewall Sports. "One thing to note is that the new leagues in North Carolina all have young leaders who are interested in helping the community."
Another positive development is that despite the physical distance between the four cities, they are forging a new community together. They are playing games, holding events and offering support to one another. This weekend they will all come together to spend a day at the Wet n' Wild water park in Greensboro. Ten people from Stonewall-D.C. will be there to join in the fun.
"It has been pretty amazing to watch this tight community form from four cities," Espinoza says. "They are always trying to one up each other. Greensboro even had the straight female mayor come out for the first pitch."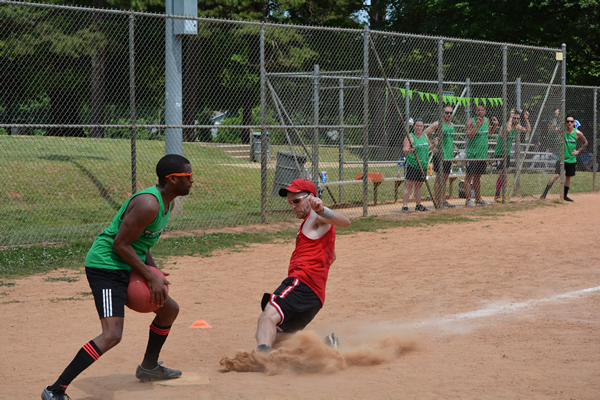 New York Rangers forgo Pride jerseys and stick tape for team Pride night
NYC Pride organizers responded to omission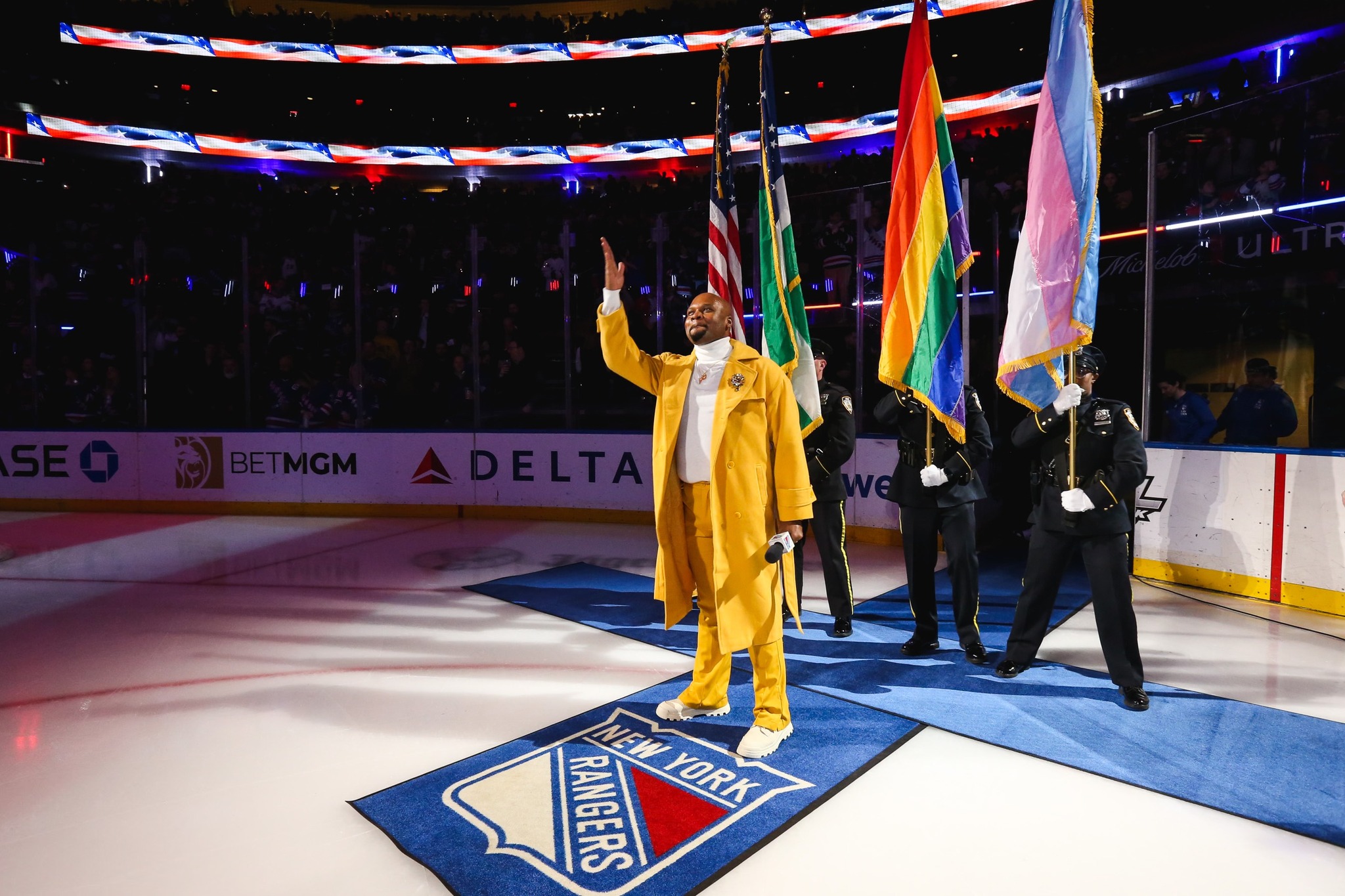 New York LGBTQ Rangers fans were disappointed after the National Hockey League team forwent wearing the team's special warm-up jerseys and using Pride stick tape during the team's 7th annual Pride Night Friday.
The Rangers had promoted Friday night's Madison Square Garden home game against Vegas Golden Knights, saying players "will be showing their support by donning pride-themed warm-up jerseys and tape in solidarity with those who continue to advocate for inclusivity." But ultimately the team wore their "Liberty Head" jerseys in warmups instead.
The Rangers scrapped plans to wear rainbow-themed warmup jerseys for Friday's "Pride Night" at Madison Square Garden, prompting confusion and disappointment from the LGBTQ community. https://t.co/8vQEkz838f

— 97.1 The Ticket: (@971theticketxyt) January 29, 2023
After the game, a 4-1 win over the Vegas Golden Knights, the Rangers released a statement: "Our organization respects the LGBTQ+ community and we are proud to bring attention to important local community organizations as part of another great Pride Night. In keeping with our organization's core values, we support everyone's individual right to respectfully express their beliefs."
In an emailed statement to the Washington Blade Sunday Dan Dimant, media director for NYC Pride | Heritage of Pride, Inc. said:
"In recent years, numerous National Hockey League (NHL) franchises including the New York Rangers have introduced a series of 'Pride Nights' to engage the LGBTQ+ community. NYC Pride has been honored to take part in these celebrations, including as recently as last night at Madison Square Garden.
NYC Pride was not made aware in advance of our participation in last night's ceremonial puck drop that Pride jerseys and rainbow tape would not be worn as advertised. We understand and appreciate that this has been a major disappointment to the LGBTQ+ community in New York and beyond. We are communicating these concerns with NY Rangers and NHL leadership as we continue to discuss the ways these organizations can work toward inclusion.
NYC Pride has a duty to both support our partners and hold them accountable. We are committed to continuing our relationships with the NY Rangers and the NHL and maintaining substantive dialogue with them about meaningful allyship with the LGBTQ+ community."
ESPN reported that the team's annual Pride Night was celebrated throughout the game in other ways. Fans were given a pride-themed fanny pack as a giveaway. The exterior and interior lights at Madison Square Garden were illuminated in rainbow colors. The Rangers also made a charitable donation to the Ali Forney Center on Pride Night, the largest agency dedicated to LGBTQ homeless youths in the country.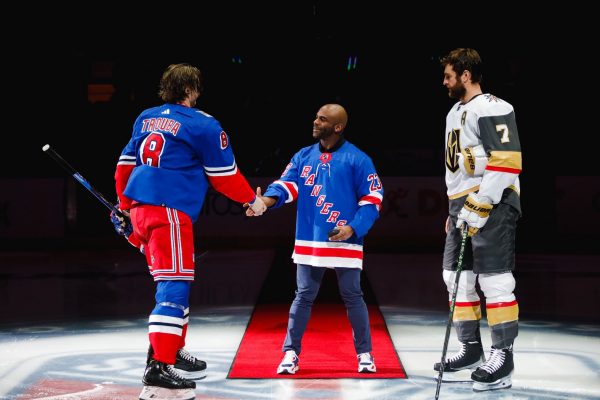 The Rangers' Pride Night was held 10 days after Ivan Provorov, the alternate captain for the National Hockey League's Philadelphia Flyers, opted out of participating in the team's Pride Night charity event before the game Tuesday, claiming a religious exemption based on his Russian Orthodox faith.
Provorov, 26, was the only member of the Flyers to not take part in the pre-game exercise on the ice. A video tweeted by the team's official account shows the rest of the players wore special Pride Night-themed black jerseys with the traditional Flyers logo on the front and rainbow-colored names and numbers on the back; many of the players practiced using hockey sticks wrapped in rainbow-colored tape known as Pride tape. Both the sticks and the jerseys were auctioned off after the game with the Anaheim Ducks, to raise money for local LGBTQ charities. 
The defenseman, who was born in Russia, told reporters after their victory, "I respect everybody and respect everybody's choices," adding that he declined to take part in the warmup "to stay true to myself and my religion."
After Provorov opted out of participating in the Flyer's Pride Night charity event the NHL put out a statement that said players can decide which team and league initiatives to support.
"Hockey is for Everyone is the umbrella initiative under which the league encourages Clubs to celebrate the diversity that exists in their respective markets, and to work to achieve more welcoming and inclusive environments for all fans," the league said. "Clubs decide whom to celebrate, when and how — with League counsel and support. Players are free to decide which initiatives to support, and we continue to encourage their voices and perspectives on social and cultural issues."
Out NFL star Carl Nassib is dating former Olympian Soren Dahl
The National Football League's first out gay player confirmed his relationship with Olympic swimmer Søren Dahl on Instagram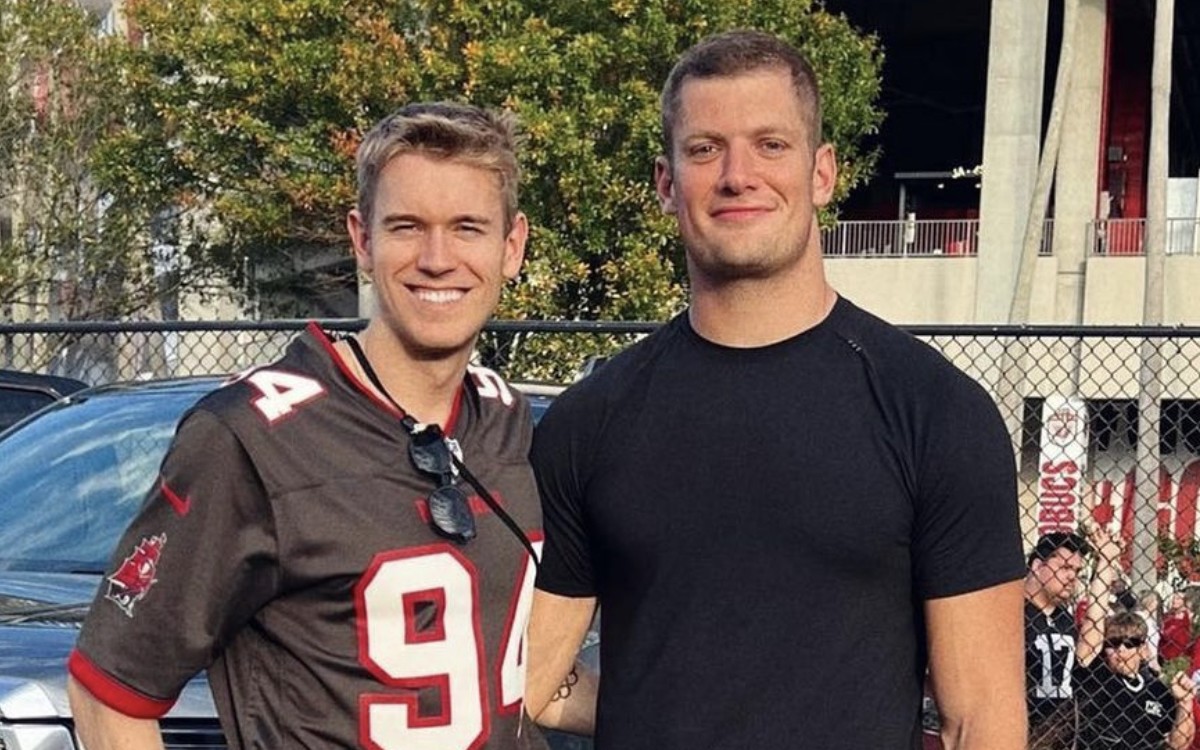 After months of internet speculation and Instagram snaps, it's official: Carl Nassib and Søren Dahl are a couple. Last weekend, the NFL player posted an Instagram story featuring a photograph of himself with his arm around the Danish swimmer.
Dahl, who competed in the 2016 Summer Games in Rio, is seen wearing a Buccaneers jersey with Nassib's number 94, and the linebacker has his arm around Dahl's waist.
Although there have been a series of snapshots since last summer featuring Nassib and Dahl together on the beach, in a club, and at the gym, this is the first one in which Nassib wrote something to clarify they are dating: "Kicking off 2023 with my man and a trip to the playoffs," he captioned the photo. Until now, Nassib has been extremely private about his personal life.
Queerty noted Dahl also posted a few pictures on Instagram on Jan. 2, including that same photo, with the caption, "Always Big Boy Season." From the background and location, it appears this was taken outside Raymond James Stadium in Tampa, Fla., home of the Bucs.
This will be the second playoff season for Nassib, the first active NFL player to come out as gay. He made the playoffs with the Las Vegas Raiders last year, and this year he's with Tom Brady and the Bucs. Their postseason game date and opponent will be announced in just days, but first they'll take on the Atlanta Falcons this Sunday, already having clinched the No. 4 seed and the NFC South title.
Dahl swam for Denmark in the 4×200-meter freestyle relay in 2016's Olympic Games. Prior to that, he competed for North Carolina State and was a two-time NCAA champion swimmer, winning titles in the 4×100 free and 4×200 free relays. Sometime around 2018, he moved to Fort Worth, Texas, to pursue his master's degree in Strategic Communication at Texas Christian University. After graduating in 2020, Dahl moved to New York City.
In 2021, he shared the story with followers of his TikTok account of how a former swimming coach called him the "F-word" and told him he'd "never become a good swimmer" if he were to come out as gay. The video then shows Dahl sporting a big smile and photos from his time swimming at the Olympics.
Although they dedicated themselves to different sports and were born in different countries, Nassib and Dahl are the same age, 29, celebrating birthdays just months apart.
Ever since coming out, Nassib has stepped up to help LGBTQ+ youth by raising money for The Trevor Project, for two years now: He's matched all donations to the organization up to $100,000. The group operates a crisis lifeline and provides resources to young people struggling with coming out, and also supports important research into the lack of affirming situations across race, identity and age groups.
Brittney Griner plans to play in upcoming WNBA season
Phoenix Mercury center returned to U.S. on Dec. 9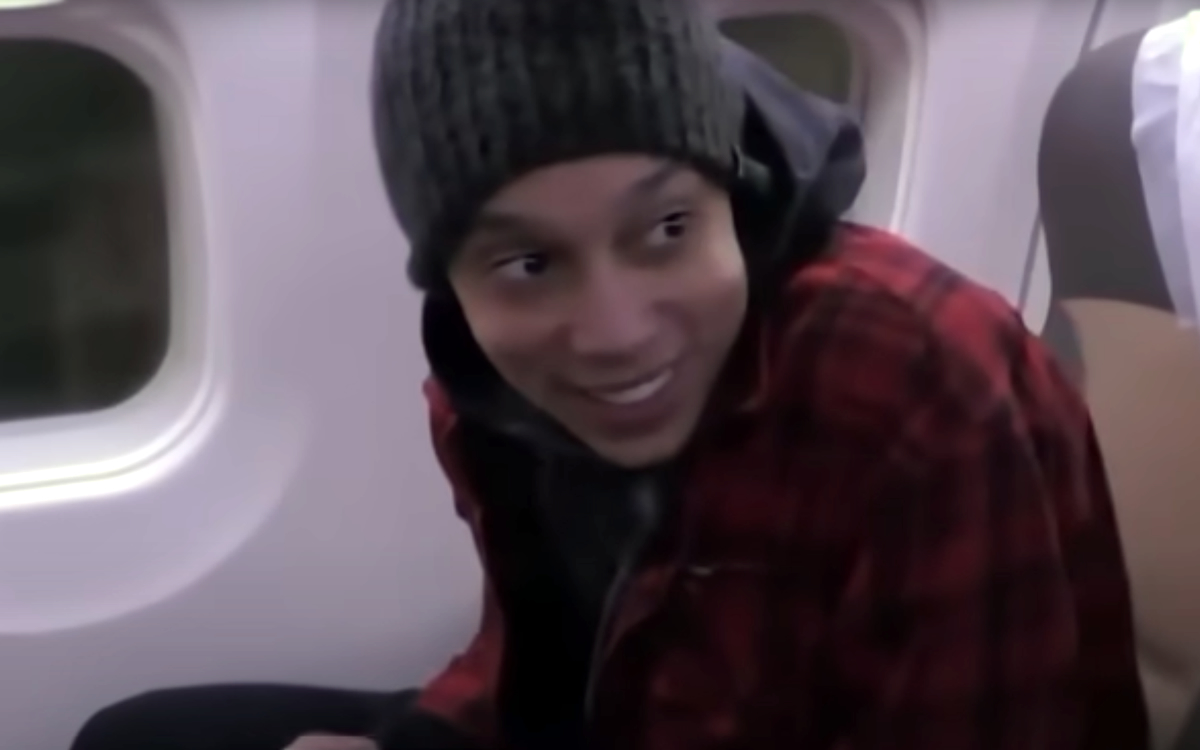 WNBA star Brittney Griner in her first public comments since she returned to the U.S. said she will play in the league's upcoming season.
"I intend to play basketball for the WNBA's Phoenix Mercury this season, and in doing so, I look forward to being able to say 'thank you' to those of you who advocated, wrote and posted for me in person soon," said Griner in a post on her Instagram page.
Russian customs officials in February detained Griner at Moscow's Sheremetyevo Airport after they found vape canisters with cannabis oil in her luggage. A court later convicted her of importation of illegal drugs and sentenced her to a 9-year prison sentence in a penal colony.
President Joe Biden on Dec. 8 announced Russia had released Griner in exchange for Viktor Bout, a Russian arms dealer who is serving a 25-year prison sentence in the U.S. Griner returned to the U.S. the following day.
Griner's Instagram post contains pictures of her arriving at Kelly Air Force Base in San Antonio and hugging her wife, Cherelle Griner.
"It feels so good to be home," said Brittney Griner. "The last 10 months have been a battle at every turn. I dug deep to keep my faith and it was the love from so many of you that helped keep me going. From the bottom of my heart, thank you to everyone for your help."
"I am grateful to each person who advocated for me, especially my wife, Cherelle Griner, my family, Lindsay Kagawa Colas and Casey Wasserman and my whole team at Wasserman, Vince Kozar and the Phoenix Mercury, the players of the WNBA and my entire WNBA family, Terri Jackson and the WNBPA staff, my Russian legal team Maria Blagovolina and Alex Boykov, the leaders, activists, and grassroots organizations, Gov. Richardson and Mickey Bergman of the Richardson Center, the Bring Our Families Home Campaign, Roger Carstens and the SPEHA team, and of course, a special thank you to President Biden, Vice President Harris, Secretary Blinken and the entire Biden-Harris administration," she added. "President Biden, you brought me home and I know you are committed to bringing Paul Whelan and all Americans home too. I will use my platform to do whatever I can to help you. I also encourage everyone that played a part in bringing me home to continue their efforts to bring all Americans home. Every family deserves to be whole."
Brittney Griner in her post also wrote that as she begins to "transition home to enjoy the holidays with my family, I want to acknowledge and thank the entire PISA staff and medical team at the San Antonio Fort Sam Houston Base."
"I appreciate the time and care to make sure I was okay and equipped with the tools for this new journey," she said.