Best of Gay D.C. 2016: NIGHTLIFE
Blade readers voted for their nightlife favorites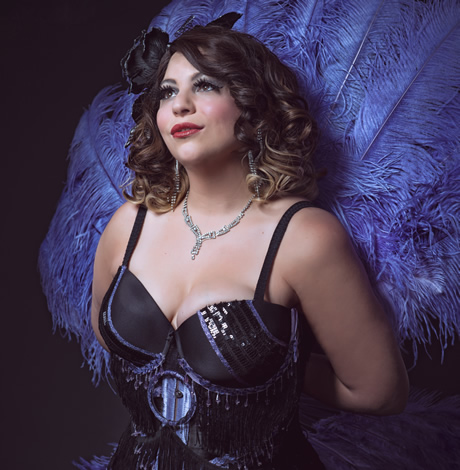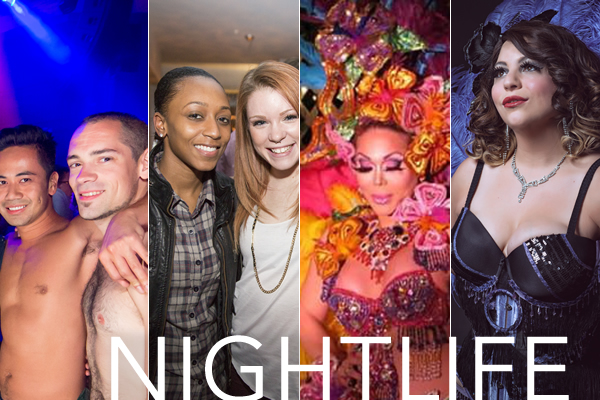 Best Dance Party
Mixtape
Runner-up: BARE by LURe
DJs Shea Van Horn and Matt Bailer host Mixtape, an alternative dance party, on the second Saturday of each month. Locations vary. The fifth annual Mixtape Halloween party is on Monday, Oct. 31 at the Howard Theatre. It's at the 9:30 Club on Saturday, Nov. 12.
Best Bartender
Dito Sevilla, Dito's Bar at Floriana
1602 17th St., N.W.
Runner-up: Dusty Martinez, Trade
Best Burlesque Dancer
Bella La Blanc
Runner-up: GiGi Holliday
Bella La Blanc is a housewife and mother of three, but unlike most wives and mothers, she's a showgirl who has found a way to play multiple roles in her life and not just on stage.
La Blanc, originally from Miami, says she was a theater kid who first fell in love with burlesque after watching "Gypsy." She then watched "Funny Girl" and once she came of legal age decided she wanted to emulate Barbra Streisand's Fanny Brice. Her journey led her to frequent fetish clubs, at the time the only place to find burlesque shows.
Now La Blanc regularly performs at the Bier Baron Tavern and has her own burlesque production company Glit-O-Rama Productions. She's also become known for her cos-play of Regina Mills from "Once Upon a Time."
La Blanc says her showgirl life is an open book for her kids who often see an evening gown and a vat of crystals strung out on the dining room table after dinner in her Northern Virginia home. Events like this make it all the more fitting that her tagline is "The Stepford Wife gone wild!"
For La Blanc, burlesque is all about pride in being who you are.
"As an exhibitionist I love being on stage and I love sparkly things," La Blanc says. "But I find that self-empowerment, self-confidence is what burlesque is all about. I go on stage and I'm like, 'Yeah, I'm a 30-something-year old woman. This body has popped out babies and I'm still going to wear next to nothing and shake my bacon."  (Mariah Cooper)
Best Cocktail
Lemon Squeeze
Duplex Diner
2004 18th St., N.W.
202-265-7828
(Second consecutive win in this category)
Runner-up: Watermelon Basil Slush, Logan Tavern
Best DJ
Matt Bailer
Peach Pit, Mixtape
(Second consecutive win in this category)
Runner-up: DJ Tezrah
Best Drag King
Chris Jay
Runner-up: Sebastian Katz
Chris Jay — who identifies as gender non-conforming and goes by Chris Jennings in non-drag endeavors — started drag three-and-a-half years ago, led to the craft by photography.
Interested in finding some different subjects, he happened upon the D.C. Kings four years ago and started shooting as many of their performances as he could. About six months later, he started with the Kings and continues to this day.
"I'm a lover of R&B, so you'll find me performing that mostly," Jay says. "My drag persona is me at a thousand, so I'm kind of full of myself and way more outgoing."
Now with Pretty Boi Drag (the Kings folded two years ago), Jay performs twice a month — the first Sunday of each at Acre 121 and the third Sunday of each month at the Bier Baron. Jay is 36, happily partnered and lives in Baltimore. (Joey DiGuglielmo)
Best Drag Queen
Tatianna
Runner-up: Ba'Naka
While Tatianna has been a drag nightlife staple in D.C., for the rest of the nation she had dropped off the radar in between her appearance on the second season of "RuPaul's Drag Race" and her reemergence in "RuPaul's Drag Race All Stars 2."
In her original season, Tatianna, who hails from Falls Church, Va., became a stand-out competitor when she won Snatch Game with her eerily on point imitation of Britney Spears circa 2005. Her taglines, "Thank you" and "Choices" also made her a fan favorite.
In "All Stars 2" Tatianna was booted from the show by fellow queen Alaska not once, but twice. However before leaving she yet again left an impression on the judges with her spoken word performance of "Same Parts," an ode to men at parties who hit on her and don't realize she also has the "same parts."
The local queen also dressed up as T-Boz for her last runway challenge impressing both the judges and fans.
Tatianna can frequently be found performing at Town and has said her favorite celebrities to impersonate are Britney Spears, Ariana Grande and Miley Cyrus. Tatianna has mentioned on "RuPaul's Drag Race" that she first began doing drag in middle school at age 14.
Since leaving the show, Tatianna is ready to continue working hard on her career.
"You can expect to see me everywhere because I'm traveling the world, dropping new music and saying 'Yes!' to any and all projects," Tatianna told the Huffington Post following her exit from the show. (Mariah Cooper)
Best Drag Show
Ladies of Town
Fridays and Saturdays at 10:30 p.m.
Town Danceboutique
2009 8th St., N.W.
Runner-up: Pretty Boi Drag
Best Gay-Friendly Straight Bar
Dacha Beer Garden
1600 7th St., N.W.
202-524-8790
(Second consecutive win in this category)
Runner-up: Black Cat
Best Go-Go Dancer/Stripper
Dylan Knight
Runner-up: Christian Lezzil
Tatianna isn't the only star to launch from Town Danceboutique. Dylan Knight started gyrating lasciviously about 2010 after seeing other go-go dancers there.
He's a weekly regular at Town and performs there and elsewhere, never taking himself too seriously.
"I just try to be entertaining and cute," the 25-year-old D.C. resident says.
He's also honored to win — "It feels good, I didn't think I would."
Knight dances nude sometimes and has shot more than 100 gay porn scenes since 2012 (favorite co-star? Colby Jansen).
He got his famous shamrock tattoo at Ocean City at age 18 when he was there for his senior trip. "My boyfriend and I got matching tattoos," he says. "I'm Irish and pretty lucky, so it fits." (Joey DiGuglielmo)
Best Happy Hour
D.C. Bear Crüe Bear Happy Hour
Every Friday at 6 p.m.
Town Danceboutique
2009 8th St., N.W.
Runner-up: Number Nine
Hottest Bar Staff
Nellie's
900 U St., N.W.
Runner-up: Town Patio
Best Live Music
9:30 Club
815 V St., N.W.
(A perennial favorite in this category)
Runner-up: Black Cat
Best Neighborhood Bar
JR.'s Bar & Grill
1519 17th St., N.W.
(A perennial favorite in this category)
Runner-up: Uproar
Best Outside-the-District Bar
Freddie's Beach Bar
555 S. 23rd St.
Arlington, Va.
(A winner of this award many times previously)
Runner-up: Grand Central (Baltimore)
Best Outdoor Drinking
Town Patio
Town Danceboutique
2009 8th St., N.W.
(Second consecutive win in this category)
Runner-up: Dacha Beer Garden
Best Place for Guys Night Out
Ziegfeld's/Secrets
1824 Half St., S.W.
(Second consecutive win in this category)
Runner-up: D.C. Bear Crüe Bear Happy Hour
Best Place for Girls Night Out
BARE by LURe
Every third Saturday of the month at Cobalt
1639 R St., N.W.
(Second consecutive win in this category)
Runner-up: WhiskHER
Best Rehoboth Bar
Blue Moon
35 Baltimore Ave.
Rehoboth Beach, Del.
(Second consecutive win in this category)
Runner-up: Aqua
Best Rehoboth Bartender
Matt Urban, Blue Moon
35 Baltimore Ave.
Rehoboth Beach, Del.
Runner-up: Jamie Romano, Purple Parrot
Matt Urban has been behind the bar at the venerable Blue Moon for 14 years. His friendly, reserved demeanor keeps the customers coming back year after year. He says the best part of the job is "meeting so many different people and catching up with friends." Originally from Wilmington, he lives in Rehoboth with his wife.
Best Rooftop
Uproar Lounge & Restaurant
639 Florida Ave., N.W.
Runner-up: Nellie's
Best Singer or Band
Frankie & Betty
(Second consecutive win in this category)
Runner-up: Wicked Jezabel
Best Transgender Performer
Gigi Paris Couture
Runner-up: Lady Dane
Gigi Paris Couture started performing 20 years ago. She was just hanging out in drag one night at a bar and one of the performers was a no-show.
"They asked me to perform and I liked it," Couture, a veteran of Ziegfeld's, Town, Freddie's, Cobalt, Perry's and many others, says.
She performs weekly and works by day as a stylist at the Cosset Aveda in Crystal City, Va., near where she resides in Alexandria.
Couture, who's single, says many trans performers work right alongside drag queens. She acknowledges there is "occasional tension, but nothing major."
"There's always something funny at every show," Couture says. "That's the nature of the business. A pastie can come off, duct tape might fall off or a piece of jewelry might fall on someone's eggs during brunch. Little funny things that make people laugh."
She's happy to win this new category, a Washington Blade Best of Gay D.C. first.
"It's an honor to be acknowledged for something I have enjoyed doing for so long." (Joey DiGuglielmo)
To see winners in other categories in the Washington Blade's Best of Gay D.C. 2016 Awards, click here.
PHOTOS: Superstar Drag Revue
Bombalicious Eklaver leads the show at Selina Rooftop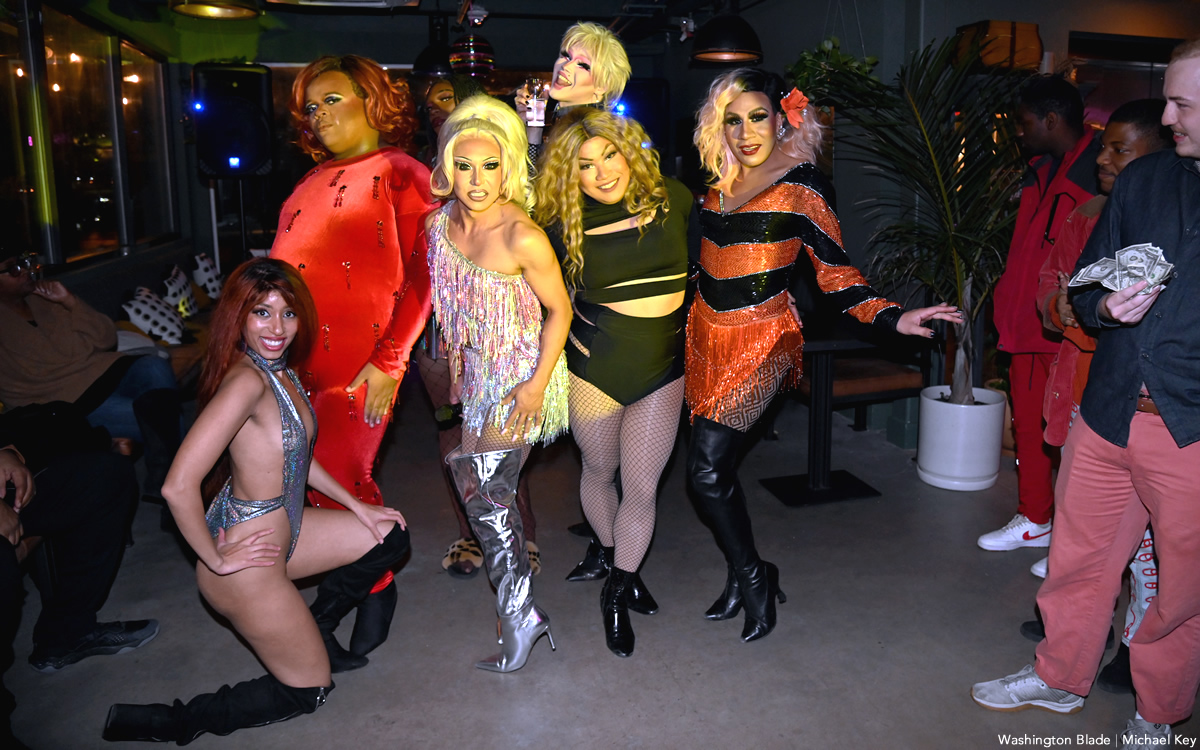 Bombalicious Eklaver held a Superstar Drag Revue at the Selina Hotel Rooftop on Friday, Nov. 25. DJ Juba provided the music.
(Washington Blade photos by Michael Key)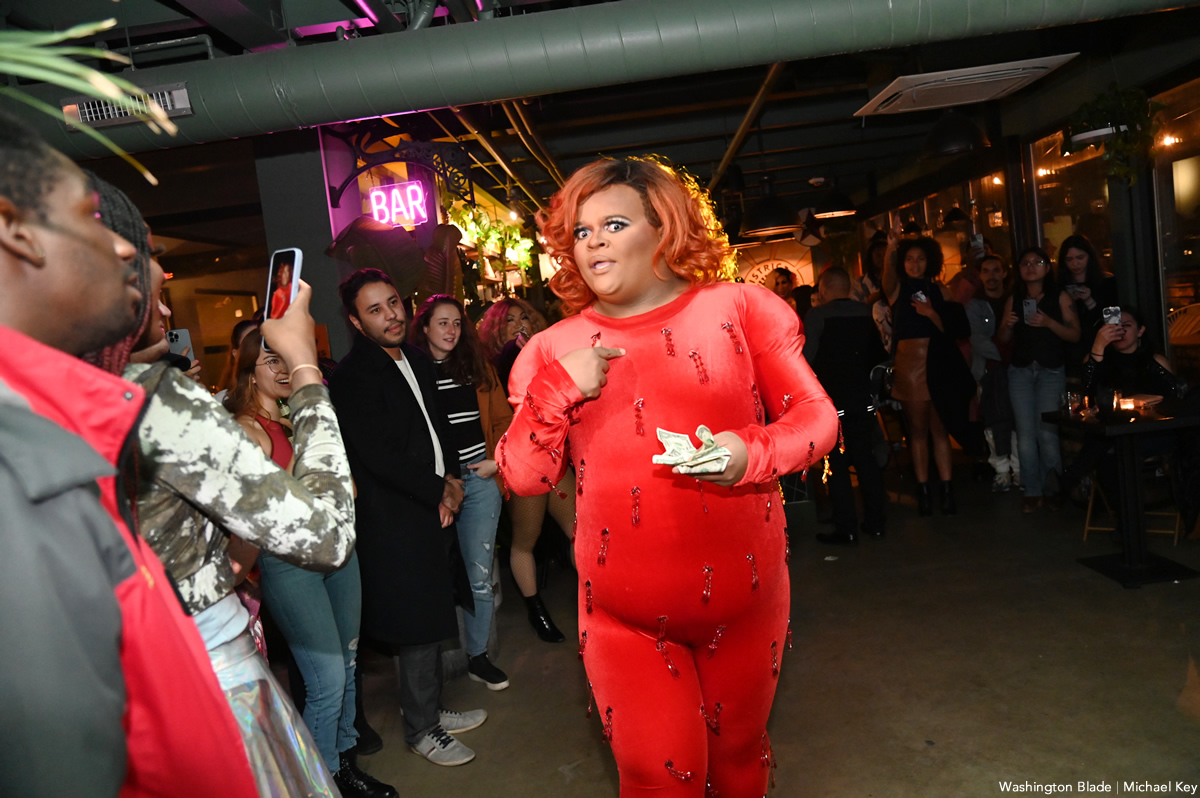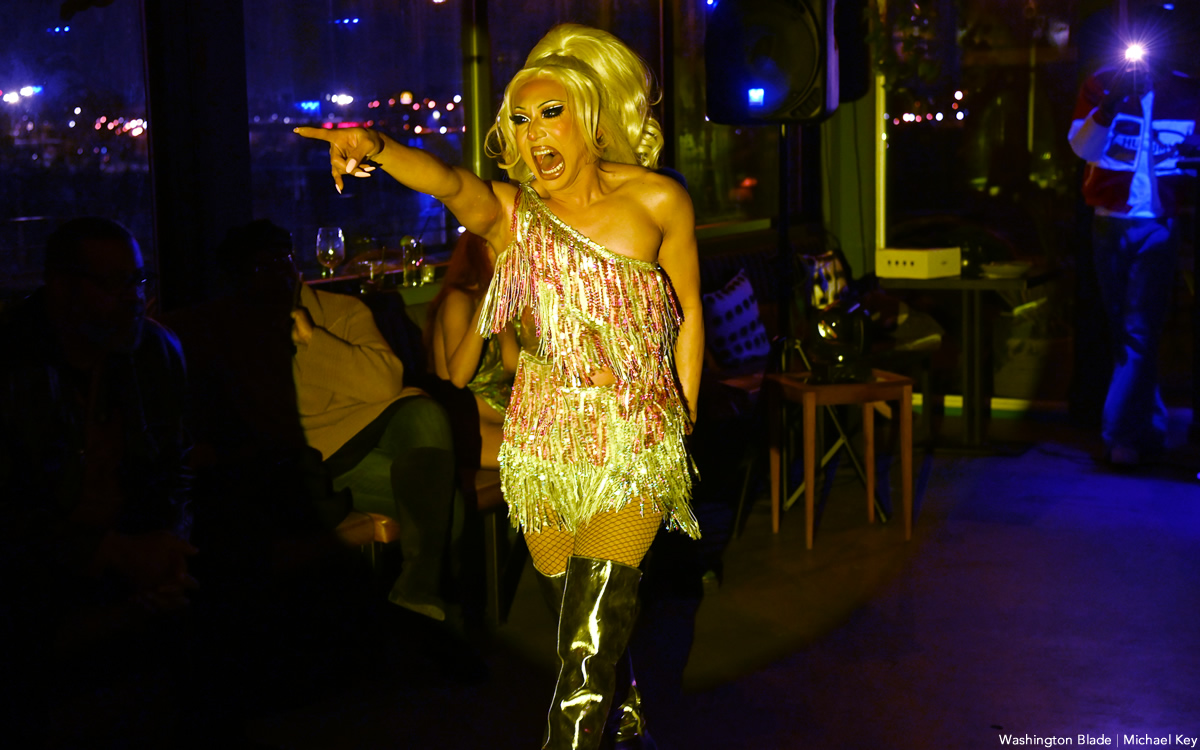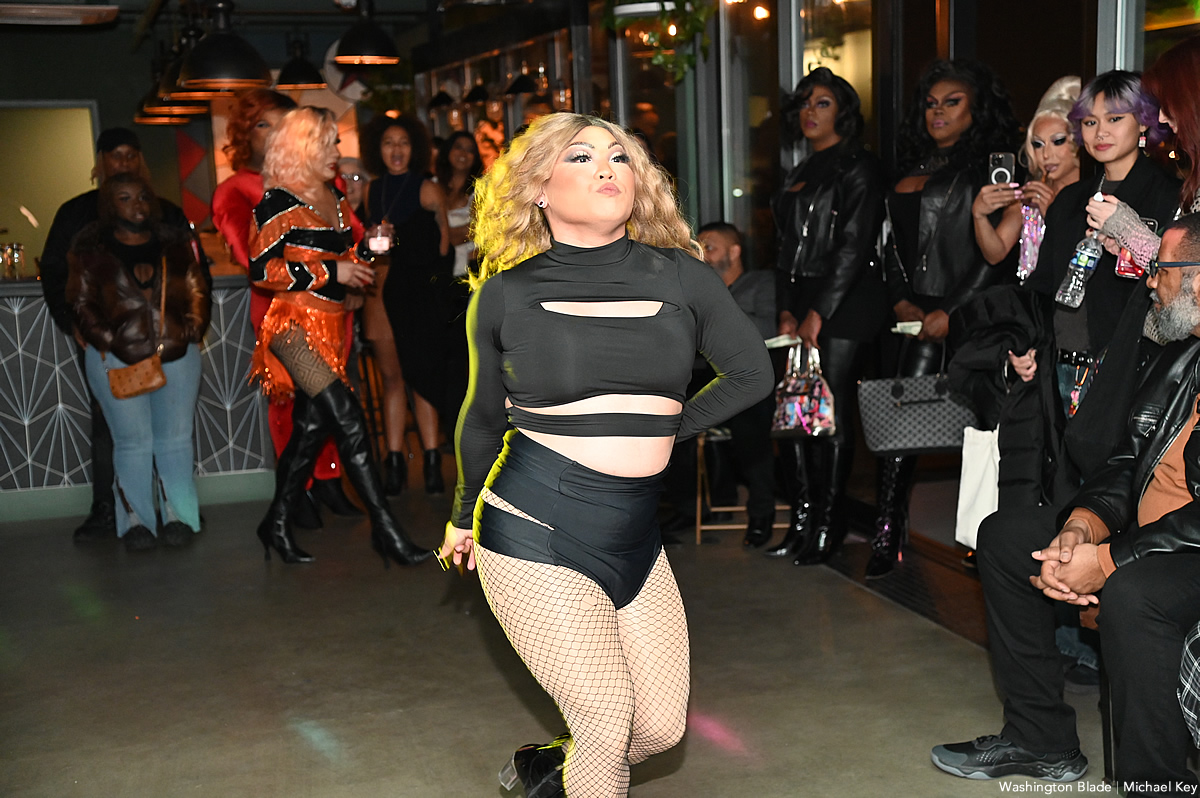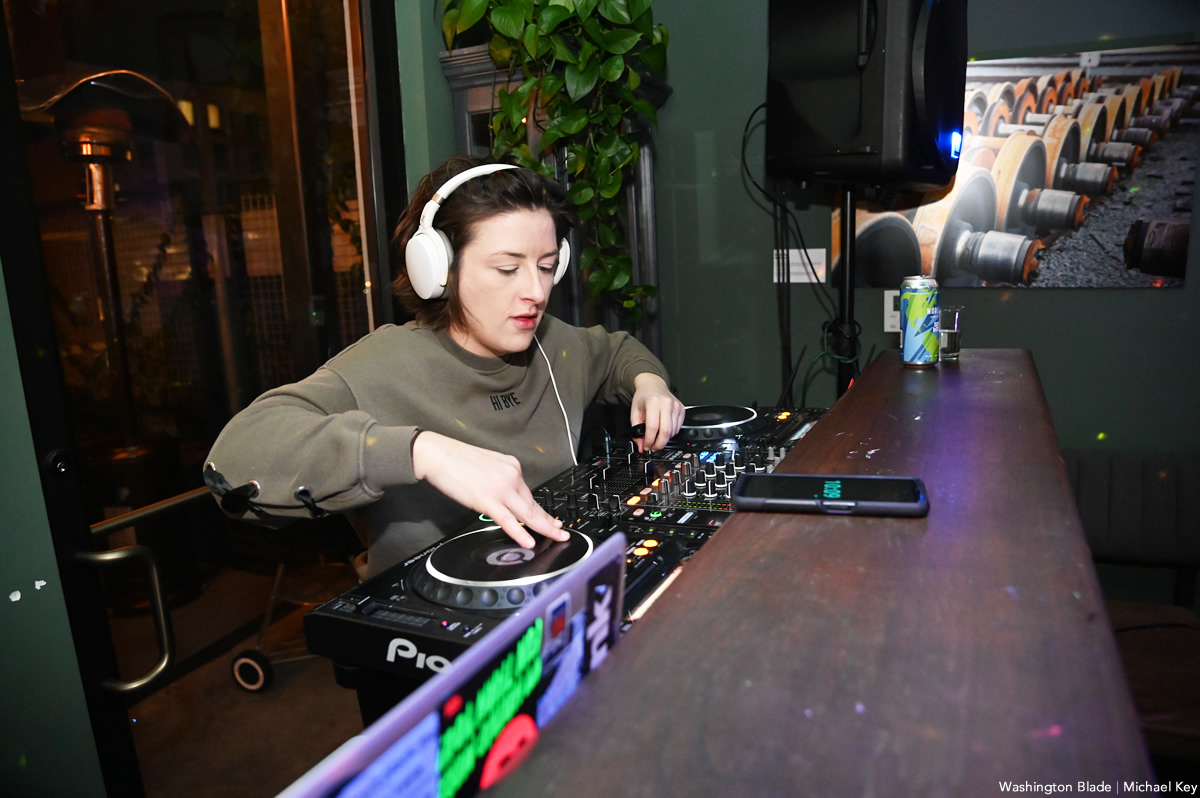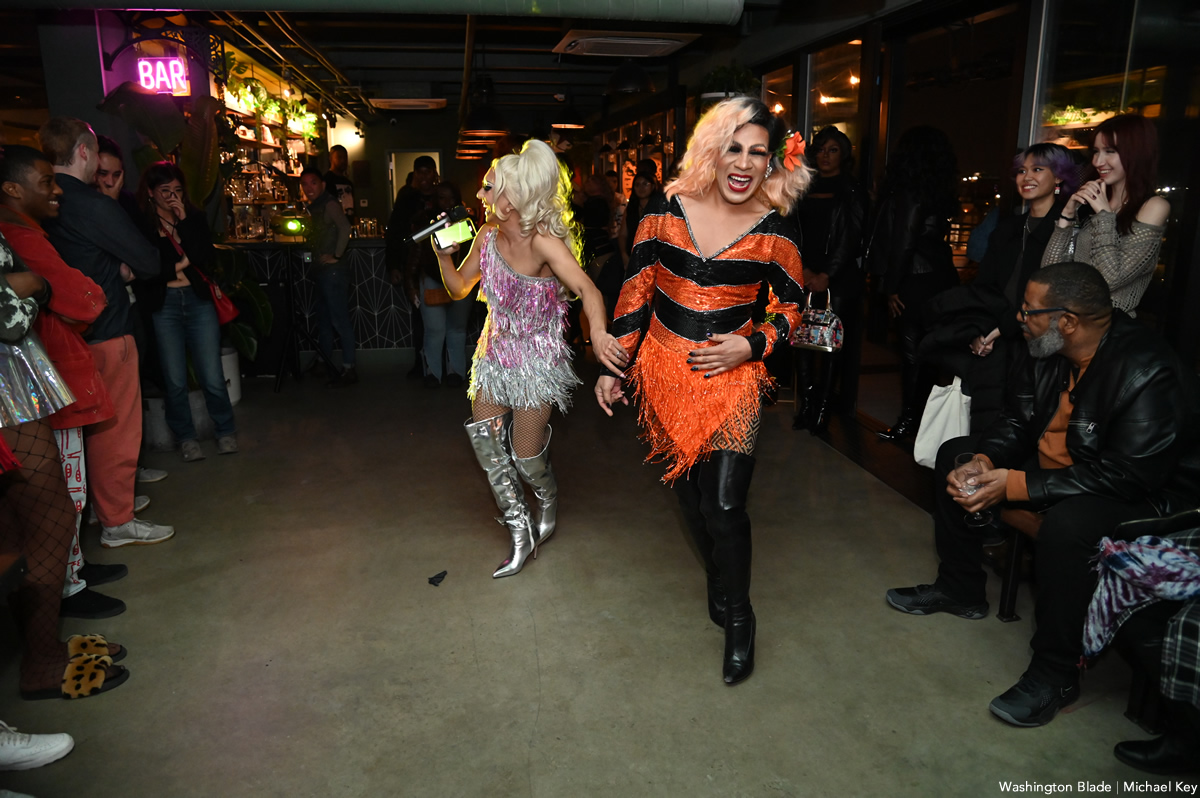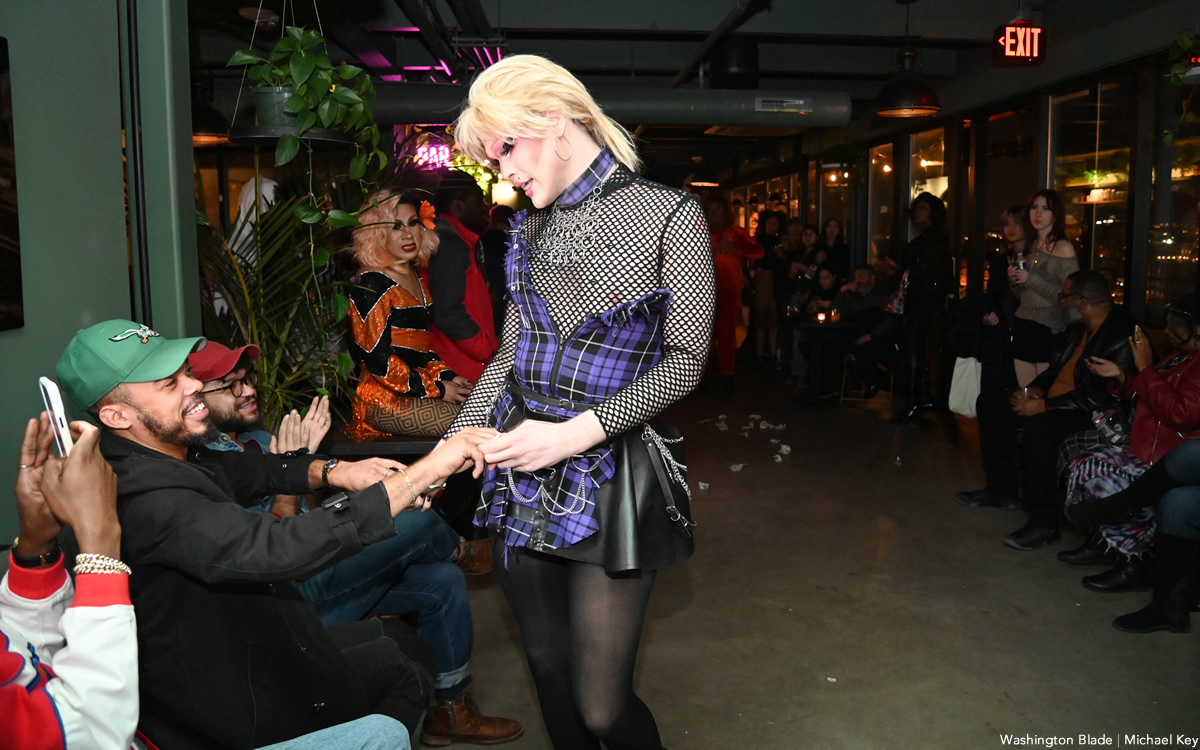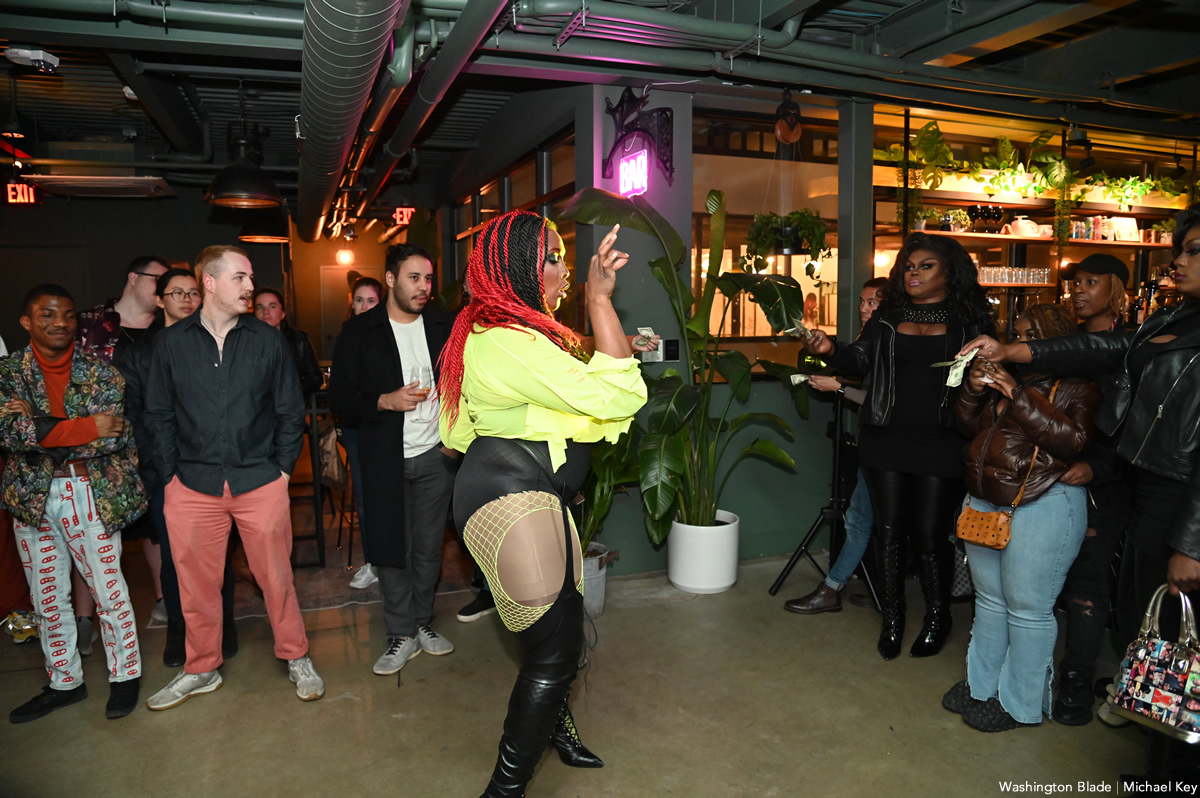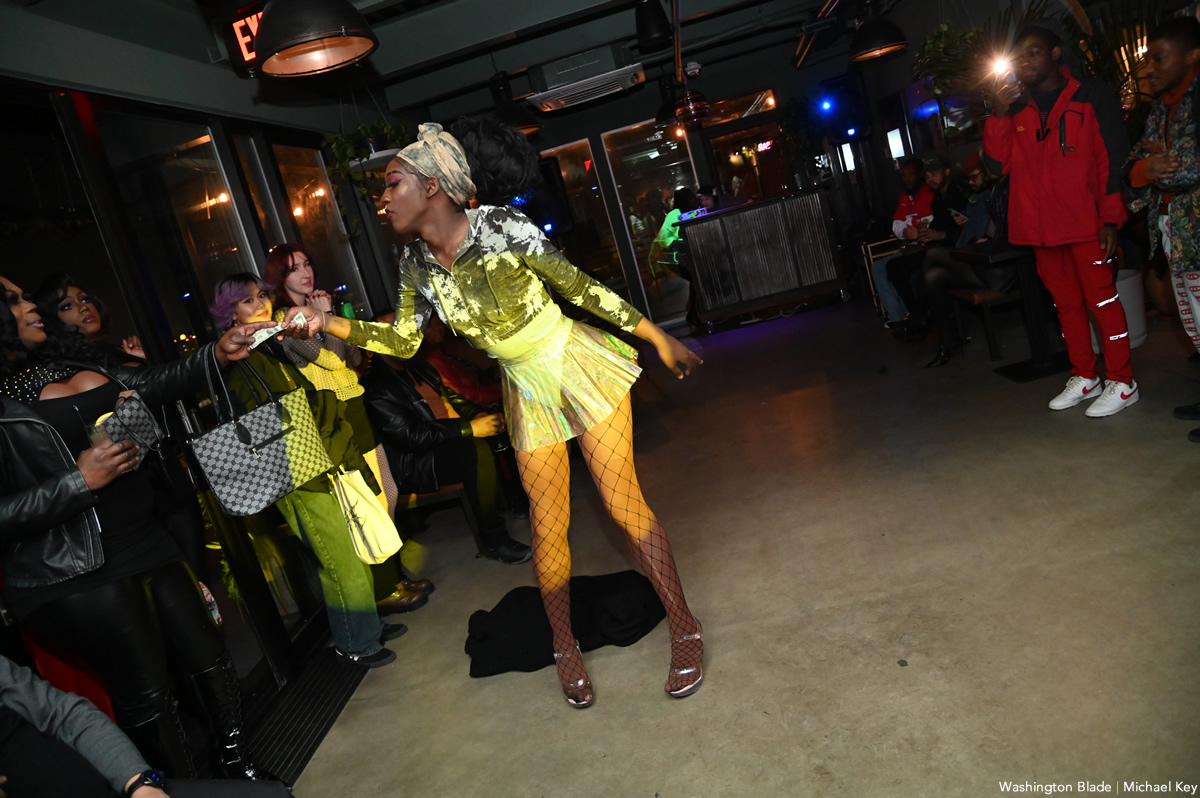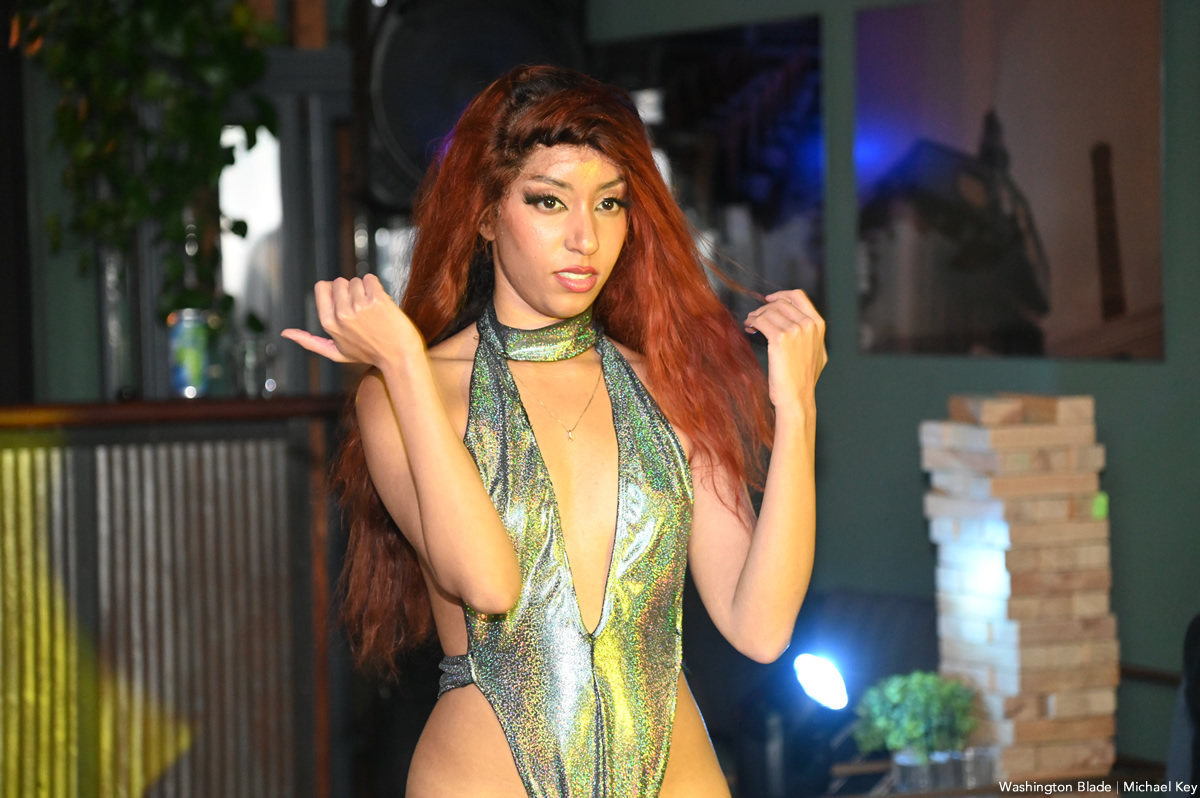 Catching @BombaEklaver's show. @MasVusi performing at Selina Rooftop. Covering for @WashBlade pic.twitter.com/8t8aqlbJVC

— Michael Patrick Key (@MichaelKeyWB) November 26, 2022
Memoir reveals gay writer's struggle with homelessness, rape
'Place Called Home' a powerful indictment of foster care system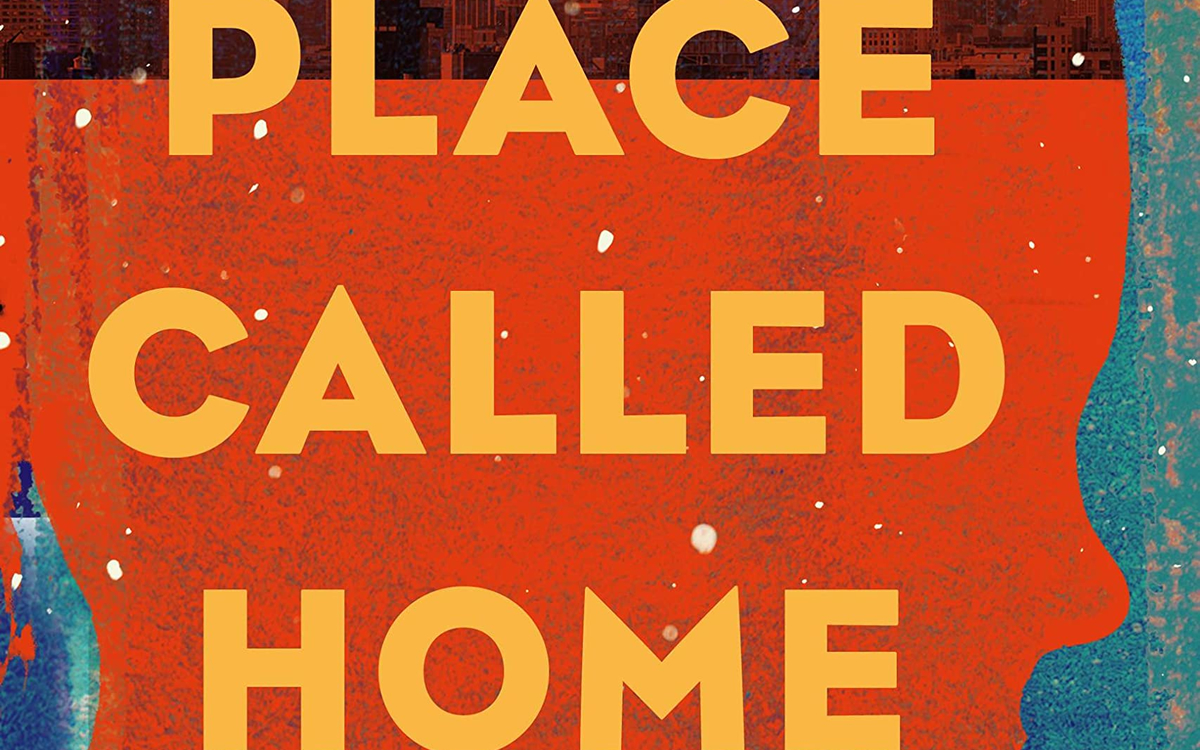 'A Place Called Home: A Memoir'
By David Ambroz
c. 2022, Legacy Lit/Hachette
$30/384 pages
For David Ambroz, 42, author of the stunning new memoir "A Place Called Home," one of his childhood recollections is of himself and his siblings walking with Mary, their mother, on a freezing Christmas morning in New York City.
Today, Ambroz, who is gay and a foster parent, is a poverty and child welfare expert and the head of Community Engagement (West) for Amazon.
But, on that morning, Ambroz remembers, when he was five, he and his seven-year-old sister Jessica and six-year-old brother Alex were freezing. Mary, their mother was severely mentally ill. They were homeless.
Ambroz draws you into his searing memoir with his first sentence. "I'm hungry," he writes in the simple, frightened, perceptive voice of a malnourished, shivering little boy.
As it got dark and colder, Ambroz recalls, he walked with his family, wearing "clownishly large" sneakers "plucked from the trash."
Five-year-old Ambroz remembers that the night before his family got lucky. They had dinner (mac and cheese) at a church "with a sermon on the side."
"We heard the story of the three kings bringing gifts to the baby Jesus," Ambroz writes.
But the next day they're still homeless and hungry. Talk about no room at the inn.
Young Ambroz doesn't know the word "death," but he (literally) worries that he and his family will die. Frozen, hungry and invisible to uncaring passersby.
Ambroz's mom, a nurse, is occasionally employed and able to house her family in dilapidated apartments. But she's soon ensnared by her mental illness, unable to work. Then, her family is homeless again.
Until, he was 12, Ambroz and his siblings were abused and neglected by their mother.
Ambroz doesn't know as a young boy that he's gay. But, he can tell he's different. Instead of playing street games with the other kids, Ambroz likes to play "doctor" with another boy in the neighborhood.
Mary tells him being gay is sinful and that you'll die from AIDS if you're queer.
His mother, having decided that he's Jewish, makes Ambroz undergo a badly botched circumcision. At one point, she beats him so badly that he falls down a flight of stairs.
At 12, Ambroz reports this abuse to the authorities and he's placed into the foster care system.
If you think this country's foster care system is a safe haven for our nation's 450,000 kids in foster care, Ambroz will swiftly cut through that misperception.
From ages 12 to 17, Ambroz is ricocheted through a series of abusive, homophobic foster placements.
One set of foster parents try to make him more "macho," rent him out to work for free for their friends and withhold food from him. At another placement, a counselor watches and does nothing as other kids beat him while hurling gay slurs.
Thankfully, Ambroz meets Holly and Steve who become fabulous foster parents. Ambroz has been abused and hungry for so long he finds it hard to understand that he can eat whatever he wants at their home.
Through grit, hard work and his intelligence, Ambroz earned a bachelor's degree from Vassar College, was an intern at the White House and graduated from the UCLA School of Law. Before obtaining his position at Amazon, he led Corporate Social Responsibility for Walt Disney Television.
But none of this came easily for him. Coming out was hard for many LGBTQ people in the 1990s. It was particularly difficult for Ambroz.
In college, Ambroz is deeply closeted. He's ashamed to reveal anything about his past (growing up homeless and in foster care) and his sexuality.
At one point, he's watching TV, along with other appalled students, as the news comes on about Matthew Shepard being murdered because he was gay. Ambroz can see that everyone is enraged and terrified by this hate crime. Yet, he's too ashamed to reveal anything of his sexuality.
Over Christmas vacation, Ambroz decides it's time to explore his sexuality.
Telling no one, Ambroz takes a train to Miami. There, he goes home with a man (who he meets on a bus) who rapes him.
"I run in no particular direction just away from this monster," he recalls. "When I get back to my hotel room, I'm bleeding…I order food delivered but can't eat any of it."
"A Place Called Home" has the power of Martin Luther King, Jr.'s "Letter from Birmingham Jail" and Rachel Carson's "Silent Spring."
Ambroz's writing becomes less powerful when he delves into the weeds of policy. But this is a minor quibble.
Ambroz is a superb storyteller. Unless you lack a heartbeat, you can't read "A Place Called Home" without wanting to do something to change our foster care system. 
The Blade may receive commissions from qualifying purchases made via this post.
New book explores impact of family secrets
Her father was hiding his sexual orientation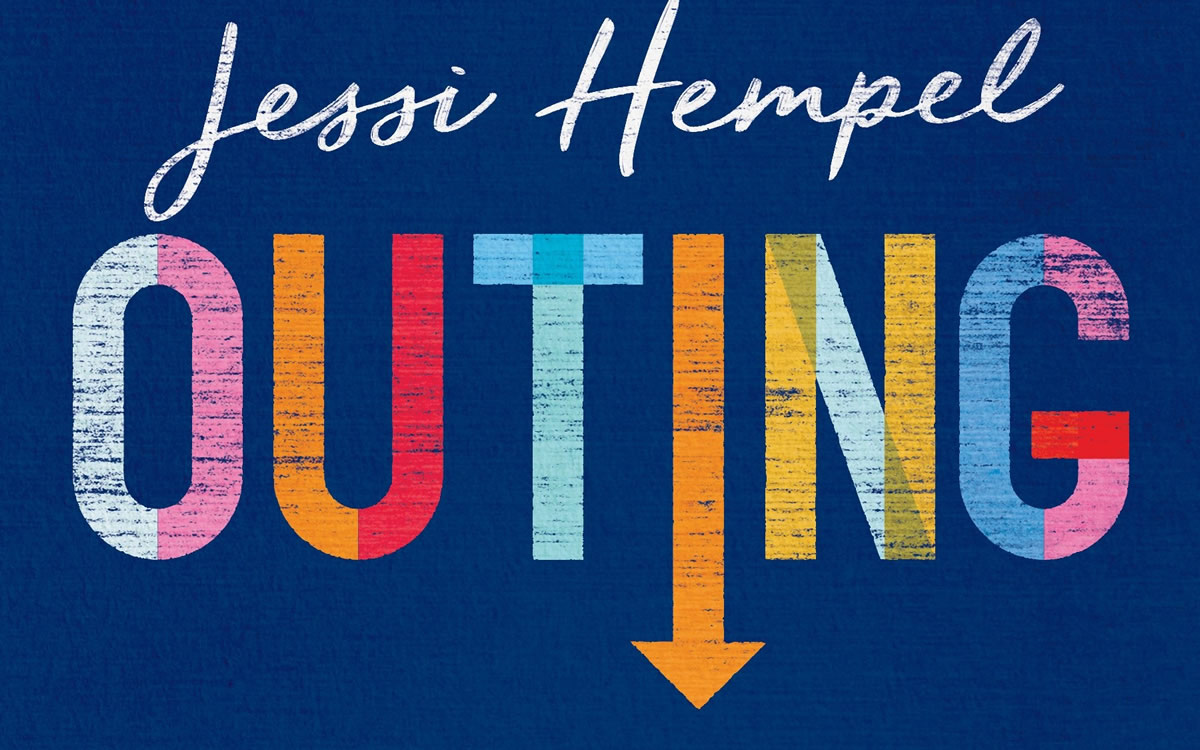 'The Family Outing: A Memoir'
By Jessi Hempel
c. 2022, HarperOne
$27.99/320 pages
Don't tell the children.
For most families in America in the last century, that was the maxim to live by: the kids are on a need-to-know basis and since they're kids, they don't need to know. And so what did you miss? Did you know about familial philanthropy, rebellion, embarrassment, poverty? As in the new memoir, "The Family Outing" by Jessi Hempel, did secrets between parent and child run both ways?
"What happened to me?"
That's the big question Jessi Hampel had after many therapy sessions to rid herself of a recurring nightmare. She had plenty of good memories. Her recollection of growing up in a secure family with two siblings was sharp, wasn't it?
She thought so – until she started what she called "The Project."
With permission from her parents and siblings, Hempel set up Skype and Zoom sessions and did one-on-one interviews with her family, to try to understand why her parents divorced, why her brother kept mostly to himself, how the family dynamics went awry, why her sister kept her distance, and how secrets messed everything up.
Hempel's father had an inkling as a young man that he was gay, but his own father counseled him to hide it. When he met the woman who would eventually be his wife, he was delighted to become a husband and father, as long as he could sustain it.
Years before, Hempel's mother was your typical 1960s teenager with a job at a local store, a crush on a slightly older co-worker and, coincidentally, a serial killer loose near her Michigan neighborhood. Just after the killer was caught, she realized that the co-worker she'd innocently flirted with might've been the killer's accomplice.
For nearly the rest of her life, she watched her back.
One secret, one we-don't-discuss-it, and a young-adult Hempel was holding something close herself. What else didn't she know? Why did she and her siblings feel the need for distance? She was trying to figure things out when the family imploded.
Ever had a dream that won't stop visiting every night? That's where author Jessi Hempel starts this memoir, and it's the perfect launching point for "The Family Outing."
Just prepare yourself. The next step has Hempel telling her mother's tale for which, at the risk of being a spoiler, you'll want to leave the lights on. This account will leave readers good and well hooked, and ready for the rest of what turns out to be quite a detective story.
And yet, it's a ways away from the Sherlockian. Readers know what's ahead, we know the score before we get there, but the entwining of five separate lives in a fact-finding mission makes this book feel as though it has a surprise at every turn.
Sometimes, it's a good surprise. Sometimes, it's a bad one.
A happily minimized amount of profanity and a total lack of overtness make "The Family Outing" a book you can share with almost anyone, adult, or ally. Read it, and you'll be wanting to tell everyone.
The Blade may receive commissions from qualifying purchases made via this post.