Gavin Grimm testifies on civil rights after 100 days of Trump
Panel witness decry review of consent decrees, voter ID laws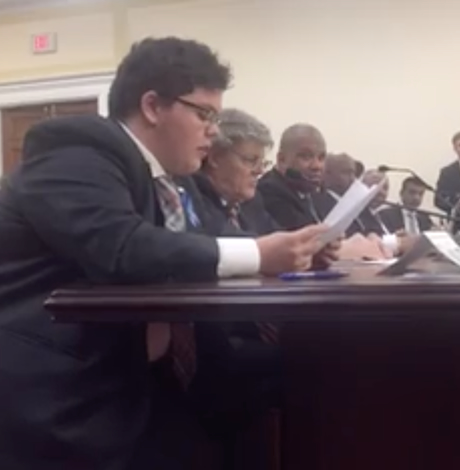 Transgender student Gavin Grimm testified before Congress Thursday on the experience of his Virginia high school denying him access to the bathroom consistent with the gender identity as well as harms the Trump administration's withdrawal of pro-trans guidance has caused for transgender people.
Gavin made the remarks during a congressional forum hosted by U.S. House Democrats on the state of civil rights after the first 100 days of the Trump administration. Witnesseses sharply criticized the Trump administration — in particular the U.S. Justice Department under U.S. Attorney General Jeff Sessions — for failing to live up to equal protection under the law.
Currently suing his school for bathroom access in a lawsuit the U.S. Supreme Court was once poised to consider, but later rejected, Gavin recalled the pain he felt during hearings in which the Gloucester County School Board decided to refuse to treat him consistent with his gender identity.
"World had spread throughout the community, and people turned up in droves," Gavin said. "After each frenzied remark, clapping and hollering reverberated throughout the room. I sat while people called me a freak. I sat while my community got together to banish a child from public life for the crime of harming no one. I sat while my school board voted to banish me to retrofitted broom closets or the nurse's room."
As Gavin narrated his story, the microphone system for the room in the Rayburm House Office Building cut out, prompting one forum participant to quip, "The Democrats do not control this room." Invited by Rep. John Conyers (D-Mich.), who was chairing the forum, to speak closer to the dais from a podium, Gavin continued his story.
Recalling the pledge from the White House that President Trump would be "respectful and supportive of LGBTQ rights," Gavin said the administration's decision to nix Obama-era guidance assuring transgender kids bathroom access in accordance with their gender identity "could not have been more damaging for trans youth."
"The guidance had a very simple message: Treat trans students with dignity and respect them for who they are," Gavin said. "Treating trans students with dignity and respect should not be controversial. The decision to withdraw the guidance sent a terrible message to some of the most vulnerable people that President Trump – the leader of our country – and his administration do not care about protecting you from discrimination."
After Gavin completed his testimony, attendees at the forum clapped for a lengthy amount of time. Conyers commended him, saying he's a "courageous young man and you deserve our support and applause."
Catherine Lhamon, chair of the U.S. Commission on Civil Rights and former assistant secretary for civil rights at the Education Department under the Obama administration, made the transgender guidance rollback a major point of concern during testimony in which she said civil rights under the Trump administration has been "horrendous."
"It will not surprise this body that that withdrawal offended me because I signed that guidance when I was assistant secretary of civil rights," Lhamon said.
Lhamon called Trump administration claims the guidance was withdrawn because of improper procedure and incorrect interpretation of Title IX of the Education Amendments of 1972 "categorically untrue," citing "the many years that all the relevant agencies" spent investigating the facts and speaking the school administrators.
"To think more that whether a federal law that Congress wrote that says explicitly that no person in the United States shall be subject to sex discrimination in school applies to transgender students questions the very humanity of transgender students," Lhamon said.
Lhamon also took issue with the appointment of Roger Severino, a former researcher for the anti-LGBT Heritage Foundation, to the role of assistant secretary for civil rights at the Department of Health & Human Services. Once in the position of being critical of the Obama administration's efforts to ensure transgender people have access to transition-related care, Severino will now be charged with protecting transgender people in health care.
"I will never forget how I heard from former HHS civil rights director about a case in which emergency medical professionals refused to treat a transgender women because she is transgender," Lhamon said. "She later died, although she had a better than 35 percent of survival had she received appropriate and timely medical care. It should go without saying that the director of HHS civil rights should be committed to ensure the fair medical treatment for all persons, regardless of identity status."
The issue of transgender rights was but one issue before the forum that sought to address the multitude of challenges the civil rights community after 100 days of the Trump administration.
Conyers, the top Democrat on the House Judiciary Committee, expressed a dismal view of the current state of civil rights as he chaired the forum, referencing a "documented loss in the overall climate of equality" and rise in hate violence since the 2016 election.
"Minority communities have been justifiably concerned about the continued role of the federal government in protecting civil rights," Conyers said. "The Trump presidential campaign promised meaningful changes that would benefit minorities in the area of crime, equal justice and economic equality, his political allies and surrogates to the media have sent a different message that served to heighten national divisions and anxiety."
DOJ criticized for consent decree review
A central issue was the decision this week of U.S. Attorney General Jeff Sessions to review the consent decrees the U.S. Justice Department had arranged with police departments after patterns of unconstitutional racial discrimination and excessive force, including the shootings of black men.
Chiraag Bains, senior fellow at Harvard Law School Criminal Justice Policy Program and former senior counsel to the assistant attorney general for civil rights under President Obama, cited the review as evidence the Justice Department has been "predictably disastrous" on civil rights.
"This administration insists that policing is a purely local matter into which the federal government should not intrude," Bains said. "But we're not talking about a federal takeover of these departments. We're talking about the enforcement and protection of constitutional rights. There is no federalism problem."
Ron Davis, former director of the Office of Community Oriented Policing Services at the Justice Department, invoked the words of 19th Century British statesman Robert Peel to describe the appropriate relationship between the police and communities as defined under the consent decrees.
"People comply with the law not because of they are afraid of the police, they comply with the law because they believes the law is fair, just and will be enforced appropriately and without bias," David said. "People should be afraid of police. They should not have to run from them because they're going to be deported or think that every infraction will result in arrest."
But Sessions' order to review the consent decrees was but one issue to witnesses pointed as evidence the Trump administration was failing to live up to responsibilities on civil rights.
Joe Rich, co-director of the Fair Housing & Community Development Project, raised as a civil rights issue the rollback of voter access to the polls, including early voting cutbacks and the imposition of state voter ID laws.
Although defenders of those laws say they're intended to prevent voter fraud, Rich said that's "very rare," citing a recent study that found the incident rate of voter fraud ranges between .003 percent and .0025 percent.
"Given this tiny incident rate for voter impersonation, the report concluded that is more likely that an American will be struck by lightning than he will impersonate voter at the poll," Rich said.
Rich said the Justice Department had "vigorously prosecuted" against the voter ID law in Texas for three years, but the U.S. government has "reversed course" with Sessions at the helm in "an action of great concern for all of us doing voting rights work."
Roy Austin, former director of the White House Office of Urban Affairs, Justice & Opportunity under the Obama administration, took particular issue with the travel ban Trump signed barring immigration into the United States from six Muslim countries, calling it an attempt to "legalize discrimination against an entire faith."
Although the administration billed the measure as an means to keep potential terrorists from the United States, Auston said "state-endorsed discrimination diminishes public safety."
"In my humble opinion, this greatest current threat to civil rights in this great nation is this current administration," Austin said. "In record time, the current administration has already shown not simply a willingness to not defend civil rights, but a shown an intent to violate civil rights, and, at a minimum, with an intent to make it easier for others to violate civil rights."
Chief Hassan Aden, a member of the steering committee for Law Enforcement Leaders to Reduce Crime and Incarceration and former chief of police of the Greenville Police Department, took issue with greater authority of U.S. Customs & Border Protection to detain travelers entering the United States.
"What's happening now is there's sort of this second-class of American citizen being built out, and it involves names and religious preferences, and it's something that we all need to resist and work against," Aden said.
Aden recalled his own experienced this year being detained by CBP at JFK International Airport upon re-entry into the United States, which attributed to his Muslim-sounding name. Aden said this incident stands out because he travelled internationally in years past, including five times last year, without issue.
"My name being Hassan Aden, I think, set off a flag," Aden said. "I utilized my platform and my reach to highlight this issue and give it a voice. There are so many people that this happens to. My detention was 90 minutes. There are people whose detention is significantly longer."
Rep. Sheila Jackson Lee (D-Texas) held nothing back in her assessment of Trump on civil rights in the wake of the Justice Department reviewing consent decrees with police departments.
"This may be the Armageddon," Lee said. "We may be seeing the most dangerous Department of Justice that we have seen in decades. I don't think it is hyperbole; I don't think it's hysteria."
Referencing the plight Gavin continues to face by being denied bathroom access in his school, Lee assured him, "You are not alone. We know the decision of the Supreme Court, but we're not finished with bringing you relief."
Other lawmakers present at the hearing were Rep. Bobby Scott (D-Va.), top Democrat for the House Committee on Education and the Workforce; Rep. Cedric Richmond (D-La.), chair of the Congressional Black Caucus; and Rep. Eddie Bernice Johnson (D-Texas).
At the end of the hearing, Lee asked Gavin for his thoughts on the impact of the Justice Department taking an ideological position against transgender rights, which Gavin would only be harmful.
"We see a very real and immediate negative impact on those communities," Gavin said. "The transgender community is uniquely vulnerable already in that we have less legal protection, we have a higher rate of hate crimes, mental illness, homelessness, unemployment, and then to have a complete and total lack of administrative support, and, in fact, a presence of a administrative intimidation or disregard, the effects of such a negative message across the board would be absolutely devastating."
Activists across South America mark Pride Month
Demonstration in Chilean capital drew more than 100,000 people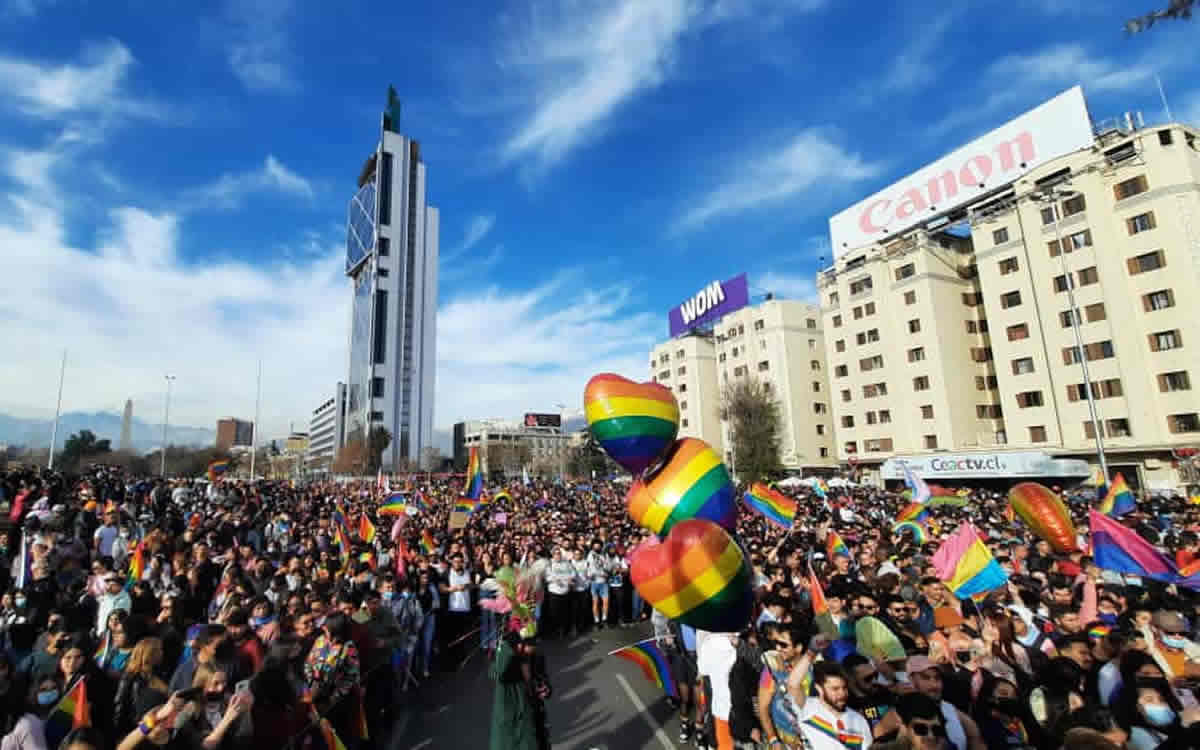 Activists in Chile and across Latin America on June 25 took to the streets to celebrate Pride Month.
The Movement for Homosexual Integration and Liberation (Movilh) and Fundación Iguales in Chile organized a demonstration in Santiago, the country's capital, in which more than 100,000 people participated. March organizers demanded the repeal of Article 365 of the Chilean Penal Code that criminalizes same-sex couples.
Chile's marriage equality law took effect on March 10, the day before President Gabriel Boric took office.
New Colombia president a sign of hope for LGBTQ, intersex activists
LGBTQ and intersex activists in Colombia are looking forward to what will be a new political era after former Bogotá Mayor Gustavo Petro won the second round of the country's presidential elections on June 19. Petro, along with his running mate, Vice President-elect Francia Márquez, who will be the country's first vice president of African descent, will be the first leftist executives in Colombian history.
A source in Bogotá, the Colombian capital, told the Washington Blade that Petro during the campaign pledged to fight violence and discrimination based on sexual orientation and gender identity and to implement policies "for the reaffirmation of gender identities and sexual orientation without barriers for all non-binary people and transgender people in Colombia."
Manuel Velandia, a long-time Colombian LGBTQ and intersex activist who organized the country's first demonstration in support of queer rights 39 years ago, told the Blade that authorities sent a contingent of 100 police officers and "we — 29 gay men, two lesbian women and a transsexual woman — marched."
"The march could take place because in Colombia it was a crime to be homosexual and we achieved the decriminalization of homosexuality in the Penal Code," said Velandia.
Thousands of people took to the streets of Bogotá on June 25 to demand a nationwide LGBTQ and intersex strategy "as a measure to guarantee the rights of this population, combat discrimination based on sexual orientation, gender identity and expression, and sexual characteristics (OSIEGCS), and eliminate the barriers that persist for the materialization of the rights acquired by judicial means, according to national and international human rights standards."
Velandia explained to the Blade that activists are "writing a document of what we expect from the next government from president's inauguration and during the first 100 days."
"We now are focusing on the most priority issues," said Velandia. "We think that a law that comes out of a ministry is not as important as a national law passed by Congress."
Additional Pride marches will take place in Bogotá in the coming days.
Peruvian activists hold country's largest-ever Pride march
The largest Pride march in Peru's history took place on June 25 in Lima, the country's capital.
"It has been the largest march in the 20 years of history of this massive activity," activist Jorge Apolaya told the Blade. "[It was a] joyful rebellion, as we call it."
Apoyala pointed out activists took to the streets because "it is necessary" for Peru and President Pedro Castillo's government to act on "the demands of the LGBT population, the gender identity law, the equal marriage law that are pending before respective committees in the Congress of the Republic and generate the necessary discussions so that they can be debated."
According to the activist, "the country continues to remain at the back door with respect to respect for LGBT human rights in the world, but not even in the world, but at the Latin American level."
Protests prompt cancellation of many Ecuador Pride events
Protests that have taken place across Ecuador for more than two weeks prompted activists to suspend most activists and demonstrations in favor of LGBTQ and intersex rights that had been scheduled to take place this month.
"There are seven Prides that have already been suspended out of those that were scheduled," Diane Rodríguez, a prominent Ecuadorian activist, told the Blade.
Rodríguez noted two marches in the cities of Santo Domingo and Loja were able to take place on Saturday.
Mixed views among U.S. adults on trans issues: Pew
Most back non-discrimination, but divided on other issues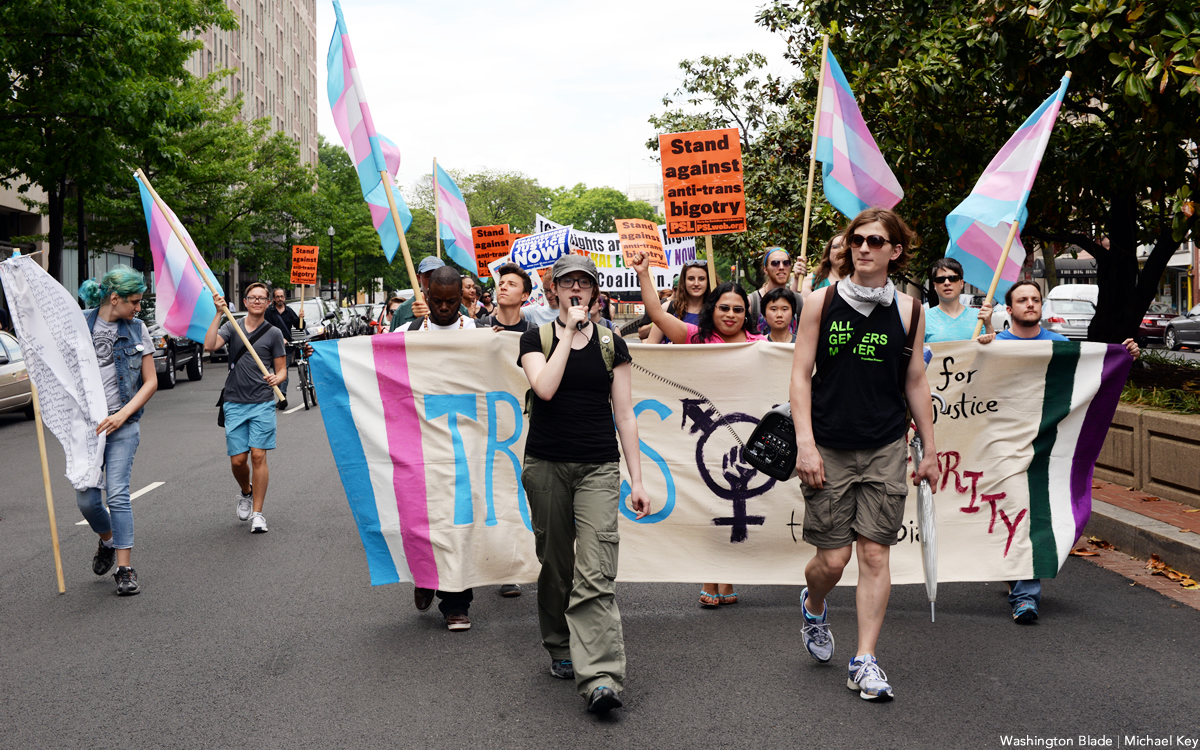 A new survey from a leading non-partisan research center reveals Americans have mixed views on transgender issues at a time when states are moving forward with measures against transgender youth, with strong majorities favoring non-discrimination protections but weaker support for access to transition-related care among minors and participation in school sports.
The Pew Research Center issued the findings on Tuesday as part of the results of its ongoing study to better understand Americans' views about gender identity and people who are transgender or non-binary. The findings are based on a survey of 10,188 U.S. adults from data collected as part of a larger survey conducted May 16-22.
A majority of respondents by wide margins favor non-discrimination protections for transgender people. A full 64 percent back laws or policies that would protect transgender people from discrimination in jobs, housing, and public spaces, while roughly 8-in-10 acknowledge transgender people face at least some discrimination in our society.
Additionally, nearly one half of Americans say it's extremely important to use a transgender person's new name after they undergo a transition, while an additional 22 percent say that is somewhat important. A smaller percentage, 34 percent, say using a transgender person's pronouns is extremely important, and 21 percent say it is somewhat important.
But other findings were less supportive:
60 percent say a person's gender is determined by sex assigned at birth, reflecting an increase from 56 percent in 2021 and 54 percent in 2017, compared to 38 percent who say gender can be different from sex assigned at birth.
54 percent say society has either gone too far or been about right in terms of acceptance, underscoring an ambivalence around transgender issues even among those who see at least some discrimination against transgender people.
About six-in-ten adults, or 58 precent, favor proposals that would require transgender athletes to compete on teams that match the sex they were assigned at birth as opposed to teams consistent with their gender identity, compared to 17 percent who oppose that and 24 percent neither favor nor oppose it.
46 percent favor making it illegal for health care professionals to provide transition-related care, such as hormones or gender reassignment surgery, to someone younger than 18, compared to 31 percent who oppose it.
Americans are more evenly split when it comes to making it illegal for public school districts to teach about gender identity in elementary schools (which is favored by 41 percent, and opposed by 38 percent) and investigating parents for child abuse if they help someone younger than 18 obtain transition-related care (37 percent are in favor and 36 percent oppose it).
Young adults took the lead in terms of supporting change and acceptance. Half of adults ages 18 to 29 say someone can be a man or a woman even if that differs from the sex they were assigned at birth, compared to about four-in-10 of those ages 30 to 49 and about one-third of respondents 50 and older.
Predictably, stark differences could be found along party lines. Democrats by 59 precent say society hasn't gone far enough in accepting people who are transgender, while 15 percent say it has gone too far and 24 percent say it's been about right. For Republicans, 10 percent say society hasn't gone far enough, while 66 percent say it's gone too far and 22 percent say it's been about right.
Read the full report here.
D.C. officials vow to fight any GOP effort to ban abortion in nation's capital
Without statehood, District vulnerable to congressional interference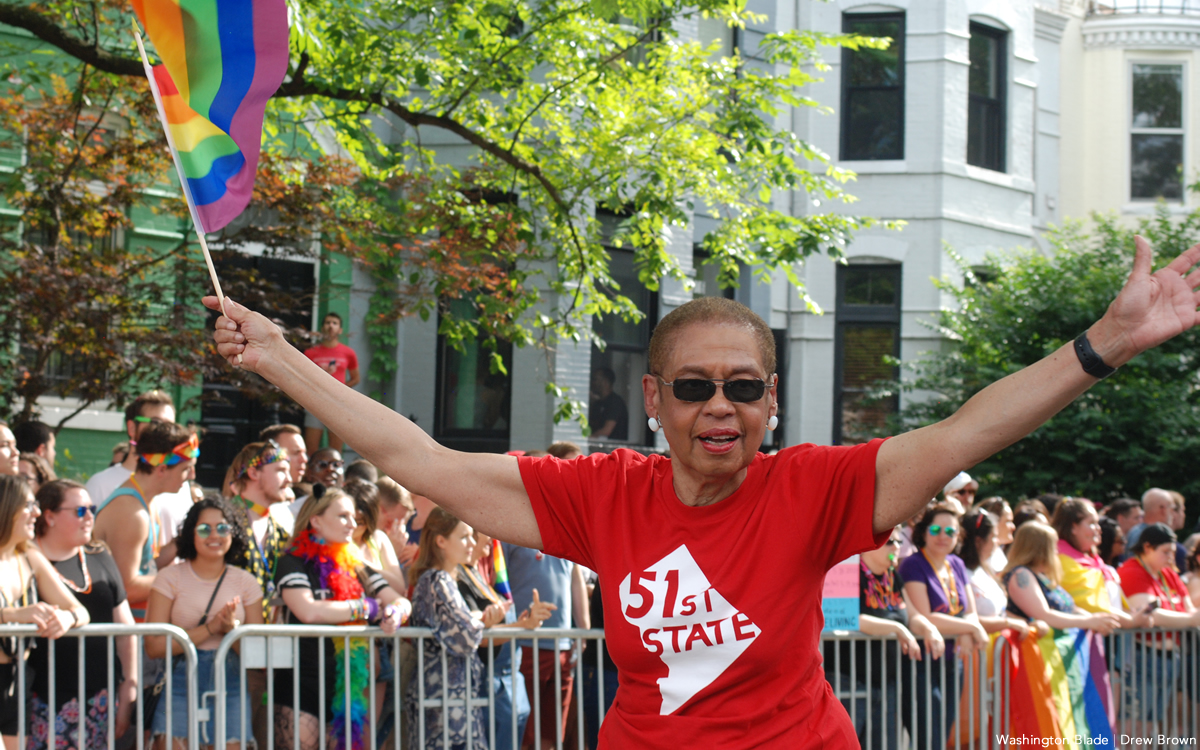 D.C. Mayor Muriel Bowser, D.C. Congressional Del. Eleanor Holmes Norton, and six members of the D.C. Council said they were united in fighting an attempt by Congress to ban abortions in the nation's capital following the Supreme Court's decision to overturn Roe v. Wade.
At a press conference on the day the Supreme Court handed down its controversial decision, the D.C. officials pointed out that unlike any of the states, D.C. is vulnerable to the authority Congress has over the city under its limited Home Rule Charter, including the authority by Congress to pass a law to ban abortions in the city.
The press conference was held at the headquarters in Northeast D.C. of Planned Parenthood of Metropolitan Washington, D.C., whose leaders said they would continue to provide abortion services in the District at the present time.
At this time, "Nothing has changed in Washington, D.C.," Bowser said at the press conference. "Abortion remains legal, and women and girls we know, however, are worried," the mayor said. "We are worried because we know we are vulnerable as a jurisdiction because of our lack of statehood."
Norton told news media representatives and others attending the press conference that she expects at least some congressional Republicans to introduce legislation to ban abortions in D.C. now that the Supreme Court has given them the authority to do that.
"We are subservient still to the House and Senate," she said. "I'm calling on the Congress to immediately codify the right to an abortion in federal law," Norton said. "That is the very least the District needs to save this city from what will surely be an attempt by Republicans in Congress to move first on the District of Columbia to make sure that abortions are not available for women in our city."
Norton added, "We always have more work cut out for us than other jurisdictions. But I assure you I am up to the task. There is a lot to fight for here, and I'm ready for that fight."
Norton and Bowser also pointed out that Congress over a decade ago added a permanent provision to D.C.'s annual budget that prohibits the city from using any of its funds to pay for abortions either directly or through the funding of private organizations like Planned Parenthood that provide abortion related services.
With the prospect that Republicans might regain control of the House or Senate or both in the November congressional elections, D.C. officials said they were especially concerned about an attempt to ban or greatly restrict abortions in the city.
D.C. Council Chair Phil Mendelson said he was hopeful that such an attempt would be blocked by a Democratic-led filibuster in the Senate as well as by a presidential veto if President Biden or another Democrat continues to occupy the White House.
Bowser, Mendelson, and D.C. Councilmember Mary Cheh (D-Ward 3) also pointed out that the legal reasoning used by the justices to overturn Roe v. Wade, especially the rationale given by Justice Clarence Thomas, could be used in future cases to overturn previous court rulings establishing a constitutional right to same-sex marriage and the right to intimate sexual acts between same-sex couples.
"We are about to enter into decades of darkness with this court that we have," Cheh said at the press conference. "And don't be fooled. We're told, OK, it's just abortion," she said. "Don't you believe it. The very reasoning of the case – and I spend a lot of time teaching constitutional law – means that many other liberties will be in jeopardy."
LGBTQ rights advocates have pointed to the concurring opinion handed down by Justice Thomas on the day the court overturned Roe v. Wade that specifically calls on the high court to "reconsider" the 2003 ruling of Lawrence v. Texas, which overturned state laws banning sodomy between consenting adults, both gay and straight. Thomas's concurring opinion also called for reconsidering the high court's 2015 Obergefell ruling, which legalized same-sex marriage nationwide.
Others speaking at the June 24 press conference included Laura Meyers, president of Planned Parenthood of the D.C. area, and D.C. Council members Elissa Silverman (I-At-Large), Christina Henderson (I-At-Large), and Brooke Pinto (D-Ward 2).