Washington Blade reporter ejected from DOJ Pride event
Similar celebrations open to media during Obama years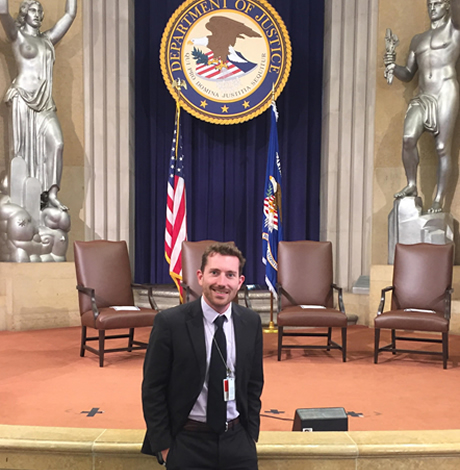 A Washington Blade reporter was ejected from an event Wednesday at the U.S. Justice Department observing June as Pride month — among the last of the events hosted by LGBT affinity groups for federal workers. Similar celebrations under the Obama administration were open to the media.
Dozens of employees — among them LGBT attorneys within the Justice Department and federal law enforcement officials — attended the event, which was titled "Solidarity through Pride" and held in the Great Hall of the Justice Department building.
Representing the Justice Department was acting Assistant Attorney General for National Security Dana Boente, an Obama administration hold-over who also serves as U.S. attorney for the Eastern District of Virginia.
"Whatever an individual's background, Americans come together to support one another," Boente said. "In this country, we know that our unity makes us stronger. We're united in our respect for the rule of law and the preservation of the freedoms of all of us. Americans understand that in this country liberty means liberty for all. Freedom belongs not to any one race, gender or orientation."
Boente also invoked the shooting at the congressional baseball practice earlier this month in which House Majority Whip Steve Scalise (R-La.) was severely wounded. Lesbian Capitol Police officer Crystal Griner, who was on the scene and helped take down the attacker but was wounded herself, is a hero, Boente said.
"Officer Griner is rightly a hero of the LGBT community; she is also a hero for the entire country," Boente said.
Under U.S. Attorney General Jeff Sessions, Boente said a top priority would be "combatting the rise of violent crime" and the Justice Department was already taking steps to pursue that goal.
At about that point in Boente's remarks, a Justice Department official approached and said the Blade had to be escorted out because the DOJ Pride event was closed to the press. The Blade complied.
The closed-press rule for the event is unusual. The Blade attended and covered DOJ Pride events as a member of the press numerous times during the Obama administration — under both former U.S. Attorneys General Eric Holder and Loretta Lynch.
The Blade was also allowed under the Trump administration to cover a Pride event for LGBT service members and civilians at the Pentagon with full cooperation of officials. Washington Blade Editor Kevin Naff delivered the keynote address last week at the Small Business Administration's Pride event.
Naff criticized the decision to close the event to media outlets.
"These events have historically been open to the media and this action at DOJ today is an unfortunate break with tradition," Naff said. "Holding Pride celebrations behind closed doors violates the very spirit of such events and we urge all government agencies to let the sun shine in."
A Justice Department official responded to Blade inquiries about the DOJ Pride event via email shortly before it began and said the event would be closed to press, but by that time — less than 30 minutes before the event was set to begin — the Blade was already entering the event after being informed second-hand the event was cleared by public affairs. The email was unseen until after the Blade was escorted out.
As Buzzfeed reported, U.S. Attorney General Jeff Sessions spoke positively about the DOJ Pride event on video when an intern asked him about it last week during another event.
"We are going to have a pride group, in this very room, I think next week, I believe it is, and so that's perfectly appropriate, and we will protect and defend and celebrate that — and protect the rights of all transgender persons," Sessions said.
Sessions has a long anti-LGBT history as a U.S. senator from Alabama. Along with Education Secretary Betsy DeVos, he revoked guidance to schools assuring transgender students have access to the bathroom consistent with their gender identity.
Set to deliver keynote addresses at the DOJ Pride event — and unseen by the Blade — were Michelle Benecke, executive director for management integration for the Immediate Office of the Undersecretary for Management at the U.S. Department of Homeland Security, and Sultan Shakir, executive director of the D.C.-based youth group SMYAL, or Supporting & Mentoring Youth Advocates & Leaders.
Set to deliver the closing remarks was Granette Trent, assistant director for affirmative employment on the Equal Employment Opportunity Staff at the Justice Management Division.
Attending in person to receive the Gerald B. Roemer Community Service Award — and with a newly dyed green streak in his hair — was Gavin Grimm, the transgender student suing his Gloucester County high school for not allowing him to use the restroom consistent with his gender identity.
Attorneys at the Justice Department's Civil Rights Division were set to the receive the James R. Douglass Award for litigation started under the Obama administration in favor of transgender rights.
One recipient of the award was the Civil Rights Division team that challenged North Carolina anti-LGBT House Bill 2 (which has since been withdrawn under Sessions after Gov. Roy Cooper replaced HB2 with a different law LGBT advocates say is still discriminatory). The other was the Civil Rights Division team that sued Southeastern Oklahoma State University for allegedly discriminating against a transgender professor.
Singing the National Anthem at the event was Garrick Jordan, a member of the Gay Men's Chorus of Washington. The emcee was Robert Koch, vice president of DOJ Pride and attorney for the appellate section of the Civil Rights Division.
Out for America; nearly 1,000 elected LGBTQ+ officials but more needed
Lack of representation has consequences, as LGBTQ elected officials are best positioned to defend against anti-LGBTQ legislative attacks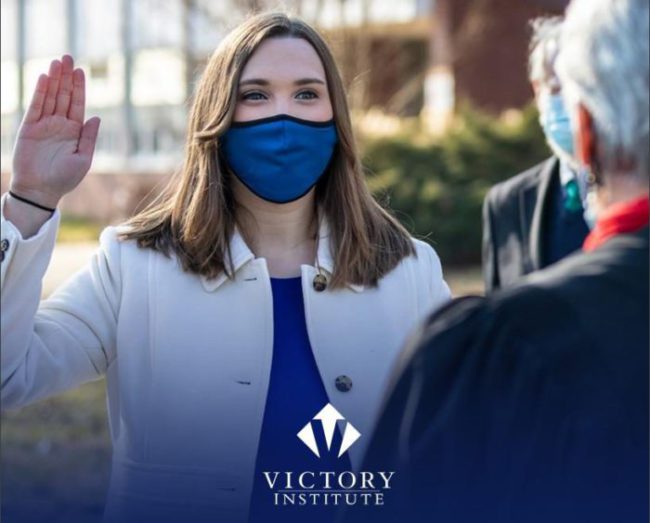 WASHINGTON – In its annual report the Washington D.C. based LGBTQ Victory Institute noted that there had been an increase of 17 percent in the past year of LGBTQ Americans serving as elected officials. According to the data in the Out for America 2021 report released this past week, there are 986 known out LGBTQ elected officials in the United States.
The Victory Institute reported that total included two U.S. senators, nine U.S. representatives, two governors, 189 state legislators, 56 mayors and six statewide executives. While this is considered a large increase, LGBTQ people hold just 0.19 percent of elected positions in the United States, despite making up at least 5.6 percent of the U.S. adult population.
Americans must elect 28,116 more LGBTQ people to public office for LGBTQ people to achieve equitable representation (serving in 5.6 percent of elected positions) the report went on to note.
KEY FINDINGS:
The report found that in the past year (between June 2020 and June 2021):
LGBTQ elected officials of color increased by 51 percent, with Black LGBTQ elected officials growing at the fastest pace (a 75 percent increase);
Trans women elected officials increased by 71 percent (from 21 to 36), yet trans men saw no increase (with just five serving nationwide);
Queer-identified elected officials increased by 83 percent, faster than all other sexual orientations; and
LGBQ cisgender women state legislators surpassed the number of GBQ cisgender men state legislators for the first time.
The report also found that:
LGBTQ elected officials are significantly more racially and ethnically diverse than the overall elected official population, but are less diverse than the U.S. population;
Mississippi is the only state in the nation with zero known out LGBTQ elected officials serving;
23 states have transgender elected officials serving and 29 states have non-cisgender elected officials;
LGBTQ people are equitably represented among mayors of top 100 cities for the first time (with six), but are underrepresented among mayors overall and in all other public positions; and that
84 percent of LGBTQ elected officials are Democrats and just three percent are Republicans.
In an emailed statement, former Houston, Texas Mayor Annise Parker, who currently serves as the President & CEO of LGBTQ Victory Institute reflected, "While LGBTQ elected officials are growing steadily in number, at this pace it will still take decades to come anywhere close to achieving equitable representation in government."
Parker went on to note, "This lack of representation has enormous consequences, because LGBTQ elected officials are best positioned to defend against anti-LGBTQ legislative attacks and to change the hearts and minds of colleagues in supporting inclusive policies. A moonshot effort to increase our numbers is essential to advancing equality at every level of government – and a large part of that is showing LGBTQ people that running for office is our best bet to achieve lasting social change."
In addition to changes in representation over the last year, the report also looks at trends since the first Out for America report was released in November 2017. In that time, LGBTQ elected officials increased by 121 percent (from 448 to 986) overall, and LGBTQ elected officials of color increased by 201 percent (from 92 to 277).
Since November 2017, there is a 296 percent increase in Black LGBTQ elected officials (from 23 to 91), 135 percent increase in Latinx LGBTQ elected officials (from 51 to 120) and a 117 percent increase in Asian American and Pacific Islander elected officials (from 12 to 26). Trans women increased by 800 percent (from four to 36) and bisexual elected officials by 787 percent (from eight to 71).
"LGBTQ elected officials are significantly more diverse than the overall elected official population – so their impact extends beyond LGBTQ equality alone," said Ruben Gonzales, Executive Director of LGBTQ Victory Institute. "LGBTQ elected officials are on the frontlines in legislative efforts to end police brutality, defend voting rights and secure inclusive healthcare reform. LGBTQ people are represented in every community in America and that diversity allows for more thoughtful policy changes when we are in office."
The Out for America report is an annual analysis of LGBTQ elected representation in government based on Victory Institute's LGBTQ elected officials database – the largest and most comprehensive listing available. The interactive Out for America map, updated daily, displays all known LGBTQ elected officials and is available at outforamerica.org.
Read the full Out for America 2021 report at victoryinstitute.org/out-for-america-2021.
New Zealand seeks to ban conversion therapy
Justice Minister Kris Faafoi introduced bill on Friday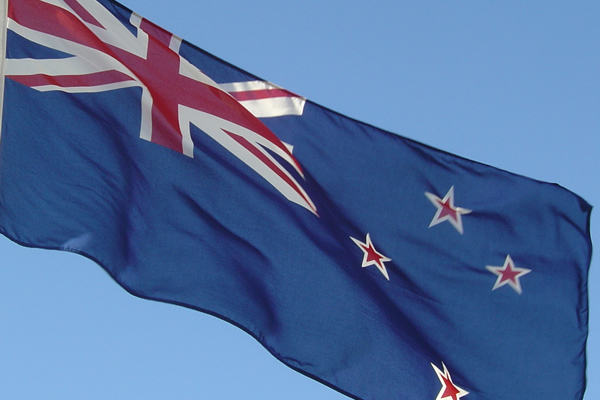 A New Zealand lawmaker has introduced a bill that would ban so-called conversion therapy in the country.
Justice Minister Kris Faafoi, who is a member of Prime Minister Jacinda Ardern's Labor Party, on Friday introduced the Conversion Practices Prohibition Legislation Bill.
"Conversion practices have no place in modern New Zealand," said Faafoi in a statement that announced the bill's introduction. "They are based on the false belief that any person's sexual orientation, gender identity or gender expression is broken and in need of fixing."
"Health professionals, religious leaders and human rights advocates here and overseas have spoken out against these practices as harmful and having the potential to perpetuate prejudice, discrimination and abuse towards members of rainbow communities," added Faafoi.
The bill would make it an "offense to perform conversion practices on anyone — irrespective of age — where the practices have caused serious harm, and would carry up to five years imprisonment." The bill would also make it "an offense to perform conversion practices on a child or young person aged under 18, or on someone with impaired decision-making capacity" and anyone who practices them could face up to three years in prison.
Conversion therapy survivors could also file complaints with New Zealand's Human Rights Commission and Human Rights Review Tribunal.
Rainbow Youth, an LGBTQ rights group in New Zealand, welcomed the bill.
"We're excited about this step to safeguard LBGTIQA+ people around Aotearoa," said the group in a tweet, referring to the country by its Maori name.
Ardern told Express, an LGBTQ newspaper in New Zealand, during a 2020 interview that she and her party support the bill.
"We support it," she said. "I support it."
New Zealand would join Malta and a handful of other countries that ban conversion therapy if the bill becomes law.
The Canadian House of Commons in June approved a measure that would ban conversion therapy in the country. The Canadian Senate is expected to debate the bill later this year.
German lawmakers last year approved a bill that banned conversion therapy for minors in the country. Virginia, Maryland, D.C. and California are among the U.S. jurisdictions that also prohibit the practice.
Missing gay man found 'alive and well'
Police say Richard 'Rick' Woods found in good health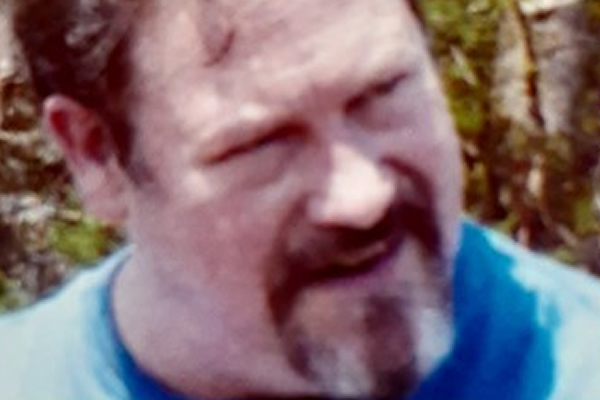 D.C. police announced on Friday that Richard G. 'Rick' Woods, a 65-year-old gay man who police said was reported missing and last seen on July 14, has been located. But the announcement doesn't provide information on where he was found or why he went missing.
Friends who know Woods say he operated for many years an antique wood furniture restoration business in various locations in D.C. The most recent location of his business, friends said, was in Georgetown a short distance from where police said he was last seen on the 1600 block of Wisconsin Avenue, N.W.
"MPD does not publicly disclose the circumstances surrounding a missing person and how they are found, however we do release their flyer as well as a notification when they are located," said D.C. police spokesperson Brianna Burch. "Mr. Woods was found in good health," Burch told the Blade.
Police sought help from the public in their initial announcement that Woods was missing. The announcement said he was reported missing to police on Friday, July 23.
Logan Circle Advisory Neighborhood Commissioner and LGBTQ rights advocate John Fanning, who said he has been friends with Woods for many years, said he was delighted to hear Woods was found in good condition.
"Rick is known by many in our community," Fanning told the Blade at the time Woods was reported missing. Fanning said he and others who know Woods stand ready to provide support for him should he be in need of such support.
The Blade couldn't immediately reach Woods for comment.