UCLA coach Kirk Walker on life after coming out
'Your team is a family, and I needed to be true to my family'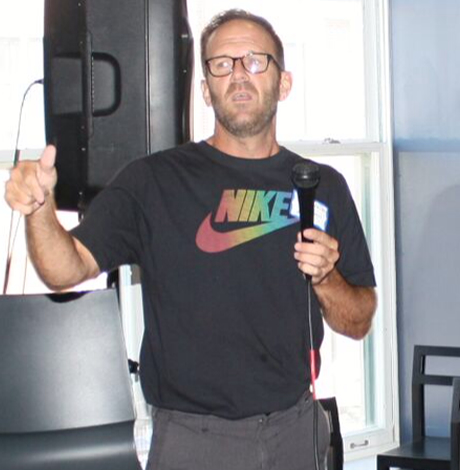 Kirk Walker officially became the 'gay' Division I softball coach back in 2005 when he came out to his team at Oregon State. The press coverage followed with headlines that declared he was the first publicly out coach in the NCAA. Despite courageously sharing his story, Walker wasn't completely comfortable with the new title.
"I didn't want to be labeled the gay coach," he admits. "But then I said that's fine. I realized it needed to be said, that we needed to have some visibility. I decided to stop fighting it."
Like his life, Walker's role is one that keeps evolving. It has been shaped by the sports environment he works in, the confidence he continues to gain from the process of coming out and his morals. When he finally embraced who he was, he found it directly conflicted with his personal coaching philosophy. That was his motivating factor for coming out.
"I had been feeling for years like I was sending the wrong message," says Walker, who has been an assistant coach at UCLA since returning in 2012. "As a coach you tell your athletes to have integrity and to be authentic. How could I ask that of them when I wasn't setting that example? Your team is a family, and I needed to be true to my family. That was his motivating factor for coming out."
Walker's experience resonated with many, and after sharing his story, his inbox was flooded. When Rick Welts, a longtime NBA executive, decided to come out, Walker reached out to show his support. The response he got from Welts still inspires him to this day.
"I got an email from him that said, 'I carried your story around with me before I decided to tell mine.'" He applauds the significance of sharing. "Your story can affect somebody."
That small interaction was a big factor in leading Walker to enter the advocacy stage of his life, and he has been loaning his support to several LGBT sports initiatives for years. Nationally he has been involved since 2012 with the Nike LGBT Sports Coalition, speaking at the annual summit held in Portland, Ore.
"I have a great passion for LGBT advocacy," says Walker, whose demeanor is both measured and charged with purpose. "There's so much more to be done around education, bullying and diversity in sports. I hope to be able to do this full time when I retire from coaching. I look forward to any opportunity to be involved."
Walker's diversity and inclusion vision includes work with his foundation. Equality Coaching Alliance and the LGBT Sports Coalition both provide confidential support and counseling to hundreds of athletes. While the younger generation can benefit from more visible role models, something Walker did not have, he thinks their views on coming out or why they stay closeted are very different from in the past.
"They don't really see coming out as being all that imperative and don't even like labeling themselves as gay or straight," he says. "There are many in this generation that are comfortable existing as they are, without making statements."
Counseling and connecting high school, college and professional LGBT athletes is a major part of the advocacy work that Walker does. And he has seen throughout the years, that building a network of support creates an environment where athletes can see they are not alone, and can feel strong enough to choose to come out or not.
But Walker acknowledges there are fears around the process, and feels that the same pressures exist today.
"The perception that sports is inherently homophobic still keeps many coaches, athletes, and individuals from coming out," he says. "You never have to come out when you are straight, it is assumed. Even in an accepting environment your sexuality will always be assumed straight because it is a huge majority of how society identifies itself."
In his view, one of the most impactful detriments to not coming out is the amount of time and effort put into trying to be someone else.
"Every second that an athlete or a coach spends on pretending is wasted energy," says Walker. He lived that lie for years, he says and it was exhausting. "Why does it matter whether you come out or not? Because it frees you up and allows you to focus on competing and being an athlete. It lets them uncap their athletic potential. What coach wouldn't want that? What athlete wouldn't?"
Promoting diversity, building awareness and helping create opportunities for LGBT athletes around the country fills up Walker's days as much as devising strategies for his softball players. Along with the spotlight, he welcomes the titles.
"The stories we've seen in the last six or seven years have been powerful," Walker says. "I think it will continue to be the headline of the story for a while. But it doesn't have the same gravitas as before. We have to move on, to where it becomes the second part of the story. I think we will get there."
Washington Spirit host largest halftime drag performance in NWSL history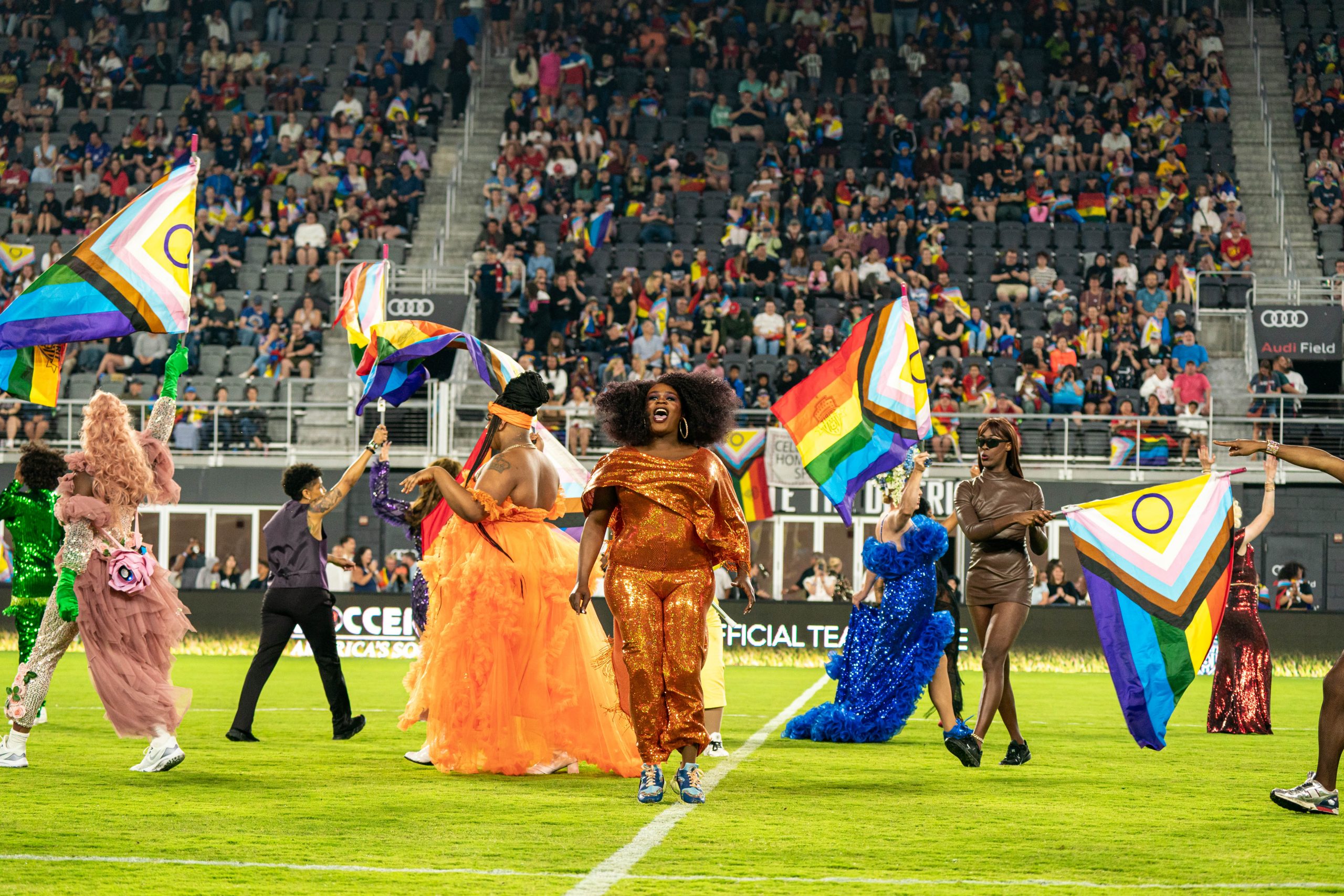 The Washington Spirit celebrated the LGBTQ+ community with the team's annual Pride Night at Audi Field this past Saturday. Highlighting that evening's Pride-themed festivities was a
halftime drag performance, featuring over a dozen drag performers from around the
DMV. It was the largest halftime drag performance in NWSL history.
Performers included: Shiqueeta Lee, KCByonce, Citrine the Queen, Elektra Gee, Kabuki Bukkake, Delila B. Lee, Capri Bloomingdale, Tara Ashleigh Austin, Gigi Couture, Dorsell Phinn, Tula, Twix the Drag Queen, Bootsy Omega, Princeza.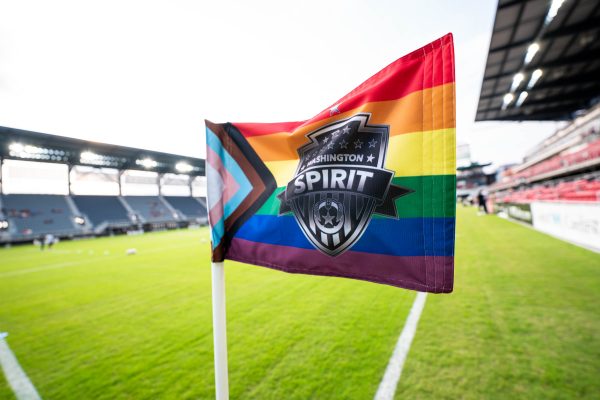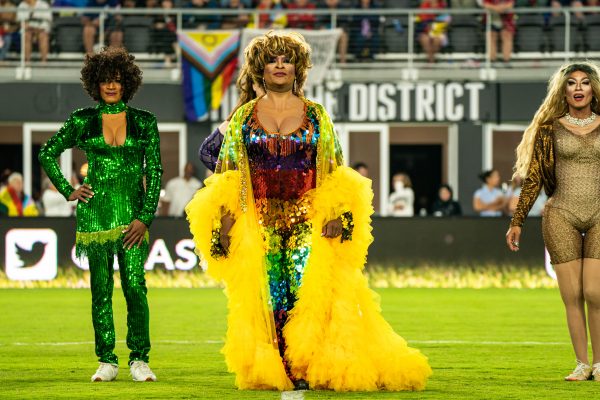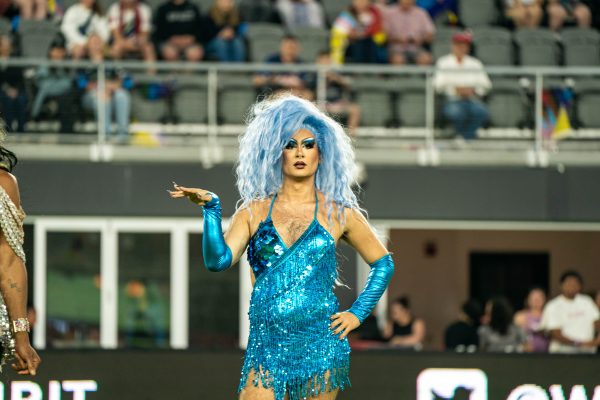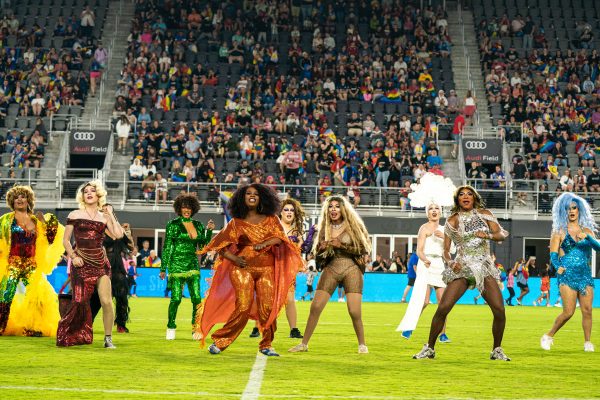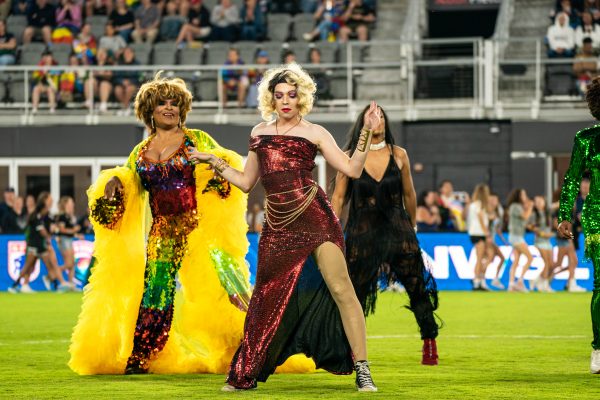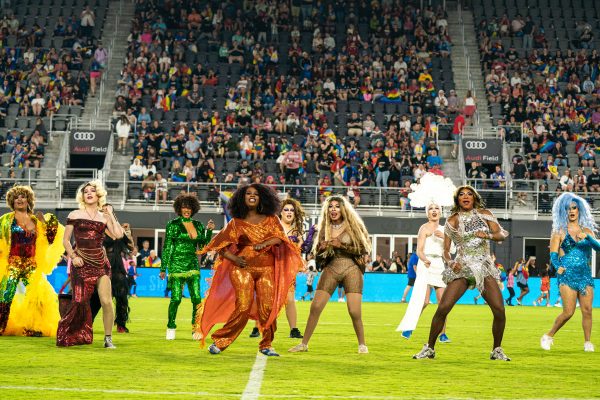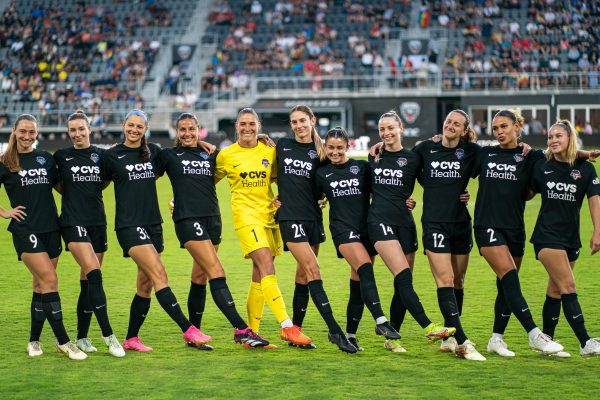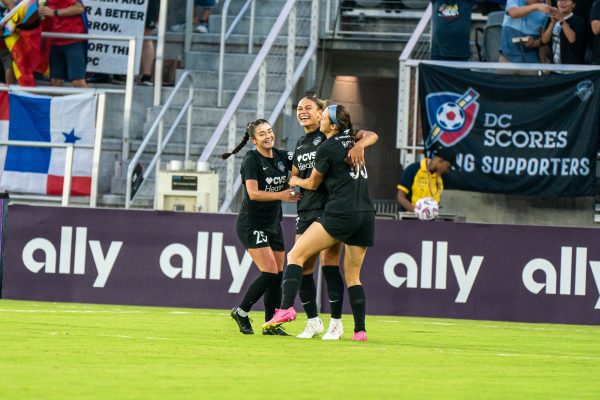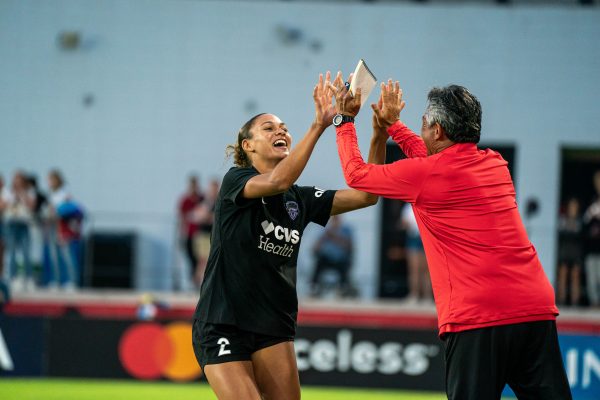 Los Angeles Dodgers apologize, reverse decision on disinviting drag group
Pride Night to take place June 16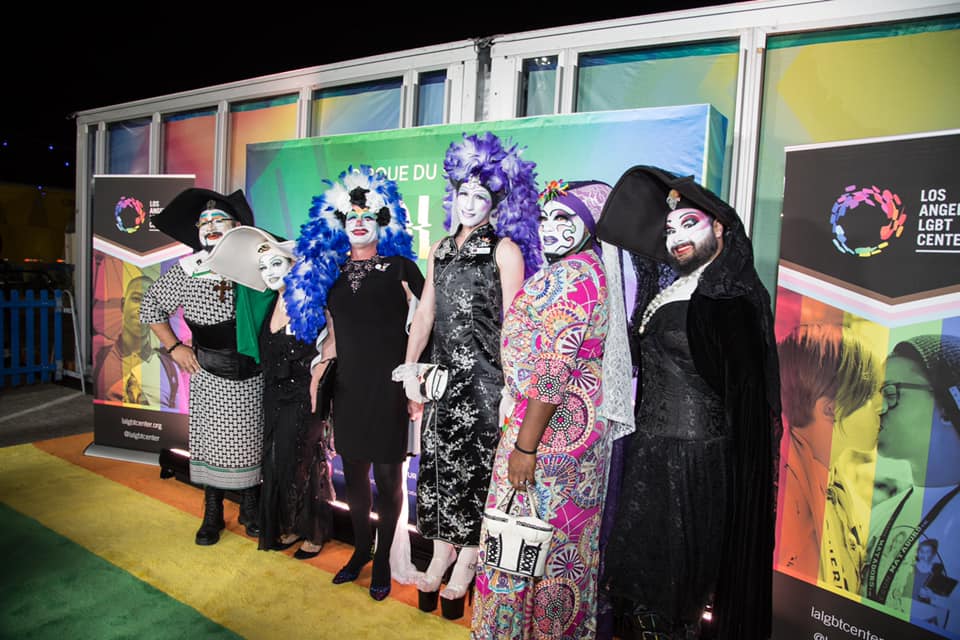 In a tweet Monday afternoon, the Los Angeles Dodgers Major League Baseball franchise reversed last Wednesday's decision to disinvite the LA Chapter of the Sisters of Perpetual Indulgence from a scheduled "Community Hero Award" presentation for the team's annual Pride Night on June 16.
May 22, 2023
Los Angeles County Supervisor Lindsey P. Horvath announced on Twitter Monday afternoon after the Dodgers apology, and its accompanying public acceptance by the Sisters of Perpetual Indulgence, that she had been pleased to have assisted in facilitating a meeting between the team, the Sisters and stakeholders in the LGBTQ community's leadership both non-profit and political to come to an understanding.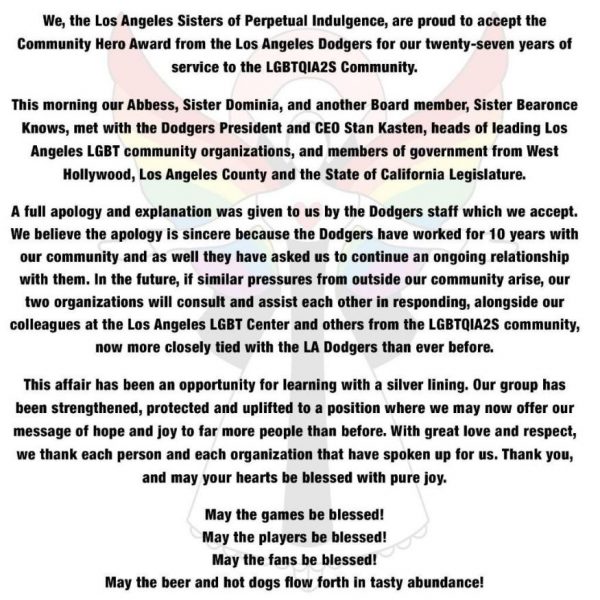 Thanks to the @LADragnuns for your work to serve & uplift the LGBTQ+ community. You model the best of my faith.
@Dodgers, it is rare for an organization like yours to publicly recognize mistakes & commit to doing better – thank you 🙏🏼

— Lindsey P. Horvath (@LindseyPHorvath) May 23, 2023
In a Monday afternoon phone call with the Los Angeles Blade, Horvath explained that important dialogue between the Dodgers and other parties had commenced. She said that earlier on Monday, in a meeting at Dodger Stadium, the stakeholders met to work out a solution.
"I was honestly moved and grateful by the commitment in the room by all the parties, especially Dodgers president and part-owner Stan Kasten," Horvath said.
In addition to the representatives from the Sisters drag group, the meeting was also attended by Los Angeles LGBT Center Chief Executive Officer Joe Hollendoner, LA Pride President Gerald GarthBoard, West Hollywood Mayor Sepi Shyne, state Assemblymember Rick Chavez Zbur, and state Sen. Caroline Menjivar. Zbur and Menjivar attending on behalf of the California Legislative LGBTQ caucus.
Horvath indicated that she felt it was a critically important meeting with all stakeholders as they worked through the anger, sense of betrayal, and misgivings over the Dodgers actions. She pointed out that she was convinced that the Dodgers president was genuinely remorseful and apologetic.
In an email Monday night, Zbur told the Blade: "It was clear that today's meeting followed meaningful internal dialogue among Dodgers management, with whom I had numerous frank conversations during the week and weekend. I'm pleased that the Dodgers came to understand the genuine hurt and injury caused by the decision to exclude the Sisters of Perpetual Indulgence — one that did not reflect our Los Angeles or California values.
As the only LGBTQ members of the Legislature representing Los Angeles, Senator Menjivar and I participated in the meeting at the request of the California LGBTQ Legislative Caucus to express the serious and uniform concern of Democratic members of the California Legislature.
After hearing the perspectives of the Sisters, L.A. Pride and the LGBTQ+ leaders in the room, the Dodger management apologized unequivocally for their mistake, re-invited the Sisters to participate in the event, and engaged in a discussion about the steps that they could take to reconcile with LGBTQ+ community.
I was proud of the Sisters, who demonstrated resilience, strength and a commitment to the LGBTQ+ community during the discussion, and I was impressed with the sincerity of the apology by the Dodger management."
The Los Angeles LGBT Center had called on the team to cancel Pride Night altogether. After the Dodgers had made their public apology, Hollendoner issued the following statement:
"Today's decision by the Dodgers to publicly apologize to the Sisters of Perpetual Indulgence and roll back their exclusion from next month's Pride Night is a step in the right direction, and we support the Sisters' vote to accept their much-deserved Community Hero Award.
Last week's debacle underscores the dangerous impact of political tactics by those who seek to stoke the flames of anti-LGBTQ bias at a time when our rights are under attack. We must continue to stand together as a community in defense of the rights and recognition of LGBTQ+ people in Los Angeles and beyond.
The Center is filled with gratitude to our Los Angeles community, who mobilized to support the Sisters, all of which compelled the Dodgers to ultimately do right by LGBTQ+ people everywhere. We are proud to stand with the Sisters of Perpetual Indulgence, and will join them at Pride Night to honor their many important contributions to our movement.
The Dodgers' course correction and the conversations we have had with the organization's leadership since last week demonstrates the version of allyship we have come to expect from the team over the years. The Center will always strive to hold our corporate partners accountable — which means so much more than waving a rainbow flag."
The team announced last week it would drop the drag group from its celebration of LGBTQ+
fans, the day after a letter-writing campaign was launched by the anti-LGBTQ Catholic League. Catholic League President Bill Donohue accused the team of "rewarding anti-Catholicism" by honoring the group.
"The Catholic League has been the leading critic of this bigoted organization for many decades," Donohue wrote on the organization's website. "… These homosexual bigots are known for simulating sodomy while dressed as nuns."
He added, "Just last month, they held an event mocking our Blessed Mother and Jesus on Easter Sunday."
One of those writing, was U.S. Sen. Marco Rubio (R-Fla.) who also sent a letter to Major League Baseball Commissioner Rob Manfred, stating that he was questioning whether the League is "inclusive and welcoming" to Christians.
At the time, the Dodgers said they removed the group from their Pride Night celebration "given the strong feelings of people who have been offended by the Sisters' inclusion in our evening, and in an effort not to distract from the great benefits … of Pride Night."
On Saturday, Anaheim Mayor Ashleigh Aitken invited the drag group to Angels Pride Night in a tweet, as reported by the Blade: "I'm inviting the Sisters of Perpetual Indulgence to join me for @Angels Pride Night at Anaheim Stadium on June 7. Pride should be inclusive and like many, I was disappointed in the Dodgers' decision," tweeted the Mayor .
Neither the Angels nor the mayor's office confirmed that invitation as of press time, and also did not comment on the Dodgers' reversal.
However, the Roman Catholic Diocese of Orange took aim at Aitken for extending the invitation to the drag group:
"The decision to openly embrace a group whose demeaning behavior is anti-Catholic and anti-Christian is misguided and disrespectful to the sisters of the Catholic Church who minister in Orange County and selflessly dedicate their lives to God's underserved people," said Jarryd Gonzales, spokesman for the Roman Catholic Diocese of Orange on Monday.
"We cannot condone any actions that have historically shown such high levels of disregard for the sincerely held beliefs of the faithful," he added.
"Our June 7th Pride Night is part of Major League Baseball's league-wide effort to raise awareness and promote acceptance of the LGBTQ+ community. As in the past, OC Pride has assisted our Organization in the planning of this event as well as outreach to all fans throughout Southern California," an Angels spokesperson said on the mayor's invitation.
The Sisters have not indicated publicly if they plan to attend the Angels Pride Night as of yet.
Sources tell the Blade out gay Dodgers Vice President Erik Braverman was being advised on this crisis by Outsports co-founder Cyd Zeigler. When contacted by the Blade, Zeigler declined to comment.
A spokesperson for the Dodgers did not respond to a request for comment for this story.
Vice president meets Brittney Griner before first game back
Russia released WNBA star from penal colony late last year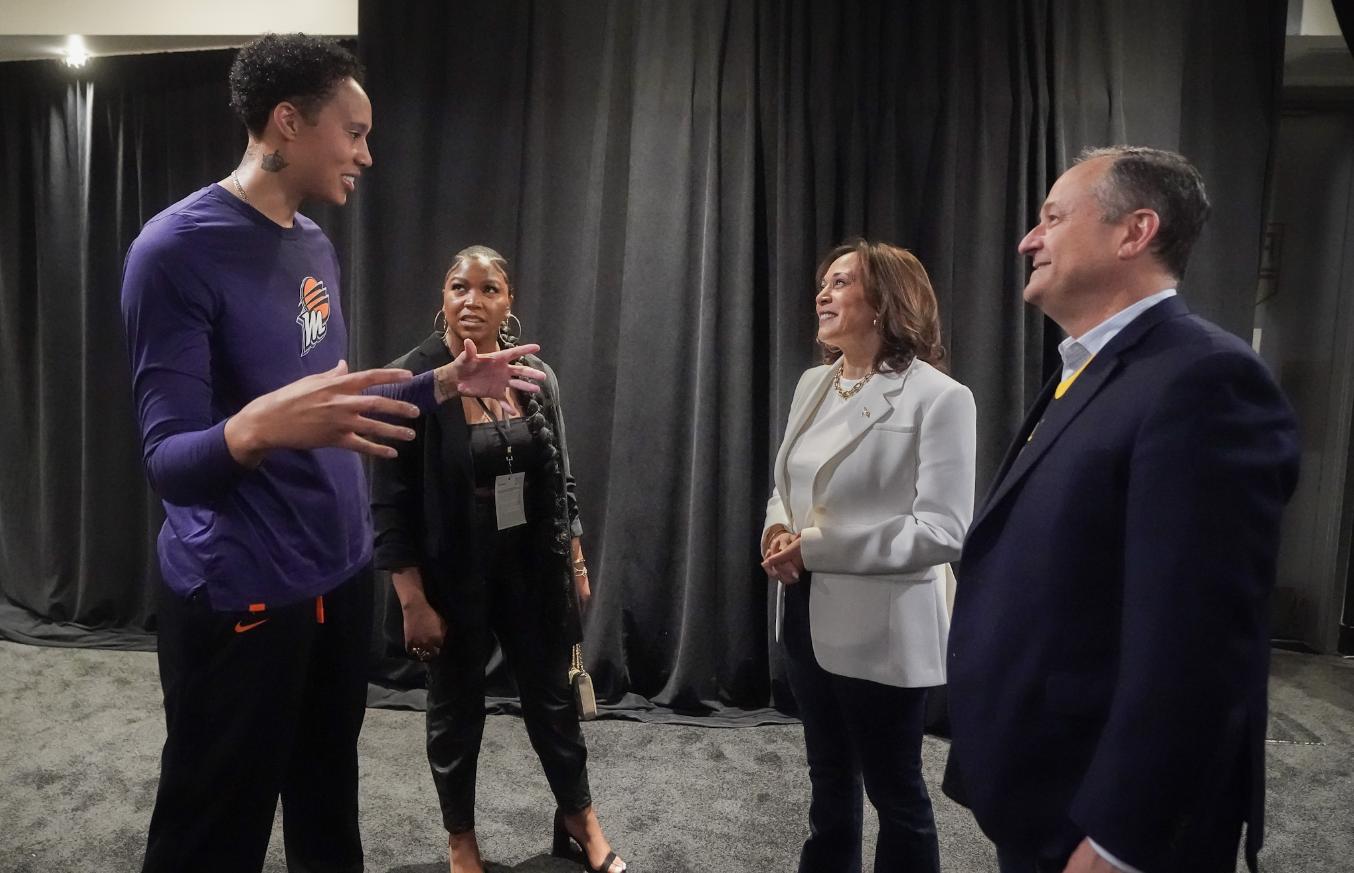 Vice President Kamala Harris accompanied by her husband, second gentleman Doug Emhoff, greeted WNBA's Phoenix Mercury star center Brittney Griner and her wife Cherelle Friday night before Griner's first professional basketball game back since being released from a Russian penal camp last December.
According to the White House Press Pool reporter traveling with Harris, she and Emhoff arrived at Crypto.com Arena in downtown Los Angeles and met with the Griners prior to the game between the LA Sparks and Phoenix Mercury.
After conversations between the four, the vice president met with the rest of the Mercury in their dressing rooms before meeting with host team the LA Sparks in theirs.
According to the Advocate's reporter Christopher Wiggins, in her meeting with the Mercury, the vice president said:
"I came here to talk to the team to congratulate you on exhibiting excellence in every way. You are some of the finest athletes in the world, and to do what you do every day shows that it is right to have ambition," she said.
"It is right to have aspirations. It is right to work hard. It is right to compete when you know you have put everything into it; when you have trained, when you have discipline, when you have intelligence and when you have brilliance."
She added, "It makes me so proud as vice president of the United States to go around the world talking to folks about a variety of issues, and one of the subjects that does come up is the WNBA. [The world] is watching what you guys are doing, lifting up the excellence of the finest athletes in the world."
After meeting both teams Harris then showed up at center court to cheers from about 10,000 people and received an honorary jersey from the Sparks.
Great time at the game tonight cheering on the @LASparks and @PhoenixMercury as we celebrated @BrittneyGriner's return to the court.

Her grace, courage, and determination are an inspiration to all. pic.twitter.com/0fTx952IWj

— Vice President Kamala Harris (@VP) May 20, 2023
The Sparks beat the Mercury 94-71, although the Advocate pointed out: "Griner's return to the floor and doing what she loves was more important than the result. Six rebounds, four blocks, and 18 points rounded out her performance."