Transgender Day of Remembrance observed on Capitol Hill
Congressional resolutions draw attention to record anti-trans violence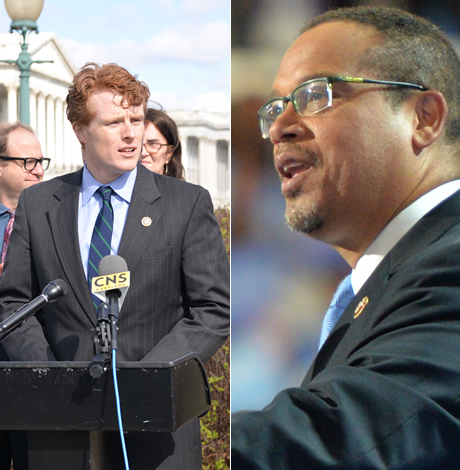 As the nation observes the deadliest recorded year ever for transgender people on the Transgender Day of Remembrance, members of Congress are lending their voices to raise attention to anti-trans violence.
Rep. Joe Kennedy III (D-Mass.), chair of the Congressional Transgender Task Force, introduced a resolution in the U.S. House on Monday to recognize violence against transgender people.
"Our nation has lost too many transgender Americans to targeted, bigoted violence in our communities," Kennedy said. "With this resolution recognizing Transgender Day of Remembrance, Congress can commit to confronting these tragedies and protecting all of our citizens."
In addition to recognizing the Transgender Day of Remembrance, the resolution calls for enhanced federal data collection of anti-trans violence and encourages federal and state governments "to study, respond to, and prevent violence against transgender people."
The original co-sponsors of the resolution are Reps. Mike Quigley (D-Ill.), Donald McEachin (D-Va.), Raul Grijalva (D-Ariz.) and Jackie Speier (D-Calif.) as well as Del. Eleanor Holmes Norton (D-D.C.).
At least 25 transgender people were killed throughout the United States in 2017, making it the deadliest in history for anti-trans violence since those numbers were recorded starting in 2013. According to a report for the Human Rights Campaign, 84 percent of the transgender people killed this year were people of color and 80 percent were women.
Rep. Keith Ellison (D-Minn.), the first Muslim in Congress, had already introduced a resolution in September against anti-trans violence, specifically noting violence against transgender women of color.
Ellison said in a statement Monday the Transgender Day of Remembrance "takes on even more significance" in 2017 as a result of the significant rate of violence against transgender people.
"We also recognize that the victims of this violence are almost all transgender women and transgender women of color," Ellison said. "This is an important day, but we should not consider our jobs done because we've observed this one day. Instead, we must commit ourselves to the principle of liberty and justice for all and ensure everyone is safe to live and thrive in their community."
Ellison's resolution observes transgender women of color are more likely than white transgender women to face mistreatment by police, an assumption they're sex workers and incarceration in prison.
Among other things, the resolution calls for ending racial profiling in law enforcement practices; ending the practice of placing transgender people in solitary confinement; and ending the practice of immigration detention for vulnerable populations, including transgender people.
Co-sponsors of that resolution are Grijalva, Kennedy as well as Rep. Barbara Lee (D-Calif.), Rep. Mark Pocan (D-Wis.), Mark Takano (D-Calif.) and Sean Patrick Maloney (D-N.Y.).
Ellison also produced a video recognizing the Transgender Day of Remembrance and the record amount of anti-trans violence in 2017, issuing the call that transgender protections rescinded under the Trump administration be restored.
2017 was the deadliest year on record for transgender Americans. We must demand that transgender protections be restored & expanded. #TDOR pic.twitter.com/1f8Xz2u5C7

— Rep. Keith Ellison (@keithellison) November 20, 2017
Also on Monday, the LGBT Congressional Staff Association hosted in front of the U.S. Capitol an event recognizing the Transgender Day of Remembrance. Participants held a moment of silence and read the names of the transgender people killed this year.
Attendees included Bishop Allyson Abrams, founder and current pastor of Empowerment Liberation Cathedral, and Kory Masen of the National Transgender Center for Equality.
Todd Sloves, president of the LGBT Congressional Staff Association, said in a statement the organization is "proud to stand with the transgender community on and off Capitol Hill."
"On Transgender Day of Remembrance, we want to demonstrate that there is strong support for the transgender community at the center of our nation's capital, where the decisions that influence the direction of our nation are made," Sloves said. "We can never forget that members of our community continue to be targeted for who they are. Today and every day we stand up to say they will not be forgotten and discriminatory and violent behavior against the most vulnerable within our community will not be accepted. We look forward to making this an annual tradition until there are no names to read."
Victory Fund honors Maine House speaker at D.C. conference
Ryan Fecteau is gay Catholic University alum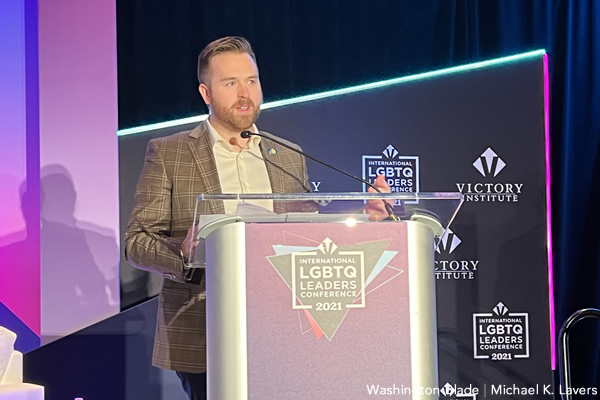 The Victory Fund on Saturday honored Maine House Speaker Ryan Fecteau on the last day of its International LGBTQ Leaders Conference in D.C.
Fecteau — an openly gay Catholic University of America alum — won a seat in the Maine House of Representatives in 2014. He became the chamber's speaker in 2018.
"Hate and intolerance will not derail us," said Fecteau after Florida state Rep. Carlos Guillermo Smith presented him with the Tammy Baldwin Breakthrough Award, which is named after U.S. Sen. Tammy Baldwin (D-Wis.). "Our community will not be intimidated."
The Victory Fund on Friday honored Guatemalan Congressman Aldo Dávila, a gay man who is living with HIV.
Victory Fund honors gay Guatemalan congressman at D.C. conference
Aldo Dávila a vocal critic of country's government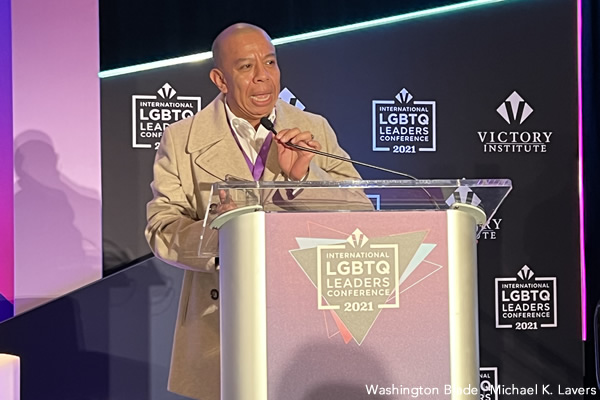 The Victory Fund on Friday honored an openly gay Guatemalan congressman who has faced death threats because of his efforts to fight corruption in his country.
Dávila — a member of the Winaq movement, a leftist party founded by Rigoberta Menchú, an indigenous human rights activist and Nobel Peace Prize winner — in 2019 became the first openly gay man elected to Guatemala's congress. Dávila, who also lives with HIV, had previously been the executive director of Asociación Gente Positiva, a Guatemala City-based HIV/AIDS service organization.
Supporters of President Alejandro Giammattei have lodged several formal complaints against Dávila after he publicly criticized the government over corruption, its response to the pandemic and other issues.
Three men on April 19 approached Dávila's vehicle near Guatemala's National Library and tried to rob him. One of Dávila's bodyguards shot one of the men, but the two other assailants fled the scene before police officers and passersby arrived.
Dávila told the Washington Blade in September during an interview at a Guatemala City hotel that he and his partner installed cameras in their apartment after someone killed their dog.
Two female police officers who arrived at the hotel with Dávila sat in the lobby while he spoke with the Blade. The government a few weeks later reduced his security detail.
"Guatemala is living through the worst democratic crisis in the last 40 years," said Dávila after he accepted the Victory Fund's Global Trailblazer Award at its 2021 International LGBTQ Leaders Conference that is taking place in-person at the JW Marriott in downtown D.C. "Guatemala right now is being paralyzed by corruption and impunity and my voice is uncomfortable because of this."
Dávila became emotional at the end of his remarks.
"I will keep fighting for our rights," he said.
Comings & Goings
Nathanson takes role at Outright Action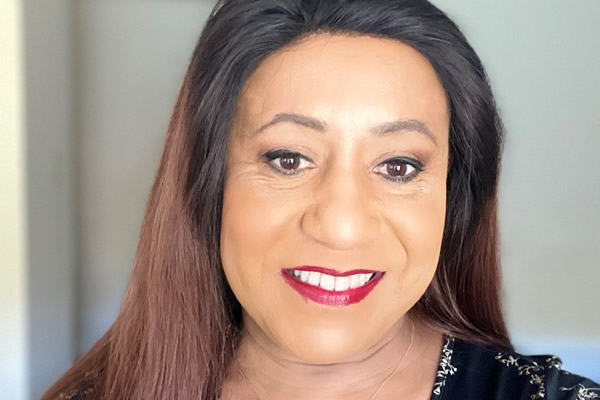 The Comings & Goings column is about sharing the professional successes of our community. We want to recognize those landing new jobs, new clients for their business, joining boards of organizations and other achievements. Please share your successes with us at: [email protected]
The Comings & Goings column also invites LGBTQ+ college students to share their successes with us. If you have been elected to a student government position, gotten an exciting internship, or are graduating and beginning your career with a great job, let us know so we can share your success.
Congratulations to Rikki Nathanson on her new position as Senior Advisor – Global Trans Program with OutRight Action International in New York. Nathanson will be based in D.C.
"I am absolutely thrilled to be taking on this new role as Senior Advisor in OutRight's Global Trans Program," said Nathanson. "I have finally found the perfect fit for me: as a trans woman who has been fighting for equality not only for myself, but for others globally, this position is not only a job, it's intrinsically part of who I am. So, what better way to live, nurture and grow myself."
Nathanson will be working closely with all program staff to ensure a cohesive and intentional approach to gender issues throughout OutRight's programs, including its approach to gender ideology movements. She will lead new initiatives on gender advocacy and policy change, focused but not limited to legal gender recognition and anti-discrimination legislation and policies.
Prior to this Nathanson was director of housing programs at Casa Ruby in D.C. She has also held a number of other positions including: founder/executive director of Trans Research, Education, Advocacy & Training (TREAT), Zimbabwe; chairperson Southern Africa Trans Forum, SATF, Cape Town, South Africa; executive director, Ricochet Modeling Agency, Zimbabwe; and company secretary for Dunlop Zimbabwe Limited, Zimbabwe.