Mariela Castro reafirma apoyo del matrimonio igualitario en Cuba
Referéndum sobre la nueva constitución se espera realizarse en 2019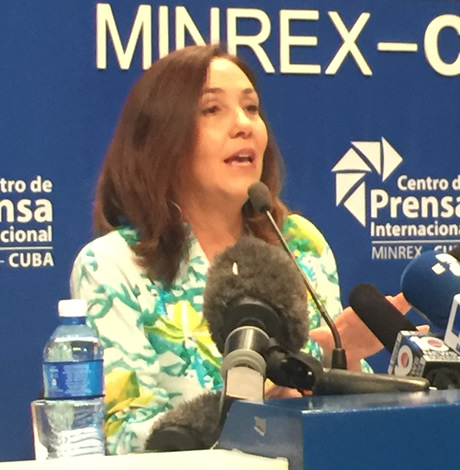 "Este cambio es muy importante porque es una voluntad política del estado y del gobierno cubano de avanzar la agenda de derechos humanos y de extenderlo a tantas áreas como sea posible", Mariela Castro dijo al BBC durante una entrevista en Londres, hablando a través de un intérprete.
Mariela Castro es miembro de la Asamblea Nacional de Cuba y directora del Centro Nacional de Educación Sexual, promueve los temas LGBTI en la isla.
La Asamblea Nacional en las próximas semanas se espera finalizar el borrador de la propuesta constitución nueva que incluye una enmienda del matrimonio entre parejas del mismo sexo. Un referéndum se espera realizarse el 24 de febrero de 2019.
"La sociedad cubana está demostrado que sigue siendo una sociedad en revolución", dijo Mariela Castro.
Mariela Castro rechaza críticas sobre DDHH en Cuba
La revolución cubana en 1959 derrocó el entonces presidente Fulgencio Batista. Hombres gay estaban entre aquellos que fueron enviados a campos de trabajo — conocidos como Unidades Militares de Ayuda a la Producción o UMAPs — durante los años después de la revolución.
"Cuba pertenecía al mundo y todos los países en la tierra eran homofóbicos", Mariela Castro dijo al BBC en respuesta a una pregunta sobre la discriminación y la persecución contra la comunidad LGBTI en Cuba que se realizaron después de su tío tomó el poder. "No fue que necesariamente hubo persecución contra los homosexuales. Es solo que la homosexualidad no fue entendida. No era que hubiera leyes que penalizaban a las personas, sino que había formas de limitar a las personas homosexuales o transgénero".
"Esto ha ido cambiando gracias a la revolución", ella añadió.
Fidel Castro en 2010 se disculpó por las UMAPs durante una entrevista con un periódico mexicano.
Partidarios de Mariela Castro, entre otras cosas, notan Cuba ahora ofrece por gratis las cirugías de asignación de sexo por su sistema de salud nacional. El presidente Miguel Díaz-Canel, que fue nombrado de suceder a Raúl Castro al principio de este año, en septiembre dijo durante una entrevista con Telesur, una estación de televisión en gran parte financiado por el gobierno venezolano, que apoya el matrimonio entre parejas del mismo sexo.
Activistas y periodistas independientes en Cuba han dicho al Washington Blade que enfrentan el maltrato e incluso arresto si critican públicamente a Mariela Castro y/o al gobierno cubano.
El reportero de BBC que entrevistó a Mariela Castro describió Cuba como "un lugar muy poco libre" cuando preguntó a ella sobre el récord general de derechos humanos del país. Mariela Castro en respuesta a la pregunta equiparó el colonialismo español y la política estadounidense hacía la isla, que incluye un bloqueo económico, como abusos de los derechos humanos en contra de su país.
"La revolución ha triunfado", ella dijo. "Se centra en el ser humano como su objetivo principal, no en el interés de la clase dirigente".
La hija del expresidente cubano Raúl Castro el 29 de noviembre reafirma su apoyo de los esfuerzos para extender los derechos matrimoniales a las parejas del mismo sexo en el país.
Long-time LGBTQ activist running for Md. House of Delegates
Patrick Paschall is former FreeState Justice executive director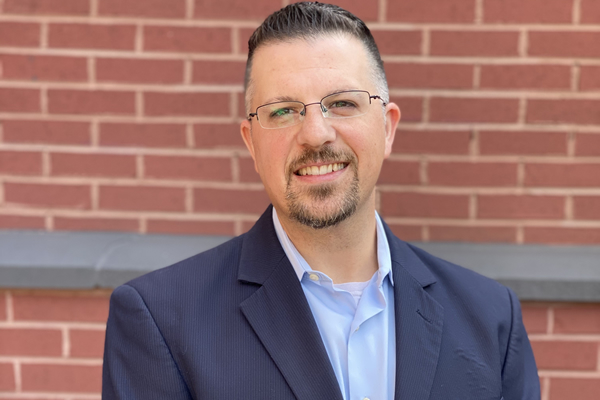 Former FreeState Justice Executive Director Patrick Paschall last week announced via social media that he is running for the Maryland House of Delegates.
"As a proud parent of two kids in Prince George's County public schools, former Hyattsville City Council member, and lifelong civil rights advocate and policy analyst, I've spent my life and career working for equity, community and sustainability for my family," Paschall said in a statement posted to Facebook on Nov. 23.
Paschall, who currently is the American Rescue Plan Program Manager for the city of Hyattsville, previously served as executive director for FreeState Justice from 2015 to 2017.
His LGBTQ advocacy work also includes serving as senior policy counsel for the National LGBTQ Task Force, as an organizer for Pride at Work and as a policy fellow for the National Center for Transgender Equality.
He also worked for Family Equality Council, an organization advocating for the rights of same-sex couples and their children.
"One of the things I'm running on is being a parent," Paschall told the Washington Blade. "We can provide more opportunities for families to succeed in our communities."
Paschall is running to represent District 22, which includes Hyattsville, where he has lived for over 10 years with his two children, who currently attend Hyattsville Elementary School, and his wife, who identifies as pansexual. 
He told the Blade he views his family as a "rainbow family," but pointed out since he and his wife did not have to endure the same difficulties as his friends who are married same-sex couples when they wanted to adopt children.
"When I became a parent, no one stopped by my house to make sure it was an adequate living situation for my child, no one checked to make sure I had a room dedicated to the child and for no other purpose," he said. "But my friends Jamie and Sean went through all of that when they tried to adopt a kid."
Paschall explained that even though he and his wife didn't go through these experiences, there was still room for Maryland to improve in the areas of adoptions and civil rights.
"It strikes me how much privilege I have because the state doesn't design to make it hard for me like it does for so many same-sex couples," he explained.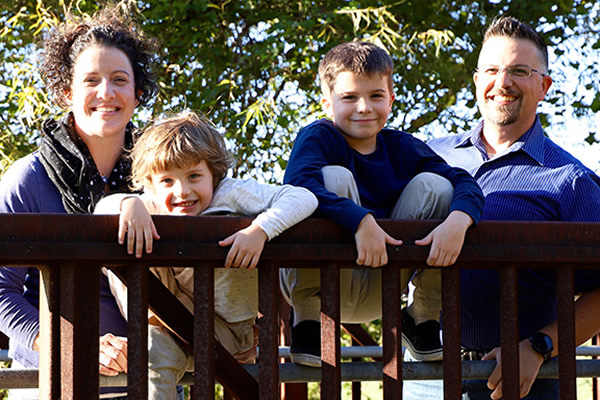 Much like with the recent elections in neighboring Virginia, Paschall said helping parents is an important issue for him — one he wants to carry to Annapolis — if elected "because my district deserves better schools for our kids, more child care options and family support like paid family leave."
"I think that District 22 needs a voice in Annapolis to represent progressive parents and to exercise policy expertise in achieving the values of our community," he added. "And I have the experience to get it done."
Canadian government introduces bill to ban conversion therapy
Prime minister says discredited practice as 'discriminatory and degrading'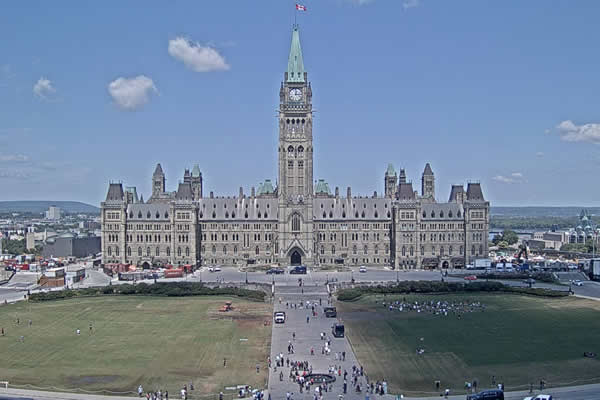 The Canadian government on Monday introduced a bill that would ban so-called conversion therapy in the country.
The bill that Attorney General David Lametti and Women and Gender Equality and Youth Minister Marci Ien introduced would amend Canada's Criminal Code to specifically ban:
Causing another person to undergo conversion therapy
Removing a minor from Canada to subject them to conversion therapy abroad
Profiting from providing conversion therapy
Advertising or promoting conversion therapy
A press release the Canadian government issued said the bill would allow courts "to order the seizure of conversion therapy advertisements or to order their removal from computer systems or the internet."
"The pain and trauma caused by conversion therapy practices continue to have a devastating impact on LGBTQ2 communities across Canada," said Ien. "Our government is focused on promoting equality rights and tackling discrimination against lesbian, gay, bisexual, transgender, queer and two-spirit people. Criminalizing this practice upholds basic human rights, while also ensuring that every Canadian is free to live their authentic lives."
Prime Minister Justin Trudeau in a tweet said conversion therapy "is discriminatory and degrading, and has had devastating impacts on LGBTQ2 Canadians."
"It has no place in our country," he said.
Conversion therapy is discriminatory and degrading, and has had devastating impacts on LGBTQ2 Canadians. It has no place in our country – and that's why, today, @DavidLametti and @MarciIen introduced legislation to ban it once and for all. More details: https://t.co/28jSblDPyR https://t.co/hLhzT1nJbD

— Justin Trudeau (@JustinTrudeau) November 30, 2021
Tourism Minister Randy Boissonnault, who previously advised Trudeau on LGBTQ issues, also applauded the bill's introduction.
"Conversion 'therapy' is akin to torture," said Boissonnault. "I encourage all of my colleagues in the House (of Commons), to support this bill that will move to criminalize conversion therapy in Canada once and for all."
I've said it before, and I will say it again. Conversion "therapy" is akin to torture. I encourage all of my colleagues in the House, to support this bill that will move to criminalize conversion therapy in Canada once and for all. 🏳️🌈 pic.twitter.com/AbCwaMf30w

— Randy Boissonnault 🏳️🌈 (@R_Boissonnault) November 29, 2021
Canada would join Malta and a handful of countries that ban conversion therapy.
Trudeau, who won re-election in September, has previously called for a prohibition of the widely discredited practice. The Canadian Senate earlier this year tabled a separate conversion therapy ban bill.
D.C. area LGBTQ bars, eateries receive $100K COVID-19 relief grant
Pitchers, League of Her Own received NGLCC, Grubhub funds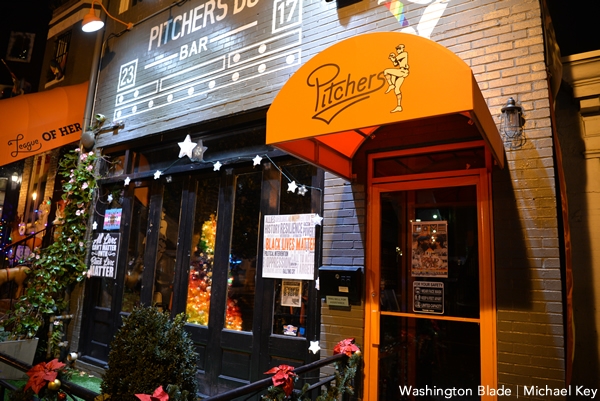 The D.C. LGBTQ sports bar Pitchers and League of Her Own, its adjoining lesbian bar, are among the nation's first LGBTQ bars that serve food as well as alcoholic beverages to receive a $100,000 COVID-19 relief grant under a $2 million Community Impact Grant Program.
The program, aimed at supporting LGBTQ-owned and LGBTQ-allied small businesses struggling from the pandemic, was launched in September as a joint project of the National LGBT Chamber of Commerce, which goes by the initials NGLCC, and the global online food delivery company Grubhub.
In a Tuesday announcement, NGLCC and Grubhub said Pitchers and League of Her Own, which operate as one business in adjoining buildings in D.C.'s Adams Morgan neighborhood, are among the first three recipients of $100,000 grants under the Community Impact Grant Program. The other two recipients are FOODE + Mercantile of Fredericksburg, Va., and Café Gabriela of Oakland, Calif.
"Following this initial round of recipients, more grants will be issued in late 2021 and early 2022," the announcement by the two groups says. In an earlier announcement, the groups said the application period for the grants program took place from September through Oct. 12, and the grants would range in amounts from $5,000 to $100,000.
"The impact of COVID-19 has been debilitating for countless restaurant and bar owners, including the many LGBTQ+-owned restaurants across the country who have persisted through lockdowns, operational changes and labor supply shortages," said NGLCC Co-Founder and President Justin Nelson. "We're grateful to have partnered with Grubhub to offer real lifelines to support businesses throughout the nation," Nelson said.
"Building community in a fun and safe place has been our mission since the very beginning," said David Perruzza, the owner of Pitchers and League of Her Own. "We're relieved and thankful for these funds, and are looking forward to more stable days ahead," Perruzza said.
"As a trans masculine and queer immigrant person of color, I've worked hard and put all my love and energy into building a beautiful and welcoming space in Café Gabriela," said owner Penny Baldado. "I've remained resilient through COVID, and this grant is the injection of funds that we need to continue along our journey to full recovery," Baldado said.
The statement announcing the first three grant recipient says funds for the $2 million grant program were generated by Grubhub's "Donate the Change" program of which NGLCC became a partner in June. Grubhub says the program asks customers receiving food delivered by Grubhub "to round out their order and donate the difference" to the charitable fund.
"COVID has turned the restaurant industry on its head the last 18 months, and at Grubhub, we've been working hard every day to support our restaurant partners across the country," said Amy Healy, Grubhub's vice president of government relations. "As the world starts to return to a new normal, we're proud to partner with the NGLCC and provide these grants to LGBTQ+-owned and LGBTQ+ ally-owned restaurants across the country that are pillars of their communities."