Remembering the lives we lost in 2018
Tab Hunter, SpongeBob creator, AIDS activists and others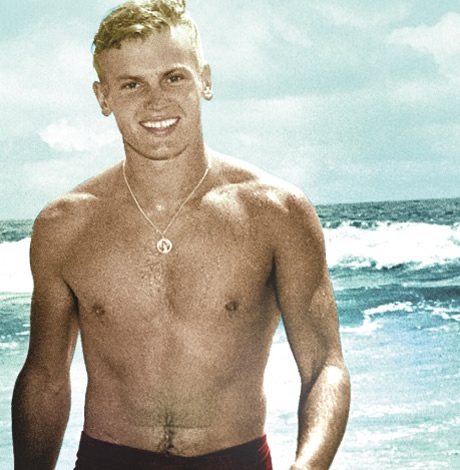 Many acclaimed LGBTQ people died in 2018 from the worlds of entertainment, sports, advocacy, business and beyond. They include:
Victor Salisbury, a Realtor, banking analyst, gay rights supporter and D.C. area resident, died on Jan. 4 at 66.
Eddie Weingart, a D.C.-based massage therapist and anti-gun violence activist died at age 39 on Jan. 11. After the 2012 Newtown, Conn. mass shooting at Sandy Hook Elementary School, he helped to found the Project to End Gun Violence. In 2013, Weingart received the "Be the Change Award from the Washington Peace Center for his advocacy.
Dr. Mathilde Krim, a wealthy straight scientist and who was a pioneer in AIDS activism and research, died on Jan. 15 at age 91. She was the founding chairwoman of amfAR, the Foundation for AIDS Research. In 2000, she received the Presidential Medal of Freedom, the nation's highest civilian honor.
Dennis Peron who led an effort to legalize marijuana for medical purposes in California died on Jan. 27 at age 71 in a San Francisco hospital.
Robert Pincus-Witten, a renowned art critic, died on Jan. 28 at 82 after a long illness.
John Mahoney, British-born actor, beloved for his portrayal of Martin Crane, the father on the hit TV sitcom "Frasier," died on Feb. 3  at age 77. He was nominated twice for an Emmy for his role on "Frasier."
Judy Blame, the fashion stylist, died at age 58 from cancer in London on Feb. 20.  There was a retrospective of Blame's work at the ICA in London in 2016.
David Ogden Stiers, who played Maj. Charles Emerson Winchester III in the renowned TV show "MASH," died March 3 at age 75. At age 66, he came out as queer.
Barbara Wersba, an acclaimed lesbian author of books for young adults, died at age 85 on Feb. 18 in Englewood, N.J. She was among the first YA authors to write about same-sex relationships.
Hubert de Givenchy, the renowned French fashion designer who for decades dressed icons from Jacqueline Kennedy to Grace Kelley to Audrey Hepburn, died at age 91 on March 10.
Steve Elkins, founder and executive director of CAMP Rehoboth in Rehoboth Beach, Del., died at age 67 on March 15.
J.D. McClatchy, a Lambda Award-winning-poet, died at age 72 on April 10. He was the author of eight poetry collections and several opera librettos, including "Our Town" for Ned Rorem's settings of Thornton Wilder's drama.
Jean McFaddin, who planned Macy's Thanksgiving Day parades, Santaland at Christmas, spring flower shows and July 4th fireworks in Manhattan for 24 years, died on April 18.
Richard Peck, a gay author of stories about rape, suicide and other difficult topics for young readers, died on May 27 at age 84.
LGBTQ rights activist Connie Kurtz died at age 81 at her home in West Palm Beach, Fla. Kurtz and her wife Ruth Berman were plaintiffs in a lawsuit over domestic partner benefits for New York City school employees.
On April 14, David Buckel, a prominent LGBTQ rights lawyer and environmental advocate, age 60, committed suicide by dousing himself with gas and setting himself on fire, in Brooklyn, N.Y. His death was a political act of self-immolation.
Robert M. Higdon, a friend of President Ronald Reagan and Nancy Reagan and fund-raising director for the Reagan Presidential Library, died at age 58 on June 19.
Dick Leitsch, a pioneering gay rights activist, died at age 83 on June 22 in Manhattan. In 1966, Leitsch led a protest when a bartender at Julius' in the West Village in New York wouldn't serve openly gay patrons.
Tab Hunter, a 1950s movie star, died on July 8 at age 86. He was closeted until he came out in his 2005 autobiography (written with Eddie Muller) "Tab Hunter Confidential."
Tom Gallagher, the first Foreign Service officer to come out publicly as gay, died on July 8 at age 77. "I don't want any of you… ever to take for granted what it took for people like Tom Gallagher to pave the way for all of you," Hillary Clinton said in 2012 on the 20th anniversary of GLIFAA, a State Department LGBT employee organization.
Melanie Kaye/Kantrowitz, feminist, activist and author died at age 72 on July 10.  
Gary Beach, an actor who won a Tony Award for his performance as director Roger De Bris in "The Producers," died at age 70 on July 17.
Charles Hamlen, the founder of Classical Action: Performing Arts Against AIDS, died at age 75 on Aug. 1.  He started the group, which later merged with Broadway Cares/Equity Fights AIDS, in 1993 five years after his partner died of AIDS in 1988.
John Glines, who won a Tony Award as a producer of "Torch Song Trilogy," in 1983, died on Aug. 8 at age 84. At the Tonys, Glines thanked his lover Lawrence Lane.  It's believed to have been the first time anyone at the Tonys said they were thanking their gay lover, reported the New York Times.
Vivian Matalon, who won a Tony Award for directing "Mornings at Seven" in 1980, died at age 88 on Aug. 15.
Craig Zadan, who with his producing partner Neil Meron, won the Academy Award for best picture for Chicago in 2003, died on Aug. 21 at age 69. They produced "The Sound of Music" and other live musical revivals for NBC.
Rev. Robert Wood, the first American clergy to support marriage equality and to urge churches to welcome gay people died on Aug. 20 at age 95, the Blade reported.
Lindsay Kemp, a choreographer and teacher of David Bowie and Kate Bush, died at age 80 on Aug. 24. Kemp and Bowie were lovers for a time.
Crime writer Amanda Kyle Williams died at age 61 on Aug. 31. She is the author of the Keye Street series, whose titles include "The Stranger You Seek."
Disability advocate and gay rights activist Janet Weinberg died on Sept. 1 at age 63.  She was a leader at LGBTQ rights groups, including the Gay Men's Health Crisis Center.
Jeanne Ashworth, who won a bronze medal in the 500-meter race at the 1960 Winter Olympics in Squaw Valley, Calif., died on Oct. 4 at age 80 at her home in Wilmington, N.Y. She was one of the first women to compete in speedskating in the Olympics.
Ruth Gates, an acclaimed coral-reef biologist and marine conservationist died at age 56 from brain cancer on Oct. 25. Gates advocated breeding a "super coral" to resist the impact of climate change.
Maria Irene Fornés, a playwright who won eight Obie awards, died at age 88 on Oct. 30. Acclaimed for her experimental theater work, she received an Obie for lifetime achievement in 1982. "She's not spoken of as an important American playwright, and she should be," playwright Tony Kushner told the New York Times.
Ray Hill, a former Baptist evangelist and ex-convict who became a Houston LGBT rights activist and helped to organize the first gay rights march on Washington died at age 78 on Nov. 24. In the 1980s, he helped to found Omega House for AIDS patients. Hill hosted a radio talk show for prisoners and their families.
Stephen Hillenburg, the creator of the cultural phenomenon "SpongeBob SquarePants" died at age 57 on Nov. 26. Hillenburg, who was straight, had amyotrophic lateral sclerosis.  "SpongeBob," the animated adventures of a yellow, pineapple-dwelling, sea creature, that airs on Nickelodeon, has a big queer following.
Federal judge halts enforcement of Fla. trans healthcare ban
Advocacy groups challenged Senate Bill 254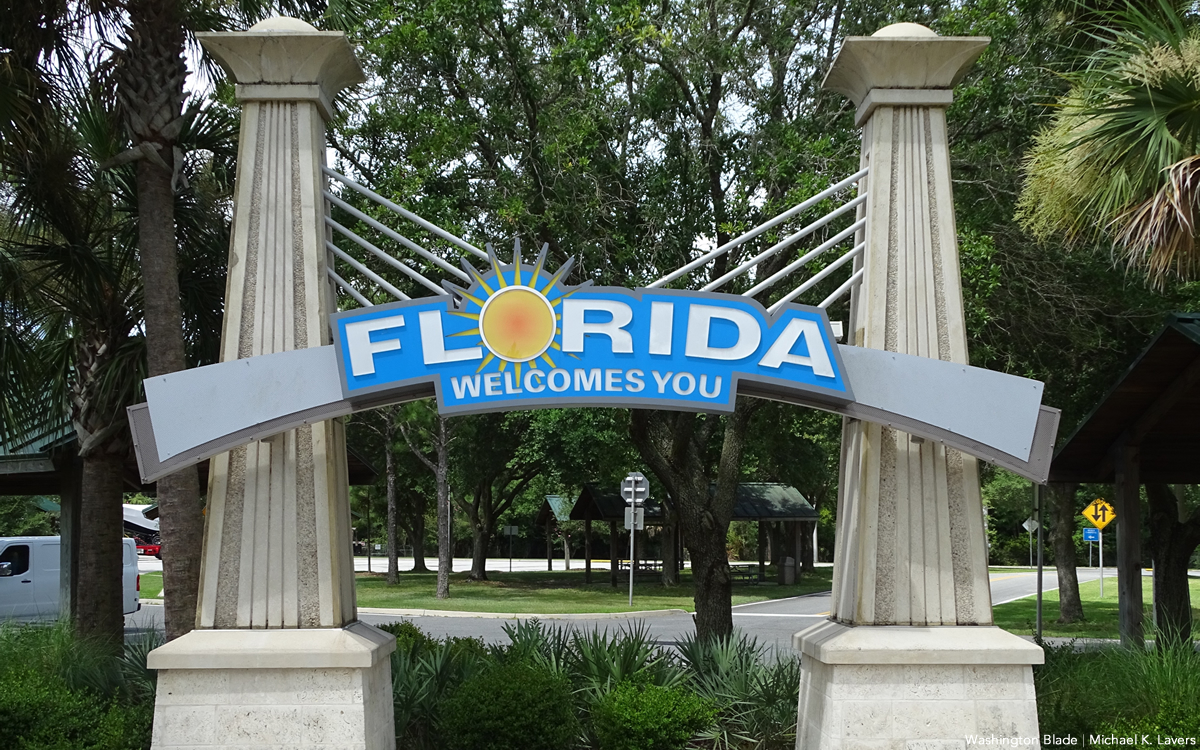 In his 44 page ruling, Judge Robert Hinkle of the U. S. District Court for the Northern District of Florida has barred the state from any further enforcement action against transgender youth or their parents from seeking appropriate gender-affirming care.
Hinkle's ruling allows Florida parents challenging the ban to access necessary medical care for their trans children while the legal challenge to the bans continues. The ruling blocks enforcement of Florida state Boards of Medicine and Osteopathic Medicine rules banning established medical care for trans adolescents as well as provisions in Senate Bill 254 that codify those rules into state law with added criminal and civil penalties.
In his summary Hinkle wrote: "Gender identity is real. Those whose gender identity does not match their natal sex often suffer gender dysphoria. The widely accepted standard of care calls for evaluation and treatment by a multidisciplinary team. Proper treatment begins with mental health therapy and is followed in appropriate cases by GnRH agonists and cross-sex hormones. Florida has adopted a statute and rules that prohibit these treatments even when medically appropriate."
In today's ruling the court indicated that the plaintiff parents are likely to succeed in their claims that SB 254 and the Boards of Medicine rules unconstitutionally strip them of the right to make informed decisions about their children's medical treatment and violate the equal protection rights of trans youth by denying them medically necessary, doctor-recommended healthcare.
The challenge to the Boards of Medicine and SB 254 healthcare bans is likely to proceed quickly to trial.
The families are represented by Southern Legal Counsel, GLBTQ Legal Advocates and Defenders, the National Center for Lesbian Rights and the Human Rights Campaign, which issued the following statement:
"Today's ruling is a powerful affirmation of the humanity of transgender people, the efficacy of well-established, science-based medical care, and of the rights of parents to make informed healthcare decisions for their children. The court recognized the profound harm the state of Florida is causing by forcing parents to watch their kids suffer rather than provide them with safe and effective care that will allow them to thrive. We are incredibly relieved that these Florida parents can continue to get healthcare for their children while we proceed to challenge these bans and eventually see them fully overturned."
Read the ruling:
Events roundup: Federal gov't celebrates Pride month
Bidens to host White House Pride reception on Thursday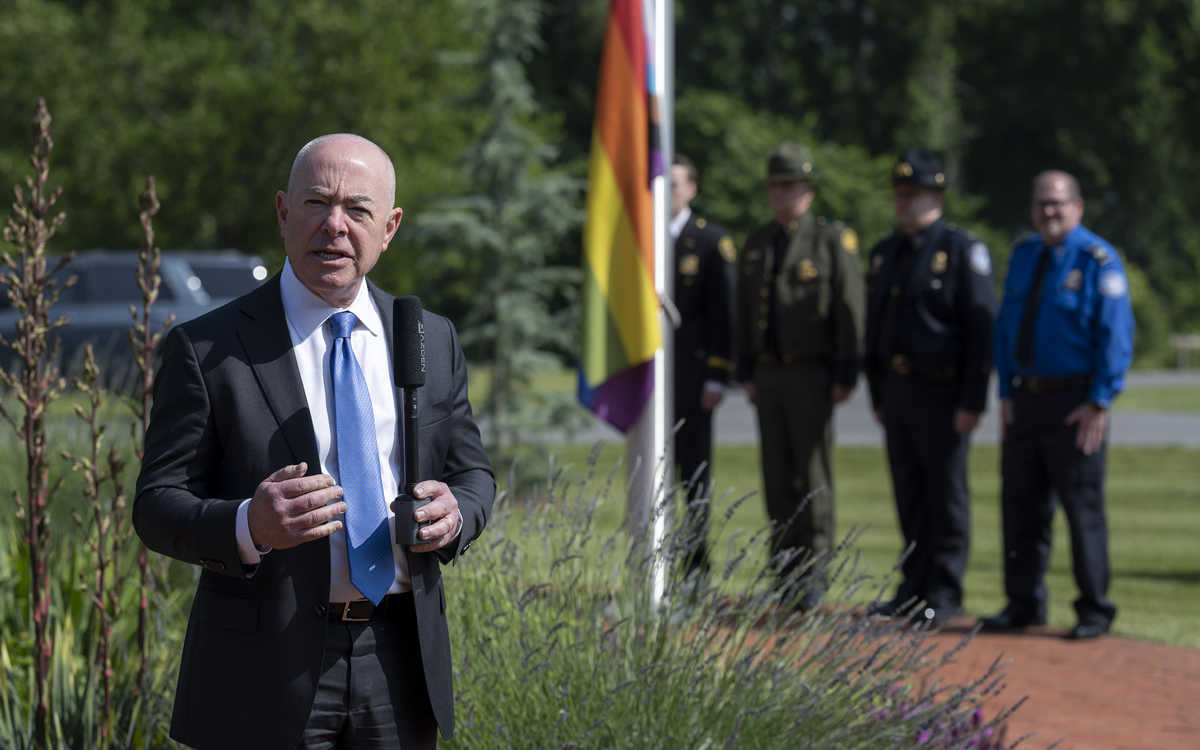 The White House, U.S. federal agencies, and Congress are honoring Pride month with a slate of official and unofficial events this year, many taking place this week.
Details for some events have not yet been announced, so this article will be updated when new information becomes available – such as details about the U.S. State Department's Pride reception, which is expected to happen later this month.
The U.S. Department of the Interior kicked off Pride month with a celebration on June 1, where DoI Secretary Deb Haaland raised the Progress Pride Flag alongside members of Interior's LGBTQ community.
Washington, D.C. Mayor Muriel Bowser's Office of LGBTQ Affairs hosted a flag raising ceremony on June 1 at the John A. Wilson Building. The Mayor's Office is also sponsoring a District of Pride Showcase at the Lincoln Theatre on June 29.
On June 2, the U.S. Department of Homeland Security held a flag raising ceremony at the agency's headquarters with DHS Secretary Alejandro Mayorkas.
Speaker Emerita U.S. Rep. Nancy Pelosi (D-Calif.) will throw out the ceremonial first pitch during the Washington Nationals Night OUT game on Tuesday, Major League Baseball's longest-running annual Pride event. The Speaker will be honored this year for her advancement of LGBTQ civil rights throughout her career in Congress.
The U.S. Department of Defense's DoD Pride, an LGBTQ employee resource group for service members and DoD civilian employees, will hold its annual Pride month event on June 7 at the Pentagon.
President Joe Biden and First Lady Dr. Jill Biden are hosting a Pride month celebration on the South Lawn of the White House on June 8, which will feature a performance by singer-songwriter Betty Who.
The LGBTQ Victory Fund's June 22 Federal PAC Reception will feature LGBTQ members of Congress: U.S. Reps. Chris Pappas (D-N.H.), Eric Sorensen (D-Ill.), Mark Pocan (D-Wis.), Mark Takano (D-Calif.), Robert Garcia (D-Calf.), and Sharice Davids (D-Kan.).
On June 28, Vice President Kamala Harris and Second Gentleman Doug Emhoff are hosting a reception in celebration of Pride at the Vice President's residence, in collaboration with GLAAD.
Same-sex marriage support remains strong at 71 percent high
Supreme Court issued Obergefell ruling in 2015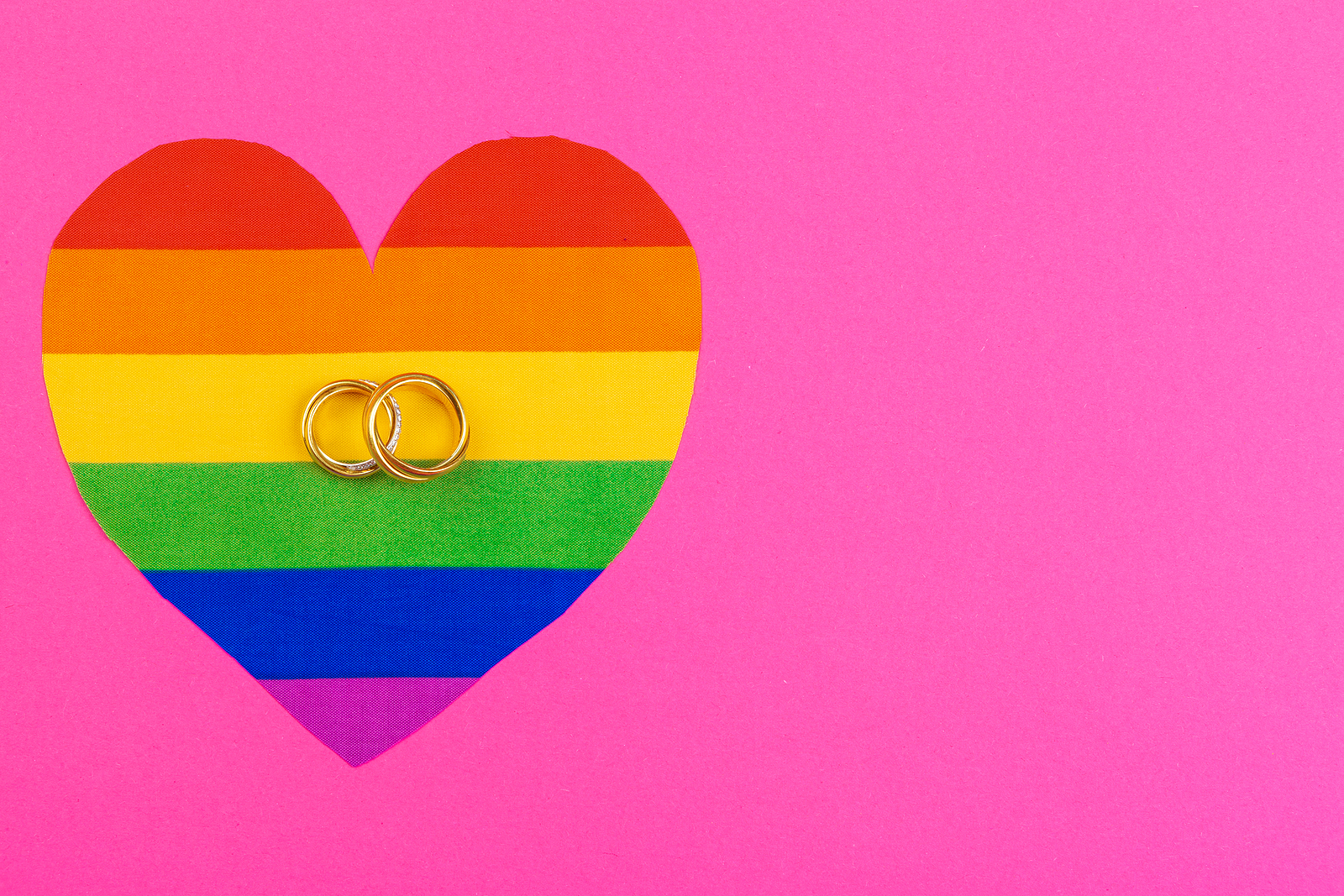 A Gallup Poll released Monday showed that support for same-sex marriage is maintaining a position of 71 percent of Americans who think it should be legal, matching the previous year's percentage.
Gallup noted that public support for legally recognizing gay marriages has been consistently above 50 percent since the early 2010s.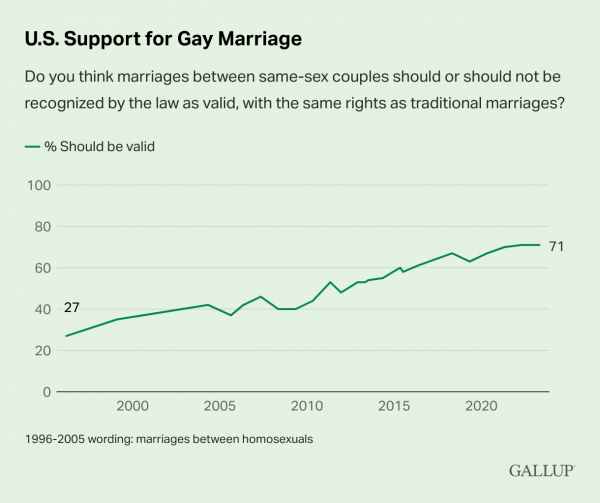 The latest figures are from Gallup's annual Values and Beliefs poll, conducted May 1-24.
When Gallup first polled about same-sex marriage in 1996, barely a quarter of the public (27 percent) supported legalizing such unions. It would take another 15 years, until 2011, for support to reach the majority level. Then in 2015, just one month before the U.S. Supreme Court's Obergefell v. Hodges decision, public support for legalizing gay marriage cracked the 60 percent level. In 2021, it reached the 70 percent mark for the first time and has been there each of the past three years.
Support Relatively Low Among Republicans, Weekly Churchgoers
Gallup has recorded increases in support for same-sex marriage across all major subgroups over time. Today, majorities of all but two key subgroups — Republicans (49 percent) and weekly churchgoers (41 percent) — say gay marriages should be legally recognized.
Republican support for gay marriage has hovered around the 50 percent mark since 2020, with slight majorities backing it in 2021 and 2022. The latest 49 percent recorded for this group is statistically similar to the level of support Gallup has recorded in recent years.
Like all other subgroups, weekly churchgoers (41 percent) are more supportive of gay marriage now than they were in the previous two decades. However, their level of support has been steady since 2018 — ranging between 40 percent and 44 percent.
Bottom line
Same-sex marriage has received majority support in the U.S. for over a decade, and support has been on an upward trajectory for most of Gallup's polling since 1996.
Gay marriage became the law of the land after the Supreme Court's 2015 Obergefell decision, and President Joe Biden signed bipartisan legislation to ward off future judicial attempts at undoing its legality late last year.
Among many groups — including older adults, Protestants and residents of the South — perspectives on gay marriage have gone from majority opposition to majority support over the course of Gallup's trend spanning more than a quarter of a century. But two groups remain holdouts on the issue, with Republicans evenly divided on the legality of same-sex unions and weekly churchgoers maintaining their position against it.