January 3, 2019 at 5:03 pm EDT | by Kathi Wolfe
Remembering the importance of obituaries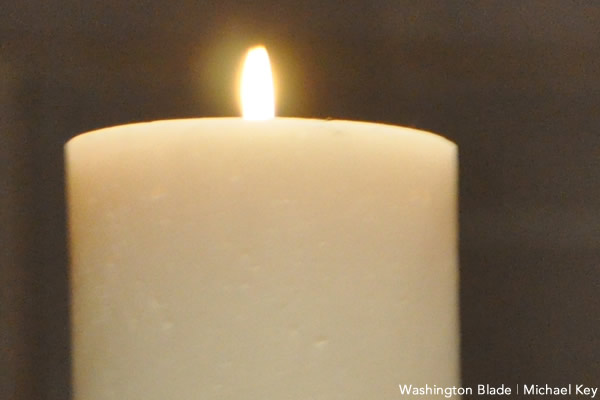 The holidays are a time to spend with loved ones — and with mistletoe, Champagne, sparkling cider and making New Year's resolutions. I love the holiday season with all its stress and sentimentality – from hanging with family to seeing "It's a Wonderful Life" for the 1,000th time.
But, these festivities wouldn't be complete for me if I didn't remember those who died during the year – especially LGBTQ folks who are no longer with us. (Nothing like bringing on the holiday cheer. My pals jokingly call me Dr. Death.)
Joking aside, why do I, each December, find myself reflecting on queer people who've passed away? Why does remembering LGBTQ lives mean so much not only to me but to millions of people, hetero and queer?  
Recently, as I compiled for the Blade, a list of the acclaimed LGBTQ people who died in 2018, I asked myself these questions. Typing away, I wondered: I don't collect death masks or haunt graveyards. Why do I so look forward to writing the "in memoriam" piece?
As a writer and human being, I like nothing better than telling or reading stories. "We tell ourselves stories in order to live," writer Joan Didion said.
Obituaries — news reports of when and how notable people lived and of what they achieved — are some of the best, most lively, least morbid, stories ever told. Some obits tell of the achievements, affairs and wit of presidents, artists and celebs. Other obituaries tell the stories of people who weren't famous, but renowned for their eccentric talents – such as creating butter cow sculptures at county fairs.
"It's counterintuitive, perhaps, but obituaries have next to nothing to do with death and absolutely everything to do with life," said former New York Times obituary writer Margalit Fox in the documentary "Obit."
Just this week, I read the touching story of Michael Paul Smith, a gay man, who died earlier this year. Smith, reported the New York Times, founded Elgin Park. This imaginary town exists only in the photographs he took of "vintage model miniature cars" and "tiny hand-built sets," the Times said. Smith became famous after his photos went viral when he put them on Flickr in 2010. After his death, a posting (that he wrote before he died) appeared on Flickr. Smith, it said, had "moved permanently to Elgin Park." His partner Henry Goldberg survives him.
Because of homophobia and transphobia, the stories of queer people have often been untold. Until recent times, our stories were largely hidden from history, and even now we struggle to be included in the historical record. Obituaries help us to learn about our history. If we're absent, as we so often have been, from obits, present and future generations won't hear our stories. We won't know our history.
Until recently, the New York Times and other mainstream press outlets didn't include LGBTQ people in obituaries. Walt Whitman, one of the greatest American poets, who died in 1892, was queer. Yet, you'd never know it from perusing his obituaries. As I've noted previously in the Blade, the Times, the newspaper of record, didn't mention that James Beard was gay when he died in 1983 or that Susan Sontag was queer when she passed away in 2004.
For we who are queer and have lost partners or spouses, how our dead are remembered is personal. The Washington Post added an extra layer of pain to my grief when my partner died when it described me as Anne's "companion."
There are reasons why we were often left out of obits. Until a short time ago, when being queer was illegal, surviving partners could have lost jobs if their sexuality or same-sex relationships were revealed.
With marriage equality, this is changing. Increasingly, our stories are being told in obituaries in the mainstream press. To ring in the New Year, raise a glass, to remember our dead and celebrate their lives.
Kathi Wolfe, a writer and a poet, is a regular contributor to the Blade.