January 9, 2019 at 10:21 am EST | by Lou Chibbaro Jr.
Gay murder victim stabbed 47 times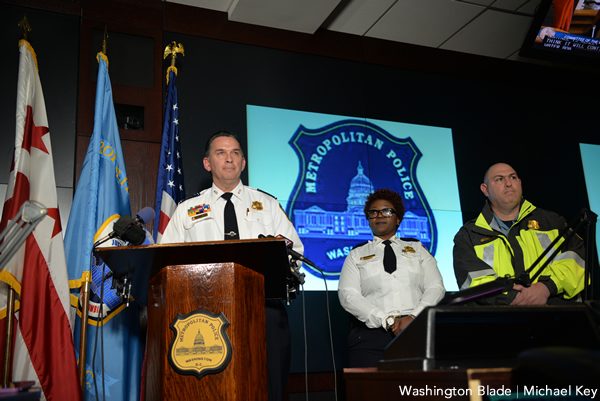 A 36-year-old gay man found dead in the hallway outside his apartment door in Northwest Washington on Jan. 6 had been stabbed at least 47 times allegedly by a U.S. Navy hospital corpsman in what police say appears to be an act of domestic violence.
New details about the case, including the number of stab wounds, were disclosed in a police arrest affidavit filed in D.C. Superior Court and obtained by the Washington Blade on Wednesday.
In a statement released on Sunday police said officers responding to a 911 call found Vongell Lugo unconscious and suffering from multiple stab wounds in the hallway of the Garfield House apartments where he lived at 2844 Wisconsin Ave., N.W. about 4:14 a.m. Sunday, Jan. 6.
The police statement says Lugo was pronounced dead at the scene a short time later after D.C. Fire and Emergency Medical Services personnel arrived. A separate police incident report says probable cause was developed at the scene to arrest U.S. Navy Hospital Corpsman 3rd Class Collin J. Potter, 26, for Lugo's murder. Police said Potter was at the scene when police arrived.
D.C. Police Chief Peter Newsham said a preliminary investigation found that Lugo and Potter knew each other and were in a relationship.
The three-page arrest affidavit prepared by 7th District Det. Tony Covington says that when officers arrived on the scene they found Lugo "lying nude on the floor in the hallway in front of apartment 206 with his foot partially inside of Unit 206."
The affidavit says Lugo's body was partially covered by a blanket as officers determined that he showed no signs consistent with life.
"When officers responded to the second floor they also found defendant Collin Potter nude standing over the decedent's body apparently trying to re-enter Apartment #206," the affidavit says. "Defendant Potter had blood visible on various areas of his body, to include his arms and feet, however he did not have any apparent injuries," says the affidavit.
"As officers approached defendant Potter he stated spontaneously that his girlfriend committed suicide and offered to allow officers to inspect the apartment," it says.
"At some point Defendant Potter asked officers if 'she' was still alive," the affidavit continues. "When asked where the female was that defendant Potter was referring to, defendant Potter stated 'on the floor right there' indicating in the direction of the decedent," the affidavit says.
The affidavit says officers who had already handcuffed Potter had to place him on the floor after he began to repeatedly hit his head against a wall.
"While on the ground, defendant Potter shouted that he did not want to live, asked officers to kill him, and threatened the officers stating that if they did not kill him he was going to get up," the affidavit says. It says officers a short time later transported him to the police homicide branch offices at 101 M St., S.W., where he was questioned further about the case.
The person who called 911 in connection with the incident, who is listed as Witness 1, told detectives that he heard someone shouting inside Lugo's apartment "Please no, Please no, Please no," the affidavit says.
It says that when police later searched the apartment they found blood spattered on the walls, floors and ceilings with footprints visible in the blood pooled on the floors. Also found in the apartment was a large butcher knife that appeared to have blood on it.
When questioned at the police homicide branch Potter told detectives "he remembered performing oral sex on a male, he did not know why and it could not have been the result of having ingested alcohol, and that he later saw that he had blood on him that was not his own, but did not know the source of the blood," the affidavit says.
After being read his Miranda rights Potter declined to answer further questions without having a lawyer present, the affidavit states.
A D.C. Superior Court judge on Monday ordered Potter held without bond pending a preliminary hearing scheduled for Jan. 18. D.C. police initially charge him with first-degree murder while armed. The U.S. Attorney's Office, which prosecutes criminal cases in the District, lowered the charge to second-degree murder while armed during a presentment hearing on Monday.
A gay friend and former co-worker of Lugo, who said he knew him from the time Lugo worked as a manager at the Bloomingdale's store in Chevy Chase, Md., said Lugo was well known as gay among his circle of friends in D.C.
"I just can't believe this," said the friend. "I'm so sad."