161 businesses form coalition to push for Equality Act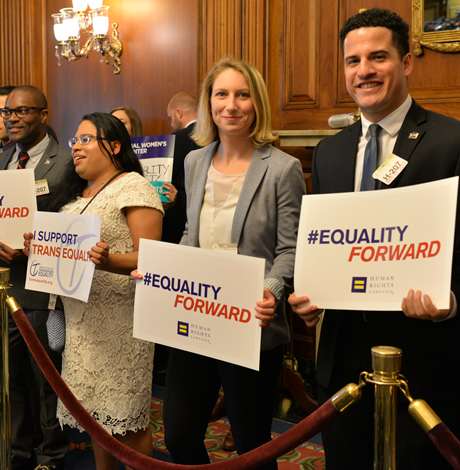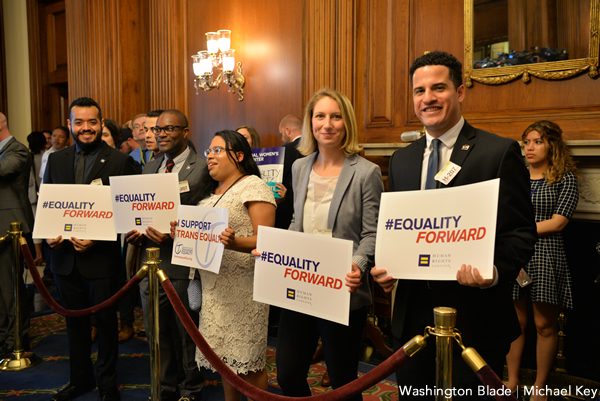 A coalition of 161 major businesses —including Apple, Coca-Cola and Target Corp. — has formed to urge Congress to ban anti-LGBT discrimination with passage of the Equality Act, the Human Rights Campaign announced Friday.
The initiative, known as the Business Coalition for the Equality Act, was first launched in 2016 with 60 members, but now includes nearly three times that number of businesses.
Forming a coalition organized by the Human Rights Campaign, these companies operate in all 50 states, have headquarters in 26 states, more than $3.7 trillion in combined revenue and more than 8.5 million employees in the United States.
House Speaker Nancy Pelosi (D-Calif.) announced on Thursday the Equality Act, which would amend the Civil Rights Act of 1964 to include LGBT people, will be introduced next week. Capitol Hill sources have to the Blade the bill will be introduced on Wednesday.
Pelosi has already said passage of the Equality Act will be a priority for the New Democratic majority in the House of Representatives.
Chad Griffin, president of the Human Rights Campaign, said in a statement the 161 businesses "are sending a loud and clear message that the time has come for full federal equality."
"By standing with the LGBTQ community and joining the fight to pass the Equality Act, these companies are demanding full federal equality for the more than 11 million LGBTQ people in this country who deserve to earn a living, raise their families and live their lives free from discrimination," Griffin said. "These leading employers know that protecting their employees and customers from discrimination isn't just the right thing to do — it's also good for business."
Kevin Walling, chief human resources officer of the one of thew new coalition member Hershey's, said in a statement the Equality Act is consistent with his company's mission.
"At The Hershey Company, we recognize that our talented employees are our business edge, and that retaining our place as the market leader in our category requires the best talent," Walling said."To help us achieve our goal of recruiting the nation's top employees, we know that we must foster a business culture that is welcoming to all, regardless of sexual orientation, or gender, or race, or other status.  By the same token, if our nation is to compete on a global stage, our federal laws must ensure that all employees are treated with the same respect. That is why The Hershey Company supports the Human Rights Campaign and the Equality Act."
Transgender activist fights for change in Pakistan
Jannat Ali attended 2018 HRC summit in D.C.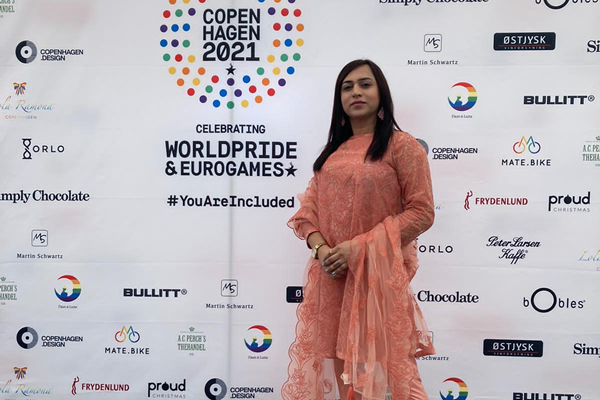 A pioneering transgender activist in Pakistan continues her fight for change in her country.
Jannat Ali—who describes herself as an "artivist"— is the executive director of Track T, a trans rights organization that is based in Lahore, the country's second largest city that is the capital of Punjab province.
Track T in December 2018 organized Pakistan's first-ever trans Pride march that drew nearly 500 people. A law that permits trans people to legally change the gender on their national ID cards and other official documents, allows them to vote and bans discrimination based on gender identity in employment, health care, education and on public transportation took effect earlier that year.
"That was an opportunity (for people) to celebrate their real true identities," Ali told the Washington Blade on Aug. 19 during a telephone interview from Copenhagen, Denmark, where she was attending WorldPride 2021. "People were shaking hands because we did it so beautifully."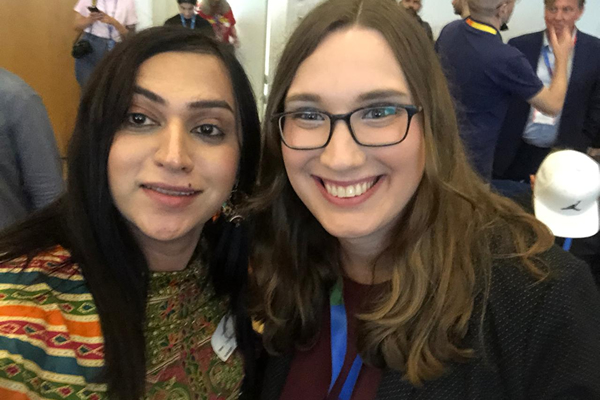 Ali in March launched "Journey with Jannat", an "inclusive infotainment show" with episodes on Instagram and YouTube. She is the first openly trans person to host her own program in Pakistan.
Ali in 2018 traveled to D.C. to participate in the Human Rights Campaign's annual Global Innovative Advocacy Summit. Track-T last year received a $5,000 HRC grant.
"They changed my life," Ali told the Blade, referring to HRC. "They helped me to fulfill my dreams in my life and make me be able to share my work."
Pakistan's Supreme Court in 2009 ruled in favor of recognizing trans people as a third gender on identity cards. The Pakistani government in July opened the country's first school for trans people.
Section 377 of Pakistan's colonial-era penal code that criminalizes consensual same-sex sexual relations remains in place. Ali told the Blade that implementation of the 2018 trans rights law— especially in the country's tribal areas along the border with Afghanistan and in rural Pakistan — remains a problem.
"The government doesn't (make it a) priority," she said. "It's a responsibility of other provinces to adopt or to amend it and present their bill in their own provinces."
Ali said violence based on gender identity remains prevalent in these areas.
Alisha, a trans activist who worked with Trans Action in Peshawar, a city in Khyber Pakhtunkwa province that borders Afghanistan, died in 2016 after a man who reportedly raped her shot her several times.
Activists said staff at a local hospital delayed treatment because she was trans. The province's then-governor ordered personnel to place Alisha in a private room, but she died a short time later.
"We are thankful to the governor," a local activist told the Blade after Alisha's death. "This was the first time that a government executive showed support."
Taliban regaining control of Afghanistan 'really sad'
Ali spoke with the Blade four days after the Taliban entered Kabul, the Afghan capital, and regained control of the country.
A Taliban judge in July said the group would once again execute gay men if it were to return to power in Afghanistan.
Some of the 50 Afghan human rights activists who Taylor Hirschberg, a researcher at the Columbia Mailman School of Public Health who is also a Hearst Foundation scholar, has been able to help leave the country are LGBTQ since. The Toronto-based Rainbow Railroad and Immigration Equality are among the other groups that have continued their efforts to evacuate LGBTQ Afghans since American troops completed their withdrawal from the country on Aug. 30.
"I was really worried," Ali told the Blade when asked about the plight of LGBTQ Afghans in Afghanistan after the Taliban regained control of the country. "I was really sad."
Ali this week said she is now "in touch" with LGBTQ Afghans who have fled to northern Pakistan.
Gay man attacked, beaten by neighbors in Northeast D.C.
Police list incident as hate crime but courthouse 'backlog' could delay arrests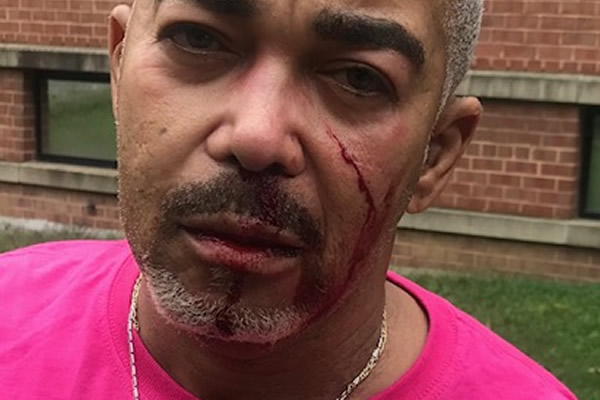 A woman, her daughter, and a man believed to be the daughter's father repeatedly punched a gay man in the face while the mother called him a "Jewish faggot" and other anti-gay slurs during an Oct. 13 incident on the grounds of an apartment building where the victim and the two women live, according to the victim and a D.C. police incident report.
The victim, Antonio Zephir, 51, told the Washington Blade the incident began after the mother began shouting anti-gay slurs at him as he walked past her and his roommate outside the Northwood Gardens Apartments at 4870 Fort Totten Dr., N.E. at about 12:40 p.m. on Wednesday, Oct. 13.
Zephir identifies the mother as Aurlora Y. Ellis in court papers seeking a restraining order against her that he filed in D.C. Superior Court. He said she had acted in a hostile way toward him before the assault incident.
"For several months, every time Ms. Ellis sees me, she shouts homophobic slurs and I continued to ignore her," Zephir told the Blade in an email.
He said that minutes before the Oct. 13 attack, Ellis yelled the words "Jewish faggot" when he walked past her as she was talking to his roommate, Steven Johnson. Zephir said it is well known among his neighbors at the apartment complex that he is of the Jewish faith.
"I responded with not-so-kind words. She ran towards me and assaulted me with hard punches toward my face," Zephir wrote in his email to the Blade.
"I punched back in an attempt to defend myself," he wrote. "Mr. Johnson tried to break us up when her daughter Latera Cox and [Cox's] father assaulted me," according to Zephir's account of the incident. "Ms. Ellis yelled, 'Call the police, you bitch faggot. They're not going to do anything. This isn't over yet."
At that point, Ellis, her daughter Latera Cox, and the man Zephir believes to be Cox's father fled the scene, Zephir told the Blade.
The D.C. police incident report, which lists the assault as a suspected hate crime, says, "All three suspects then fled east bound" on the 4800 block of Fort Totten Dr., N.E.
Zephir said he immediately called police, who arrived on the scene and took a report on the incident. The report obtained by the Blade lists the incident as a simple assault, which is a misdemeanor under D.C. law.
But Zephir said a detective working on the case told him this week that police were looking into speeding up the process of obtaining warrants for the arrest of the three attackers based, in part, on the injuries Zephir suffered from the attack. He provided the Blade with a medical report issued by the Washington Hospital Center, where his roommate took him to the emergency room the day following the attack, in response to severe pain he was experiencing to his face and head.
The report from the hospital, which treated and released him on Oct. 14, says he was diagnosed as having a fractured nose; a fracture of the "interior orbital wall," which is the bone surrounding one of his eyes; subconjunctival hemorrhage or bleeding of his left eye; and "laceration of oral cavity" which means an injury inside his mouth caused by trauma from the assault.
Zephir told the Blade that the same detective told him last week that due to a "backlog" in cases at the D.C. Superior Court, it could take between one and two months for police and prosecutors to obtain warrants for the arrests of the two women and the man who assaulted him.
A police spokesperson told the Blade the case remains under active investigation. A spokesperson for the Office of the U.S. Attorney for the District of Columbia, which acts as the prosecutor for adult criminal cases in D.C., said he would look into whether the office could publicly comment on the status of efforts to obtain arrest warrants for the three attackers.
Zephir said rumors had surfaced prior to the assault incident that Ellis may have access to a gun. Based on what he feared was a threat by Ellis when she told him during the attack that "this isn't over yet," he said he persuaded his roommate to drive him to the courthouse on the same day as the attack to apply for a court restraining order to prevent Ellis from harming him again.
Court records show he also filed a civil complaint against Ellis, Ellis's daughter, and Ellis's roommate, Linda Miller, who Zephir says in the complaint acted as an "enabler" for Ellis' hostility toward him.
The complaint, which is a civil lawsuit that Zephir wrote by hand and filed by himself without hiring a lawyer, calls for $18,000 in damages.
"I have nightmares," Zephir told the Blade. "I can't believe it happened. I keep reliving the experience over and over and over in my head," he said. "And I feel like I'm a prisoner in my own apartment. I don't feel safe because I, honest to God, feel like she is going to bodily harm me and I might be, God forbid, murdered."
Ellis, Cox, and Miller could not immediately be reached for comment.
Rachel Levine on becoming four-star admiral: 'It comes from my desire to serve'
Trans official sworn-in to U.S. Public Health Service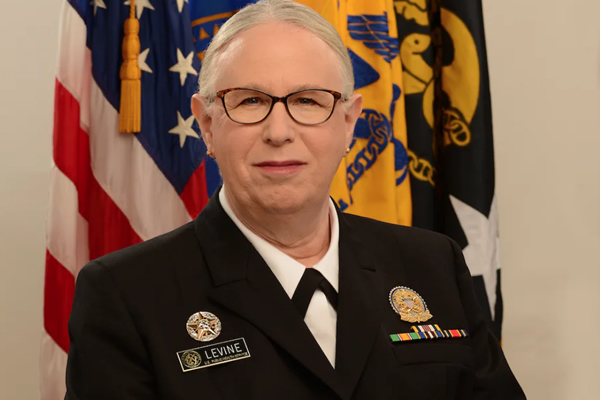 For Rachel Levine, the appointment to her new role as a four-star admiral complementing her existing duties as assistant secretary for health is another way for the first openly transgender Senate-confirmed presidential appointee to serve.
"I think that this just really comes from my desire to serve in all capacities," Levine said in an interview Tuesday with the Washington Blade. "To serve the first day in my field of academic medicine and pediatrics, but then in Pennsylvania and now in the federal government, and it furthers my ability to do that."
Levine, 63, also recognized the importance of the appointment as a transgender person within the U.S. Public Health Service, for which she was ceremonially sworn in on Tuesday
"I think for the LGBTQ+ community, it is a further sign of progress and our president's commitment to equity, to inclusion and diversity," Levine said. "So I think that it is a very important milestone, and I'm pleased to serve."
As part of her duties, Levine will lead an estimated 6,000 public health service officers serving vulnerable populations, including deployments inside and outside the country for communities beleaguered with the coronavirus, according to the Department of Health & Human Services. The role involves working closely with U.S. Surgeon General Vivek Murphy, whom Levine called her "friend and colleague."
The U.S. Public Health Service, Levine said, has deployed "many, many times," including its greatest number ever of deployments to vulnerable populations during the coronavirus pandemic. Among the places the service has deployed, Levine said, was in her home state of Pennsylvania, where she recently served as secretary of health.
Not only is Levine the first openly transgender person to serve in the uniformed health service as a four-star general, but she's also the first woman to serve in that capacity.
"We have 6,000 dedicated committed public servants really all focused on our nation's health, and they serve in details to the CDC and the FDA and the NIH, but also clinically with the Indian Health Service, and the federal prison system," Levine said. "They're also detailed and deployed throughout the country, and they deployed like never before for COVID-19 as well as the border, as well as dealing with floods and hurricanes and tornadoes."
Although the Public Health Service is primarily focused on addressing public health disasters within the United States, Levine said it has a record of deployments overseas, including years ago when it was deployed to Africa under the threat of Ebola.
Secretary of Health & Human Services Xavier Becerra had high praise for Levine in a statement upon news of taking on a leadership position in the service.
"This is a proud moment for us at HHS," Becerra said. "Adm. Levine — a highly accomplished pediatrician who helps drive our agency's agenda to boost health access and equity and to strengthen behavioral health — is a cherished and critical partner in our work to build a healthier America."
Levine, however, was careful to draw a distinction between her appointment within the Public Health Service and being a service member within the U.S. armed forces.
"It is not a military branch, it's not the armed forces: It's a uniformed force, so it's different," Levine said. "For example, the Army, the Navy, our military, there are two other uniformed branches, and that is ours, the United States Public Health Service Commissioned Corps and NOAA."
The new role, Levine said, would complement her duties as assistant secretary for health. Although not only secretaries of health have been commissioned to take the uniform, Levine said she wanted to undertake that as part of her role in the Biden administration.
The two appointments were not simultaneous, Levine said, because of a general process she undertook, which was completed just this week.
It hasn't been an easy road for Levine. During her Senate confirmation process, when she was hounded by anti-transgender attacks in conservative media and rude, invasive questioning by Sen. Rand Paul (R-Ky.) on her gender identity.
Levine, however, said she hasn't encountered any hostility regarding her new role (as of now) and shrugged off any potential attacks in the future and said the move is about her career "to serve and to help people."
"I've continued that for our nation as the assistant secretary for health and this is just a further demonstration of my commitment to service," Levine said. "I don't know what others will say, but that's the genesis of my wanting to serve in the United States Public Health Service Commissioned Corps, and to place on the uniform."
Levine's new appointment comes shortly after a group of Democratic senators led by Sen. Chris Murphy (D-Conn.) sent her a letter dated Sept. 30 calling on her and Miriam Delphin-Rittmon, assistant secretary for mental health and substance use, to issue new guidance for hospital or residential care on mental health needs of transgender people.
Asked about the letter, Levine said mental health issues are under the authority of Delphin-Rittmon and the two "will work together and we will respond."
Specifically, the senators in the letter call on the Behavioral Health Coordinating Council, or BHCC, and experts in the field of adolescent trans care to offer guidance on best practices for inpatient mental health care among these youth.
Asked what the response will look like, Levine said, "We're going to work on that."
"We will be looking at what they're asking for and the requirements, and we'll talk with them and the stakeholders and we'll look to issue appropriate guidance," Levine said.