April 19, 2019 at 1:14 pm EDT | by Mariah Cooper
'Game of Thrones' tops Nielsen's LGBTQ ratings report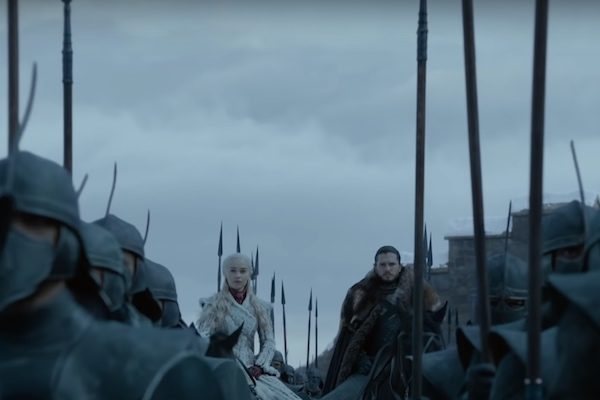 Nielsen announced in October it had partnered with GLAAD to isolate same-sex couple households to determine viewership data. For the first time, weekly data for LGBTQ viewership has been released and "Game of Thrones" is a clear favorite.
For the week of April 8, the "Game of Thrones" premiere on HBO was the top cable show among same-sex households (191,135). It was followed by "The Rachel Maddow Show" (66,071) on MSNBC and "Untucked," (65,782) "RuPaul's Drag Race" after-show, on VH1 came in third.
For broadcast, the NCAA Men's Championship on CBS (176,934) was the number one show rounded out by CBS' "Survivor" (120,921) and "NCIS" 116,498 on CBS.
Overall, the same-sex households and mixed-gender households appeared to watch similar programs. However, "RuPaul's Drag Race" and "Untucked" had the highest concentration of LGBTQ viewers with 16 percent of its viewership being LGBTQ.
Nielsen's LGBTQ ratings are listed below with overall viewership indicated by parentheses.
Broadcast
NCAA Men's Championship (CBS), 176,934 (19.72 million)
"Survivor" (CBS), 120,921 (7.6 million)
"NCIS" (CBS), 116,498 (11.82 million)
"60 Minutes" (CBS), 96,273 (8.72 million)
"Modern Family" (ABC), 95,180 (4.81 million)
"The Voice" (Monday) (NBC), 95,130 (7.62 million)
"American Idol" (Sunday) (ABC), 94,696 (7.26 million)
"Grey's Anatomy" (ABC), 84,223 (6.82 million)
"The Voice" (Tuesday) (NBC), 81,510 (7.32 million)
"The Goldbergs" (ABC), 79,655 (4.64 million)
Cable
"Game of Thrones" (HBO), 191,135 (11.76 million)
"The Rachel Maddow Show" (MSNBC), 66,071 (2.55 million)
"Untucked" (VH1), 65,782 (405,989)
"RuPaul's Drag Race" (VH1), 64,082 (402,516)
"All In With Chris Hayes" (MSNBC), 34,280 (1.57 million)
"Last Word With Lawrence O'Donnell" (MSNBC), 33,344 (2.02 million)
"Spring Baking Championship" (Food Network), 27,858 (1.04 million)
"The Curse of Oak Island" (History), 26,502 (3.06 million)
"Little People, Big World" (TLC), 25,243 (1.34 million)
"Gold Rush: Dave Turin's Lost Mine" (Discovery), 24,578 (1.33 million)