May 23, 2019 at 12:48 pm EDT | by Chris Johnson
Wexton seeks to block HUD from gutting trans protections at homeless shelters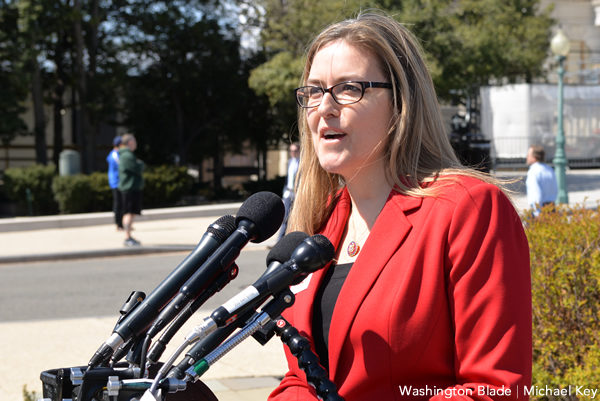 In short order after the Trump administration announced a proposal to gut transgender non-discrimination protections at homeless shelters, Rep. Jennifer Wexton (D-Va.) has introduced legislation to block the change from going into effect.
The two-page bill from Wexton, which was introduced on Thursday, has a simple paragraph in the text portion of the legislation.
"The Secretary of Housing and Urban Development may not implement, administer, enforce, or in any manner make effective the proposed rule entitled 'Revised Requirements Under Community Planning and Development Housing Programs,' published by the Department of Housing and Urban Development in Spring 2019 (Docket No. FR-6152), or any final rule based substantially on such proposed rule," the bill says.
Wexton introduces the legislation one day after OMB published the proposed rule change, which would carve out the Equal Access Rule implemented during the Obama administration to ban anti-LGBT discrimination and allow homeless shelters to turn away transgender people or deny them housing consistent with their gender identity.
HUD seeks to gut transgender protections at homeless shelters despite assurance Secretary of Housing & Urban Development Ben Carson gave Wexton just this week that LGBT non-discrimination rules at the department would remain in place.
"I'm not going to say what we will do in the future about anything," Carson said, "I'm not currently anticipate changing the rule."
Wexton in a statement announcing her legislation referenced Carson's commitment to her during the committee hearing, saying he has failed to live up to it.
"I asked Secretary Carson directly if he was anticipating any changes to HUD's Equal Access Rule and he said no under oath," Wexton said. "This change will allow shelters and programs to discriminate against transgender people seeking access to housing."
A staggering 40 percent of homeless youth identify as LGBT, according to the Williams Institute at the University of California, Los Angeles. According to the 2015 U.S. Transgender Survey, one in three transgender people reported being homeless in their lifetime and one in eight were homeless in the last year.
"This is a cruel attack on a vulnerable population," Wexton said. "Barring a community already subject to alarmingly high levels of violence and abuse from access to life-saving shelter is dangerous. This administration's relentless assault on the rights of LGBTQ Americans cannot continue."
It remains to be seen if Wexton's bill will get a floor vote. Last week, the U.S. House approved the Equality Act, which would amend the Civil Rights of 1964 to ban anti-LGBT discrimination. That legislation would bar discrimination in housing and programs and federally funds, which would also stop HUD from implementing the anti-trans rule change.