Character actor Leslie Jordan on his pony obsession, TV hits and misses and his dream threesome
'Will & Grace' actor returns to D.C. for Pride-week standup show June 5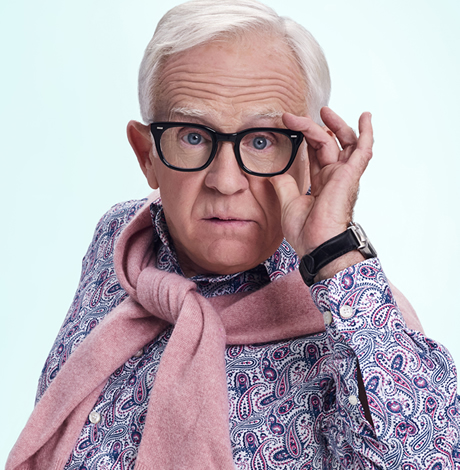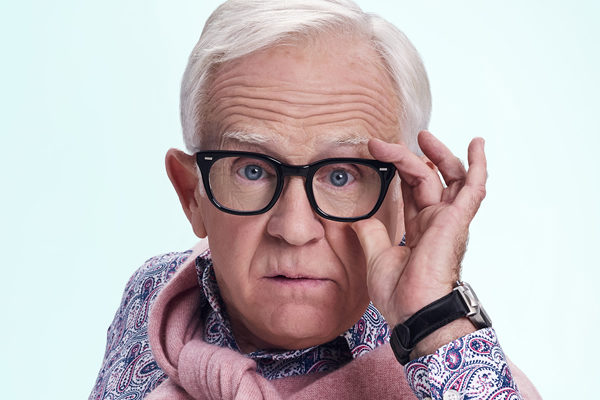 Washington Blade presents:

Leslie Jordan EXPOSED

Wednesday, June 5

7 (sold out) and 9 p.m.

Union Stage

740 Washington St., S.W.

$45 ($60 with meet and greet)
Actor/comedian Leslie Jordan returns to Washington for another Blade-sponsored stand-up show Wednesday, June 5. The "Sordid Lives"/"Will & Grace" Southern sissy spoke by phone two weeks ago from his Los Angeles home.
He doesn't wait for a question — just starts things off with some bad news.
LESLIE JORDAN: I got this television series, which by the way, got canceled today.
WASHINGTON BLADE: Ohhhh
JORDAN: I'm gutted
BLADE: I'm so sorry.
JORDAN: I don't care so much except the money was so good. I really liked that. I'm sure other things will come along, but it's a political move. Twentieth Century Fox was bought by Disney and this new guy came in and it was really weird, he picked up only really dramas. And guess what's going on in our place? ("WWE) SmackDown," that wrestling show.
BLADE: How did you hear?
JORDAN: (Series creator) Charlie (Day) called me, who's just so adorable. He did "It's Always Sunny in Philadelphia," he created the series and wrote it. First he sent me an e-mail and said, "Be ready because it's probably going to happen." Then he called us each personally which I thought was very sweet. … I don't know, there's a chance it could be picked up by another network so you just roll with the flow.
BLADE: How did you like working with ("Cool Kids" co-star) Vicki (Lawrence)?
JORDAN: We glommed on to one another from the moment we met. We'd met at the airport before in Puerto Vallarta and she said, "Oh, I remember," and I thought, "She doesn't remember me." (Laughs) She was my best friend and is my best friend still. She's more upset about it than I am, I think. But yeah, we got along so well. She's exactly like you think she would be. It was so interesting on that show because all four of us (Jordan and Lawrence co-starred with David Alan Grier and Martin Mull) had such history in the industry. … It was kind of a companion piece to Tim Allen's show ("Last Man Standing") and I always forget, he's just rabidly Republican so it's a very conservative audience and we followed them with all kinds of shenanigans. We had gay people, gay people kissing.
BLADE: How did you feel it was going?
JORDAN: Well I knew there were some problems with the direction only because the network was there so much and I kind of thought at first well, maybe it's because it's a new show but oh my god, we would have rewrites right up until and even in front of our audience. But they did that on "Will & Grace" too, so I didn't think that much about it. But then I think Charlie Collier, who's the new person at Fox, he wanted to put his own stamp on things, so there's that. I don't think we did anything bad or wrong.
BLADE: How long is it usually in sitcoms from the night you tape until it airs?
JORDAN: The rule of thumb is you want about five in the can but we didn't shoot in the same order they aired. We try to stay about five ahead so you can gauge the audience reaction. It's a really interesting process for me, 'cause I've been on other shows from the beginning but not where I was one of the lead lead leads.
BLADE: Do you prefer sitcoms to single camera?
JORDAN: My schedule on "Cool Kids" was the easiest schedule I ever have. You know, on "American Horror Story," we did like 14-hour days. And we'd have big stars like Lady Gaga who could only give us one day so we had to get all her stuff in. That's the difference between multi-cam, which was "The Cool Kids." We'd be out in the woods in Malibu trying to make it look like it was Virginia. I don't know how those people like ("American Horror Story" mainstay) Sarah Paulson do it. She's such a trooper. She's been doing it for years, all these 14-hour days. I don't know how they do it.
BLADE: What do you do when you have downtime between shots?
JORDAN: I'm a big napper, which is funny because I don't nap at home. Or I like to watch. I don't mind sitting there on the set watching the other actors. I'd rather do that than sit in my trailer. I know people who watch TV, read a book. I read, but mostly on my way to work. And of course I'm a big yapper. Sometimes I have to go to my trailer because I just talk until I'm exhausted.
BLADE: Have you ever seen one of those big reclining boards they have on sets?
JORDAN: The only time I've ever seen that was on "The Help," of all places. I haven't done many costume dramas but on "The Help," they had Jessica Chastain, who was kind of unknown then, I mean she'd done a couple movies, but she wasn't anything like she is now, they had her in this gorgeous dress and she requested that. She couldn't sit down so they just hung her up there like a bat. But yeah, it's like a board where you have to put your arms up. I said, "You look so pretty hanging there." She said, "I don't want to wrinkle my dress." I said, "God, you're a trooper." I'd wrinkle that dress, I couldn't care less. Make 'em steam it. (laughs)
BLADE: Have you ever spilled something just before a shot?
JORDAN: A hundred times. I'll tell you what the worst is, you have to go pee real fast and you say, "I'll be back in two seconds," then you dribble. Then everybody's looking and they take a hair dryer out (laughs). But I'm notorious. At lunch break when I'm on these shows, the costumers will come take my clothes off and put me in a T-shirt because I'm just notorious. When I was a little boy, I'd come home and my mom would say, "Oh, spaghetti, green beans …," she knew everything I'd had because it was all over me.
BLADE: Tell us about your new live show.
JORDAN: I'm so proud of it, I think it's the best of all my shows. I tell about each of my previous ones and within the journey of telling about all that and how it was when I first got to Hollywood, this wonderful kind of journey comes out about acceptance. I'm really proud of it. The last time I was in D.C. was the weekend of that devastating occurrence at the club in Orlando, you remember that? Oh honey, it was Pride weekend but that Sunday morning I was taken to the White House, they invited me, the Washington gay choir and Ty Herndon was there, because our ex-president and his lovely first lady wanted a gay presence there so I have this wonderful story and I end the show telling about that weekend.
BLADE: You were in our parade three years ago, and threw the first pitch at Night OUT plus your show. How was D.C. for you last time?
JORDAN: It was wonderful. The only thing was I wanted to ride a pony and they thought I was kidding. I showed up in my riding gear. I said, "Where's the pony," they said, "Oh we thought you were kidding." I said, "Does it look like I'm kidding?" So I went to Kinkos and made a little sign that said, "I was promised a pony." If you look at the pictures, it's me in the back of a car in a riding outfit. Nobody knew what the fuck was going on.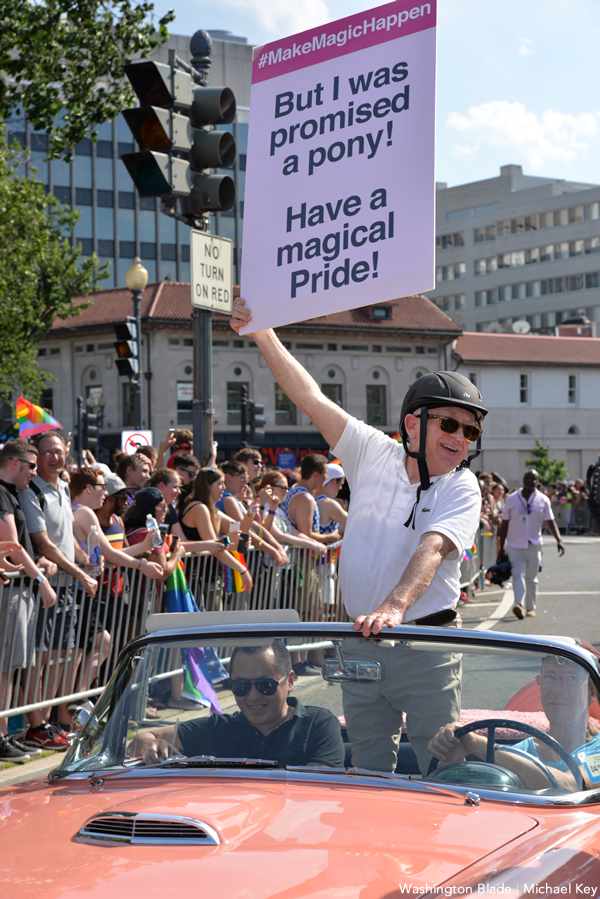 BLADE: Have you done many Pride events?
JORDAN: So many over the years, I love it. I've been the grand marshal I can't even tell you how many times. My favorite was years ago in Nashville, this was like 20 years ago. I said, "Y'all must be brave in Nashville, Tennessee, with all those rednecks," and they said, "We do have a wonderful parade. It's nothing like y'all get in L.A. It's mainly a baton-twirling sissy and two lesbians." I thought, "Well, that's all you need for a parade — a baton-twirling sissy and two lesbians." (laughs)
BLADE: Are you staying for the parade this year?
JORDAN: No, I have to get back to L.A. because I'm hosting an Actors Fund event for Lily Tomlin the night of the Tonys.
BLADE: Last time we talked you said things had dried up after you won your Emmy and that's what led to your stage show, but lately you've been doing a lot of TV. How did you get hot again?
JORDAN: Well I've been able to balance the two really, really well. The TV stuff, I have no control over. It truly is just things falling into my lap but I have to be available for it. The year before we did "Cool Kids" (2017) I did 44 venues, which I love because of the immediate response of the audience. But you have to balance it because all the money's in TV, you just can't beat the money so that allows me to go on the road and I do really well. … Now to have done a full year on a show, that's got to help my TV profile. Something's gotta give here. I'm 64, I've been at it a long time. If you can get a series on the air for about four seasons, you're set. It's all gravy from there. But they've already called me for "Will & Grace" next season, they want to book me again for that. In a way I've done everything I really set out to do, so from here on out it's all just fun.
BLADE: How many "Will & Grace" episodes have you done since it came back?
JORDAN: Let me see, I've done three. One was a Christmas episode where you barely saw me but then I did a hilarious one last season where they named the wall after me because I gave so much money to the Republican party and then Karen wants her name on the wall and we got rolled over to Mexico and put in those cages (laughs). But anyway, it was wonderful. But (co-creator) Max (Mutchnick) had called me and asked if I wanted to come back. I said, "Of course, but you killed me." He said, "Don't worry, we'll figure something out," so they ended up just kind of dropping that finale because it was just too much going on there. I didn't do the first one, they were already like five in by the time I was there so they'd had their little reunion, but … Megan Mullally gave me the sweetest compliment. She said, "I never lost Karen Walker, but tonight bantering with you, I believe Karen Walker is truly back." I thought that was sweet.
BLADE: What do you think of this trend of rebooting so many classic shows? Especially the ones like "Dynasty" or "MacGyver" they do with new casts?
JORDAN: I wonder why with all these platforms now, people aren't open to new ideas. It's harder now. My friend Del Shores and I come up with these ideas all the time and go to pitch' em and they just stare at us. Maybe we're just too old and it's just kids running the shows now. Of course, you wanna bring stuff back but it gets a little ridiculous after a while.
BLADE: What's something you like and don't like about the way the industry has evolved in let's say the last 10 years or so?
JORDAN: I like the way in which gay characters are portrayed, I really like that. It's been a long journey since I got here in 1982. It was very wink-wink. You'd go out at night to the gay bars and see every producer and casting director in town, then you'd see them on the job and it was very wink-wink, very different than it is today. What I don't like about the industry today is there seems to be no sense of history. I got so upset the other day because somebody online, a TV critic, called our show "The Cool Kids" a snoozefest and I wanted to write him and say I would love for you to come to 20th Century Fox to stage 17 and see the 80-odd people who come in sometimes at 4 o'clock in the morning to create this snoozefest. The four leads on that show have more combined TV history than you would if you worked the rest of you entire life. It's so casual and easy to critique and everybody's a critic now. I wanted to say, "Young man, you need to respect your elders." (laughs)
BLADE: Last time we talked you were excited about having lost weight. Have you kept it off?
JORDAN: No, I'm fat as a pig. I went over to the equestrian center, I wanted to ride a pony, they have a beautiful pony there, and they said, "No, you're too fat." I gained more weight on this "Cool Kids," but no, I'm gonna try to get it off. But I'm not trim at all. I'm as big as Dallas and half of Fort Worth.
BLADE: What happened?
JORDAN: The catering on "The Cool Kids" was ridiculous. They'd come to me and say, "Leslie, there's this little Asian lady over there cooking rice balls," and I'd go, "We just had tacos." It was like being in a food mall. The food was constant, so I've got to get that off. I mean I'm not fat, fat. I've gained about eight pounds, but on me, I'm like a little beach ball with arms.
BLADE: Who's your dream threesome?
JORDAN: I think Eddie Redmayne is adorable. Oh, I don't know, I'm so old I don't even think about that anymore (laughs). My biggest crush has always been Mark Harmon. I've known him 20-30 years and he just gets better and better looking. Same with George Clooney. I did a series with George a hundred years ago. So that's a funny threeway — Mark Harmon, Leslie Jordan and George Clooney.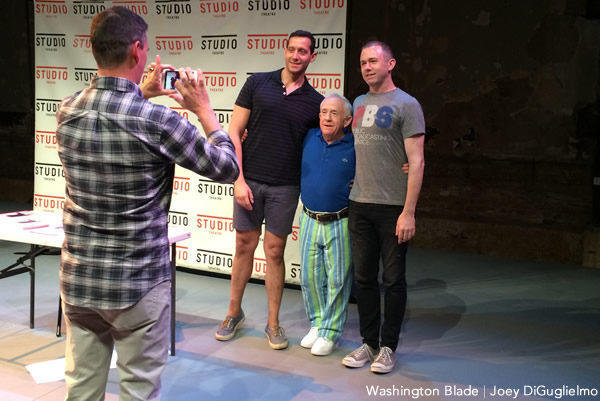 Mr. Bake on creating space for queer chefs of color
Local entrepreneur mentors young gay and Black bakers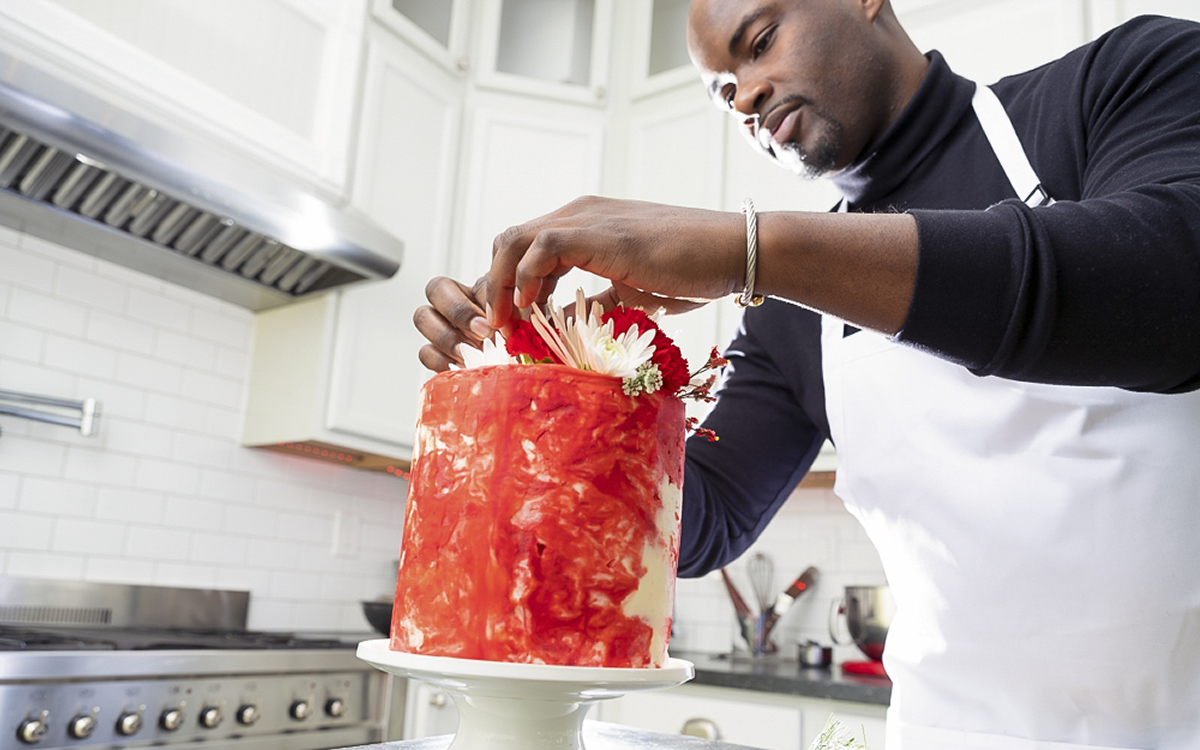 Ever since his daily subway ride in high school, textbook in one hand and cake box in the other, Kareem Queeman has been balancing baking, career, joy, and representation.
Queeman, a gay man, is best known as Mr. Bake. Emboldened by his grandmother, who embodied the dynamic spirit of his close-knit family, Queeman took to the Kitchenaid and never looked back.
Known for custom cakes and Southern classic desserts that "give you that nostalgic feeling," he says, he's now a James Beard Semifinalist for the 2023 Award for Outstanding Pastry Chef or Baker, a reality TV baking competition star, and proud bakery owner at the La Fantome Food Hall in Riverdale Park, Md.
"I want to make space for Black and queer food business. There's not many queer people of color in this space, and I want to help open those doors," he says.
Before he went oven-to-oven against Bobby Flay and started sending his cupcakes across the country, Queeman grew up in Harlem, with a grandmother who gave him space to pursue his passion. He'd watch Oprah – whom he counts as a role model – with an aunt who would bake sweet potato cakes for neighbors during the holidays.
"Like many Black families, food always brings us together and food is what my family was known best for." He says.
He also credits his success to high school friends in Harlem, people who "allowed me to shove my experimental baked goods in their faces."
Yet pursuing his career was not without its challenges.
"At that time, men, especially Black men, showed hyper-masculinity to be respected and not walked over by our white counterparts," he says. "My queerness was concealed as much as possible because being 'gay' at that time in my community was frowned upon." He turned to spaces like watching cooking shows, following chefs like Kwame Onwuachi and Carla Hall, and taking part in the New York ballroom community.
Queeman left New York, armed with a culinary arts degree, for the D.C. area in 2010 to help open a bakery in McLean, Va., and then later worked the opening of Crumbs Bake Shop. Queeman settled in Prince George's County in Maryland, finding home in the African-American communities there.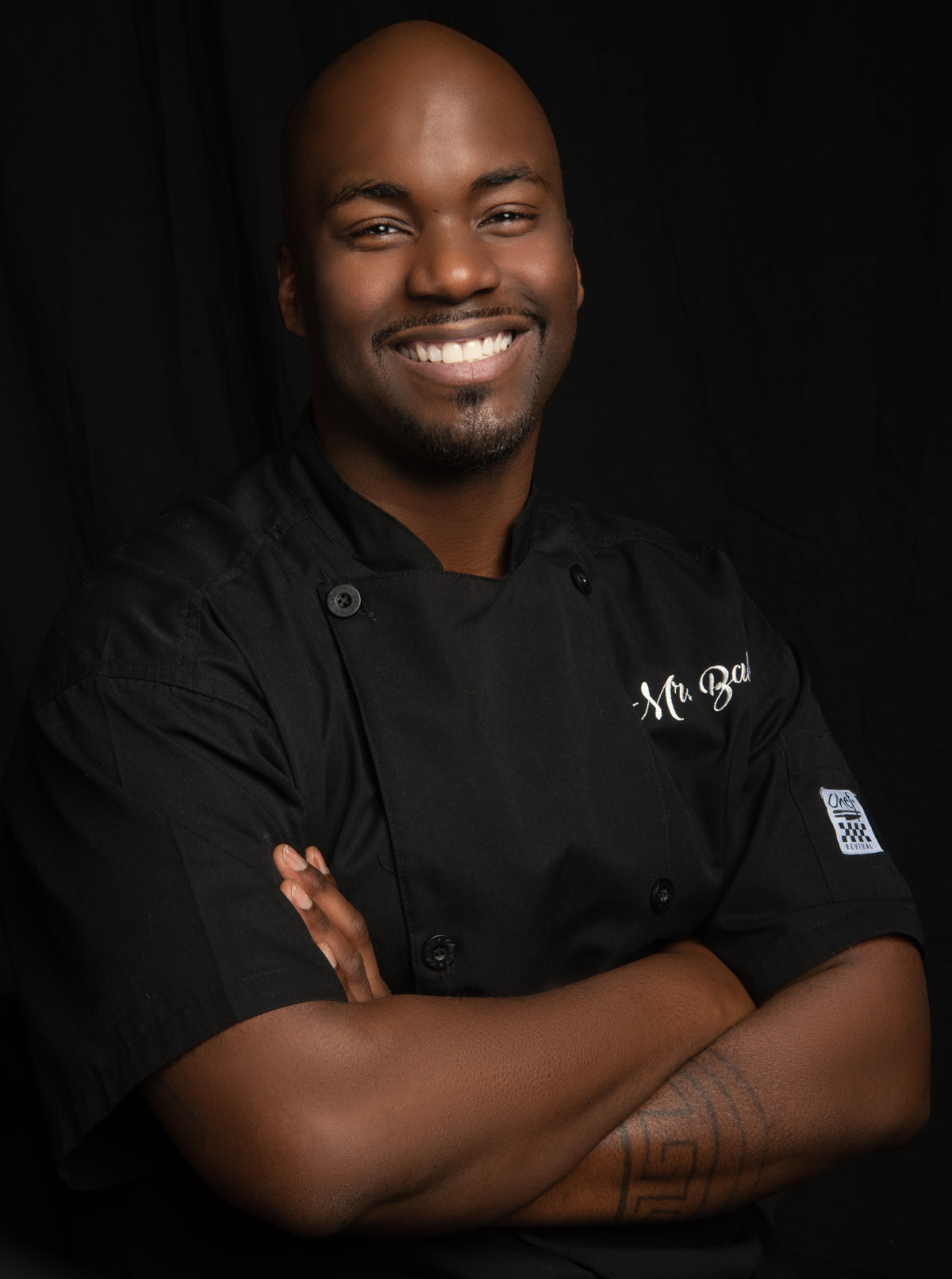 Queeman is the founder and owner – and brand ambassador – of Mr. Bake Sweets, which has both an online presence and a brick-and-mortar spot at the Le Fantome. He started Mr. Bake Sweets in 2008 as a catering company, workshop, and wholesale bakery, only recently moving into a physical space.
Mr. Bake Sweets was one of the first vendors at Le Fantome in 2021. Cupcakes in flavors like red velvet and "cookies n cookie," doughnuts, brownies, and banana pudding topped with Nilla wafers (a recipe borrowed from one of his aunts) fly out the door.
Soon after Queeman kicked off his bakery, he also expanded his footprint into multimedia, starting a YouTube show, Baking With Mr. Bake.
To continue honing his craft, and challenging himself, Queeman decided to apply for a spot on a baking competition. He made it onto Discovery Family's "Bake it Like Buddy" in 2018, coming home with the win. Yet having just lost his mother, he almost didn't move forward with filming.
"From this experience, I noticed the lack of representation of queer chefs of color in the mainstream food industry. And I started on my path of creating space for my community. I knew that it wasn't going to be easy to break into the food TV industry, so I did what I knew best: hustled."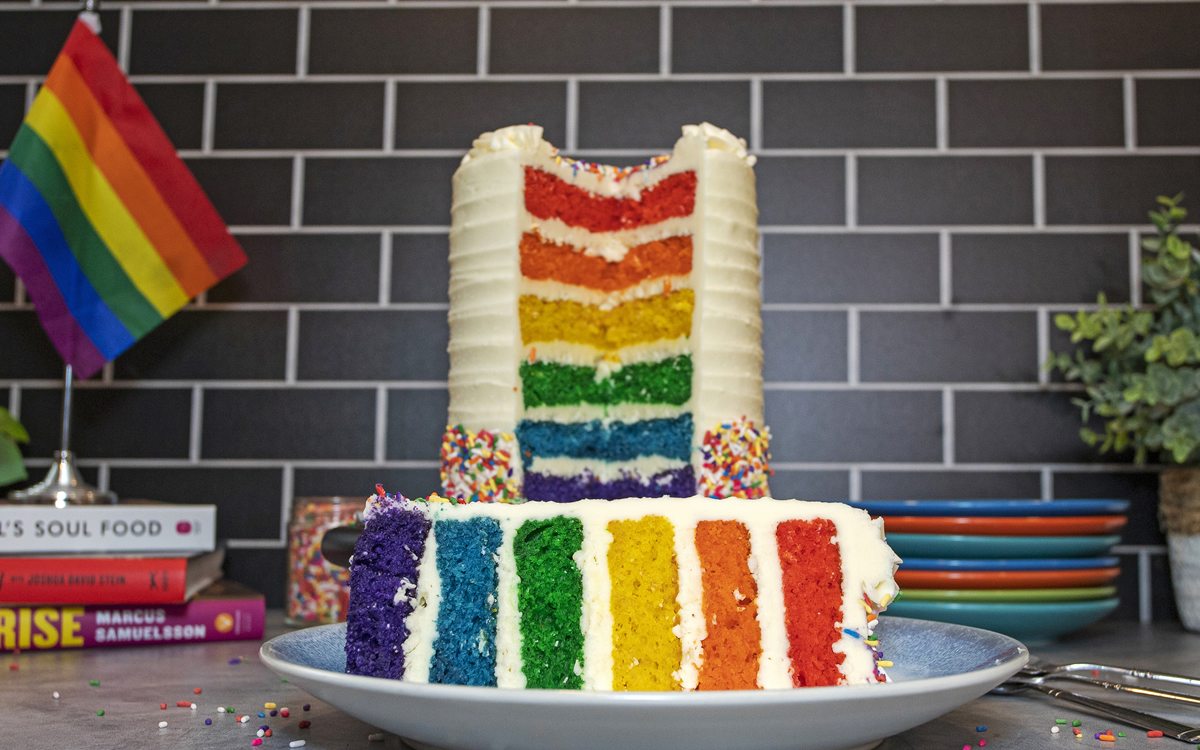 From there, he stepped up to Food Network, where he appeared on a Girls Scout Cookie championship in 2020, followed by Beat Bobby Flay, ("he gave me the BIGGEST praise for being on the show")
"When I applied for Netflix I made sure my team member was Black and queer. I wanted kids to see someone who looks like them baking and being authentic."
Yet being a competitor didn't take the cake. Queeman, wanting to truly showcase representation on TV, appeared as a judge on Food Network's "Buddy vs. Duff."
Today, he's one of the subjects of Food Network's "Bake it Til You Make It." There, he doesn't hold back: he uses gay and Black vernacular, purpose-driven in showcasing his identity.
Back at home, Queeman spends time mentoring young gay and Black bakers, teaching classes, and participating in the community. He also notes that half of Mr. Bake Sweets' employees are queer. He recently launched a dinner series to bring the queer community together through food and curated conversation.
Beyond the food hall, Mr. Bake Sweets' products can be found in several area restaurants and cafes like Georgia Brown's, 600 T, and Here's the Scoop ice cream shop.
"Creating visible space for queer chefs of color in mainstream media within the food industry is important. I want us to walk into rooms taking up space of being our full selves."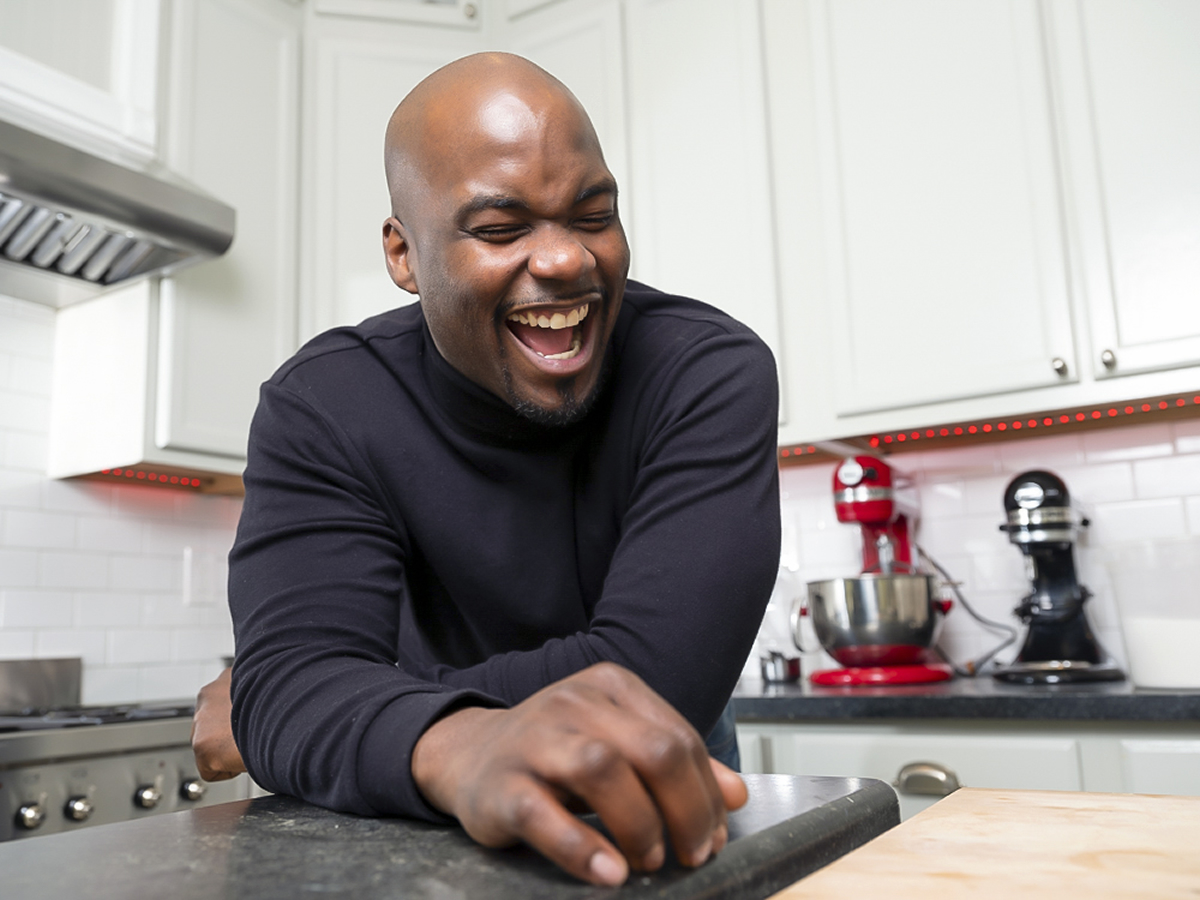 A rainbow shield
Parasol Patrol protects children from protesters at LGBTQ, BIPOC events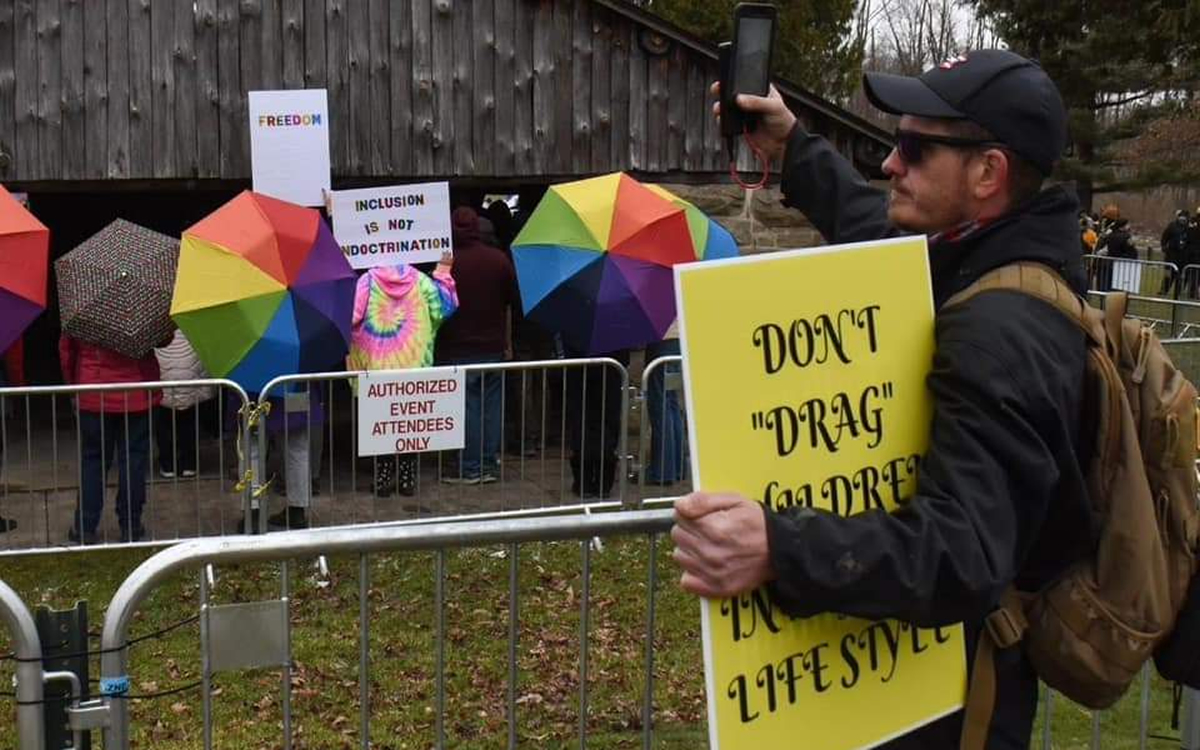 In the wake of LGBTQ events like drag queen story hours being the target of far-right protesters across the country, a national nonprofit is aiming to protect children from hate.
Founded in March 2019 by Pasha Ripley and Eli Bazan in Denver, Parasol Patrol now has grown to 14 official chapters, including in the D.C. area, Idaho, Illinois, and Rhode Island. The goal of the nonprofit is to protect children and young people from protesters at LGBTQ and BIPOC-centered events.
Volunteers with the nonprofit use umbrellas, rainbow or otherwise, as shields to block kids and families from hateful signs and pass out noise-canceling headphones to protect attendees from abhorrent language. Sometimes volunteers will also escort families into the venue to keep them safe.
"We just started this way of creating a turtle shell around families," Ripley said. "We envelop that family as best we can and get them through, or past, protesters."
The mission of Parasol Patrol is twofold, Ripley said. One part of it is to keep kids safe, and the other is to show that there is community support.
"Showing them that we love them. We support them. Not in spite of who they are, but because of who they are," Ripley said. "We've helped the venue create a safer space for them to be themselves."
Originally raised in rural Oklahoma, Ripley, who is queer, said Parasol Patrol provides a security that she and many others didn't necessarily have coming of age.
"We want to be those adults that we wish we had had growing up," she said. "And we're not trying to turn kids gay. We're trying to keep the gay kids alive."
Ripley stressed volunteers with Parasol Patrol are not counter-protesters or security. The mission is nonviolent, and volunteers are encouraged to not engage with protesters.
John Zittrauer, a local volunteer with Parasol Patrol since the early summer of 2022, said volunteers serve as a "welcoming committee" for families attending these events.
"That's where the umbrellas come in. To create not only a beautiful hallway of people but also to shield little kids from things that might get thrown their way," Zittrauer said. "We are this wall of positivity, just welcoming families and making sure that everybody comes in and leaves with a smile on their face."
But sometimes, these events can get hectic.
For example, in late February, the far-right group Proud Boys targeted a drag queen story hour in Silver Spring, Md., the Washington Blade previously reported. About 40 volunteers with Parasol Patrol came out to protect the event, including Zittrauer.
While shielding families from the protesters, Zittrauer was hit in the face on the bridge of his nose. In the melee, he doesn't know if it was an elbow or a signpost that hit him. He didn't realize he was bleeding until he turned around to check in with other volunteers, and the look on their faces signaled to him that something was wrong.
Zittrauer still carried on protecting the event from protesters. But he still says volunteering at that event was a positive experience because the families watching the drag story hour did not know too much of what was going on.
This is exactly what Ripley hopes for — that at the end of the day, the events are fun and inspiring for everyone involved, she said.
"For the most part, we stayed happy and upbeat, and unfazed," Zittrauer said. "It was, all in all, a good day," he said.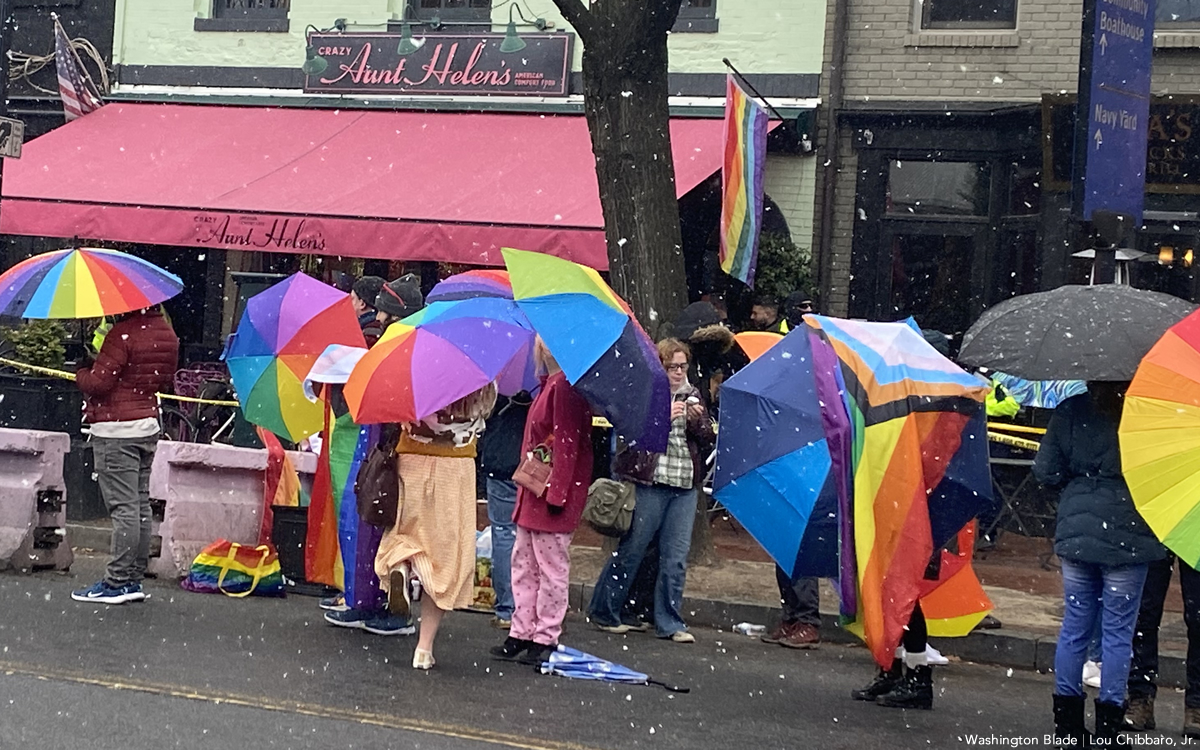 Golden Girls return to D.C.
'The Laughs Continue' to run at Warner Theatre from Feb. 23-26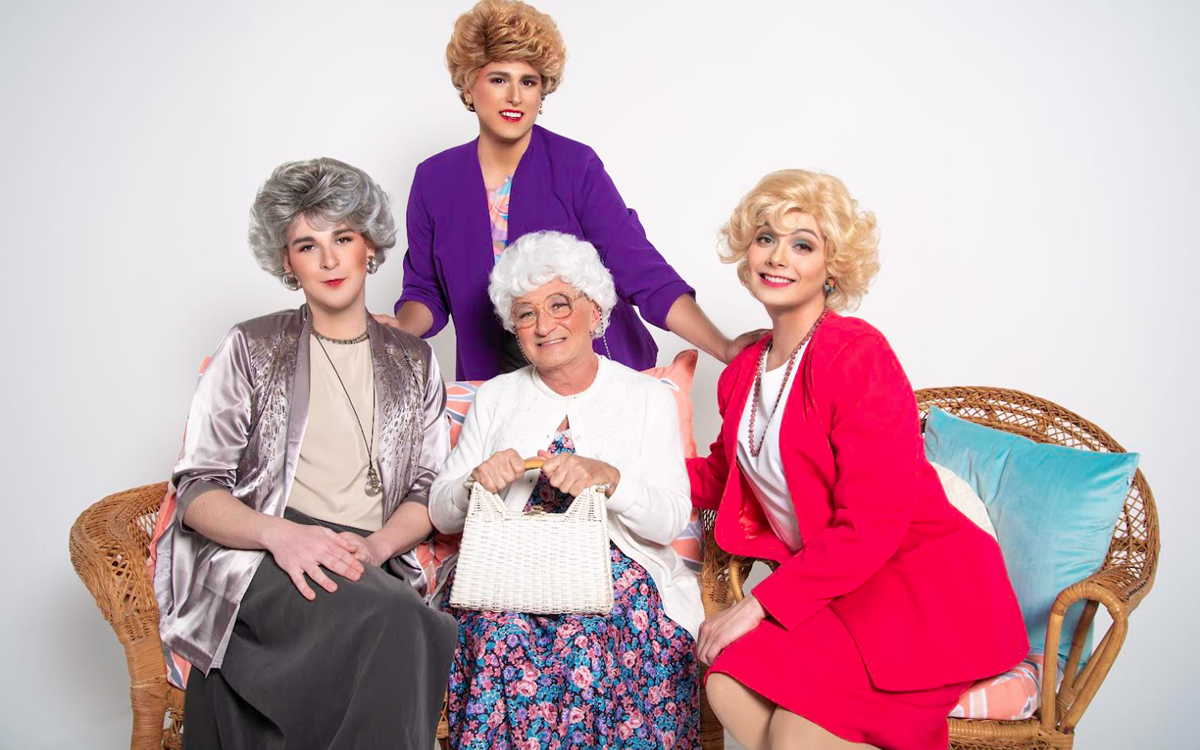 Miami's sassiest seniors will take D.C. by storm when they take the stage at the Warner Theatre from Feb. 23-26.
Robert Leleux — whose previous work includes "The Memoirs of a Beautiful Boy" and "The Living End" — wrote "Golden Girls: The Laughs Continue." It documents the lives of the four cheesecake-loving older women in "The Golden Girls."
Sophia (Christopher Kamm) is out on bail after the Drug Enforcement Administration arrested her for running a drug ring for older adults. Blanche (Vince Kelley) and Rose (Adam Graber) created CreakN, a "sex app for seniors." And the relationship-challenged Dorothy is with a much younger man (Jason Bowen) on the aforementioned app.
Bowen also plays Dorothy's ex-husband Stanley.
Eric Swanson, co-founder of the Detroit Actors' Theatre Company, directs "Golden Girls: The Laughs Continue" and Murray and Peter Present produced the play. A version of it showed at Baltimore's Hippodrome Theatre in July 2022.
"You will feel like you have watched sort of this hour and a half sort of special on a TV and it should feel just like you're hitting play or whatever it is on your streaming service and here it is," Swanson told the Washington Blade during a recent Zoom interview from Fort Lauderdale, Fla. "The set looks like the set and we utilize the cheesecake — there's so much cheesecake in this play. You can't do Golden Girls without cheesecake."
Swanson said he and Leloux binge watched "every episode" of the original show in four days.
"We wanted to create new content, that was our number one goal," Swanson told the Blade. "We didn't want to parody anything. We wanted to completely attack new material and new ways of thinking for women and aging adults in this generation."
Blanche 'weaponizes what God has given her'
Kelley told the Blade from Michigan during a telephone interview that Blanche is "very free and my brand of sassy."
"I love the sensuality of Blanche and that she weaponizes what God has given her to her advantage."
The scene in season two's "The Actor" episode in which Blanche's inflatable breasts deflate when she is hugging an actor during an audition to be his love interest is among Kelley's favorite from the original show. Kelley also noted CreakN is difficult for Blanche to use because "she doesn't identify as a senior."
Blanche in season seven's "The Case of the Libertine Bell" episode that takes place during a murder mystery weekend points out "flirting is part of my heritage" because she is "from the South." Rose asked Blanche what she meant, and Dorothy told her that Blanche's mother was "a slut too."
"There's a few of those zingers in this one too," Swanson told the Blade. "Sometimes they just lay it down."
'Ahead of their time' on LGBTQ issues
"The Golden Girls" premiered on NBC on Sept. 14, 1985.
The series ran for seven seasons until it ended on May 9, 1992. "The Golden Palace" in which Betty White, Rue McClanahan and Estelle Getty starred after Bea Arthur left "The Golden Girls" ran for one season.
"The Golden Girls" is one of the first primetime shows that discussed AIDS, marriage equality, and other LGBTQ issues.
Blanche's brother Clayton, for example, comes out to his sister as gay in season four's "Scared Straight" after he claimed he slept with Rose. Clayton and his boyfriend Doug during season six's "Sister of the Bride" episode tell Blanche, Dorothy, and Sofia that they want to get married.
Dorothy's brother Phil was a crossdresser, and her friend Jean is a lesbian who falls in love with Rose during season two's "Isn't It Romantic?" episode. Rose in season five's "72 Hours" episode tests HIV-negative after she fears a blood transfusion she had exposed her to the virus.
"They were so ahead of their time in the things that they were tackling: AIDS and all that kind of stuff, and LGBTQ rights and discrimination against Jewish people. All things we're still dealing with today, which is unfortunate, but it's nice to turn to them and see how your good friends Blanche, Rose, Dorothy and Sophia are dealing with the same problems that you're dealing with today," said Kelley.
"I love the progressiveness that they had, especially when you look at the time and the era and what was going on, not just politically, but regarding feminism and sexuality and all of that. it was just incredibly brave," Swanson told the Blade.
He further noted "The Golden Girls" also addressed interracial marriage and aging.
"They were addressing these things about what it's like to age," he said. "Whether you are a conservative, you're a liberal, you are gay, you are straight, the one thing we all have is age. We can all relate to age and they led that narrative on what is it like to age and feel left out and have to fight again."
Swanson and Kelley both teased bits of the play.
Kelley notes it is Dorothy's "day in the sun" when she mets her younger man on CreakN. He also told the Blade that Sophia "had to do another small stint in Shady Pines due to another slip and fall."
"While there she decided, how can I make a quick buck," said Kelley. "I'm going to turn into Walter White and monetize that."
Kelly noted the play is "all new material."
"You'll get a whole new fun story that even if you seen every episode twice, you're gonna get something new. But we definitely have all your favorite lines, all the catchphrases, all the tropes and scenarios that you would expect," he said. "We're not trying to reinvent the Golden Girls, we're just trying to add on to them."
"We wanted to create something in their honor," Swanson told the Blade.
"Golden Girls: The Laughs Continue" will be at the Warner Theatre (1299 Pennsylvania Ave., N.W.) from Feb. 23-26. Tickets start at $30. A VIP experience that includes a meet and greet with the cast after the show is $99. Tickets are available at warnerthreatredc.com.