May 29, 2019 at 6:41 pm EDT | by Joey DiGuglielmo
Character actor Leslie Jordan on his pony obsession, TV hits and misses and his dream threesome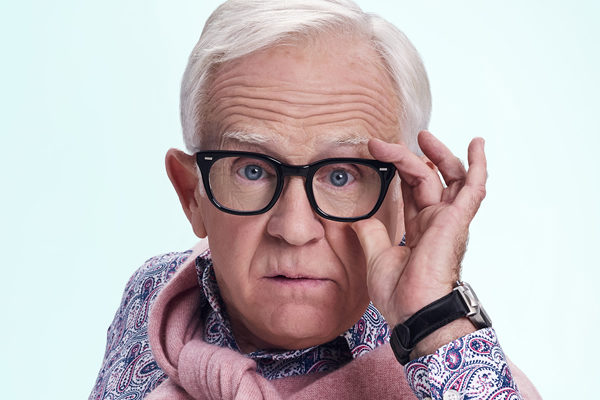 Washington Blade presents:

Leslie Jordan EXPOSED

Wednesday, June 5

7 (sold out) and 9 p.m.

Union Stage

740 Washington St., S.W.

$45 ($60 with meet and greet)
Actor/comedian Leslie Jordan returns to Washington for another Blade-sponsored stand-up show Wednesday, June 5. The "Sordid Lives"/"Will & Grace" Southern sissy spoke by phone two weeks ago from his Los Angeles home.
He doesn't wait for a question — just starts things off with some bad news.
LESLIE JORDAN: I got this television series, which by the way, got canceled today.
WASHINGTON BLADE: Ohhhh
JORDAN: I'm gutted
BLADE: I'm so sorry.
JORDAN: I don't care so much except the money was so good. I really liked that. I'm sure other things will come along, but it's a political move. Twentieth Century Fox was bought by Disney and this new guy came in and it was really weird, he picked up only really dramas. And guess what's going on in our place? ("WWE) SmackDown," that wrestling show.
BLADE: How did you hear?
JORDAN: (Series creator) Charlie (Day) called me, who's just so adorable. He did "It's Always Sunny in Philadelphia," he created the series and wrote it. First he sent me an e-mail and said, "Be ready because it's probably going to happen." Then he called us each personally which I thought was very sweet. … I don't know, there's a chance it could be picked up by another network so you just roll with the flow.
BLADE: How did you like working with ("Cool Kids" co-star) Vicki (Lawrence)?
JORDAN: We glommed on to one another from the moment we met. We'd met at the airport before in Puerto Vallarta and she said, "Oh, I remember," and I thought, "She doesn't remember me." (Laughs) She was my best friend and is my best friend still. She's more upset about it than I am, I think. But yeah, we got along so well. She's exactly like you think she would be. It was so interesting on that show because all four of us (Jordan and Lawrence co-starred with David Alan Grier and Martin Mull) had such history in the industry. … It was kind of a companion piece to Tim Allen's show ("Last Man Standing") and I always forget, he's just rabidly Republican so it's a very conservative audience and we followed them with all kinds of shenanigans. We had gay people, gay people kissing.
BLADE: How did you feel it was going?
JORDAN: Well I knew there were some problems with the direction only because the network was there so much and I kind of thought at first well, maybe it's because it's a new show but oh my god, we would have rewrites right up until and even in front of our audience. But they did that on "Will & Grace" too, so I didn't think that much about it. But then I think Charlie Collier, who's the new person at Fox, he wanted to put his own stamp on things, so there's that. I don't think we did anything bad or wrong.
BLADE: How long is it usually in sitcoms from the night you tape until it airs?
JORDAN: The rule of thumb is you want about five in the can but we didn't shoot in the same order they aired. We try to stay about five ahead so you can gauge the audience reaction. It's a really interesting process for me, 'cause I've been on other shows from the beginning but not where I was one of the lead lead leads.
BLADE: Do you prefer sitcoms to single camera?
JORDAN: My schedule on "Cool Kids" was the easiest schedule I ever have. You know, on "American Horror Story," we did like 14-hour days. And we'd have big stars like Lady Gaga who could only give us one day so we had to get all her stuff in. That's the difference between multi-cam, which was "The Cool Kids." We'd be out in the woods in Malibu trying to make it look like it was Virginia. I don't know how those people like ("American Horror Story" mainstay) Sarah Paulson do it. She's such a trooper. She's been doing it for years, all these 14-hour days. I don't know how they do it.
BLADE: What do you do when you have downtime between shots?
JORDAN: I'm a big napper, which is funny because I don't nap at home. Or I like to watch. I don't mind sitting there on the set watching the other actors. I'd rather do that than sit in my trailer. I know people who watch TV, read a book. I read, but mostly on my way to work. And of course I'm a big yapper. Sometimes I have to go to my trailer because I just talk until I'm exhausted.
BLADE: Have you ever seen one of those big reclining boards they have on sets?
JORDAN: The only time I've ever seen that was on "The Help," of all places. I haven't done many costume dramas but on "The Help," they had Jessica Chastain, who was kind of unknown then, I mean she'd done a couple movies, but she wasn't anything like she is now, they had her in this gorgeous dress and she requested that. She couldn't sit down so they just hung her up there like a bat. But yeah, it's like a board where you have to put your arms up. I said, "You look so pretty hanging there." She said, "I don't want to wrinkle my dress." I said, "God, you're a trooper." I'd wrinkle that dress, I couldn't care less. Make 'em steam it. (laughs)
BLADE: Have you ever spilled something just before a shot?
JORDAN: A hundred times. I'll tell you what the worst is, you have to go pee real fast and you say, "I'll be back in two seconds," then you dribble. Then everybody's looking and they take a hair dryer out (laughs). But I'm notorious. At lunch break when I'm on these shows, the costumers will come take my clothes off and put me in a T-shirt because I'm just notorious. When I was a little boy, I'd come home and my mom would say, "Oh, spaghetti, green beans …," she knew everything I'd had because it was all over me.
BLADE: Tell us about your new live show.
JORDAN: I'm so proud of it, I think it's the best of all my shows. I tell about each of my previous ones and within the journey of telling about all that and how it was when I first got to Hollywood, this wonderful kind of journey comes out about acceptance. I'm really proud of it. The last time I was in D.C. was the weekend of that devastating occurrence at the club in Orlando, you remember that? Oh honey, it was Pride weekend but that Sunday morning I was taken to the White House, they invited me, the Washington gay choir and Ty Herndon was there, because our ex-president and his lovely first lady wanted a gay presence there so I have this wonderful story and I end the show telling about that weekend.
BLADE: You were in our parade three years ago, and threw the first pitch at Night OUT plus your show. How was D.C. for you last time?
JORDAN: It was wonderful. The only thing was I wanted to ride a pony and they thought I was kidding. I showed up in my riding gear. I said, "Where's the pony," they said, "Oh we thought you were kidding." I said, "Does it look like I'm kidding?" So I went to Kinkos and made a little sign that said, "I was promised a pony." If you look at the pictures, it's me in the back of a car in a riding outfit. Nobody knew what the fuck was going on.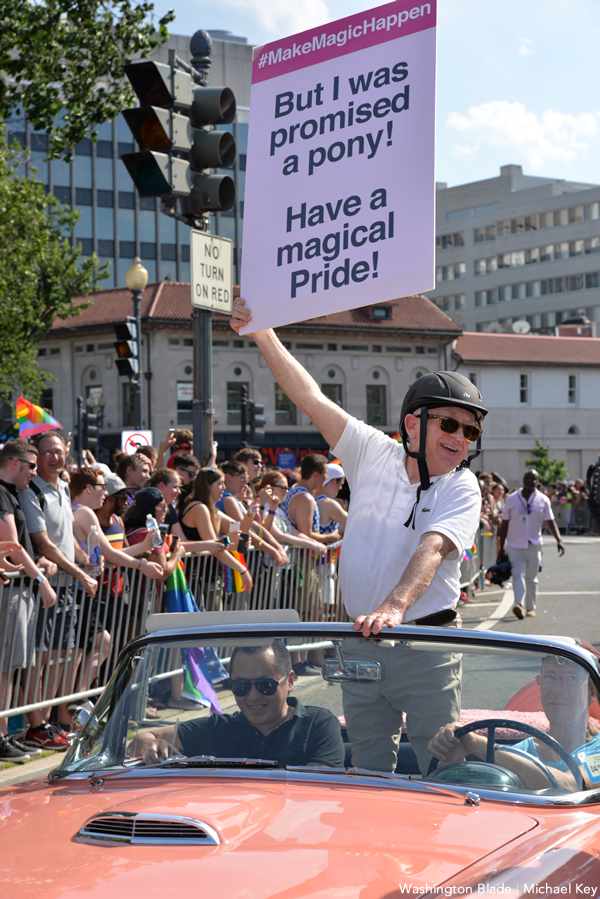 BLADE: Have you done many Pride events?
JORDAN: So many over the years, I love it. I've been the grand marshal I can't even tell you how many times. My favorite was years ago in Nashville, this was like 20 years ago. I said, "Y'all must be brave in Nashville, Tennessee, with all those rednecks," and they said, "We do have a wonderful parade. It's nothing like y'all get in L.A. It's mainly a baton-twirling sissy and two lesbians." I thought, "Well, that's all you need for a parade — a baton-twirling sissy and two lesbians." (laughs)
BLADE: Are you staying for the parade this year?
JORDAN: No, I have to get back to L.A. because I'm hosting an Actors Fund event for Lily Tomlin the night of the Tonys.
BLADE: Last time we talked you said things had dried up after you won your Emmy and that's what led to your stage show, but lately you've been doing a lot of TV. How did you get hot again?
JORDAN: Well I've been able to balance the two really, really well. The TV stuff, I have no control over. It truly is just things falling into my lap but I have to be available for it. The year before we did "Cool Kids" (2017) I did 44 venues, which I love because of the immediate response of the audience. But you have to balance it because all the money's in TV, you just can't beat the money so that allows me to go on the road and I do really well. … Now to have done a full year on a show, that's got to help my TV profile. Something's gotta give here. I'm 64, I've been at it a long time. If you can get a series on the air for about four seasons, you're set. It's all gravy from there. But they've already called me for "Will & Grace" next season, they want to book me again for that. In a way I've done everything I really set out to do, so from here on out it's all just fun.
BLADE: How many "Will & Grace" episodes have you done since it came back?
JORDAN: Let me see, I've done three. One was a Christmas episode where you barely saw me but then I did a hilarious one last season where they named the wall after me because I gave so much money to the Republican party and then Karen wants her name on the wall and we got rolled over to Mexico and put in those cages (laughs). But anyway, it was wonderful. But (co-creator) Max (Mutchnick) had called me and asked if I wanted to come back. I said, "Of course, but you killed me." He said, "Don't worry, we'll figure something out," so they ended up just kind of dropping that finale because it was just too much going on there. I didn't do the first one, they were already like five in by the time I was there so they'd had their little reunion, but … Megan Mullally gave me the sweetest compliment. She said, "I never lost Karen Walker, but tonight bantering with you, I believe Karen Walker is truly back." I thought that was sweet.
BLADE: What do you think of this trend of rebooting so many classic shows? Especially the ones like "Dynasty" or "MacGyver" they do with new casts?
JORDAN: I wonder why with all these platforms now, people aren't open to new ideas. It's harder now. My friend Del Shores and I come up with these ideas all the time and go to pitch' em and they just stare at us. Maybe we're just too old and it's just kids running the shows now. Of course, you wanna bring stuff back but it gets a little ridiculous after a while.
BLADE: What's something you like and don't like about the way the industry has evolved in let's say the last 10 years or so?
JORDAN: I like the way in which gay characters are portrayed, I really like that. It's been a long journey since I got here in 1982. It was very wink-wink. You'd go out at night to the gay bars and see every producer and casting director in town, then you'd see them on the job and it was very wink-wink, very different than it is today. What I don't like about the industry today is there seems to be no sense of history. I got so upset the other day because somebody online, a TV critic, called our show "The Cool Kids" a snoozefest and I wanted to write him and say I would love for you to come to 20th Century Fox to stage 17 and see the 80-odd people who come in sometimes at 4 o'clock in the morning to create this snoozefest. The four leads on that show have more combined TV history than you would if you worked the rest of you entire life. It's so casual and easy to critique and everybody's a critic now. I wanted to say, "Young man, you need to respect your elders." (laughs)
BLADE: Last time we talked you were excited about having lost weight. Have you kept it off?
JORDAN: No, I'm fat as a pig. I went over to the equestrian center, I wanted to ride a pony, they have a beautiful pony there, and they said, "No, you're too fat." I gained more weight on this "Cool Kids," but no, I'm gonna try to get it off. But I'm not trim at all. I'm as big as Dallas and half of Fort Worth.
BLADE: What happened?
JORDAN: The catering on "The Cool Kids" was ridiculous. They'd come to me and say, "Leslie, there's this little Asian lady over there cooking rice balls," and I'd go, "We just had tacos." It was like being in a food mall. The food was constant, so I've got to get that off. I mean I'm not fat, fat. I've gained about eight pounds, but on me, I'm like a little beach ball with arms.
BLADE: Who's your dream threesome?
JORDAN: I think Eddie Redmayne is adorable. Oh, I don't know, I'm so old I don't even think about that anymore (laughs). My biggest crush has always been Mark Harmon. I've known him 20-30 years and he just gets better and better looking. Same with George Clooney. I did a series with George a hundred years ago. So that's a funny threeway — Mark Harmon, Leslie Jordan and George Clooney.