May 29, 2019 at 4:03 pm EDT | by Joey DiGuglielmo
QUEERY: Nancy Cañas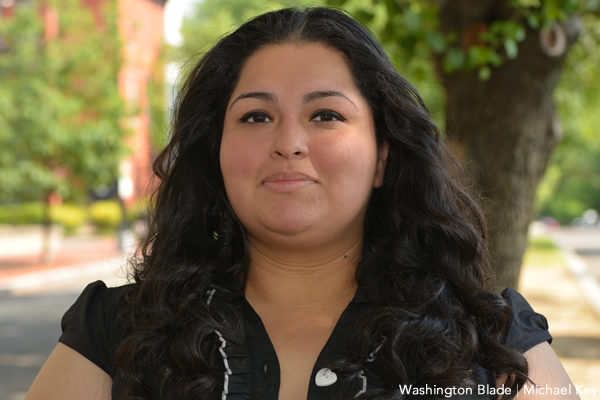 Nancy Cañas was asked to perform at Latinx Pride in 2012 and has been involved ever since. She's been on the board for four years and started her second year as president this month.
The 13th annual D.C. Latinx Pride is June 1-6 with various events. This year's theme is "Gritando Orgullo" (screaming pride). About 1,000 attended last year.
A panel discussion will be held on Saturday, June 1 at 5 p.m. at Metropolitan Community Church of Washington (474 Ridge St., N.W.), a Latinx LGBTQ History Tour with Jose Gutierrez will be held on Sunday, June 2 at 3 p.m. starting at the corner of Columbia Road and 18th Street, N.W. in Adams Morgan. The walking tour will stop by Salud Inc., one of the first D.C. Latino HIV/AIDS organizations, El Faro, the first D.C. Latinx LGTBQ bar, Bar Noa Noa, Perry's Restaurant and more. Admission is free.
A group art show dubbed "La Platica: Elevando Arte, Poesia & Palabra" will be held on Tuesday, June 4 at 5 p.m. at HRC (1640 Rhode Island Ave., N.W.) and the official dance party "Gritando Orgullo" will be Thursday, June 6 at 9 p.m. at the D.C. Eagle (3701 Benning Rd., N.E.). All the events are on Facebook or visit HYPERLINK "http://latinoglbthistory.org/" \t "_blank" latinoglbthistory.org.
"D.C. Latinx Pride provides a unique and safe space for queer Latinx folks to come together, celebrate, listen and dance to our music, uplift and create visibility of local artists to share their work," says Cañas, a life-long D.C.-area resident (her parents migrated from El Salvador in the '70s).
Cañas, 39, is a licensed cosmetologist at Spa Logic. She and wife Ana Gomez live in Prince George's County, Md., with children Christopher, Alexandria and Samantha. Cañas enjoys dancing with her wife but says there's "never any down time as a parent."
How long have you been out and who was the hardest person to tell?
I've been out for about 10 years and the hardest to come out to were my children. As children we look to our parents for guidance and I was unsure how to guide them from any hate and discrimination they may experience due to having a queer parent.
Who's your LGBTQ hero?
Frida Kahlo teaches us that the struggles experienced in life can be conquered through self expression. Kahlo channeled her grief into art and her miscarriage became an important part of her life.
What LGBTQ stereotype most annoys you?
The notion that all gays are promiscuous.
What's your proudest professional achievement?
The fruition of Create Your History. It's allowed me to merge my passions of mentoring youth and increasing confidence through hair services.
What terrifies you?
Dying young and not being around to help guide my children in their teen and early adulthood years.
What's something trashy or vapid you love?
I love supernatural, witch and vampire TV shows.
What's your greatest domestic skill?
I love making home-cooked meals for my family. One day we'll have Salvadoran carne guisada con arroz and the following day chili and cornbread.
What's your favorite LGBTQ movie or show?
"Boys Don't Cry" and "If These Walls Could Talk."
What's your social media pet peeve?
People putting all their personal business out there.
What would the end of the LGBTQ movement look like to you?
I don't think there will ever be an end. We must continue to advocate for the many marginalized groups within our own communities.
What's the most overrated social custom?
Hair removal
What was your religion, if any, as a child and what is it today?
I grew up with a Pentecostal mother and a father who wasn't very religious. As an adult, I don't adhere to any organized religion.
What's D.C.'s best hidden gem?
The best pupusas in D.C. are found in a little tienda latina in Columbia Heights, Antojitos Cecibel.
What's been the most memorable pop culture moment of your lifetime?
Britney shaving her head. I believe so many of us could connect on multiple levels with her. She was going through a messy divorce, custody issues and public scrutiny, like who wouldn't snap?
What celebrity death hit you hardest?
Robin Williams teaching us that battling mental health issues is hidden in many ways. We must always check on our community, even those who look like they're doing well.
If you could redo one moment from your past, what would it be?
I would call my dad one last time.
What are your obsessions?
Chocolate covered everything.
Finish this sentence — It's about damn time:
You finished your homework! (Me to my kids)
What do you wish you'd known at 18?
Cherish every moment with your loved ones. Time is short and precious.
Why Washington?
Proud D.C. native!