July 30, 2019 at 11:30 pm EDT | by Michael K. Lavers
David Begnaud: Puerto Ricans 'shamed' governor to resign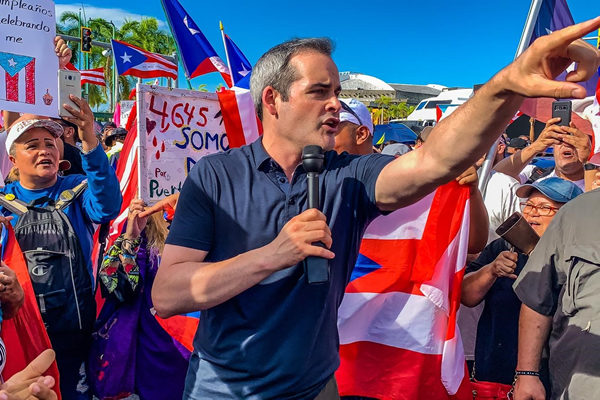 A CBS News reporter whose Puerto Rico coverage has garnered widespread praise on Tuesday said people in the U.S. commonwealth "shamed" their soon-to-be-former governor to resign.
"It is exceptionally rare to see an organic movement of hundreds of thousands of people oust a sitting governor without a single shot being fired," David Begnaud told the Washington Blade during a telephone interview from New York. "It's unprecedented globally and they essentially shamed this man into leaving."
Puerto Rico Gov. Ricardo Rosselló on July 24 announced his resignation less than two weeks after Puerto Rico's Center for Investigative Journalism published nearly 900 pages of messages he and several members of his administration sent to each other in a chat on the messaging app Telegram.
The messages, among other things, contained homophobic and misogynistic comments against Ricky Martin and San Juan Mayor Carmen Yulín Cruz. Rosselló and members of his administration also mocked victims of Hurricane Maria, which devastated Puerto Rico in 2017, and described former New York City Council Speaker Melissa Mark-Viverito, who was born in San Juan, a "whore" when she criticized Democratic National Committee Chair Tom Pérez's support of statehood for the U.S. commonwealth.
Rosselló had been chair of the pro-statehood New Progressive Party.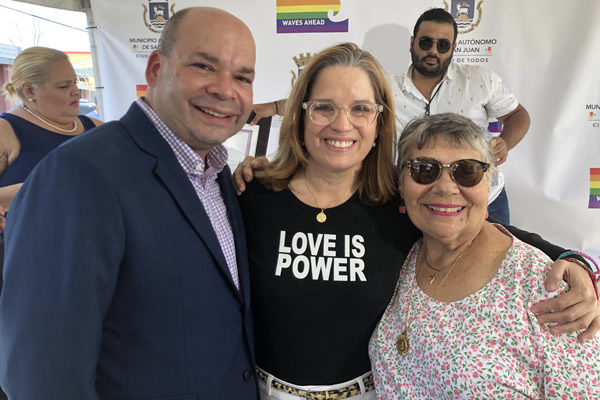 Puerto Rico governor's mansion 'has been run like a frat house'
Begnaud, who publicly came out as gay in 2018, recalled his interview with Jorge Rodríguez, a prominent Puerto Rican businessman who called for Rosselló resign. Begnaud told the Blade that Rodríguez "pointed his finger in my face and said, 'David, let me tell you why we rose up like we did.'"
"It's because those chat messages took away our dignity, they took away our dignity in terms of how the governor and his staff made fun of people, criticized people, laughed at people, from the dead, to the gay, to women," said Rodríguez, according to Begnaud. "They literally had no one that they didn't go after."
"The governor's mansion (known as La Fortaleza) … has been run like a frat house and it has collapsed because of these chat messages," Begnaud told the Blade.
Begnaud has become a beloved figure in Puerto Rico because of his coverage of Maria's aftermath and the federal and Puerto Rican government's slow response to the hurricane that left upwards of 3,000 people dead. Begnaud is also among those who were criticized in the chat.
"I thought about it for about two minutes," said Begnaud when the Blade asked him about the criticism. "I think my initial reaction was, really?'"
Begnaud added the criticism was "part of the job."
"When you are exposing either corrupt behavior or wrongdoing in some way, you are going to draw the ire of people in positions of power," he said.
Begnaud asked Rosselló several questions during a July 16 press conference at La Fortaleza. Begnaud told the Blade a question about Rosselló's criticism of him in the chat "wasn't even one of the questions I thought to ask him."
"Of course he would want to attack me," said Begnaud, referring to Rosselló and the chat. "Of course he would want to attack other people. The guy was politically drowning, so he was lashing out."
"But it's more than that, and let's not minimize what it was," added Rosselló. "This was a coordinated effort led by the governor of Puerto Rico to direct his associates to carry out a campaign to attack both critics, journalists and anyone who as not friendly to his administration and that is according to the chat messages which have been released, which the governor has called shameful and apologized for."
The Center for Investigative Journalism published the tranche of messages four days after federal authorities indicted former Puerto Rico Education Secretary Julia Keleher and five others on corruption charges. Rosselló subsequently returned to Puerto Rico from France where he was on vacation with his family.
The arrests were the impetus behind the protests that quickly gained traction on the island.
Protesters gathered outside La Fortaleza every night in the wake of the Center for Investigative Journalism's publication of the messages. Martin is among the hundreds of thousands of people who took part in a protest against Rosselló on July 22 that shut down one of San Juan's main expressways.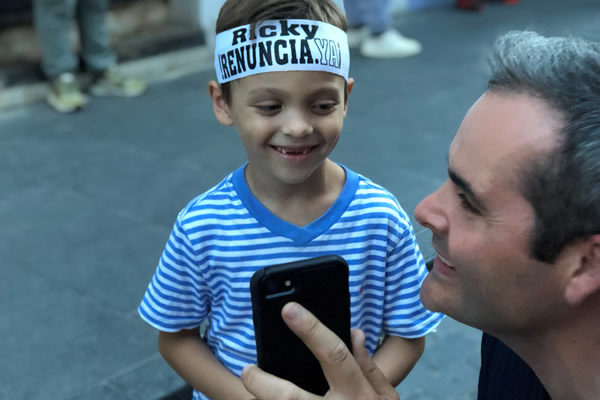 Begnaud said Rosselló "saw the writing on the wall night after night with people protesting."
"This was a movement led by all kinds of Puerto Ricans," said Begnaud. "Most of the time what I saw on the front lines were some of the youngest faces on the island, but there's really not one leader that you can go to say what are you demands, what do you want. You'd have to hold a town hall and give everybody a chance to speak because that's how ubiquitous the movement was in terms of influence."
"The influence was not in the hands of one person," he added. "They were tired of years and years and years of corruption sort of coming from the top. It doesn't matter which party was in power. There were politicians who've gone to federal prison as far back as people can remember from different parties, but this was the first time protesters told me that they all got together in force like they did to push for change and were successful at it."
A number of prominent LGBT Puerto Ricans were among those who were highly visible in the anti-Rosselló protests.
Martin waved a large Pride flag in the air while on top of a semi-trailer truck during the July 22 protest in San Juan.
LGBTT Community Center of Puerto Rico Executive Director Cecilia la Luz, who is a member of the governor's Advisory Council on LGBTT (lesbian, gay, bisexual, transsexual and transgender) Issues, in a tweet after Rosselló resigned praised him for "all of the good things that he did for" Puerto Rico.
Gracias Gobernador @ricardorossello por todas las buenas obras q hizo por PR. Gracias x lograr nuevas protecciones y apoyo a la equidad para las comunidades LGBTT. Gracias x crear el primer Consejo Asesor LGBTT en la historia. Seguimos.

— Cecilia La Luz (@cecilialaluz) July 25, 2019
Rosselló on March 27 signed an executive order that bans so-called conversion therapy for minors in Puerto Rico. Rosselló's administration on Feb. 8 issued guidelines designed to make the U.S. commonwealth's public employees more sensitive to the needs of transgender people and same-sex couples and their children.
Pedro Julio Serrano, founder of Puerto Rico Para Tod@s, and many other activists who include Wilfred Labiosa, executive director of Waves Ahead and SAGE Puerto Rico, in April sharply criticized Rosselló over the introduction of a religious freedom bill they contended would have allowed anti-LGBT discrimination on the island. Rosselló on June 13 asked the Puerto Rico House of Representatives to withdraw the measure and a second bill that would have banned so-called conversion therapy in Puerto Rico with an exemption for religious institutions, clergy and their religious institutions.
Serrano in a tweet pointed out Begnaud wore his CBS Pride t-shirt during his first reports on the anti-Rosselló protests from outside La Fortaleza on July 15.
Begnaud told the Blade he had flown to Puerto Rico from New Orleans where he had been covering Hurricane Barry. He said he had the t-shirt in his bag, "and so I just wore it."
"It wasn't to make a statement," said Begnaud. "That was the clean shirt in my bag and I put it on. I got on the plane and headed to Puerto Rico."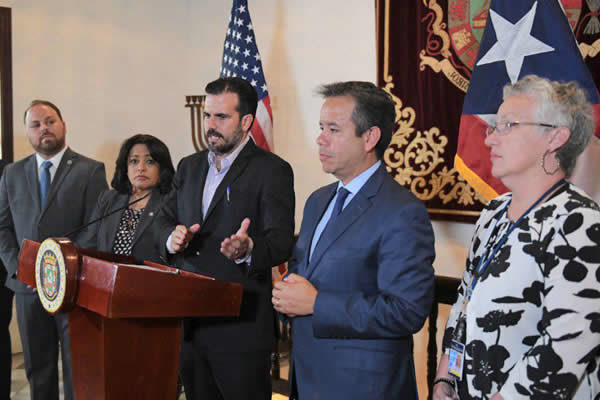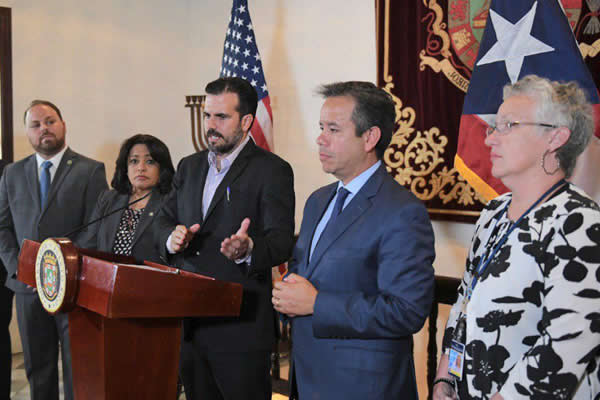 Rosselló's resignation is scheduled to take effect on Friday at 5 p.m. local time.
Justice Secretary Wanda Vázquez is next in the line of succession to succeed Rosselló because former Secretary of State Luis G. Rivera Marín, one of those who participated in the chat, resigned. Vázquez, who herself is facing increased criticism over her close ties to Rosselló, on Sunday in a tweet said she does not want to succeed him.
"I hope the governor identifies and nominates a candidate for the position of secretary of state before Aug. 2, and I have told him to do so," tweeted Vázquez.
Me reitero, no tengo interés en ocupar el puesto de Gobernadora. Es un dictamen Constitucional. Espero que el señor Gobernador identifique y someta un candidato para el puesto de Secretario/a de Estado antes del 2 de agosto y así se lo he manifestado.

— Lcda Wanda Vázquez Garced (@wandavazquezg) July 28, 2019
The Associated Press on Tuesday reported Rosselló plans to nominate Pedro Pierluisi, who was Puerto Rico's non-voting resident commissioner in the U.S. House of Representatives from 2009-2017, to succeed Vázquez so she won't become governor. Begnaud in a tweet said the Puerto Rico House of Representatives on Friday is scheduled to debate Pierluisi's nomination, but he cited reports that indicate Pierluisi does not have enough votes.
"Everyone's waiting to see who's going to become the next governor," Begnaud told the Blade.
Cruz, who is a vocal LGBT rights supporter, in April announced she is running for governor in 2020.
Puerto Rico protesters 'want to clean house'
Begnaud told the Blade that Rosselló's resignation is the "first time the people of Puerto Rico felt heard by their own government." He added Puerto Ricans are also ready to target other politicians on the island.
"The protesters want to clean house and you know what, I take them at their word," said Begnaud. "These are the same people who pushed into the streets and said we will get rid of him, and they did. So I wouldn't doubt what they're saying."