August 30, 2019 at 11:12 am EDT | by Lou Chibbaro Jr.
Casa Ruby, partner groups open S.E. LGBTQ Wellness Center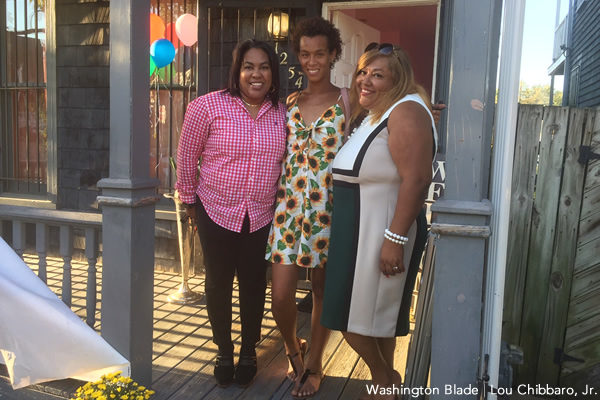 More than 300 people turned out on Thursday afternoon for the official opening ceremony for a first-of-its-kind Southeast D.C. LGBTQ Wellness Center to be operated by the LGBT community services center Casa Ruby, the LGBT supportive Empowerment Liberation Cathedral and at least one other partner organization.
The newly opened center will be operating in a two-story wood framed townhouse at 1254 Pleasant St., S.E. located in the heart of the city's Anacostia historic district. The house has been converted into a facility with office space and meeting rooms, and a lounge area.
Ruby Corado, founder and executive director of Casa Ruby, and Bishop Allyson Abrams, founder and pastor of Empowerment Liberation Cathedral, said the Wellness Center will provide a wide range of services for LGBT people in Southeast D.C., including mental health and substance abuse related services and violence prevention and intervention programs.
Corado said that similar to Casa Ruby's headquarters center at 7530 Georgia Ave., N.W., she and her fellow organizers want the new facility in Anacostia to serve as a drop-in center for LGBT people in Southeast, especially young gay and transgender people of color.
"We want to provide them with a safe space," she said. "We want it to be a home for them," said Corado, not a place to live but a place where everyone accepts them for who they are.
Among those participating in a ribbon cutting ceremony held on the front porch of the house now serving as the Southeast D.C. LGBTQ Wellness Center were Sheila Alexander-Reid, director of Mayor Muriel Bowser's Office of LGBTQ Affairs; D.C. Council member Trayon White, who represents Ward 8, where the Wellness Center is located; and Ward 7 Advisory Neighborhood Commissioner Anthony Lorenzo Green, who's gay and a candidate for the Ward 7 D.C. Council seat.
Longtime gay rights and Ward 8 community activist Phil Pannell also attended the LGBTQ Wellness Center opening event.
Abrams noted that another community organization she operates, the Empowerment Justice Center, which provides services for people in need in Southeast D.C., is also serving as one of the partner organizations for the LGBTQ Wellness Center.
She and Corado noted that also providing support for the Center is the nearby Union Temple Baptist Church headed by longtime community activist Rev. Willie Wilson. The LGBTQ Wellness Center is located next to Union Temple Baptist Church's large parking lot, and the church is allowing the Center to use the lot for parking and other activities.
On Thursday, the Wellness Center used a large part of the parking lot for an outdoor dance party and to set up tables and chairs where food was served. The parking lot was also used to set up speakers and a makeshift stage for participants to listen to music played by a DJ and watch performances of singers and poetry readings by the Center's clients and supporters – all as part of the grand opening event.
Among those who will be providing mental health services for LGBTQ Wellness Center clients is Andrae L. Brown, who has a doctorate degree in psychology. Brown told the Washington Blade during the opening gathering at the Center that he expects to be helping, among others, Center clients who suffer from trauma or stress caused by mistreatment from family members or others in the community who are unaccepting and hostile toward them because of their sexual orientation and gender identity.