August 30, 2019 at 10:43 am EDT | by Lou Chibbaro Jr.
D.C. AIDS report shows slight decrease in new HIV cases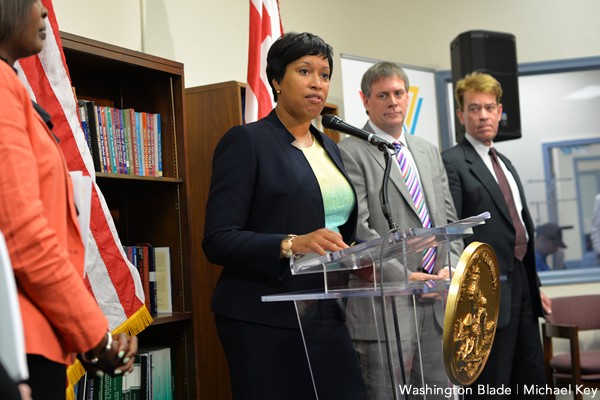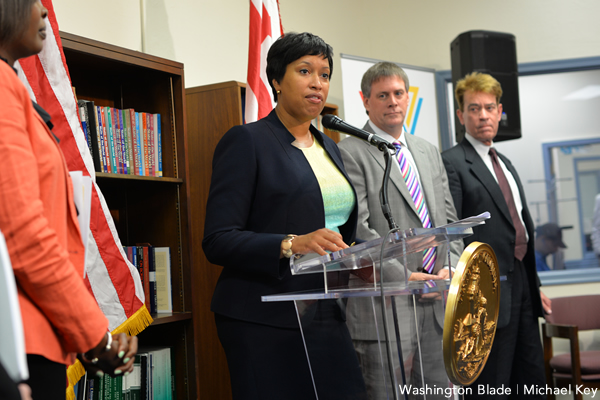 The number of newly diagnosed HIV cases in D.C. dropped slightly from 368 in 2017 to 360 in 2018, the most recent year in which data has been analyzed, according to the city's HIV/AIDS, Hepatitis, STD, and TB Administration (HAHSTA) annual report for 2018.
The report, which D.C. Mayor Muriel Bowser released on Thursday, Aug. 29, also shows there has been "continued improvement in the health outcomes of people living with HIV."
It notes that although the decline in new HIV cases from 2017 to 2018 was small, there has been an overall 73 percent decline from 1,374 cases in 2007 to the most recently annual figure of 360 in 2018.
"By working hand in hand with our community partners, we have been able to not only prevent new cases, but also more quickly deliver treatment to residents who are diagnosed with HIV," Bowser said in a statement.
The report includes these additional findings:
• There were no babies born with HIV in 2018.
• There are 12,322 current residents in D.C., or 1.8 percent of the population, who are living with HIV. "Black and Latino residents with HIV exceeded 1 percent of their respective populations, with black residents disproportionately impacted at 2.7 percent."
• There were 9,007 cases of chlamydia, 4,249 cases of gonorrhea, and 282 cases of primary and secondary syphilis reported in 2018.
• There were 1,515 people with newly reported hepatitis C in 2018.
• For the first time, more than half of people living with HIV in D.C. are older than 50 years.
• The number of new HIV cases among young people ages 20-24 remained level for the past three years. Young people ages 13-24 represent 20 percent of new HIV diagnoses.
• Sexual contact remains the leading mode of transmission reported among newly diagnosed and identified HIV cases.
The 2018 report says that among people newly diagnosed with HIV, 57 percent were linked to medical care within seven days after the diagnoses and 84 percent were linked to treatment within 30 days.
"The report confirms people getting on treatment quicker as the more than two thirds achieved viral suppression within six month," according to a statement released by the mayor's office. "Also, D.C. is close to reaching one of the mayor's goals with 85 percent of persons on treatment having attained viral suppression.
Research has shown that suppression of the HIV virus in the human body through anti-viral drug treatment to the point where the virus is undetectable in medical tests results in close to a zero percent chance that such a person can transmit the HIV virus to someone else.