August 30, 2019 at 4:05 pm EST | by Brian T. Carney
Sidekick-type character takes center stage in 'Brittany Runs a Marathon'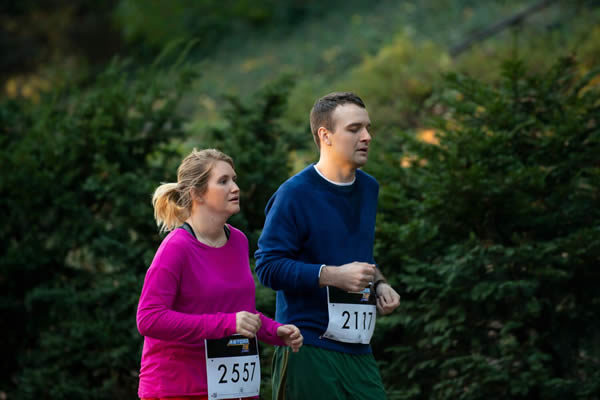 For out playwright and filmmaker Paul Downs Colaizzo, the race to his first movie "Brittany Runs a Marathon" (it opens today in the region) ran through New York and Washington before crossing the finish line at this year's Sundance Film Festival.
The film was inspired by his friendship with Brittany O'Neill. The two met when they were undergraduates at the Tisch School for the Arts at New York University. They fell out of touch after graduation but reconnected a few years later.
"She needed a roommate and I needed a place to live so I moved in with her," Colaizzo says.
Their relationship proved to be stronger than ever, which was especially important for Colaizzo who had recently come out.
"It was the kind of friendship where we could talk about anything. We were able to examine our lives in very real ways and be very vulnerable because we weren't afraid of judgement from each other," he says.
"Real Brittany is the funniest person I know — always has been. She had a way of making everything into a hilarious joke," Colaizzo says. "But her life was also dysfunctional. She was neglecting her student loans and drinking on weeknights. She decided to make a change."
Brittany started running and decided to enter the New York City Marathon. Colaizzo decided to write a screenplay about his friend's experience.
"I finished a draft before Brittany even ran her marathon," he says. "I was writing my hopes and dreams for her."
Colaizzo makes it clear that while cinematic Brittany is inspired by real Brittany, the movie character is not a portrait of his friend. He used her story to dive into his interest in archetypal cinematic characters.
"My concept for the film was to explore the stock character of the hot mess, fat sidekick comic relief party girl," he says. "I wanted to give this character a true hero's journey. I wanted to dig into her past and her behaviors and let the story be both entertaining and emotional."
In the meantime, Colaizzo was also working on other scripts. One of them, "Really Really" caught the attention of Eric Schaeffer and Matthew Gardiner at Signature Theatre in Arlington. In 2012, Gardiner directed the premiere production of the play, which broke box office records at the theater and won a Helen Hayes Award.
A year later, when the award-winning play was produced by Manhattan's MCC Theatre, actor and producer Tobey Maguire happened to catch a performance. Maguire and producing partner Matthew Plouffe met with Colaizzo after the show to discuss working together. The writer told them about "Brittany," and the trio began working on the script.
Once the script was finalized, Maguire and Plouffe started looking for a director, and Colaizzo realized he wanted to direct it himself, even though he had no experience. His request was denied, but he persisted.
"I told them I wanted to protect the character. I was afraid the movie could turn into a lecture or a humiliating broad comedy. I didn't want it to be either of those things. I wanted to present a reality. I wanted to be steering the ship."
He created a look book and storyboards for the movie and talked to the producers again. This time they said yes.
Colaizzo's first task as writer/director was to cast the role of Brittany. He decided on Jillian Bell, known for her work on "Saturday Night Live" and for her appearances in "Rough Night" and Lynne Shelton's "Sword of Trust."
Bell became fiercely committed to the role. Colaizzo recalls.
"She signed on seven months before we were scheduled to start filming. We met once a week to go over the script word for word to make sure we were on the same page when we got to set. Jillian understood that Brittany is both the protagonist and the antagonist of the story, trying to conquer her own self-destructive behaviors."
Colaizzo was also impressed by Bell's commitment to capturing Brittany's physical transformation.
"She started running," the writer/director says, "and had her family members record her progress to help her recreate that journey on film. She also took it upon herself to lose the same amount of weight the character did — 40 pounds."
The character's weight loss led to another challenge for the first-time director — capturing the gradual changes in Brittany's body over the course of several months during a 28-day film shoot.
The filmmaker explains how he and his crew used movie magic to capture Brittany's physical transformation.
There's a scene at the very beginning of the film where Brittany's sitting on the couch looking at her Facebook photo. That's a photo of Bell that was taken a year before filming. The Brittany seen on the couch is a recreation of that image using prosthetics, hair, makeup, costume and body padding. Various combinations of those movie tricks were used throughout the film.
As Colaizzo finished work on his first movie, he got to enjoy another D.C. connection. In 2013, Signature Theatre produced his play "Pride in the Falls of Audrey Mill" starring Christine Lahti. As he worked on the final edits of "Brittany Runs a Marathon" at the Sundance Editing Lab, he discovered that Lahti was one of his advisors on the project.
In the spirit of the indomitable woman who inspired the movie, "Brittany" won the Audience Award at this year's Sundance Film Festival. D.C. audiences can now enjoy the cinematic debut of out filmmaker Paul Down Colaizzo, who hopes that he will be returning to Signature Theatre sometime soon.