September 6, 2019 at 11:16 am EDT | by Brian T. Carney
Lesbian literary film 'Vita & Virginia' fails to catch fire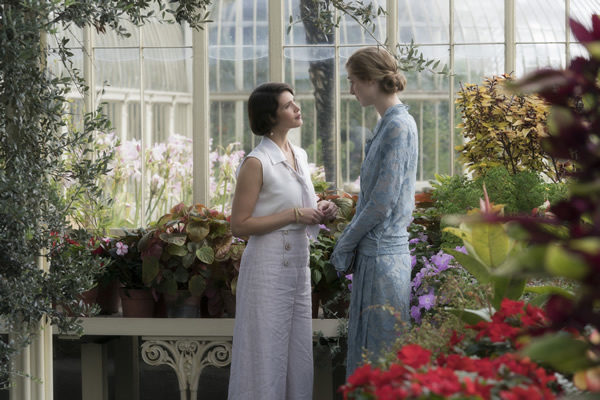 As writer/director Chanya Button's new film "Vita & Virginia" demonstrates, sometimes the journey from stage to screen can be a perilous one.
Virginia Woolf (1882-1941) and Vita Sackville-West (1892-1962) were central figures in the Bloomsbury Group, a loose-knit collective of intellectual and sexual rebels. The legendary "set" also included Virginia's husband Leonard, founder of the Hogarth Press; Virginia's sister Vanessa, a post-impressionist painter and her husband Clive Bell, an art critic; the painter Duncan Grant; the economist John Maynard Keynes, the biographer Lytton Strachey; and author E.M. Forster.
Woolf (Elizabeth Debicki, "Widows") became a literary icon, a modernist pioneer known for "Mrs. Dalloway," "Orlando: A Biography" and "To the Lighthouse," as well as the highly influential feminist essay "A Room of One's Own." Although her works were popular at the time, Sackville-West (Gemma Arterton) is now best known for her scandalous extra-marital affairs with women.
Woolf met Sackville-West at a dinner party in 1922. While their sexual affair was passionate but brief, they remained devoted friends until Woolf's suicide in 1941. Their relationship propelled both women into the most productive periods of their literary lives, and Sackville-West's popular novels helped keep the Hogarth Press solvent.
The two women exchanged hundreds of letters which became the basis for "Vita &Virginia," a 1992 two-woman stage play by actress and playwright Dame Eileen Atkins ("Gosford Park" and "The Crown"). Atkins played Virginia to rave reviews; her Vitas included Penelope Wilton and Vanessa Redgrave.
Filmmaker Chanya Button decided to turn the play into a movie, but sadly her adaptation never really catches fire. She expands the cast by adding the two husbands, but never really fleshes out the two fascinating marriages. Peter Ferdinando is Leonard Woolf, Virginia's devoted husband who encourages her writing and cares for her during her periods of severe depression. Rupert Penry-Jones is Vita's husband, the diplomat Harold Nicholson. Both Nicholson and Sackville-West had numerous affairs with same-sex partners, but Nicholson was frequently upset at her lack of discretion and her inability to be a proper society wife.
Neither husband gets much screen time.
Button also adds Lady Sackville (Isabella Rossellini), Vita's imperious mother, to the cast. Button reduces the eccentric schemer to a haughty English aristocrat, but Rossellini looks great in the period costumes and has fun with the role.
Button also adds a few of Vita and Virginia's Bloomsbury friends to the mix, but she never captures their groundbreaking intellectual accomplishments or their rebellious queer sexuality.
Duncan Grant (Adam Gillen), for example, comes off as a silly but pleasant fop, a characterization which does not do justice to his complicated relationship with Vanessa (Emerald Fennell), his many male lovers (none of whom are seen in the film) or his art.
Button portrays the Bloomsbury Group as a bunch of decadent dilettantes who give cute costume parties and that lack of context robs the lead characters of depth. Woolf becomes a neurotic genius and Sackville-West becomes a predatory party girl. Debicki has a few fine moments, but Arterton and the rest of the cast seem adrift. The pacing is slow and the chemistry between the leads is weak. Arterton keeps throwing smoldering glances everywhere, but no one seems to notice, especially Virginia. The costumes and décor are lovely but bland, except for the imposing door to Virginia's study.
There are a few moments that do show some cinematic life and give a hint of the movie that might have been. Sparks fly when Vita finally gets Virginia to bed. The camerawork is lush and the passion is intense as Virginia finally lets down her guard and yields to Vita's insistent advances. Virginia's hallucinations, including an attack by a flock of crows, are also an interesting expression of her unspoken panic that help to break the film from its stage roots.
Debicki and Button also create some fascinating sequences that show Woolf at work. It's lovely to watch and hear Woolf's fountain pen scratch across the page as she writes "Mrs. Dalloway;" it's a great reminder that writing is hard work and that the past was a very different place than the present. It's fascinating to watch Woolf dive into the writing of the gender- and genre-busting "Orlando." The lead character, who switches genders, is based on Vita, who seems both pleased and rather startled by the intense scrutiny.
There's also a beautiful passage where contemporary music underscores Vita's arrival at her first Bloomsbury party. It's an effective evocation of her temporary disorientation and a reminder that Virginia and her friends really were ahead of their times.
But overall, Button's adaptation of Atkins' wonderful script doesn't work. She never really finds the cinematic tools to move the material from the stage to the screen.
You may be better off exploring other works inspired by Virginia Woolf (like Michael Cunningham's novel "The Hours" or its fine cinematic adaptation by Stephen Daldry, or Sally Potter's magical adaptation of "Orlando" with Tilda Swinton, Billy Zane and Quentin Crisp as Queen Elizabeth I) or just diving into Woolf's brilliant novels and letters (pro tip: read them aloud).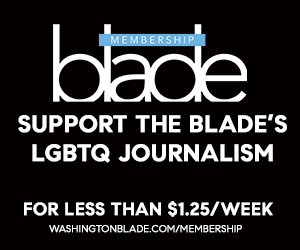 Sign Up for Blade eBlasts