September 11, 2019 at 9:38 pm EDT | by Brian T. Carney
FALL ARTS 2019: FILM — Just 'Judy'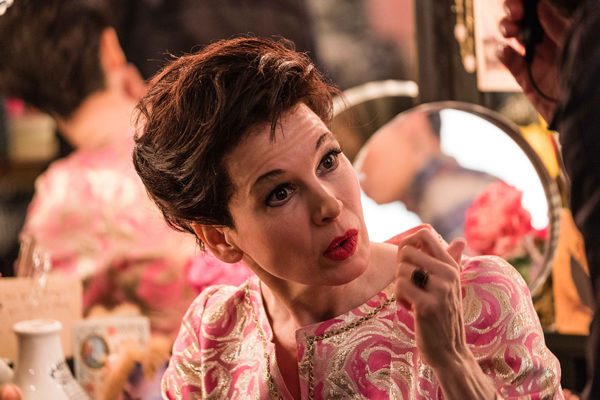 The fall movie release schedule is so crowded that the high-power holiday feature "Last Christmas" with Emilia Clarke, Emma Thompson, Henry Golding and Michelle Yeoh is opening Nov. 8 to avoid the holiday crunch.
Following in the wake of "It: Chapter Two" which opened last Friday, the fall movie season gets off to a busy start today with several notable openings: "Hustlers," a stripper drama with Constance Wu, Jennifer Lopez, Cardi B, Lizzo, Julia Stiles and trans actress Trace Lysette; the documentaries "Linda Ronstadt: The Sound of My Voice" and "Raise Hell: The Life & Times of Molly Ivins;" the prestige prep school drama "The Goldfinch;" the excellent documentary "Fiddler: Miracle of Miracles" about the beloved musical; and, the queer indie coming-of-age drama "This Is Not Berlin." 
The following Friday (Sept. 20) offers a little something for everyone: The posh historical drama "Downton Abbey" with Maggie Smith, the action-packed "Rambo: Last Blood" with Sylvester Stallone; and the philosophical space drama "Ad Astra" with Brad Pitt.
Two very different pieces of queer history get spotlighted on Sept. 27. The biopic "Judy" stars Renée Zellweger as the legendary Judy Garland set in 1969 (the year of her death) as she preps for a run of concerts at London's Talk of the Town; the documentary "Where's My Roy Cohn?" about the ongoing legacy of McCarthy protégé and Trump mentor Roy Cohn. 
In honor of the Gay High Holy Days (aka Halloween), the Angelika Theatres (the Pop-Up at Union Market in DC and the Mosaic in Fairfax, Va.) are celebrating "Hitchcocktober." Every Wednesday in October they'll screen a different Hitchcock classic, ending with "Psycho" on Oct. 31. Tickets are available at angelikafilmcenter.com/dc.
Fall is a peak season for world-class film festivals in Washington. The Latin American Film Festival is already underway at the AFI Silver in downtown Silver Spring. Some of the remaining queer highlights include "I Miss You" (Tu Me Manques) about a father coming to terms with his late son's sexuality; "Lemebel," a portrait of queer Chilean artist and activist Pedro Lemebel; and, "Original Sin" (Pecado Original), a satire about fragile masculinity.
Information on the Festival and other AFI programming (including the Spooky Movie International Horror Film Festival) is atafi.com/silver.
Next up is the annual D.C. Shorts Film Festival which opens next Thursday (Sept. 19) and runs through Sept. 28. There's always a great slate of LGBT films, as well as parties, workshops and a screenplay competition. This year's schedule can be found at dcshorts.com.
Running Sept. 22-29, the multi-disciplinary March on Washington Film Festival (marchonwashingtonfilmfestival.org) includes "Sisters That Swing," an evening of vintage short films about black female singers including portraits of queer performers Billie Holiday, Ethel Waters, Bessie Smith and Josephine Baker. The opening night gala will honor lesbian poet and activist Nikki Giovanni.
After a year of wandering in the cinematic wilderness, JxJ is moving into its new space at the renovated Eldavitch D.C.-JCC. The festival which celebrates Jewish art, music and cinema will now be offering year-round programming starting with an encore presentation of "The Tobacconist" starring the late Bruno Ganz as Sigmund Freud (Oct. 20-26). Information on the center's programming is at jxjdc.org/schedule.
Every fall, Hollywood meets Capitol Hill at the renowned Middleburg Film Festival in Virginia wine country one-hour west of the Washington monument. Running October 17-20, the festival includes sneak peeks at Oscar contenders, Q&As with filmmakers and discussions with D.C. power brokers, as well the chance to visit local wineries and award-winning restaurants. Details are at middleburgfilm.org/the-festival.
Reel Affirmations, D.C.'s festival of international queer cinema will return Oct. 25-27 with a wide array of films that celebrate rich LGBTQ lives. In the meantime, the Monthly RA Xtra film series continues with the deeply moving documentary "Gay Chorus Deep South" on Sept. 19 at the Landmark E Street Cinema. For information on tickets or volunteer opportunities, go to thedccenter.org/reelaffirmations.
The Maryland Film Festival (mdfilmfest.com),which was recently named one of Moviemaker Magazine's 25 Coolest Film Festivals, offers provocative year-round programing at the SNF Parkway Theatre in Baltimore. Upcoming shows include "Vision Portraits," a documentary by queer filmmaker Rodney Evans about the creative paths of artists who are blind or visually impaired.
Several queer auteurs (old and new) have movies coming out this fall. Antonio Banderas stars in Pedro Almodóvar's semi-autobiographical "Pain and Glory" (Oct. 11). François Ozon returns with "By the Grace of God," a drama about clerical sexual abuse (Oct. 25). Ira Sachs directs "Frankie" starring Isabelle Huppert as an ailing actress and Pascal Gregory as her gay ex-husband (Nov. 1). Finally, newcomer Lucio Castro delivers the sizzling relationship drama "End of the Century" (Nov. 8). 
Some of the other interesting fall releases include:
"Joker" starring Joaquin Phoenix (Oct. 4)
"Lucy in the Sky" starring Natalie Portman (Oct. 4)
"Maleficent: Mistress of Evil" with the magnificent Angelina Jolie (Oct. 18)
"Zombieland: Double Tap" a sequel to the 2009 comedy with Jesse Eisenberg, Emma Stone, Woody Harrelson and Abigail Breslin (Oct. 18)
"The Current War" about the electric battle between Thomas Edison (Benedict Cumberbatch) and Michael Westinghouse (Michael Shannon) (Oct. 25)
"Terminator: Dark Fate" with returning stars Edward Furlong, Linda Hamilton and Arnold Schwarzenegger (Nov. 1)
"Doctor Sleep" (Nov. 8) based on the Stephen King novel
"Charlie's Angels" (Nov. 15) directed by camp goddess Elizabeth Banks, and
"Ford v. Ferrari" (Nov. 15) with Christian Bale and Matt Damon
Before the holiday onslaught begins (with "A Beautiful Day in the Neighborhood," "Frozen II," "Aeronauts," "Bombshell," "Cats," "Knives Out," "Star Wars: The Rise of Skywalker," "1917," and Greta Gerwig's fresh take on "Little Women"), there is one movie that should be on everyone's list: "Harriet." Directed by Kasi Lemmons ("Eve's Bayou"), the movie stars Cynthia Errico as Harriet Tubman and features Janelle Monáe, Joe Alwyn, Vanessa Bell Calloway, Vondie Curtis Hall and Leslie Odom. Jr. (Nov. 1).