September 19, 2019 at 1:40 pm EDT | by Joey DiGuglielmo
QUEERY: Timur Jonathan Tugberk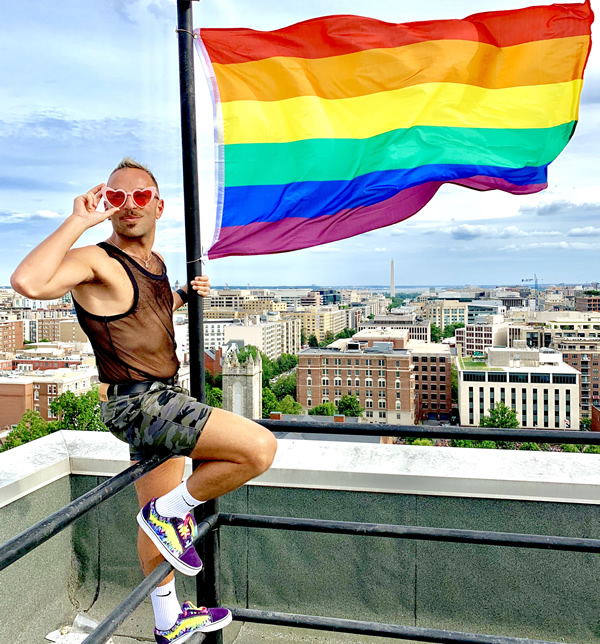 Timur Jonathan Tugberk is a name you don't encounter every day.
Timur is derived, he says, from the Islamic conqueror Tamberlame, a "ruthless warrior who invoked fear and respect, I love this," he says. His grandfather invented the name Tugberk when Turkey went from a secular to non-secular state and adopted a more Western-like alphabet.
"My original last name was Carpizoglu, which means son of a watermelon," he says. "I love telling this story."
In October 2016, Tugberk rebranded his company (it was called "Timur Tugberk Events, Interiors & Media") as Designing the District, a full-service creative consultancy and media agency. With it, he handles interior design, web design, graphics, photography, organization, life and lifestyle coaching, videography, strategy, brand development, marketing, social media, product design and much more. He's had more than 100 clients.
"We take a design philosophy to creative problem solving," says the 35-year-old Potomac, Md., native. "We see creativity as a method to achieve desired results and purposeful outcomes, whatever the task or challenge may be."
For his work, Tugberk was named Best Local Influencer in this year's Best of Gay D.C. readers' poll awards. He's online at designingthedistrict.com.
"I 100 percent campaigned for it," Tugberk says. "I am a marketer at the core and have a slight competitive flare. I am so honored to be voted this by my peers and hometown."
He also says his being gay factors in unabashedly to his work.
"I live my life very out, loud and proud," he says. "Being as the business is a greater manifestation of myself, the gayness comes along with that."
Tugberk is "single and ready to mingle." He lives with his dog, Wylie, in Logan and also part-time in Miami. He enjoys fitness, travel, real estate, skin care, snuggles, art, eventing, cars, tech and languages in his free time.
How long have you been out and who was the hardest person to tell?
Nineteen years; my parents.
Who's your LGBTQ hero?
Harvey Milk
What LGBTQ stereotype most annoys you?
All gays can dress, design and create.
What's your proudest professional achievement?
Being able to escape the corporate archetype and trust my gut owning my own business.
What terrifies you?
Spiders
What's something trashy or vapid you love?
Not mad about pumpkin spice.
What's your greatest domestic skill?
Home design.
What's your favorite LGBTQ movie or show?
"Will & Grace"
What's your social media pet peeve?
Thoughtless content.
What would the end of the LGBTQ movement look like to you?
There is no end, we gotta keep pushing!
What's the most overrated social custom?
Nightly drinking
What was your religion, if any, as a child and what is it today?
My parents did not impose organized religion on us, however I was raised "Jewish." I'd say now I'm a little bit of everything-ish.
What's D.C.'s best hidden gem?
The Clif.
What's been the most memorable pop culture moment of your lifetime?
Spice Girls, hands down.
What celebrity death hit you hardest?
Robin Williams
If you could redo one moment from your past, what would it be?
To stay living in France at the end of high school.
What are your obsessions?
Shiny things.
Finish this sentence — It's about damn time:
we all recycle, stop using fossil fuels and be kind to each other.
What do you wish you'd known at 18?
There's no escape from yourself.
Why Washington?
Hometown pride baby!