September 20, 2019 at 11:45 am EDT | by Kevin Majoros
Busy rugby career keeps former Navy commander busy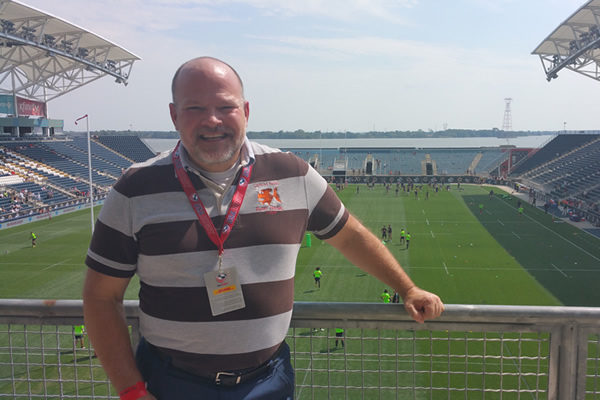 When rugby players reach the end of their playing career, they either leave the sport, become coaches or referees.
Gus Ventura was about eight years into his life as a rugby player when he tore his ACL for a second time. Knee injuries can be repaired, but the end of his playing career came with a direct order from his superior officer, an Admiral in the Navy.
"He said I always looked like I had been in a bar fight and it wasn't a good look for a senior officer," Ventura says. "As a Naval Commander in charge of people, the role of coaching was a good fit for me to stay in the sport of rugby."
Ventura grew up in Tulsa and played baseball as a youth along with soccer on his high school team. As part of the Navy ROTC program at University of South Carolina, sports were replaced by the program's fitness regimen.
He began a 20-year stint in the Navy as a surface warfare officer that bounced him to locations all over the world. His first exposure to rugby happened when he was serving in Australia.
He was reassigned to Washington in 1992 and while he was playing soccer on the National Mall, he was approached by players from the Potomac Athletic Club rugby team. He was hooked after the first practice and stayed with the club for eight years.
"I loved my teammates and playing with the club, but there was a lot of homophobic banter," Ventura says. "I don't think they realized how hurtful it was and I stayed in the closet for fear of rejection."
In the late 1990s, Ventura responded to a Washington Blade ad about a new rugby team that was forming for gay players. The ad was placed by Mark Hertzog and the Washington Renegades would become the first men's rugby club in the United States to actively recruit gay men and men of color.
"A lot of people don't know that Mark's original intent was to start a rugby fetish club. The people who showed up actually wanted to play so we began organizing practices," Ventura says. "A couple of my Potomac Athletic Club teammates, who I did not know were gay, also showed up."
After the ACL tear, Ventura became the first coach of the Renegades for three years before moving on to coach Catholic University for the next three years.
He was transferred by the Navy to California where he continued coaching with the San Diego Armada and helped start the Los Angeles Rebellion, both LGBT-based rugby teams.
After retiring from the Navy in 2008, Ventura returned to D.C. because he was accepted into the Ph.D program at George Washington University School of Engineering with a focus on emergency management.
Ventura's work in the international rugby community started a few years before that when he began coaching the IGR World Barbarians in the 2006 Bingham Cup which is hosted biennially by International Gay Rugby (IGR).
IGR, which is based in London, is the umbrella organization for gay and inclusive rugby clubs around the world. The Bingham Cup held in Amsterdam in 2018 drew 2,200 players including local gay players.
"The IGR World Barbarians is made up of players who don't have a team in their country. They come together to play every two years in the Bingham Cup," Ventura says.
The IGR has grown faster than expected over the last four years leading its organizers to establish regional representation contact points, electing Ventura as the North America East representative and then the first trustee for North America.
"The sport of rugby builds a resilience in people and in teams which leads to a sense of connection," Ventura says. "If you are lucky enough to be a part of something people care about, that means they also care about you. We are advocating for a sense of belonging for LGBT athletes."
Extending that thought process to USA Rugby and the United States Olympic Committee, Ventura presented before them a plan to develop programs in youth and high school rugby for LGBT players. It led to the first rugby national governing body to sign on with International Gay Rugby.
Coming up for Ventura will be coaching three IGR World Barbarians teams at the International Inclusive Cup on October 5 in Tokyo. The event takes place during the Rugby World Cup 2019 and it marks the first openly gay rugby ever to be held in Japan.
Still based in D.C., Ventura finds time to work on his research patent and is enjoying married life with his husband, Jordan. The pair have been together since 2009 and though Ventura had already proposed, they sped up their wedding over marriage equality concerns after the election of our current president.
For Ventura, the belonging, the sense of purpose, the rugby brotherhood — they point to a place where people can be supported as individuals regardless of their body type, gender or identity.
"In rugby, it doesn't matter what you weigh or how tall you are, there is a role for everyone, and everyone can be a contributing member," Ventura says. "Gay athleticism is coming of age and it is having a wonderful impact on our community."