September 7, 2019 at 8:42 am EDT | by Kevin Majoros
Area cornhole league offers friendly competition, low-impact sport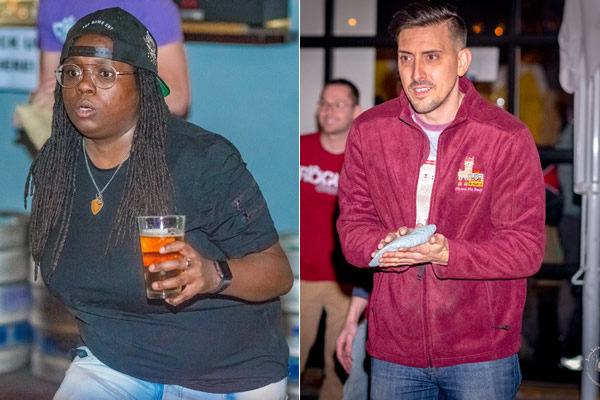 The Washington Blade All Star series showcases local athletes playing in LGBT sports leagues. This week we meet two players from Rogue Cornhole who are competing in season three of the league, which began Wednesday at The Midlands.
Originally from Washington, Mica Willis lived overseas in Saudi Arabia, Peru and Mexico while her mother worked for the State Department. At age 9, she began playing soccer while living in Saudi Arabia.
She continued playing as a goalie in women's and co-ed soccer leagues while attending the College of William & Mary. An internship and employment with the LGBTQ Victory Fund brought her back to the D.C. area in 2013.
Her first step into the LGBT sports community was with Stonewall Dodgeball in 2015, which she says was an intense experience. Her fiancé Emily is a Charm City Rollergirl and Willis subsequently suffered a broken ankle during a casual skate.
She had surgery in late 2016 and spent a year re-learning how to walk. It looked like her sports career was over and she joined a flip cup league to stay socially active.
Also playing in the flip cup league was Kevin Comerford who would go on to launch Rogue Cornhole last fall.
"I had been thinking a lot about the LGBT sports community and how there are not very many women playing, especially queer women," Willis says. "I have a lot of gay male friends but not many lasting friendships with queer women."
Recruiting co-workers at her current place of employment, NGP Van, Willis formed a lesbian-only team called the Funbags.
"I had all these friends at work, and we needed an excuse to hang out outside of the office," Willis says. "Rogue Cornhole has a chill vibe and is not clique-y. Playing cornhole in a cool bar is a great ending to a stressful day at work."
Willis is eventually hoping to try a few more low-impact sports such as golf or billiards. In the meantime, she has a technique that works for her in the sport of cornhole.
"There is a process and I can't throw without a beer in my hand. In the winter league, it's a hot toddy and its part of my balance," Willis says. "I need a two-three beer warmup before I am at my sweet spot. It is my hurdle to compete well."
Daniel Ferrucci grew up in Grove City, Pa., and played high school basketball, golf and track & field as well as club volleyball.
He started his collegiate career at Adrian College before transferring to University of North Carolina Wilmington where he broke records in track & field. A job in corporate retail moved him to D.C. in 2009.
Fulfilling something he always wanted to do, Ferrucci started playing ice hockey and has been with the same group in Fairfax for eight years. His entry into the LGBT sports community began with Stonewall Kickball, Rogue Darts and Stonewall Dodgeball.
Ferrucci was running Cornhole for a Cause, which benefits SMYAL, when he was approached by Rogue League Sports for advice on starting a cornhole league.
"It has been exciting to watch the growth of it. One thing they have done well is grounding the competition — there is no judgement of anybody," Ferrucci says. "It is very inclusive, and everyone gets a long really well. In cornhole, you get the opportunity to talk and meet people you wouldn't normally meet."
Along with hockey and Rogue Cornhole, Ferrucci is also playing Rogue Darts and Stonewall Kickball. He is joined in cornhole, darts and kickball by his partner John.
"I met John when we were teammates in 2014 in Stonewall Kickball," Ferrucci says. "There is an unspoken rule that you shouldn't date within the team, so we had to keep it under wraps."
With so many sports commitments, Ferrucci still found it important to return to Rogue Cornhole for season three.
"After living in Pennsylvania, Michigan and North Carolina, I can say that cornhole has always been in my life," Ferrucci says. "My Rogue Cornhole team is part of my core group of friends and the laid back chill mentality of the league opens the door to new friendships. It is so much fun."