October 22, 2019 at 7:00 am EDT | by Ava Benach
As World Series starts, Nationals need to do better for LGBTQ fans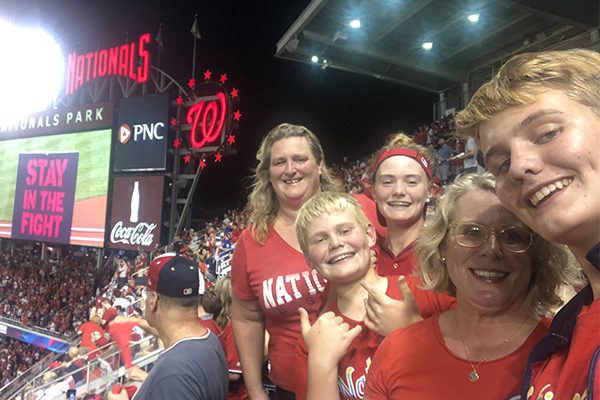 I spend a lot of time on baseball. I have coached in Capitol City Little League for close to ten years. I was an All Star coach last year. I founded DC Girls Baseball. I play baseball with the Eastern Women's Baseball Conference with my daughter who is a starting pitcher for D.C.'s Wilson High School Baseball Team. Not only am I on the field a lot as a coach and a player, I am a fan. My family and I attend roughly a dozen Nationals games a year. We know the drill. We have a favorite entrance, favorite seats and vendors that know us by name. One year, after DC Girls Baseball won a national championship, the Nationals invited our team onto the field to be recognized before a game. When we repeated, Sean Doolittle extended a personal invitation to us to meet him at the Nationals Park.

We were at Nats Park for playoff heartbreaks in 2012 against the Cardinals and in 2017 against the Cubs. So, my family was pretty excited when we were headed to Game 4 of the National League Championship Series. The five of us had attended the Wild Card game and watched every inning of the playoff run together. We were overjoyed with the chance to watch history, but trouble started before we even got in the gate.

I placed my purse on the table for examination at the LF gate. Same purse I brought to the Wild Card game — all baseball fans are superstitious. But this time, the guard decided it was a "bookbag" and prohibited under Nationals policy. I objected and a ruling was sought from a supervisor. The supervisor looked at the bag and looked at me and said, "sir, this is a bookbag." I objected to being called sir. I am a transgender woman and have been called "sir" before, although, thankfully, not so much anymore. I pointed out that I carried my wallet, keys, makeup and sunglasses in the bag and there was not a book to be found. But the supervisor kept calling me sir. My wife and kids smartly hustled me out of the confrontation and we went to another gate where the purse and I were welcomed into the stadium.

Although in the stadium, my encounter with Nationals security left a bitter taste in my mouth. I am confident that the guard's refusal to see me as a woman contributed to the decision to call my purse a bookbag. I think that he saw me as male and decided that I was not carrying a "purse" because men do not carry purses. The bitter taste lingered as the Nationals put up seven runs. I was there but did not have the joy I had before I got to the stadium. We will watch the World Series from our couch.

My family had a great time at Pride Night at Nationals Park and we are all grateful for Sean Doolittle who goes out of his way to support the LGBTQ community. However, inclusion and welcome are not things that are only practiced on Pride Night. It is a way of conducting business and my experience suggests that the Nationals need to do more to make sure that everyone who works for them values all of their fans and provides them with the respect they deserve.