December 13, 2019 at 10:32 am EST | by Sarah Toce
First four episodes engrossing, promising for 'L Word' reboot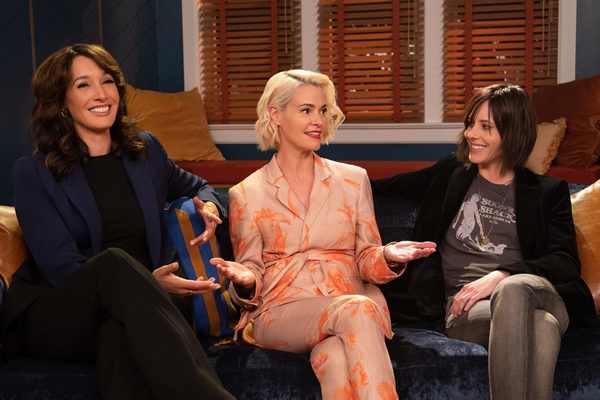 "The L Word: Generation Q" debuted on Showtime this week, breaking a global Sapphic fast lasting over a decade. 
The expectation by fans and industry leaders to deliver an adequate, if not above par, script was surpassed exponentially with the premiere of this reinvented treatment by original series creator Ilene Chaiken and executive producer Marja-Lewis Ryan. Dubbed by Showtime as "a bold new show, for a bold new generation," the thought-provoking storyline captured the essence of the LGBTQ culture spanning, literally, generations. Old and new fans of the show should watch and take heed: this isn't your mother's "L Word."
Original series cast members Jennifer Beals (Bette Porter), Kate Moennig (Shane McCutcheon) and Leisha Hailey (Alice Pieszecki) were each given dedicated screen time to reprise their roles and placement in lesbian cultural iconic history, resulting in a hodgepodge of storylines tilted here and there. The result was a reunion in the city that birthed them right in front of our eyes — Los Angeles, baby!
I've had the opportunity to review the first four episodes of "The L Word: Generation Q" and, like a vintage red wine at Jenny Schechter's memorial service, this show ages with ease.
Spoiler alert: This is where you leave if you don't want to know what happens next.
Shane is married and avoiding deliverance of divorce papers like the plague (it's complicated), Alice is in a relationship with a divorcee with kids and has her own televised talk show (where, oddly, they don't mention The Chart, but they do talk about vaginal rejuvenation and coffee preferences, not related), and Bette has hot flashes. Tina (Laurel Holloman), although not on-screen for the first four episodes at least, makes a substantial impact in the storyline whenever Bette fails to parent Angelica "properly."
Oh, and for loyal viewers of the original series, did you catch the Easter egg in Angelica's room during the first episode? There's artwork hanging on the walls and Mama T is an artist by trade in real life.
Time to pull the band aid off: Jenny (Mia Kirshner) is referenced in "Gen Q," but only when Bette is forced to reveal skeletons in her closet during her mayoral campaign. About that, remember the time Bette had sex with a married woman? That comes back to bite her in the ass as well and the relationship might still have legs.
While I wouldn't quite call the introduction of the new "Gen Q" cast members a hand-off, it might be more or less appropriately referred to as a training sesh for both generations equally involved. The new cast is decidedly more diverse than the original cast, with representation by a transgender actor and several queer people of color.
Bette and relative newcomer Arienne Mandi, who plays ultra-fly PR exec Dani Nùñez, are a prime example of the generations coming together for a common story. Although the two originally butt heads, the stand-off at the end of episode one puts them on the same team where they stand the chance to win it all. As the series progresses, Bette helps Dani with defining her own terms ("How do you sleep at night?") and Dani helps Bette recover from scars of the past. Bette and Dani could learn a few things about matters of private conscience, but they have room to unite immediately on issues concerning public grit and determination. And we can't wait to see how their lives continue to intersect on the campaign trail.
This brings us to Shane and her mini-me, played by the gorgeous Jaqueline Toboni as Sarah Finley. "Finley" is a captivating new addition to the drama, much like Shane was in the original. Some might argue she demands screen time even more so with her ingénue approach and contagiously wide smile. Finley and Shane connect while discussing their living situations and, to cut to the chase, end up cohabitating in Shane's massive complex. Sexual escapades in need of fine tuning are no match for the older but wiser Shane as she reluctantly takes Finley under her wing. With her divorce papers not even signed, Shane buys a lesbian bar for a new fling, who happens to be married herself. Lonesome Shane strikes again, but with a ton more money this time around. What else will she do?
Trans man Leo Sheng enters the scene as professor Micah Lee, a tender heart with the desire to carve out a spot all his own. In the handful of the first few episodes, we watch as Micah blossoms through love, heartache and a deeper understanding of what it means to live an authentic life — awkward first dates and all.
Rosanny Zayas plays Alice's TV producer Sophie Suarez, an attractive sweetheart who captures Dani's heart, but also challenges her to rise up and become her own person outside of her family's fortune and expectations. Sophie works and lives alongside not only her new fiancé Dani, but also Finley (for a time) and Micah in Koreatown. This new group of close-knit friends resembles the old guard, but with a fresh new twist.
"Gen Q" cameos so far include lesbian staples Fortune Feimster and soccer champion Megan Rapinoe.
Admittedly, if one considers oneself to be anti-label or not a lesbian so much as expected by societal norms, there's still much to be found in this reboot. "Gen Q" establishes the art of self-discovery whether queer, bi, gay, lesbian, trans, gender non-conforming, and on and on down the line of alphabet soup — an antiquated term that might not even be appropriate to use anymore, but the closest thing possible to explaining that if you are a human being, you will be moved by "Gen Q."
Find out more of the scoop by visiting sho.com/the-l-word-generation-q and following @sarahtoce on Twitter, Facebook and Insta.