February 4, 2020 at 3:58 pm EST | by Ed Gunts
New gay-owned lounge opens in Baltimore on Feb. 7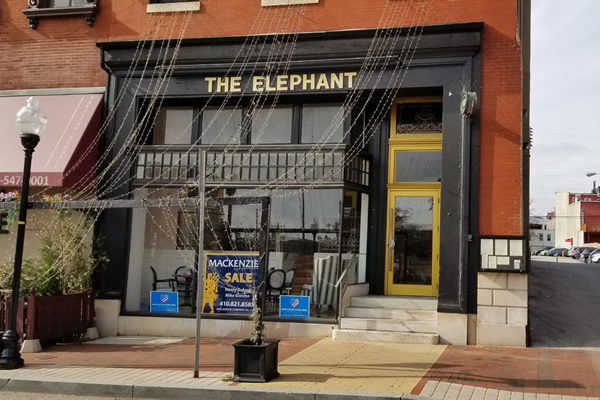 Baltimore will finally find out what an ultra-lounge is, when the city's newest gay-owned nightspot celebrates its grand opening on Friday, Feb. 7, following a launch party Thursday night.
The Manor is the name of a restaurant and ultra-lounge that has taken the place of The Elephant, an upscale restaurant that closed last June at 924 N. Charles St. in Baltimore's Mount Vernon neighborhood.
The operators are Robert Gay and Joshua Persing, who opened the popular G.A.Y. Lounge on Charles Street in 2017 but closed within six months after a dispute with the landlord.
They have been working overtime to put the finishing touches on their latest venture, inside a painstakingly restored four-story townhouse that dates from the 1800s. At a recent meeting of the city's liquor board, Gay said the Manor will have 99 seats downstairs and 50 upstairs, with outdoor seating as well.
Persing has said the Manor is not meant to be "gay-centric" but will be gay friendly. He told a gathering of the Mount Vernon Belvedere Association that the restaurant will be open for lunch and dinner and will serve modern American cuisine.
The chef is Parker Greene, a Baltimore County native who has worked at the Oregon Grille and the Manor Tavern. The general manager is Brian Scott, a veteran of City Café, and Sascha's Catering in Mount Vernon. The business has permission from the liquor board to offer live entertainment indoors and off-premise catering.
Starting this weekend, The Manor will feature drag brunches, with Brooklyn Heights (Ryan Butler) as the host on Saturdays and Evon Michelle as the host on Sundays. Other performers include Anita Minett, Bambi Necole Ferrah, Iyana Deschanel, Ariel Von Quinn (Michael Sauter), and Washington Heights (Kyle Sharp.) Admission is $12.50. Doors open at 11 a.m. and showtime is 12:30 p.m.
At the community meeting, several area residents asked the operators what they meant by the term ultra-lounge, saying they don't want it to be a rowdy nightclub. "The word ultra-lounge," Persing explained, "is simply meant to portray an upscale lounge."
The Manor is opening just as another business in Mount Vernon, Grand Central nightclub, is preparing to shut down.
The nightspot at 1001-1003 North Charles St. was acquired last Feb. 28 by a development group that later announced plans to build an eight-story office building in its place. The new owners, Landmark Partners, said they would keep Grand Central open until they are ready to begin construction.
Landmark is scheduled to appear before Baltimore's zoning board on Feb. 11 to get approval for the eight-story office building. It's one of the last approvals the developers need in order to get a building permit.
Grand Central has remained busy since the building was sold last February, and Landmark hasn't announced a specific date for closing. A Grand Central employee said last weekend that the business may close in late February or early March, depending on how the owners make out in obtaining construction approvals from the city.