February 14, 2020 at 1:43 pm EST | by John Paul King
Imagine Dragons' Reynolds takes LGBTQ advocacy to Washington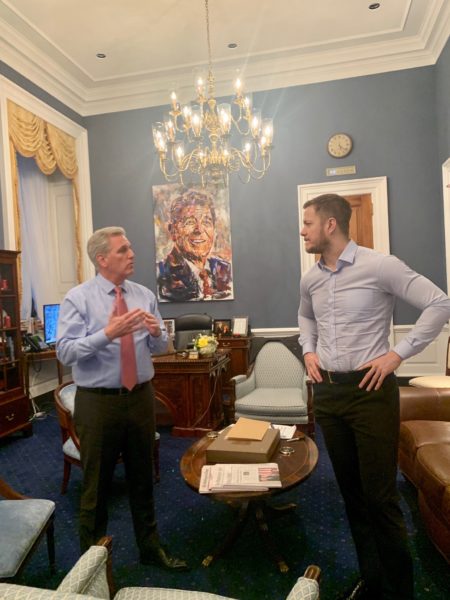 Dan Reynolds is not gay, but he takes being an LGBTQ ally very seriously.
The Imagine Dragons frontman has long been a fierce and dedicated advocate for LGBTQ acceptance, something he recently took to the next level by heading to Washington, DC, to meet with federal lawmakers about implementing a nationwide ban on so-called "conversion therapy."
Reynolds, joined by Neon Trees' Tyler Glenn and "RuPaul's Drag Race" star Carmen Carrera, met earlier this month with several lawmakers, including Rep. Sean Patrick Maloney, Co-Chair of the Congressional LGBT Equality Caucus, and Rep. Ted Lieu, a Vice-Chair of the Equality Caucus, at the U.S. Capitol, to lobby for a federal ban on conversion therapy. In his social media posts, Reynolds shared that they also spoke with Speaker Nancy Pelosi, Sen. Mitt Romney, and Rep. Kevin McCarthy, among others.
After visiting with the lawmakers, Reynolds said, "Sadly it takes a straight man with a lot of privilege to come in as well, to actually get things done. And I think that's a damn shame, in 2020 something you'd think would not be necessary. But it's just a truth of the matter."
Only 19 states currently ban conversion therapy, though Virginia's State Senate last month passed a bill banning the practice and the state's House of Representatives passed their version of the bill on Monday. The two versions will be reconciled into a final bill before being sent to Governor Ralph Northam to sign.
Reynolds' LGBTQ became known for his LGBTQ activism in 2016, when he and Glenn became co-founders of the LOVELOUD Festival, to raise awareness to the issues impacting LGBTQ youth. In 2017, the Imagine Dragons singer started the LOVELOUD Foundation, as a way to "bring communities and families together to help ignite the vital conversation about what it means to unconditionally love our LGBTQ+ youth."
Reynolds' efforts were highlighted by the 2018 HBO-produced documentary, "Believer," which follows the musician's mission to confront the Mormon Church over its discriminatory policies toward LGBTQ individuals while documenting the first LOVELOUD Festival in Orem, Utah. The film was nominated for a 2018 Emmy and won the Best Documentary prize at GLAAD's 30th Annual Media Awards.
Reynolds, Glenn, and Carrera hosted a screening of the documentary in Washington in conjunction with their meetings with elected officials.
When Imagine Dragons took the Best Rock Artist Award at the 2019 Billboard Music Awards, Reynolds used his entire acceptance speech to speak up about the issue of conversion therapy and its harmful effect on LGBTQ youth.
"I just want to take this moment to say that there are 34 States that have no laws banning conversion therapy," the rocker said. "And on top of that, 58 percent of our LGBTQ population live in those states. This can change, but it's going to take all of us talking to our state legislators, pushing forward laws to protect our LGBTQ youth."