February 14, 2020 at 2:26 pm EST | by Thom Murphy
Trixie continues forging new musical vistas on third LP 'Barbara'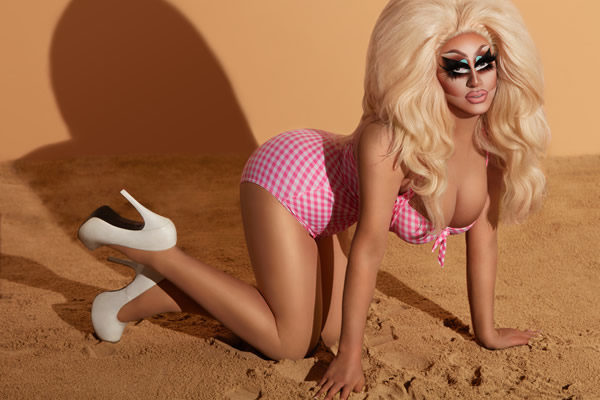 For anyone worried that drag has gone too mainstream, RuPaul hosting "Saturday Night Live" last weekend may well be the nail in the coffin. But now that there is a minimum of one drag queen per public library — or so it seems — the queens are also much less constrained by old stereotypes. Trixie Mattel, whose new album "Barbara" is out this week, is at the forefront of pushing the bounds of what drag queens can do in the mainstream.
RuPaul's pioneering shadow has long set the tone for the kind of songs drag queens produce. Certainly an artist in his own right, RuPaul's 1992 hit "Supermodel (You Better Work)" paved the way for later drag queens, largely under the guises of "RuPaul's Drag Race," who have released music, such as Alaska Thunderfuck, Sharon Needles, Shea Cole, Courtney Act and others. The show serves as testing ground through various musical competitions for new performers, as well as publicity for Ru's own music. The club-ready, joke-heavy music produced by "Drag Race" contestants could almost be classified as its own genre. Trixie Mattel has opted instead to chart her own path.
As a contestant on season seven of "Drag Race" and winner of season three of "Drag Race All Stars," she has done an excellent job of marketing herself after her apperances, co-hosting the raucous and consistently hilarious Youtube series "UNHhhh" with fellow "Drag Race" alum Katya. Mattel is currently on an international comedy tour. Most expected, however, was the release of her first album,"Two Birds" (2017), a genuine work of country/folk music that carried her appeal far beyond "Drag Race" devotees. The album is a delightful little folk wonder, which even included a clever Bluegrass song about inclusion: "And I knew that I got lucky/In the bluegrass of Kentucky/But bluegrass, you don't love me after all." The following year saw the release of her follow-up, "One Stone," which only solidified the seriousness of Mattel's musical endeavors.
Just as "Two Birds" and "One Stone" were two parts of a single whole, she has divided the new album into an A-side and a B-side. And like the last two, the album length runs just under 25 minutes. With "Barbara," Mattel turns over a new leaf, venturing into pop-rock with a laid-back '90s feel for the first half of the short record. The delightfully crisp, catchy tunes buzz from beginning to end at lightning pace and before you know it, you've listened to the album three times through.
The lead single and opening track "Malibu" is bouncy, light rock anthem — it's a beach song that glows with warm nostalgia. It's something akin to the trick mastered by Ben Folds on his 2001 album "Rockin' the Suburbs." Not so far off from Folds' "Zak and Sara," Mattel conveys nostalgia, but makes it cheery, swirly, great fun.
Still on the vibrant, up-tempo side-A, "Jesse Jesse" shows how Mattel's wit as a drag queen and comedian comes into play in her music. It's a light rock love anthem for handsome and underrated actor Jesse Eisenberg ("Zombieland," "The Social Network"). But in the chorus, she turns it into a play on Rick Springfield's 1981 hit (and straight karaoke favorite) "Jesse's Girl." It creates a funny, charming effect that doesn't detract even slightly from the catchy tune: "Jesse, Jesse, take my hand/You can meet me in Zombieland/You know inside every clam's a pearl/I could be Jesse's girl."
Side B presents us with a softer side of Mattel, something more akin to her previous two albums. But it flows seamlessly with the first half. And it is here that Mattel showcases her storytelling abilities. "Gold" is a beautiful, metaphorical country song about love, with a simple, lovely chorus: "Where do you go when the gold is gone, when the old front lawn's turning gray?/Will you grow from those cold blood wrongs when those old love songs start to play?" Trixie Mattel is at the top of her game with this album and it's a wonderful thing to hear.