Calendar: April 10-16
LGBT events in the week to come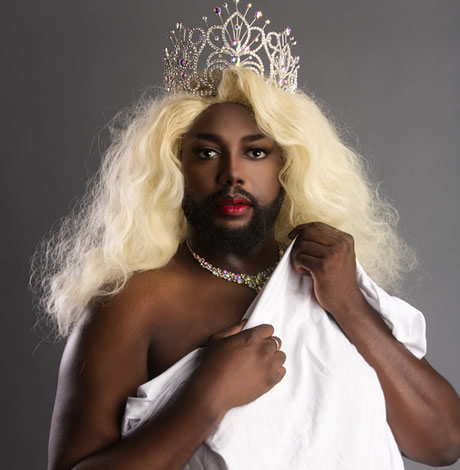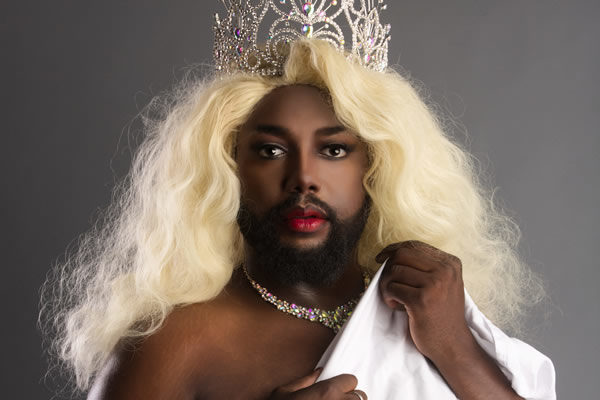 Friday, April 10
Quarantine Concert Series 2: Katherine Needleman and Hanchien Lee is tonight at 5:30 p.m. presented by An die Musik (409 N. Charles St., Baltimore). The presented video is a recording made during the live March 7 performance of the Coffee, Patisserie and Classical Music Series: A Celebration of Degenerate Music with Needleman on oboe and Lee on piano. Video access is $5. Visit instantseats.com for tickets and information.
Kabbalat Zoom Shabbat hosted by Johns Hopkins Hillel (3109 N Charles St., Baltimore) is tonight at 6 p.m. This virtual Kabbalat Shabbat experience is hosted on Zoom. Visit their Facebook event page for the link and more information.
Politics and Prose Live! Presents Veronica Roth tonight at 7 p.m. Roth, author of the popular YA Divergent series, will discuss her first novel for adults, "Chosen Ones," during the conversation streamed online. Register for this free event here.
Saturday, April 11
"Edo Avant Garde" Online Screening with Q&A is today from 2-3 p.m. via Vimeo and Zoom. This event hosted by the Smithsonian National Museum of Asian Art explores the pivotal role Japanese artists of the Edo era played in setting the stage for the modern art movement in the West with its focus on abstraction, minimalism, surrealism and the illusion of 3D. Free tickets are available on eventbrite.com. For more information on this and other online screenings, visit asia.si.edu/films.
Fantom Virtual Trivia Night hosted by Fantom Comics is tonight at 6:30 p.m. This online event charges a $5 fee to help pay staff and continue operations. For more information on how to donate or participate, click here. Instructions on how to play on a team via Zoom are listed on their Facebook event page.
Frolic and Lobo Present: Quarantine every Saturday night at 7 p.m. the D.C. Eagle, DJ Jake Maxwell, UltraPup and others host this series of online social events with live music and an open chat. Visit lightsoutbarksout.com for the Zoom link and more information.
Easter Vigil hosted by St. Anselm's Abbey (4501 South Dakota Ave., N.E.) will be live streamed via their Facebook page beginning at 9 p.m. For more information, visit stanselms.org.
Sunday, April 12
Online Easter Sunday at the Cathedral hosted by the Washington National Cathedral (3101 Wisconsin Ave., N.W.) is today from 11:15 a.m. to 12:30 p.m. via Facebook or YouTube. Visit cathedral.org for more information.
The Partners of Transmasculine Folks Support Group meeting is tonight at 5 p.m. This online meeting is a supportive partner-only space open to those of all genders and sexual orientations in any type of relationship with a transmasculine-identified person. For the meeting link or more information, email [email protected].
Monday, April 13
Passover 2020: "Let My People Stay Home!" is a live-streaming concert featuring Seth Kibel and Sean A. Lane tonight at 7 p.m. The streaming cost is $5 and the link will be mailed shortly before show time. Visit instantseats.com for tickets and details.
Stay-At-Home Showtunes, a weekly streaming benefit show for JR.'s bar (1519 17th St., N.W.), is tonight at 8:30 p.m. Guests can tune into the stream via Twitter @JRsBar_DC to watch the performance. Each Monday's show features a rotating cast of characters and hosts and includes a special performance by Vagenesis at 9:30. Virtual tips via Venmo will support the weekly video DJ, drag performers and a general wage relief fund for the staff. Visit twitter.com/jrsbar_dc for the show and JR.'s Facebook page for details.
Tuesday, April 14
Trans & NB Chat Hours hosted by the D.C.-area Transmasculine Society is every Tuesday and Friday from 7-10 p.m. through the month of April. There is no need to create an account to join, simply choose your name, pronouns and gender identity, then enter the room. Visit dcats.org/chat or the Facebook event page for details.
Wednesday, April 15
District Zouk's resident ballerina Natallia Pcholkina with host DanceSport Dupont Circle (2201 P St., N.W.) leads an online conditioning and technique class to stay in shape during quarantine. The session focuses on ballet and jazz technique to help with balance, conditioning, mobility and more. The class is tonight at 7 p.m. for $15. Five classes are $65 and ten are $120. For more information or to sign up, click here.
Thursday, April 16
Virtual Workshop: Meditation and Mindfulness hosted by the Smithsonian's National Museum of Asian Art is today at 12:15 p.m. This series includes free 30-minute online meditation sessions each week led by D.C.-based mediation instructors. All are welcome and no previous experience is required. For more information, visit the museum's Facebook event page or this link.
DC Center to host estate planning seminar series
Three sessions presented by Murray Scheel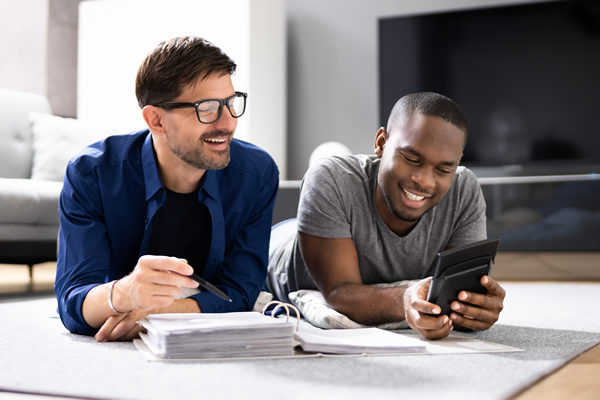 The DC Center for the LGBT Community and the DC Department on Aging and Community Living will host "Estate Planning Tools with Murray Scheel" via Zoom. 
Scheel will walk guests through the process of taking care of the end-of-life planning business that needs to be addressed during the golden years. Scheel is Senior Staff Attorney at Whitman-Walker Health's Legal Services.
This event series will consist of three 1.5-hour sessions:
Jan. 19, 3 p.m. – "Tools for while you're living" (overview, general power of attorney, healthcare power of attorney, disposition of remains, etc.)
Jan. 26, 3 p.m. – "Tools for after you're gone" (living wills, last wills, assets, etc.)
Feb. 2, 3 p.m. – "Healthcare insurance & long term care" (Medicare, Medicaid, correcting misinformation, skilled nursing, hospice care, etc.)
To register for this event, visit the DC Center website.
DC Center to host legal seminar for trans people
Attorney Richard Tappan and paralegal Miranda Shipman to give legal advice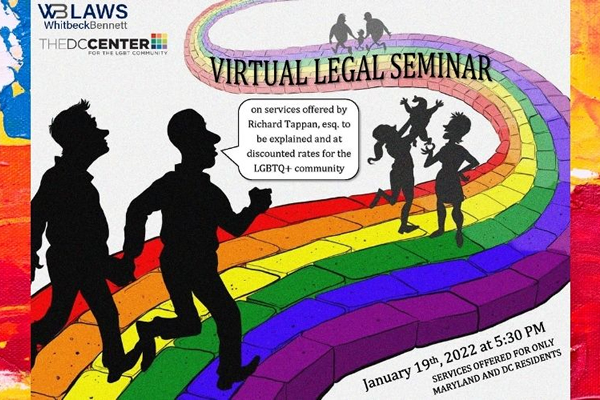 The DC Center for the LGBT Community will host a "Gender and Name Change Legal Seminar" on Wednesday, Jan. 19 at 5:30 p.m. online.
Attorney Richard Tappan and paralegal Miranda Shipman will give legal advice and speak on the importance of the legal community within the LGBTQ community, the difficulties of the LGBTQ community in the legal field and name and gender changes.
Guests can find the link at the DC Center website.
Busboys and Poets to focus on peace in 2022
Special guests include Angela Davis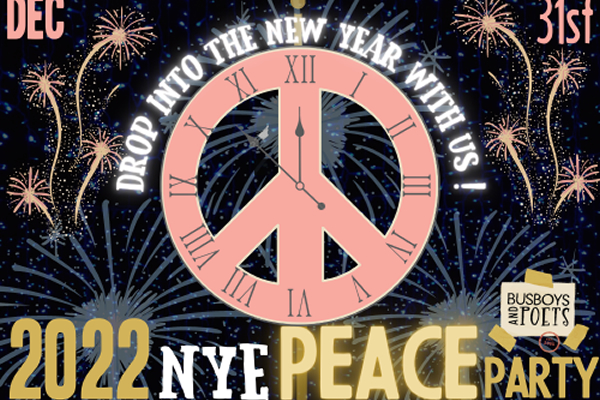 Busboys and Poets will host "The 2022 NYE Peace Party" on Friday, Dec. 31 at 9 p.m. at Busboys and Poets in Columbia.
The event will feature peace activists and literary powerhouses such as political activist, philosopher, academic, scholar and author Angela Davis, activist, scholar and educator Gina Dent, and renowned writer, poet, playwright and activist Sonia Sanchez, among others.
There will also be live music, food, party favors, champagne toast and free parking. Tickets are available on Eventbrite.