April 27, 2020 at 3:05 pm EDT | by Kevin Naff
Thank you to the reporters who brave the briefing room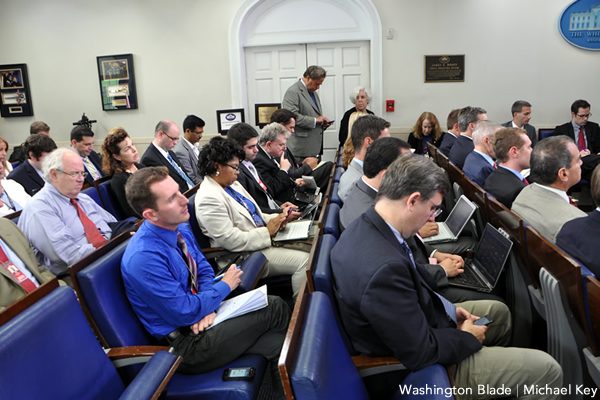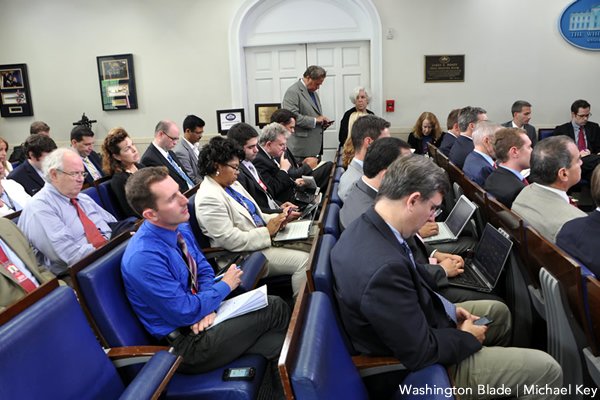 Real journalists do not aspire to become the news; in fact they recoil at the prospect. You don't go to J-school to learn PR.
But sometimes circumstances conspire against you, as was the case last Friday when Washington Blade White House reporter Chris Johnson was told to swap chairs with CNN's Kaitlan Collins at the daily COVID briefing.
He rightly refused the order from a White House official, who later threatened him with Secret Service enforcement of the order. (The Secret Service later denied its agents were involved.)
The seating assignments in the briefing room are determined by the White House Correspondents Association, not the White House. The reason for that oversight, which dates to 1914, is to ensure that an administration can't retaliate against reporters who ask tough questions, as current Correspondents Association president Jonathan Karl of ABC News explained this weekend.
Johnson, who has never enjoyed front-row access in the briefings, courageously refused the order and remained in his assigned seat in the back, to the consternation of Trump's staff. As CNN's Jim Acosta noted that night, "it took almost an act of civil disobedience to foil their plans."
And what was the plan? Surely, to punish and embarrass CNN and Collins due to her tough questioning of the president amid his embarrassingly incompetent response to the coronavirus outbreak. This is what the president is doing amid a pandemic that will likely kill upwards of 60,000 Americans by week's end? Plotting petty revenge against reporters he doesn't like and who don't toe the Trump line?
After the seat swap plan failed, Trump pouted, cut the briefing short, and refused to take questions.
Kudos to Johnson and Collins for standing their ground and staying focused on doing their jobs. It's important to note that neither of them has granted interviews, despite scores of requests to talk about the incident. Their actions speak for themselves. The reporters in that room will need to continue looking out for each other as this administration continues its dangerous attacks on journalists.
Trump's actions speak volumes, too. As the coronavirus continues to infect and kill Americans everywhere, he has encouraged violence against local governments in blue states like Minnesota and Virginia, urging his followers to "liberate" them. And they listened, as protesters swarmed multiple state capitals last week, many of them armed with semi-automatic rifles, demanding to be liberated. Multiple outlets reported this weekend about the so-called "boogaloo" movement of right-wing militias hoping to instigate a civil war over quarantine restrictions, which they view as an ominous sign of an unchecked government terrorizing its people. One "boogaloo boy" was even arrested after he live-streamed his efforts to find and assassinate a police officer.
Just as we saw during the "pizzagate" fiasco, when Trump talks, his followers listen. When the president uses the bully pulpit to pitch inane ideas about drinking bleach to cure COVID, gullible Americans flood health departments and hospitals with calls asking if they should ingest Clorox.
With new polls showing the president trailing Joe Biden in a string of critical battleground states, Trump is feeling the walls closing in on his presidency. Unfortunately, as the nation continues to bury its dead and the economy hits Depression-level unemployment, our president is consumed with self-preservation and self-aggrandizement. It's all about Trump, even as we near 60,000 deaths.
It's never been more important to have smart, seasoned journalists in the White House, holding our political and health officials accountable. Thank you to the reporters, like Johnson and Collins, for braving the briefing room to keep us informed. We can add them to the long list of patriotic Americans doing their best to help the rest of us in these unprecedented times: doctors, nurses, transit workers, janitors, police and firefighters, grocery store staff, truck drivers, pharmacists, and other everyday people risking their health to keep us safe and fed. Thank you.
Kevin Naff is editor of the Washington Blade. Reach him at knaff@washblade.com.