July 29, 2020 at 2:04 pm EDT | by Joshua Keller
Annual drag volleyball event cancelled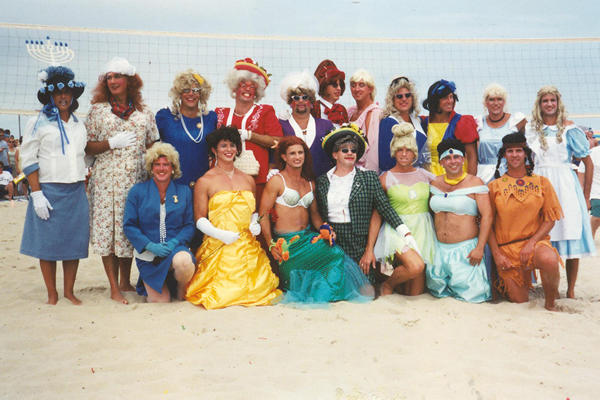 With the cancellation of the 32nd Rehoboth Beach Drag Volleyball Extravaganza, another summer tradition has fallen victim to the COVID-19 pandemic.
The game, which draws thousands of spectators, is known for its extravagant costumes and entertaining hijinks — as well as a high level of play.
Brent Minor, who has played each year since the beginning, tells the story of the game's origins.
"There was a group of us who played on the weekends, and one time this guy brought down nine women's swimsuits and we just put them on right there at the beach and just went out and played. We couldn't even get a ninth person," Minor says. "All of a sudden a group of lesbians came and challenged us to a game and it just went on from there. The second year, another person got a group of players to oppose us and since then it's been a planned, competitive game."
For Minor, a particularly memorable game included when "My Best Friend's Wedding" (starring Julia Roberts and Dermot Mulroney) inspired his team to dress as a wedding party and hide all sorts of things, including a garden hose and even another player, underneath the wedding gowns.
Minor also recalls the year his team had a "Sound of Music" theme and went as the "Von Tramp" family.
"I'm the nun and the little girl says 'Where's Fraulein Maria?', and I point up toward the hills because Myrna, who also plays every year, comes tumbling down one of the sand dunes dressed as Julie Andrews," Minor says.
Organizers have avoided making the game a charity event.
According to Minor, this year was going to be the final game for him and many other players. While this year's cancellation may push his retirement back, Minor hopes that the spirit of the game will stay alive if younger players decide to continue the tradition.
"We just want it to be fun," Minor says. "It's so joyous out there."