August 26, 2020 at 2:16 pm EDT | by Chris Johnson
Log Cabin's new project seeks to duplicate success of Grenell video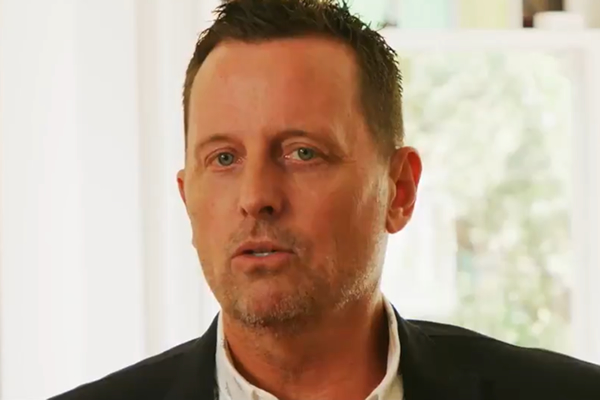 There's plenty more where that video of Ric Grenell calling President Trump the "most pro-gay president" ever came from.
Six more, in fact, according to Charles Moran, managing director of Log Cabin Republicans, whose organization produced the first video, and continues to shrug off assertions it inaccurately maligns Joe Biden as anti-LGBTQ and trumpets President Trump as a hero to the community.
"We've got about another six videos in the hopper," Moran said in an interview Tuesday. "Not Ric, but other people who are gay conservatives and then lending their voice to our effort, articulating their message."
Grenell, who as Trump's former acting director of national intelligence hold the distinction of being the first openly gay Cabinet member, was the star of the first video, but Moran said the upcoming six videos will be different.
Some will be of notable LGBTQ conservatives, some will be a montage of the larger LGBTQ conservative community, Moran said.
"We've actually sourced a larger community of gays and lesbians and encouraged gay conservatives to actually send us video of them being outspoken on telling their stories about what it's been like for them to try to present an opposing viewpoint in their friend circles, or on campuses or in their social networks," Moran said.
But Moran is keeping mum about the identities of the participants. When asked who exactly would be featured in the final videos, Moran said he doesn't have a final list of participants.
It'll be a tough act to follow — both in terms the slick presentation of the Grenell video and its visibility. The Grenell video had 6 million views as of Tuesday, Moran said. That's in no small part a result of Trump himself retweeting out the video last week, saying the praise he received from Grenell was his "great honor."
Grenell in the video makes the case Trump is an ally the LGBTQ community and Biden has worked to harm it, despite long records from both suggesting the opposite is true.
"There are millions of patriotic gay Americans who are sick of being told to sit down and shut up by those who want control us, those who are afraid of our voice," Grenell says in the video, hinting at more videos to come from Log Cabin.
The videos are part of the new Outspoken project — a new media platform Log Cabin is gearing up to launch the same week as the Republican National Convention takes place.
A few recent posts on the Outspoken website criticize the left for coming after gay YouTube personality Randy Rainbow for 10-year-old jokes about race and gender, hail the establishment of Trump Pride as an official Trump campaign project and lambast the Human Rights Campaign for snubbing Sen. Susan Collins (R-Maine) to endorse her Democratic challenger Sara Gideon.
The project, Moran said, is intended to be a forum not only for gay conservatives, but also the "larger LGBT community to engage with conservatives and Republicans," who have said their voices are being silenced in cancel culture.
"We knew that the one common theme that we as LGBT conservatives have had is that, especially over the last four years of President Trump's administration, is we believe that the left has actually tried to cancel our voices," Moran said. "We talk about cancel culture, we talk about diminishing diversity and thought and it just kind of became clear that we needed to create that space for gay conservatives to have a voice to get that voice out there."
Although the idea was conceived before the coronavirus epidemic hit, Moran said, the project will have additional value now that traditional spaces are closed and virtual engagement is needed.
Moran also said the OutSpoken project has become essential "as the LGBT left has become more intolerant."
"There's this thought if you have an opposing viewpoint from the status quo, you are canceled, your voice is not there, it is not justified, it is not allowed," Moran said.
One short-term goal of the project is to aid in efforts to re-elect Trump, but beyond that, Moran said, Outspoken will continue to serve as a voice for Log Cabin and gay conservatives who feel they're being silenced.
"We have not actually had a national digital experience," Moran said. "That is that something lacking in our portfolio in Log Cabin Republicans since really the birth of the internet. We've had a website, we have Facebook pages, but we've not actually had something for people to engage."
Meanwhile, Log Cabin has renewed its D.C. presence opening a new office and hiring three staffers: Alex Walton will direct operations, Steven Allen will manage its chapters throughout the country and Ross Hemminger, will direct field operations.
It's not the same as the creative team behind OutSpoken, which Moran said is largely done through independent contractors, including Editor-in-Chief Chadwick Moore as well as videographers, researchers and graphic designers.
Moran, however, said OutSpoken is part of Log Cabin as an independent expenditure and wouldn't necessarily be separate from the work of the D.C. staff.
"I don't keep separate hour billable logs between what my contractors do and whether or not they're doing things for Log Cabin," Moran said. "We put out things for Fourth of July, and other content pieces. The Ric Grenell video actually went out under the Log Cabin Twitter account, not the OutSpoken one, so it's all interchangeable."
Asked if Log Cabin will continue its mission as an LGBTQ advocacy group, Moran said "it's not necessarily changed," but not a lot is happening in terms of legislation.
"There's not a lot of legislation moving right now," Moran said. "One of the bills that we endorsed and supported was the Fairness for All Act by Congressman Chris Stewart of Utah. That's stalled out right now and we called out the fact that Nancy Pelosi and Democrats in the House did not take into any kind of consideration Republican viewpoints or at least talk to Republicans before moving forward with the Equality Act."
Moran also said he was involved behind the scenes in the Food & Drug Administration's recent decision to ease restrictions on blood donations from gay men by requiring a period of three months abstinence before making a donation, as opposed to the previous policy that required 12 months of abstinence.
How exactly is Log Cabin doing all this? The organization is known for having a modest budget not exactly conducive to producing slick videos like the kind featuring Grenell or a media platform with multiple contributions.
"As you know, I'm a fundraiser, and I'm good at what I do," Moran said when asked for an explanation.
Moran said Log Cabin put together a plan among the board members after engaging with Republican staff on Capitol Hill., gay conservatives in Hollywood and right-of-center media influencers.
"A number of us kind of cooperatively put our heads together to figure out what was this gonna look like and how should we build an operation like this," Moran said, adding after the plan was developed it was off to the donors, who provided the money to lift the project off the ground.
Log Cabin endorsed Trump for re-election last year, a turnabout after declining to endorse him in 2016, but Moran denied there was any quid pro quo of exchanging an endorsement for this additional funding.
"Literally, 11 months went by between the endorsement and launching this project," Moran said. "So, more than anything, the endorsement was a catalyst for us to actually say let's do something, we don't have to sit around and wait on what are we going to do, endorse or not endorse."
Another pro-Trump group that seeks to engage a similar demographic as Log Cabin, and would have the resources to put together a video as sophisticated as Grenell's is Turning Point USA, the Charlie Kirk-founded student activist group. Grenell has ties to the group and spoke at one of its events encouraging students to support Trump over the summer in Florida.
Moran praised Turning Point USA and said he took inspiration from its "avant garde, edgy style" in producing the video, although ultimately it's a separate organization.
"There's like some really good edgy content and I think the Republican Party is finally realizing they got to do digital networking," Moran said. "It's how successful Republicans engage with Millenials and the younger demographic."
Moran flat-out denied Turning Point USA was using Log Cabin as a shell to shill its message. When asked if Turning Point USA was contributing resources to Log Cabin, Moran said, "No. Oh, God, no."
Turning Point USA, for its part, is denying any involvement in creating the Grenell video, although a spokesperson did praise it.
"I agree the video was well done, but Turning Point USA did not contribute any resources," Andrew Kolvet, a Turning Point USA spokesperson said.
But progressive LGBTQ advocates are lambasting the Grenell video for distorting Biden's — and Trump's — record. That criticism will likely continue with additional videos Log Cabin produces and the Outspoken project.
On one hand, for example, the video talks about Biden's vote as a U.S. senator in the 1990s for the anti-gay Defense of Marriage Act, on the other it says Trump is the first president to come into office supporting same-sex marriage. It doesn't mention Biden's remarks in favor of marriage equality on "Meet the Press" in 2012, which was a catalyst for legalization of same-sex marriage, nor anything about Trump running his 2016 campaign in opposition to same-sex marriage before saying he was "fine" with it after his election.
Referencing a 1974 quote from Biden about his "gut reaction" that gay people would be a security risk if given clearances, Grenell says upon his appointment as acting director of national intelligence Biden "must have been terrified" and criticizes Biden for saying nothing about it, ignoring questions at the time about whether Grenell had the right experience for the job.
On the other hand, the video praises Trump for a global initiative to decriminalize homosexuality and recognition for it during a speech before the United Nations, but says nothing about Trump professing he was unfamiliar with it when a reporter asked about it in the Oval Office.
The video ignores the Trump administration's anti-LGBTQ actions, which have been widely reported. Among them are the transgender military ban, arguing before the U.S. Supreme Court LGBTQ people shouldn't be covered under federal civil rights law, opposing the Equality Act and siding with taxpayer-funded religious child welfare agencies seeking to refuse placement into LGBTQ homes.
Grenell also completely ignores the transgender community, which has faced the brunt of the Trump administration's attacks, instead referring to gay and lesbian people.
For the video's distortions, Glenn Kessler, a fact-checker at the Washington Post, said Grenell was making an "absurd claim" Trump is pro-gay and awarded the video the dubious honor of "Four Pinnochios" — essentially calling Grenell's account of Biden and Trump's record a lie.
Moran, however, discounted criticisms of the video, saying everything Grenell said was factually accurate and a matter of public record.
"Joe Biden has a 40+ year history voting against LGBTQ-equality legislation and running for vice president in public opposition of marriage equality," Moran said, "It's there, in the Congressional Record. His statements are there, in the vice-presidential debates on the screen for all to see. Donald Trump has supported equality as a businessman, as a philanthropist, as a candidate for president and now as president, and has not shied away from his commitment to our community as he runs for re-election."