September 4, 2020 at 2:17 pm EDT | by Kathi Wolfe
'Hoax' reveals 'rot at core of our politics'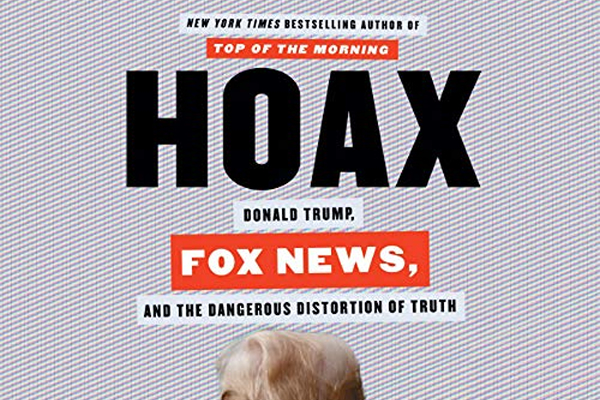 'Hoax'
By Brian Stelter
368 pages
Atria/One Signal Publishers
"People are blowing the coronavirus out of proportion!" my friend Matt told me in the spring."
"COVID-19 is like the flu," his wife Dana added.
I love Matt and Dana, but I'm outraged by such false claims. Most people I know are appalled by this misinformation. We're aware, as I write this, that six million coronavirus infections have been confirmed in the United States and more than 183,000 people have died from COVID-19 in the U.S.
Why do we hold such radically conflicting views on everything from COVID-19 to race to social justice protests? It's not, for most of us, because we, queer or non-queer, don't care about our country or our friends. Though we disagree, Matt and Dana have brought me tomatoes from their garden and shopped for me as I've quarantined. My left-leaning pals have been equally caring.
"Hoax: Donald Trump, Fox News, and the Dangerous Distortion of Truth," by Brian Stelter, CNN's chief media correspondent, explains why people in the same country have completely divergent views. One tribe consumes news from The Washington Post, The New York Times, NPR, CNN, other mainstream media or specialized media such as the Blade. The other tribe gets its news from Fox or Breitbart News.
It's not news that conservatives watch Fox, while left-leaning folks watch MSNBC. "We're a polarized country, and that is reflected in the media choices we make," Democratic strategist and CNN political analyst David Axelrod told The New York Times.
In 2019, Jane Mayer reported extensively in The New Yorker on the entanglement of Fox News and the Trump administration. But, until, I dived into "Hoax," I didn't realize how deeply enmeshed Fox and Trump and his administration are. Or how toxic this is to maintaining our democracy.
If you're eating something, you might want to put it down before reading "Hoax." This isn't a comment against the book, but a warning that what Stelter, anchor of CNN's "Reliable Sources," reports about Fox's relationship to Trump (and the power Fox wields) is stomach-turning.
When it was launched in 1996 by Roger Ailes, Fox was conservative but still committed to reporting the news, Stelter says. It titled right politically and was funded by conservative media mogul Rupert Murdock, but had some journalistic standards. But, over the decades, Trump, who'd known Ailes for years, was given a role on Fox. Trump started to call in weekly to Fox's "Fox & Friends." This gave Trump a platform to voice his racist "birther" attacks on Barack Obama. Stelter isn't being hyperbolic when he writes, "Monday Mornings with Trump' changed the course of American politics."
Now, things have gone far beyond that. Trump calls Fox opinion host Sean Hannity every night before his show, Stelter reports. His sources told him Hannity privately called Trump "batshit crazy," Stelter writes.
Yet, "Sean Hannity is the most powerful person at Fox in the Trump age," he adds.
Alarmingly, Hannity, has more influence over Trump and his administration's policies than Trump's Cabinet members and staffers, Stelter reports. His power is so great that Hannity is known as the "shadow chief of staff."
"In 1989 [Hannity's] radio show was halted when he made anti-gay remarks and claimed 'the media' was covering up the truth about AIDS," Stelter writes.
"I hear Trump talk at rallies, and I hear Sean," a producer told Stelter.
"Hoax" is about much more than Hannity. Over three years, Stelter spoke with more than 300 current and former Fox staffers as well as other sources. What emerges is a portrait of "state-supported TV."
"Hoax is about a rot at the core of our politics. It's an ongoing attack on the very idea of a free and fair press," Stelter writes.
At a time when Fox and other right-wing media have unleashed racist, homophobic and transphobic attacks, and misinformation on COVID-19, attention must be paid. Check-out "Hoax."