February 18, 2021 at 8:13 am EST | by Kevin Naff
Happy to see Limbaugh dead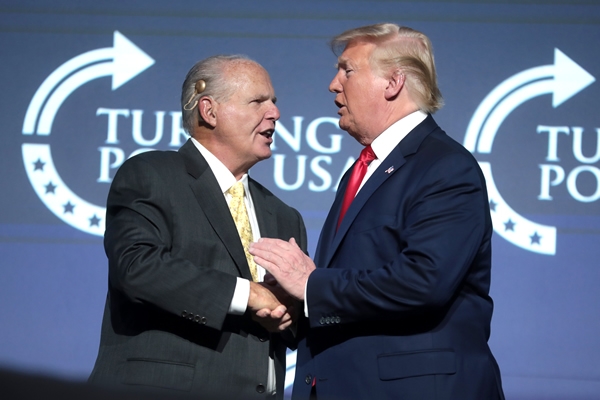 Rush Limbaugh was a terrible human. He was a racist, sexist, homophobic, drug-abusing adulterer who mocked gay men dying of AIDS.
The revisionist history that occurs when disgusting people like Limbaugh (and Jerry Falwell, Strom Thurmond, and Antonin Scalia before him) die is galling. Let's tell the truth about these hypocritical bigots in death as many of us did in life.
Limbaugh referred to feminists as "feminazis" and once called Chelsea Clinton the "White House dog." He was forced to resign as an ESPN football commentator after making racist comments about Philadelphia Eagles quarterback Donovan McNabb. Florida officials investigated Limbaugh over allegations that he paid a former maid to buy prescription drugs for him over a prolonged period of time. He changed wives like other people change bedsheets.
He referred to AIDS as "the Rock Hudson disease" and featured a segment on his radio show called the "AIDS Update," which was introduced with the song "I'll Never Love This Way Again" by Dionne Warwick, as recalled by veteran journalist Karen Ocamb. Limbaugh compared marriage equality to pedophilia, once saying, "They want us to all think that pedophilia is just another sexual orientation." He mocked the death of Freddie Mercury.
Limbaugh last February said, "America's still not ready to elect a gay guy kissing his husband on the debate stage as president" in reference to Pete Buttigieg kissing his husband, Chasten. And even more recently, he praised the insurrectionists who stormed and desecrated the Capitol on Jan. 6, seeking to execute Nancy Pelosi and Mike Pence.
For all this reprehensible behavior, President Trump presented Limbaugh with the Presidential Medal of Freedom.
Mainstream media outlets now reporting on Limbaugh's death must not gloss over the reality of who he was in life: A bully and a bigot who celebrated the agonizing deaths of gay men to AIDS and who used his considerable platform to spout racist, sexist views and dangerous, un-American conspiracy theories.
Good riddance to Limbaugh and his ilk. They are a stain on our country and should be rebuked in life and death.
Kevin Naff is editor of the Washington Blade. Reach him at [email protected].