February 18, 2021 at 7:47 am EST | by Isaac Amend
Debunking misconceptions about #transgender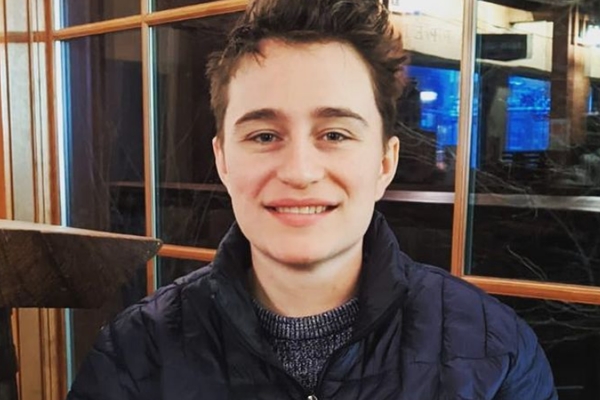 In 2020, I was featured on National Geographic's "Gender Revolution" documentary, hosted by Katie Couric. The documentary surveys the state of transgender and nonbinary lives in 2020, spanning the United States, Samoa, and other locations.
In our segment, Couric came to Yale and interviewed our cast members about gender pronouns and our own stories of transitioning. I am a transgender man who came to Yale as a Division One runner on the women's cross country team, only to change my name from "Isabel" to "Isaac" during junior year. 
After being in the documentary, and being out as trans and a young professional for four years since then, I want to debunk a few misconceptions that people have about being transgender. 
Whether this is for trans kids, newcomers to gender transitions, or just the general public, these corrected misconceptions will help you understand our community a bit better.
Most trans people knew they wanted to change genders from day one: False.
Many trans people I know have transitioned after the age of 18. Then, many others have transitioned in childhood. The media like to propagate this notion that all trans people felt trapped in their own bodies at age 3, and were intensely struggling with gender since their toddler days. While this is the case for countless trans children, a lot of other trans adults have diverging stories — we're a mixed crowd. 
Either way, I know trans people who started dressing differently when they were 7, and trans people who only changed their name at age 70. Everyone has their own story, and every single story should be celebrated. 
Most trans people hate being in their former gender: False. 
While living in the wrong body can be incredibly traumatizing, this does not mean that trans people hate everything about their former lives. I know plenty of nonbinary people who treasured being women and men, and plenty of transwomen and transmen who are nostalgic about certain parts of their former gender. 
I actually still miss certain things about being Isabel — the female friendships I had, being a sister, even the wider array of clothes and styles that seemed available to wear. Although I prefer masculine clothing now, this does not mean I have to hate my former style, or my former life. 
Trans people are always attracted to the opposite sex: False.
When I transitioned to being a guy, lots of friends and family automatically assumed I wanted a girlfriend. But the more I've grown, the more comfortable I am being attracted to both sexes. And that is the case for so many other trans people: trans women can date women, trans men can date men, nonbinary people can date nonbinary people, and basically anyone of any gender can date and love anyone else of any gender as well. At its core, seems pretty simple, right? 
Trans people have a difficult time finding love: False.
Before I came out as transgender, a few people told me they were worried about my love life. I got these all the time: "you can find so many more girls as a lesbian," "you're so attractive already as a woman," "you'll be a short man," and such. 
While dating as trans does come with some unusual stresses and triggers, you'll be surprised at how easy it is to find love if you place yourself in the right context. Context is everything. 
Trans people are not happy: False.
A friend and I remarked at how most trans representation in the media revolves around our alarmingly high rates of suicide, depression, anxiety, bullying, homelessness, unemployment, and just general misery. 
There are not enough media articles that depict how trans people can lead happy, normal lives. At the end of the day, trans people just want to be able to go about their daily lives without facing discrimination, bigotry, and hatred. 
In "Gender Revolution," model Hari Nef states, "let's just live in a gender chill world." 
I agree! If we all could collectively relax about pronouns, name changes, and hormones, we can make the lives of trans children exponentially better. With a wave of new anti-trans legislation coming in state legislatures, it's even more imperative to treat newcomers to the transgender community with compassion. 
Seems easy, right?
Isaac Amend (he/him/his) is a transgender man and young professional in the D.C. area. He was featured on National Geographic's 'Gender Revolution' in 2017 as a student at Yale University. Isaac is also on the board of the LGBT Democrats of Virginia. Find him on Instagram @isaacamend.