February 18, 2021 at 6:24 am EST | by Peter Rosenstein
Impeachment trial worth holding for history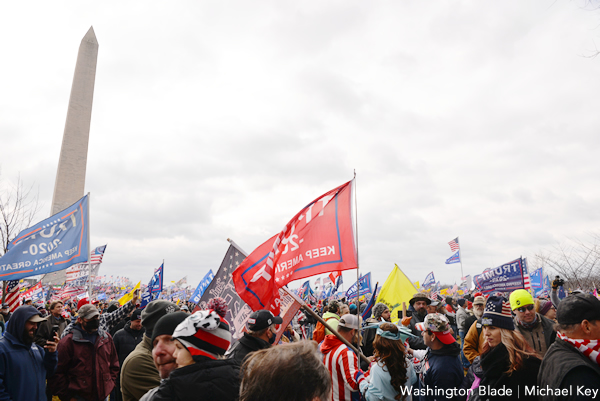 The impeachment trial was more emotional than expected. The videos used to make the case against former President Donald Trump were vivid, frightening, and more impactful than watching it live on Jan. 6.
Watching live had me furious at the perpetrators and Trump for inciting insurrection. We knew he did nothing to stop it. Seeing the new videos during the trial and realizing Trump knew the Secret Service was evacuating Vice President Mike Pence and his family and continued to incite the crowd against him was chilling.
I cried for the more than 140 Capitol and DCMPD officers injured and for the five people who lost their lives defending our Constitution, our democracy, and the lives of members of Congress, their staffs and so many other workers. I was furious all over again with Trump and his sycophants for putting our country through this.
Our country will survive. We survived the War of 1812, the Civil War, and the attacks of 9/11. We are resilient but those 44 Republican senators who voted to acquit Trump should suffer consequences. The disgusting facsimiles of human beings exemplified by the likes of Sens. Ted Cruz, Lindsey Graham, and Josh Hawley, represent the dregs of humanity. I predict their blatant pandering to Trump and the worst in our society will one day come back to haunt each of them. Listening to Mitch McConnell condemn Trump and then use a BS excuse for acquitting simply brought to the fore the civil war raging in the Republican Party.
The Jan. 6 insurrection Trump fomented will become the totality of his legacy in history books. It will also be what those who refused to speak out in defense of our Constitution will be remembered for.
Watching the impeachment trial makes it clear we live in perilous times. It is also clear having the trial, even with an acquittal, was important. The world must see how despicable Donald Trump really is and that there are some in Congress and those like the Capitol Hill police and DCMPD willing to give their lives to defend our Constitution and our democracy. Contrary to some attacks on the House managers and Majority Leader Schumer for not calling witnesses, McConnell's statement after the trial showed House managers fully made their case. He and most other Republicans would never vote to convict. Even without a conviction the trial is a warning to anyone occupying high office in the future acts of high crimes and misdemeanors will not be glossed over because some are too cowardly to act.
Donald J. Trump has always been a corrupt individual and cheater. He is a liar, a homophobe, a sexist, and a racist having been cited for discrimination in the buildings he and his father owned in New York.
Few ever fought trump successfully. One who did is a friend. Marvin Roffman, a successful and respected securities analyst, had his reputation brutally undermined by Trump when, according to Michael Kruse in a Politico Magazine feature, "He told a reporter from the Wall Street Journal the Taj (Trump Taj Mahal in Atlantic City) would fail." The feature explains how he fought back and won.
During the impeachment trial, Trump's lawyers said Democrats were afraid of Trump running and winning again. They suggested the whole purpose of the trial was to have Trump convicted for inciting a violent insurrection, which would then be used to stop him from ever holding office again. House manager Ted Lieu replied to that saying, "It is not the fear of Trump running again but rather his losing again and doing the same thing." Manager Raskin in his closing remarks asked senators, "Would any of you bet your lives, those of your families, those of the police officers who protected you, that if Donald Trump were ever to get back into the White House he would not do the same things again?" Clearly 44 of them were willing to bet.
Trump never changed his stripes; he has always been a thug running his life like a mafia boss. Those Republicans who defended him and his heinous acts will find history holds them to account.
Peter Rosenstein is a longtime LGBTQ rights and Democratic Party activist. He writes regularly for the Blade.