VIDEO: Jim Jordan justifies opposition to Equality Act with Log Cabin statement
LGBTQ group railed over 'frightening truth' about bill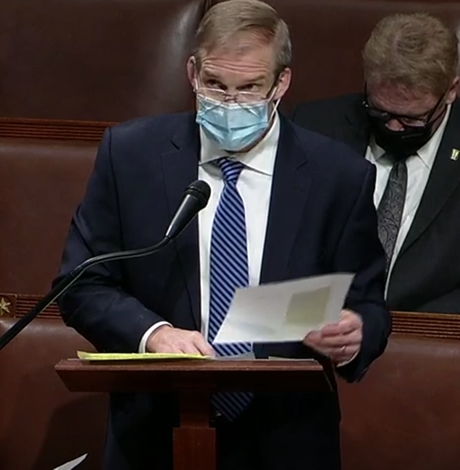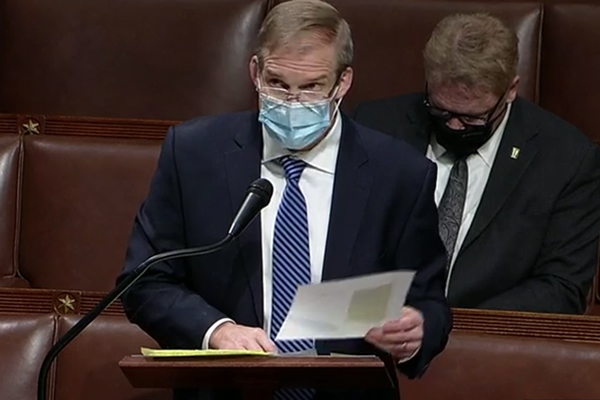 Rep. Jim Jordan (R-Ohio), known for his support for former President Donald Trump and opposition to LGBTQ rights, had help Thursday from an LGBTQ organization on the House floor in denouncing the Equality Act.
Jordan, who led the Republicans in debate in against the bill to expand anti-discrimination protections for LGBTQ people, entered into the record the statement against the legislation from Log Cabin Republicans, which had issued a e-blast moments on the "frightening truth" about the Equality Act.
"I include in the record a statement from the Log Cabin Republicans opposing the legislation on the floor today," Jordan said, without reading any portion of the statement.
The Log Cabin statement that ended up in the congressional record Friday is the same as the eblast that went out to supporters and was signed by Charles Moran, managing director for Log Cabin Republicans.
"We opposed this legislation in the past, and we oppose it as it stands today," Moran writes. "This is a partisan piece of legislation — it has no Republican cosponsors in the House. And the insidious nature of the extreme changes it will make would irreparably harm America and all of the accomplishments we've worked so hard for over the last few decades."
Moran hedges by stating Log Cabin "is not now, nor will it ever retreat on our commitment for equality for the LGBT community — the transgender community included," but ultimately concludes the Equality Act "goes to an extreme level to eliminate the concept of gender, which is absurd, dangerous and way out of the mainstream."
Moran, asked by the Washington Blade to comment on Jordan entering the Log Cabin statement into the record, said via email he "knew in advance" that would happen is OK with it.
"Congresswoman Marjorie Taylor Greene actually was the one who approached him about it, as she has a very solid relationship with our Atlanta Log Cabin chapter and GA Log Cabin leadership," Moran said.
The eblast includes a link to page on OUTspoken, the media arm for Log Cabin Republican, which delays reasons to oppose the Equality Act. The sources cited include The Federalist and the Heritage Foundation, which have established anti-LGBTQ reputations, and Abigail Shriver, who's made opposition to gender transition for transgender youth a personal crusade.
Two LGBTQ people named to Chilean president-elect's Cabinet
Gabriel Boric and his government takes office on March 11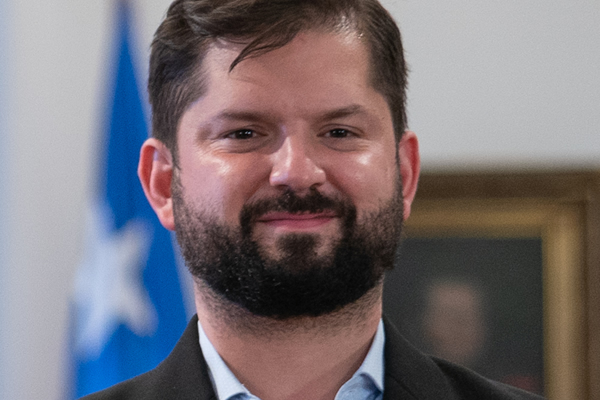 Chilean President-elect Gabriel Boric on Friday named two openly LGBTQ people to his Cabinet.
Marco Antonio Ávila, who is a gay man, will be the country's education minister. Alexandra Benado, who is a lesbian, will be Chile's sports minister.
Javiera Zúñiga, a spokesperson for Movilh (Movimiento de Integración y Liberación Homosexual), a Chilean LGBTQ rights group, applauded Boric for naming Ávila and Benado to his Cabinet.
"The visibility of sexual orientation and gender identity is no longer an impediment to access any position in Chile," said Zúñiga in a press release. "Sexual orientation and gender identity are irrelevant for the positions, whether they are public or private. Capability is the only thing that matters."
Boric and his government will take office on March 11. Chile's marriage equality law goes into effect the day before.
Florida House committee passes "Don't Say Gay" bill
Equality Florida quickly condemned the measure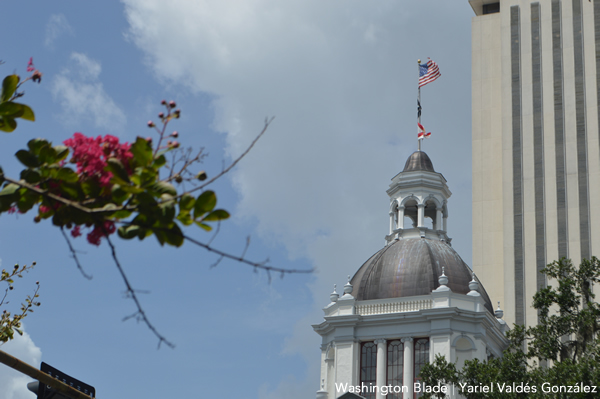 The Republican majority Florida House Education and Employment Committee on Thursday passed House Bill 1557, the Parental Rights in Education bill, colloquially referred to as the "Don't Say Gay" bill advancing the measure to the full House.
HB 1557 and its companion bill, Senate Bill 1834, would ban classroom discussions about sexual orientation and gender identity in schools, erasing LGBTQ identity, history, and culture — as well as LGBTQ students themselves.
The bill also has provisions that appear to undermine LGBTQ support in schools and include vague parental notification requirements which could effectively "out" LGBTQ-identifying students to their parents without their consent.
"The Trevor Project's research has found that LGBTQ youth who learned about LGBTQ issues or people in classes at school had 23 percent lower odds of reporting a suicide attempt in the past year. This bill will erase young LGBTQ students across Florida, forcing many back into the closet by policing their identity and silencing important discussions about the issues they face," said Sam Ames, director of advocacy and government affairs at the Trevor Project. "LGBTQ students deserve their history and experiences to be reflected in their education, just like their peers."
In an email to the Los Angeles Blade, Brandon J. Wolf, the press secretary for Equality Florida noted; "Governor DeSantis' march toward his own personal surveillance state continues. Today, the Don't Say Gay bill, a piece of legislation to erase discussion of LGBTQ people from schools in Florida, passed its first committee and became another component of an agenda designed to police us in our classrooms, doctor's offices, and workplaces. Make no mistake — LGBTQ people are your neighbors, family members, and friends. We are a normal, healthy part of society and we will not be erased."
This will kill kids, @RonDeSantisFL. You are purposefully making your state a harder place for LGBTQ kids to survive in. In a national survey (@TrevorProject), 42% of LGBTQ youth seriously considered attempting suicide last year. Now they can't talk to their teachers? https://t.co/VtfFLPlsn3

— Chasten Buttigieg (@Chasten) January 20, 2022
The Trevor Project's 2021 National Survey on LGBTQ Youth Mental Health found that more than 42 percent of LGBTQ youth seriously considered attempting suicide in the past year, including more than half of transgender and non-binary youth.
According to a recent poll conducted by Morning Consult on behalf of The Trevor Project, 85 percent of transgender and non-binary youth — and two-thirds of all LGBTQ youth (66 percent) — say recent debates about state laws restricting the rights of transgender people have negatively impacted their mental health.
When asked about proposed legislation that would require schools to tell a student's parent or guardian if they request to use a different name/pronoun or if they identify as LGBTQ at school, 56 percent of transgender and non-binary youth said it made them feel angry, 47 percent felt nervous and/or scared, 45 percent felt stressed, and more than 1 in 3 felt sad.
If you or someone you know needs help or support, the Trevor Project's trained crisis counselors are available 24/7 at 1-866-488-7386, via chat at TheTrevorProject.org/Get-Help, or by texting START to 678678.
Lesbian couple murdered, dismembered in Mexico border city
Julissa Ramírez and Nohemí Medina Martínez killed in Ciudad Juárez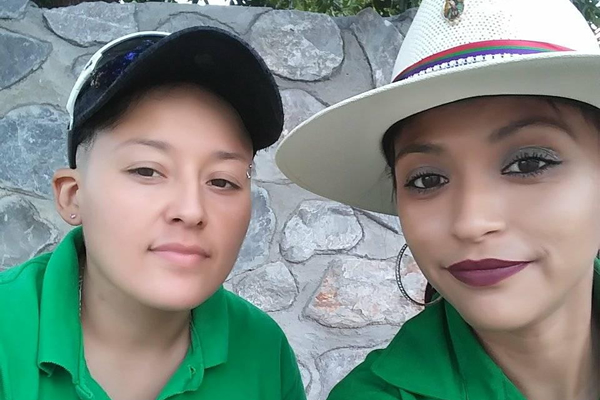 Authorities in the Mexican border city of Ciudad Juárez on Sunday found the dismembered bodies of a lesbian couple along a local highway.
The dismembered body parts of Julissa Ramírez and Nohemí Medina Martínez were found in plastic bags that had been placed along the Juárez-El Porvenir Highway.
El Diario, a Mexican newspaper, reported the married women lived in El Paso, Texas, which is across the Rio Grande from Ciudad Juárez. Authorities said relatives last spoke with Ramírez and Medina on Saturday afternoon.
A source in Ciudad Juárez with whom the Washington Blade spoke on Thursday confirmed Ramírez and Medina "were lesbian women" and their murder was "very violent."
Members of Comité de la Diversidad Sexual de Chihuahua, an LGBTQ rights group in the state of Chihuahua in which Ciudad Juárez is located, and Chihuahua Gov. María Eugenia Campos Galván are among those who have expressed outrage over the women's murders. Comité de la Diversidad Sexual de Chihuahua on Wednesday also urged local and state authorities to investigate whether the murder was a hate crime.
"People of sexual diversity are questioned, including their existence through heteronormative discourse," said the group in a statement. "They have the right to a life free of violence in which they exercise all their rights, in addition to living without fear or fear of rejection and aggressions that can unfortunately escalate to hate crimes."
EXHORTA SECRETARÍA DE GOBERNACIÓN A @MaruCampos_G A ACABAR CON LESBOFOBIA@SEGOB_mx a través de @CONAPRED y @CONAVIM_MX pidió al Gob del Estado que esclarezca el asesinato de Yulizsa y Nohemí…#JusticiaParaYulizsaYNohemi (1/3) pic.twitter.com/kLC7UNIoV2

— Comité de la Diversidad Sexual de Chihuahua (@DiversidadChih) January 19, 2022
El Diario reported Ramírez and Medina are two of the nine women who have been reported killed in Ciudad Juárez since the beginning of the year.
Personas de las Diversidades Afectivo Sexuales, an LGBTQ rights group in Ciudad Juárez, and feminist organizations on Thursday organized a protest during which participants demanded local, state and federal authorities do more to end to violence against women in the city. The press release that announced the demonstration specifically cited Ramírez and Medina.
"We seek justice and clarification in the murder of Nohemí and Yulissa, a lesbian couple who was found in Juárez-Porvenir Highway," it reads.