John Waters is bringing back the drive-in — with masks — at Md. Film Festival
Will cicadas spoil the show or add to the fun?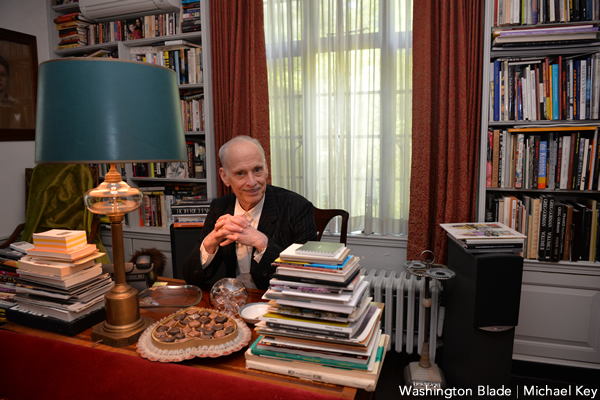 Writer and filmmaker John Waters says he grew up going to drive-in movies.
"We went every single night. With the same movie playing."
He had a certain routine.
"I used to…drive in alone with two cases of beer covered in a blanket and with four people in the trunk."
Now Waters is working to introduce a new generation to drive-in movie theaters, which are making a comeback because of the COVID-19 pandemic.
"When the pandemic happened, it did bring drive-ins back," he said in a recent interview. "Most young people have never been to a drive-in. I think it's a good answer [to the pandemic], and it's a good atmosphere for certain types of movies."
Waters is getting ready to host a double feature drive-in movie night on May 21, as part of the Maryland Film Festival that runs from May 19 to May 27. The theme is "Russian Shock Night at the Drive-In," because he selected two Russian films to present: Why Don't You Just Die! and The Road Movie.
This will be the third time during the pandemic that Waters has hosted a drive-in night for a film festival, after double features last year for the Provincetown International Film Festival, at the Wellfleet Drive-In Theatre on Cape Cod, and the New York Film Festival, at The Bronx Zoo.
This time the venue is Druid Hill Park, home of the Maryland Zoo in Baltimore. The film festival is creating a pop-up drive-in theater on the sloping lawn of the Mansion House, the zoo's headquarters, in conjunction with Baltimore's Department of Recreation and Parks. It will have a 52-foot-wide inflatable screen and space for 93 vehicles. The price of admission is $25 per car, and tickets sold out in a day.
The film festival is the first organization to get a permit for an in-person outdoor gathering on public property in more than a year from the city of Baltimore, where Mayor Brandon Scott has been cautious about allowing public events. The mayor wouldn't allow the annual July 4th fireworks show at the city's Inner Harbor or the annual Artscape festival in July.
"I'm proud to the first one," said Waters, who came up with the idea for a drive-in during the festival. "I'm thankful that they're letting us do it."
Based on his experience at the other festivals, Waters said, he's confident it will be successful. "I love the idea of the drive-in. I think it will be good, and it is safe. Everybody's in their car. Even if you haven't been vaccinated. Well, I hope you don't come if you haven't been vaccinated. But still, everybody's in their car. It's at a social distance."
Waters, who lives in Baltimore, traditionally introduces a movie of his choice on Friday night of the annual film festival, and it's a highlight of the event. Last year it didn't happen because the festival was cancelled due to the pandemic.
This year the festival is back as mostly a virtual event, because the theater where it's held is still subject to COVID-related seating restrictions. Organizers asked Waters to bring back his signature movie night. He didn't want it to be online.
"I said, I hate virtual. I'm so sick of virtual," he recalled. "They knew I had done a drive-in at the New York Film Festival, where we showed Salo and the Gasper Noe movie, Climax…It works well in the drive In."
Film festival organizers, led by executive director Sandra Gibson, collaborated with city officials to identify the site and figure out the details. "You don't have to be vaccinated, but you will have to wear masks…if you're outside your car," Gibson said.
The parks department didn't place a limit on the size of vehicles or the number of people in a vehicle, although larger ones will be located towards the back of the lot, she said.
"If you have a hatchback, we'll let you open your hatchback and sit in the hatchback," she said. "We'll let you sit in the back of a flatbed truck as long as you have a mask on. If you have an SUV that holds eight people, we're fine with that as long as everybody can see. But they have said you have to stay in your car."
Waters describes Why Don't You Just Die! as "a grindhouse, seat-ripping blood-drenched family revenge comedy that begs to be seen in a drive-in with a crazy audience cheering from their cars," and The Road Movie as "a dash cam documentary from hell that puts you live in the car accidents and near misses all for your rage viewing pleasure."
He said the two movies are in line with the ones he usually picks for screenings in the film festival's Parkway Theatre, "but these two I think are even better for a drive-in setting."
The Road Movie, featuring footage compiled from Russian dashboard cameras, has a car-oriented theme that fits with the drive-in set-up and will be the second film of the night. "You'll drive home safely after this one, I guarantee you," Waters said.
He chose a Russian theme, he said, "just because I loved these movies and I knew that Russia was especially kind of unmentionable these days. I'm not a fan of Russia either, but maybe everybody could come dressed as Nikita Khrushchev and his wife, or Putin."
Given the climate in Russia, "it's just kind of amazing that these two movies ever got made there," he said. "They're pretty radical movies. Especially Why Don't You Just Die!"
Waters said the location brings back fond memories, in part because the zoo is there and he lived nearby: "I've always liked Druid Hill…I used to live across the street at Temple Gardens Apartments for many years."
He jokes that he's a little suspicious that the city permitted his event but not the Fourth of July fireworks, citing COVID-19 as the reason.
"Maybe they hope we all get it," he said. "That's a new one. We had the censor board. Maybe this is a different way to censor."
He said he hopes the 17-year cicadas, insects that are just coming out of the ground in Maryland after a 17-year hiatus, make an appearance when his movies are showing.
"I wouldn't even be mad," he said, if they "were smashing into the windshields while we were watching. But then we should have shown The Swarm."
Given the park setting, "you can bet there might be some," he went on, imagining the possibilities of an insect invasion on his movie night. "It would only add to the disaster theme and the insaneness of the event, to be attacked by nature at Druid Hill Park and watching crazy Russian movies."
According to the website DriveInMovie.com, there are about 325 drive-in movie theaters currently operating around the United States, down from a peak of more than 4,000 in the 1950s.
Besides the ones in operation, "there are many more that are permanently closed but still remain standing and could potentially be reopened at some point in the future," says the website, which lists the drive-ins in every state and those that have closed in the past 20 years. "In fact, there have been several drive-in theaters that have been reopened the past couple of years after sitting dark for 20 or even 30 years."
The first "true" drive-in, the website states, was the "Automobile Movie Theatre" in Camden, New Jersey. It was opened on June 6, 1933 by Richard Hollingshead, a movie buff who initially experimented with showing movies in the driveway of his home.
Hollingshead got a U. S. patent for his drive-in, which the drive-in website describes as essentially a movie screen tied to some trees, a radio placed behind the screen for sound, a film projector on the hood of a car, and a strategy for spacing out cars. His slogan was "The whole family is welcome, regardless of how noisy the children are."
But Hollingshead's patent was later declared invalid, and that allowed others to follow his formula without paying him royalties. "Maybe one of the reasons Drive-In Movies are so much more popular in the United States than in other countries is because the drive-in movie is truly an American invention," the website states.
Today, both vintage drive-ins and pop-up drive-ins are being put to a variety of uses, from sites for fundraisers to filming locations to settings for socially-distanced music performances. When traditional movie theaters were shuttered because of the pandemic, drive-ins became an alternative because the audience remains outdoors.
In some cases, the land is used for swap meets and flea markets when movies aren't being shown. Joe Biden held drive-in rallies when he was running for President, and voters applauded by honking horns and flashing headlights.
Waters, who just turned 75 and has filmed all of his movies in and around Baltimore, is a drive-in aficionado.
"I've spent my whole life in the drive-in," he said. "I've written about them. I grew up in the Timonium Drive-In…The Bengies Drive-In, we filmed Cecil B. Demented in for a week. I spent a week on the roof of that concessions stand."
In Polyester, "I had an art drive-in," he said. "The joke was that they showed art movies, and in the concessions stand they had caviar and champagne. That was filmed at the Edmondson Drive-in" in Baltimore.
For him and others in his generation Waters said, the drive-in was "the first apartment' where "kids could actually get away from their parents."
It also taught him about saving money by sneaking people in — something he doesn't want to see on his night.
"I'll be catching you if you try to sneak in in the trunk, let me warn you," he said. "I know all the tricks sneaking in the drive-in."
For this week's event, the plan is that Waters will be there and will be visible on screen, introducing the movies. Though he's been vaccinated, there won't be a Meet-and-Greet session with fans, for safety reasons. "He knows that we've got restrictions and he may have his own," Gibson said. "He's really conscious that it's still a pandemic."
The city has come up with a list of rules and regulations for those with tickets. Besides the requirement that people wear masks when outside the vehicle, no food or drink may be consumed outside of vehicles. Car windows must be up when eating. Tailgating isn't allowed. Everyone must pre-register and sign a parks department waiver before arriving.
Waters said he read all the rules and couldn't find any restrictions against having sex in a vehicle during a movie.
"I guess that means you can have sex," he said. "When I was young, that's what everybody did."
The same goes for drinking in a vehicle, he said. "That's something you always did at the drive-in too."
The list of rules and regulations is part of the traditional drive-in experience, because every drive-in has rules. In a way, Waters said, it also goes along with the theme for the night:
"It will feel like the Russian government is watching."
Although the drive-in night is sold out, other tickets are still available to the Maryland Film Festival, including Pride Night and eight LGBTQ-oriented films viewable online. Information about the lineup is at mdfilmfest.com.
Two new books celebrate Old Hollywood glory
'Elizabeth and Monty: The Untold Story of Their Intimate Friendship'
By Charles Casillo
c.2021, Kensington
$27.00/389 pages
'The Twelve Lives of Alfred Hitchcock'
By Edward White
c.2021, W. W. Norton & Company
$28.95/379 pages
If you're queer, especially if you're of a certain age, old Hollywood is embedded in your DNA.
For those of us besotted by classic movies — there can never be too many books about Tinseltown.
Two new books — "Elizabeth and Monty" by Charles Casillo and "The Twelve Lives of Alfred Hitchcock" by Edward White — will satisfy your old Hollywood jones.
"Elizabeth and Monty" is the riveting story of the intimate friendship of Elizabeth Taylor and Montgomery Clift.
Few people are loved more by the LGBTQ community than Elizabeth Taylor. Who will ever forget Taylor as Martha in "Who's Afraid of Virginia Woolf" or as Maggie in "Cat on a Hot Tin Roof?"
Taylor raised millions for AIDS research long before any celeb or politico even said the word "AIDS." People with AIDS weren't objects of charity to Taylor. She had many queer friends and hung out at gay bars.
Montgomery Clift, who lived from 1920 to 1966, was a talented actor. Because of the time in which he lived, he had to be closeted about his sexuality. Because of the homophobia in the society and Hollywood then, the support of friends was crucial to Clift and other LGBTQ people of that era.
For much of his life, Clift had health problems that caused him pain. Partly as a result of pain, he had issues with drinking and drug addiction. His behavior could be erratic and uncouth. (He had a penchant for eating food off of other people's plates.)
Despite Clift's troubles, you become transfixed by his brooding intensity – whether you're watching him in "The Heiress," "From Here to Eternity" or "Red River."
If you have a heartbeat, you'll feel the chemistry between Clift and Taylor when they're on screen together in "A Place in the Sun."
Though Clift was queer and Taylor was hetero, they were the closest of friends.
From the prologue onward, Casillo draws you into their friendship. The book opens on the evening when Clift, driving home from a party, was in a terrible car accident. He'd crashed into a telephone pole.
Taylor went to Clift who was lying bleeding on the road. "Realizing he was choking on his teeth," Casillo adds, "she instinctively stuck her fingers down his throat and pulled out two broken teeth, clearing the passageway."
Taylor stuck by Clift when many of his friends distanced themselves from him.
Taylor insisted that Clift be cast in "Reflections in a Golden Eye." She put up her own salary as insurance for Clift when no one would insure him (because of his health and substance abuse issues).
It's clear from "Elizabeth and Monty" that Clift was as important to Taylor as she was to him. Their relationship wasn't sexual, writes Casillo, author of "Marilyn Monroe: The Private Life of a Public Icon" and "Outlaw The Lives and Careers of John Rechy." Yet, there was an emotional intensity – a romantic quality – in their friendship.
Clift nurtured Taylor. He coached Taylor, who he called Bessie Mae, on her acting. He thought Taylor was beautiful, yet understood what it was like for Taylor when people only saw her for her beauty.
"Monty, Elizabeth likes me, but she loves you," Richard Burton is reported to have said to Clift.
There are good biographies of Taylor – such as William Mann's "How To Be A Movie Star: Elizabeth Taylor in Hollywood" and of Clift – most notably Patricia Bosworth's "Montgomery Clift: A Biography."
Even so, "Elizabeth and Monty" sheds new light on the intense friendship of two queer icons. Check it out. It will imbue you with renewed love and respect not only for Taylor and Clift but for your own friends.
Without Alfred Hitchcock, I'd never make it through the pandemic.
The COVID vaccines are wonderful! But, I'd never get out of my sweatpants without the suspense and glam of Hitchcock's movies.
Nothing is more comforting than watching serial killer Uncle Charlie in "Shadow of a Doubt" or, with Grace Kelly, James Stewart and Thelma Ritter, observing the murderer in "Rear Window."
What is more pleasurable than ogling the gorgeous mid-century apartment where a murder has been committed in "Rope?"
Of course, I'm far from alone in loving Hitchcock. Hetero and queer viewers are Hitchcock fans.
Everyone from your straight, straitlaced granny to your bar-hopping queer grandson has had nightmares about the shower scene in "Psycho." Or had a crush on Cary Grant or Eva Marie Saint in "North by Northwest."
From the glam in "Rear Window" to Bruno and Guy in "Strangers on a Train," it's clear that Hitchcock's movies have a queer quotient and a special appeal to LGBTQ viewers.
There are more biographies and studies of Hitchcock's life and work than you could count. Or would want to read.
Yet, "The Twelve Lives of Alfred Hitchcock" by Edward White is a good read.
In elegant, precise writing, White illuminates Hitchcock's life and work by examining 12 aspects of his complex personality. As with all of us, the whole of Hitchcock's self was more than the components of his personality. Any life, despite the most assiduous biographer's investigations, remains somewhat of a mystery.
White explores how "Hitchcock" the phenomenon was invented as well as what made Hitchcock the person tick. He carries out this exploration by writing about Hitchcock as everything from "The Fat Man" to "The Murderer" to "The Dandy" to "The Voyeur" to "The Londoner" to "The Family Man" to "The Man of God."
Hitchcock was a family man who loved his wife, yet, at times, gazed in, to put it mildly an unsavory manner, at some of the actresses such as Tippi Hedren, in his films.
Impeccably dressed in a Victorian-era suite, he plotted films about murder and rape with his wife (and frequent uncredited collaborator) Alma at his side.
For a half century, "Hitchcock's persona was the active ingredient in the most celebrated of his 53 films," White writes, "the way Oscar Wilde's was in his plays, and Andy Warhol's was in his art."
Hitchcock stands alone in the Hollywood canon, White writes, "a director whose mythology eclipses the brilliance of his myriad classic movies."
The span of Hitchcock's career was immense — from the time of silent films to the 3-D era. His work, White, a "Paris Review" contributor, writes, runs the gamut from thrillers to screwball comedy to horror to film noir to social realism.
Read "The Twelve Lives of Alfred Hitchcock." It'll take you inside the mosaic of the fab filmmaker's life and work. Then, break out the popcorn and "Dial M for Murder."
Northam declares June LGBTQ+ Pride month in Va.
Virginians encouraged to participate in events throughout the Commonwealth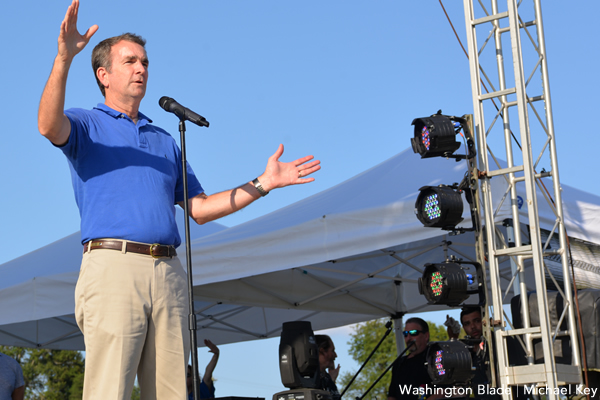 Virginia Gov. Ralph Northam on June 4 officially declared June as LGBTQ+ Pride month to celebrate the commonwealth's LGBTQ+ communities, their achievements and contributions, and their fight for inclusion and equality.
"This Pride month, we are reminded of the resilience of LGBTQ+ Americans and their fight for inclusion and acceptance and equal access to services and opportunities," said Northam.
Northam further encouraged Virginians to participate in Pride month activities that are to be hosted by his administration and community organizations taking place online and in-person throughout the Commonwealth.
A comprehensive event schedule is available on the governor's website.
Colton Underwood, Greyson Chance+ more Amazon Live Pride Festival!
Greyson Chance and former Bachelor star, Colton Underwood, will be streaming live to discuss how they show their Pride, answer fan questions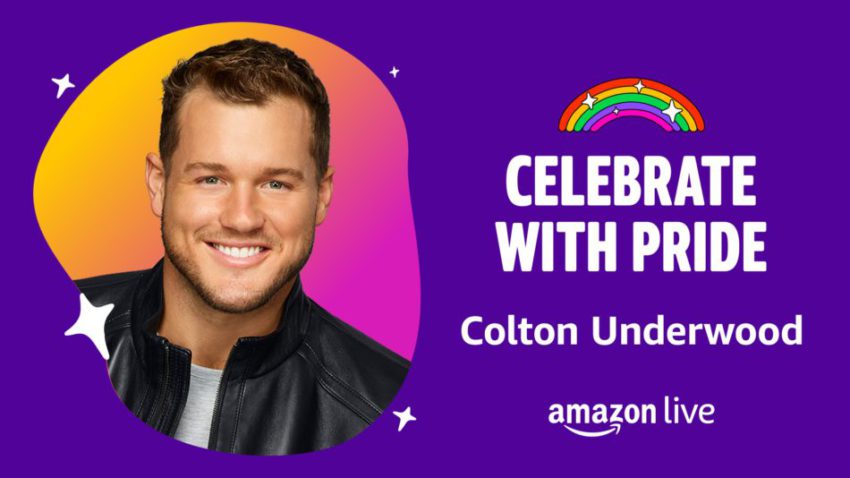 SEATTLE, WA. – Happy Pride Month! Amazon Live is hosting its first-ever Pride Festival this Thursday (6/10) and Friday (6/11) from 3-6pm ET. Your favorite celebrities and influencers, including recording artist, Greyson Chance and former Bachelor star, Colton Underwood, will be streaming live to discuss how they show their Pride, answer fan questions, and share their top Pride picks across fashion, beauty, books, movies, and TV.
Customers can watch HERE via desktop, mobile, or through the Amazon Live Shopping app on Fire TV. Customers can interact directly with the celebrities and influencers via live chat, and easily shop the products and brands discussed through a carousel that updates in real-time.
The scheduled events are as follows:
DAY ONE (6/10):
3PM ET: Greyson Chance will perform from his upcoming EP Trophies, releasing on June 25, and share his curated selection of Pride merch.
4PM ET: Jo Duree will stream a "get ready with me," inviting viewers to do their makeup alongside her as she shows top tips and tricks.
5PM ET: Pride House LA is throwing the ULTIMATE pride variety show! Featuring top products, you will be fully entertained with special guest performances and amazing talent!
DAY TWO (6/11):
3PM ET: Colton Underwood will discuss his life, answer viewer questions, and share the products that help him show off his pride.
4PM ET: Jake Warden will demo a Pride makeup look.
5PM ET: Olga Von Light will discuss her coming out story, and share some favorite Pride related merchandise and why the products are meaningful to her.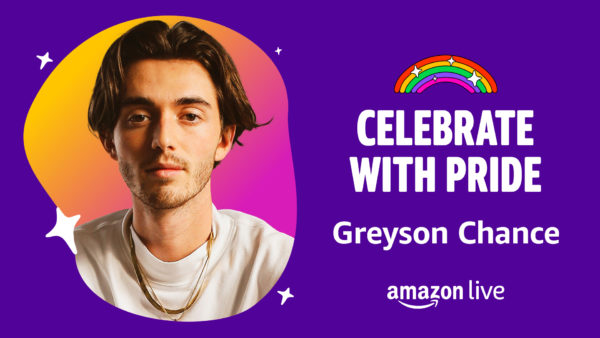 We'd love to have you join! Check out this blog post for more information about how Amazon is celebrating Pride Month.