Rainbow Families debuts 2nd virtual conference, 'Forward Together'
Two-day digital event features Rep. Mondaire Jones, Indigo Girls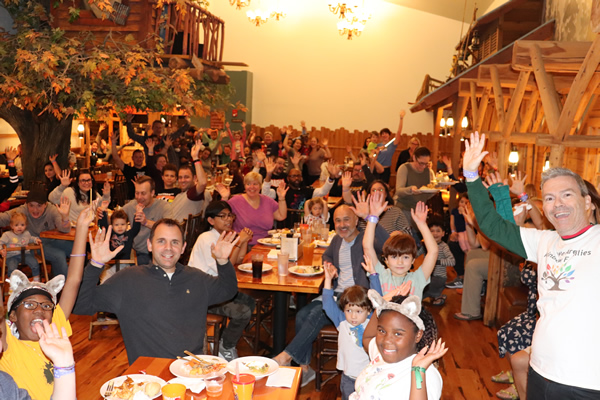 Prospective parents, families and kids — no matter your household makeup, Rainbow Families has you covered at its second annual virtual LGBTQ+ Family Conference this weekend.
This year's conference, "Forward, Together…," will offer a variety of resources, workshops and special guests like the Indigo Girls and Congressman Mondaire Jones, who is this year's "Hero of the Year" and keynote speaker. Rainbow Families is one of the nation's few non-profit organizations educating and empowering LGBTQ families, parents, and prospective parents.
"The theme of 'Forward, Together…' represented hope, to honor where we've been and what we've been through," said Darren Paul-Vance, executive director of Rainbow Families. "And yet we still went through this year-plus, solid as a community, strong and motivated to make change."
The conference will operate under a "come and go" model, Paul-Vance said, and will include events for kids and a silent auction. Attendees can select which programs suit their needs to avoid sitting in front of a screen all weekend, he said.
The cost of admission is reduced to $44 for two participants due to donations to the organization and the lack of in-person accommodations like meals and daycare. If families cannot afford the price, participants can email [email protected] to get the fee waived, Paul-Vance said.
"The economic hardship is by no means over for a vast majority of people," he said. "All they have to do is reach out to us in confidence."
Despite the event being virtual for the second year in a row, the incoming Rainbow Families board president and current Vice President Liz Dean said she's excited to bring the digital conference to communities across the United States, especially where LGBTQ health care is not accessible.
"We're offering our workshops and giving an overview of different elements of creating or starting or growing a family that you might not have access to in different parts of the country or the world," she said.
Coming from an LGBTQ family himself, Paul-Vance knows first-hand the importance of resources and programming for LGBTQ families.
"We continuously hear from people how significant and powerful having these opportunities to be in safe spaces," he said.
Rainbow Families began the Hero of the Year recognition three years ago to recognize revolutionary work in the LGBTQ community. Past honorees include local LGBTQ family law attorney, Michele Zavos; and Ellen Kahn, the senior director of programs and partnerships at the Human Rights Campaign.
Since beginning his tenure in January, Rep. Jones has introduced legislation aimed at supporting at-risk LGBTQ youth and reintroduced the Universal Child Care and Early Learning Act, which would establish a network of federally supported, locally administered child care options.
Jones said he's honored to receive the award at this year's LGBTQ Family Conference.
"Every LGBTQ+ family deserves the right to grow, and Rainbow Families works tirelessly to ensure that LGBTQ parents receive the support they need by offering educational programs, support groups, and so much more," Jones wrote in an emailed statement to the Blade. "While we've made great strides toward true equality, our work is far from over. I'm so grateful to have partners like Rainbow Families in the fight to affirm justice for all LGBTQ+ people and families."
The first Black and gay congressman along with fellow Democrat Ritchie Torres, Paul-Vance said Jones's "existence at the table is revolutionary."
"For many, he gives representation and voice to those who've had none," Paul-Vance said. "He is radical. We've coined radicalism as a bad thing, but where would we be without radical leaders — especially queer ones."
The Rainbow Families LGBTQ+ Family conference is set to feature 25 live workshop discussions on Saturday and a digital expo, school fair and kids programs on Sunday.
Tara Cheston, the LGBTQ and sexual health program specialist for D.C. Public Schools, will host the workshop, "Collaborating for Change: Finding, Accessing, and Advocating for LGBTQ+ Inclusion in Schools" at the school fair Sunday at 2 p.m.
Cheston will give her insider perspective to parents and caregivers on how to more effectively advocate for children in school and share what resources are available. She said she's looking forward to collaborating with Rainbow Families, a frequent partner at DCPS resource fairs.
"It's an opportunity for us to collaborate and create more of that intentional focus on parent caregiver outreach, so that folks feel supported and know where to go for information and resources," Cheston said.
Dr. Jessica Fish, an assistant professor at the School of Public Health at the University of Maryland, will present a workshop, "Parenting Strategies to Support our LGBTQ+ Youth" on Saturday at 3:40 p.m.
In the workshop, Fish will provide tips for parents to have honest, educational and caring conversations with their LGBTQ kids about growing up and making positive choices in the outside world.
Laura Jones, a therapist in the District, will host the workshop, "Reviewing & Renewing Our Ideas of 'Health'" and will address issues like body image and diet culture at 2:20 p.m. on Saturday.
In her practice, Jones specializes in eating disorders and gender identity and works in expanding treatment to better support marginalized identities. Jones discovered Rainbow families a few years ago and wanted to give back to the organization by presenting a workshop, she said.
"My wife and I are in the middle of family planning, and we've hit multiple obstacles," Jones said. "It's nice to know that we're not alone."
Sara Mindel, also a therapist in the area, will lead the workshop, "The In's and Out's of YELLING (for all ages!)" at 2:20 p.m. on Saturday. Mindel served on the Rainbow Families board of directors previously, as well.
"Living in the pandemic has created a pressurized system for so many folks," Mindel said. "I'm hoping to spend the workshop time talking about what it means to even lower or lessen our relationship with yelling, and what it means to find different strategies, other than yelling so we can be effective and communicating boundaries."
Rainbow Families delayed the conference in May 2020 like many other organizations at the beginning of the coronavirus pandemic to shift events to digital platforms. That effort in development last year helped the team develop this year's programs, Paul-Vance said.
"There is a great deal that's different about the scheduling because of doing it virtually, and that does take a great deal of careful attention," he said.
Paul-Vance took on the role of executive director in December 2017 after undergoing an organ transplant due to kidney failure. This was "life-changing," he said, and decided he wanted to turn his passion for LGBTQ rights and issues into a job after working in the entertainment travel industry.
Taking on the role of executive director "was the best decision, professionally, that I've made," he said.
Rainbow Families also offers year-round programs like support groups, programs for kids and families and "Maybe Baby," a multi-week course for prospective LGBTQ+ parents that educates on topics like adoption and assisted reproduction, financial and legal issues and how to build a support network.
To learn more about the Rainbow Families LGBTQ+ Family Conference, visit rainbowfamilies.org.
Civil rights film fest celebrates transmasculine activist
March on Washington Film Festival runs Sept. 30-Oct. 4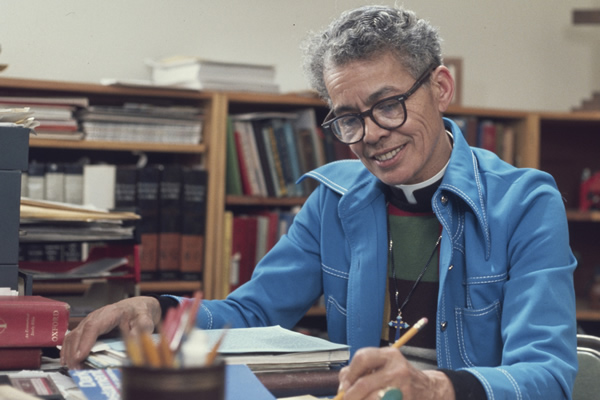 "I chose as my senior paper, 'Should Plessy vs. Ferguson be Overruled?' My little argument went to the Supreme Court," said influential queer civil rights activist Rev. Dr. Pauli Murray in a powerful documentary featured in the 2021 March on Washington Film Festival.
The annual D.C. film festival runs Sept. 30 to Oct. 4 and features both in-person and virtual events, including a commemoration of Murray, a transmasculine activist often overlooked in history textbooks.
"Our mission is to tell the mistold and untold stories of the people who motivated and moved the civil rights movement," said Artistic Director Isisara Bey, a longtime LGBTQ ally who has been with the film festival for eight of its nine years.
Murray was a poet, activist and legal scholar whose writings were the underpinnings of decisions by late Supreme Court Justices Ruth Bader Ginsberg and Thurgood Marshall.
"A film festival like this is extremely important because none of us leads lives outside of a historical, cultural, political and spiritual framework," Bey said, noting Murray was the first African-American woman ordained as an Episcopal priest.
The film festival, founded in 2013 in Washington, D.C., to commemorate the 50th anniversary of the March on Washington for Jobs and Freedom, uses film screenings and panel discussions to educate audiences about civil rights pioneers and raise awareness on pressing current issues, such as environmental justice.
This year's festival commemorates Murray's legacy at an in-person event at the Eaton Hotel (1201 K St., N.W.) on Oct. 4 at 7 p.m., which includes presentations and a dramatic reading of Murray's speech to the National Council of Negro Women on Nov. 13, 1963.
Virtually, more than 20 films will be available on demand beginning Sept. 24, including "Flint: The Poisoning of an American City" about the city's water crisis; "End of the Line: The Women of Standing Rock" documenting the indigenous women who fought against construction of the Dakota Access Pipeline; and "To the Plate," a short film about a lesbian restauranteur and her girlfriend who struggle to keep their business open in the face of anti-Asian hate.
Robert Raben, the festival's gay co-founder, told the Washington Blade the LGBTQ community should come out and support the festival because the civil rights and gay liberation movements were "intertwined."
"The gay civil rights movement relied enormously on the methods of the African-American civil rights movement," he said. "You can't have a gay liberation movement without a civil rights movement. And the number of gay people involved in the civil rights movement was pretty high."
Raben told the Blade this "lost" history, including that of Murray, is empowering to learn, particularly for LGBTQ youth of color.
"Stories of gay people need to be focused on history because it inspires our young to make change in an intersectional way."
Raben called the festival, which also includes panel discussions, music, art and dance, an "uncensored" platform for sharing an "honest picture" of historical events.
"Textbooks have never told the truth with regard to Asian Americans, Native Americans, Latinos and African Americans," he said. "Attacks on 'critical race theory' is just a latest effort to restrict what we learn about history. The strength of the festival is we're giving people stories that they suspected were out there."
Ticket prices include an all-access pass for $149, a virtual film pass for $79, a discounted pass for students and educators at $19, and an option to pay what you can to attend virtual festival events.
Attendees for in-person events must present proof of vaccination at check-in, wear masks during events and utilize socially distant seating.
PHOTOS: DC Frontrunners 40th anniversary
Awards ceremony and party held at Jack Rose Dining Saloon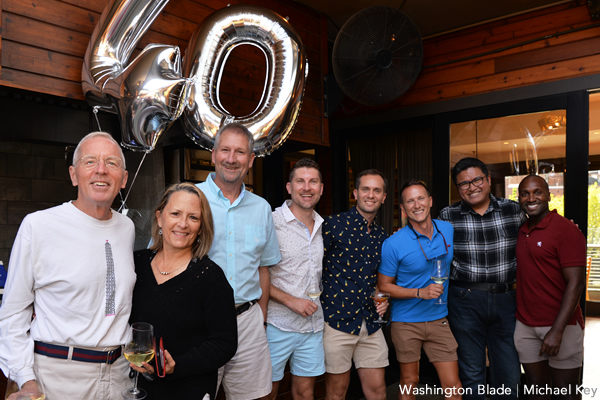 The LGBTQ+ and allies running, walking, and social club DC Frontrunners held its 40th anniversary celebration and awards ceremony at Jack Rose Dining Saloon on Saturday.
(Washington Blade photos by Michael Key)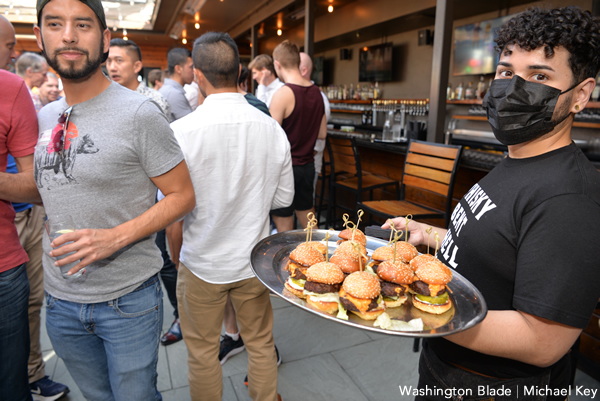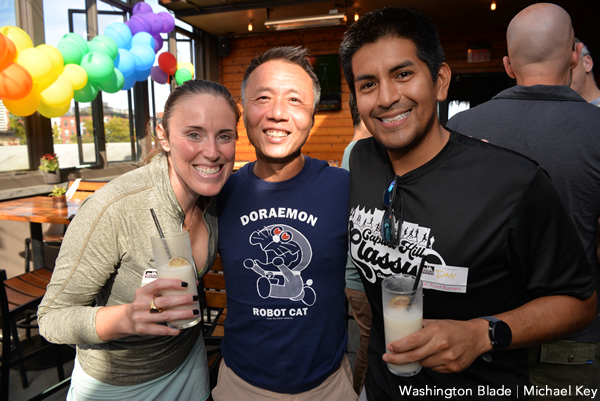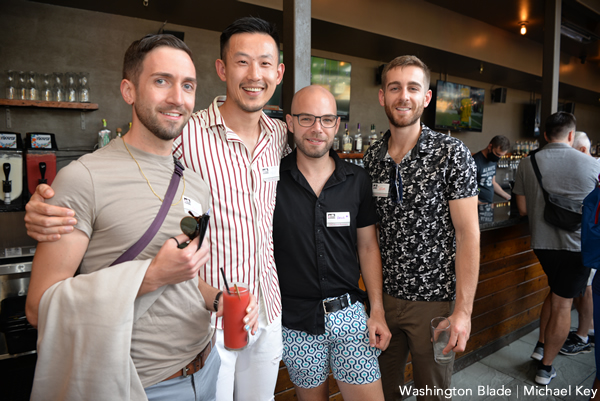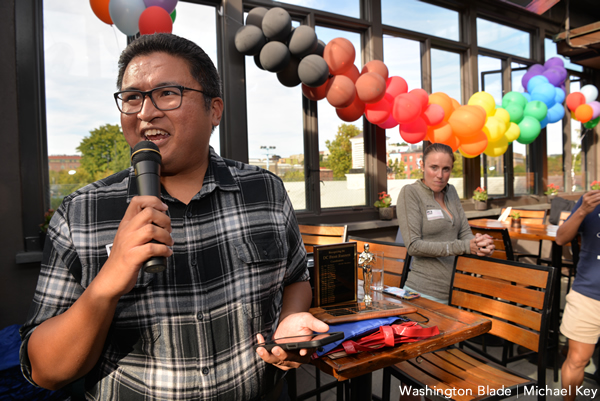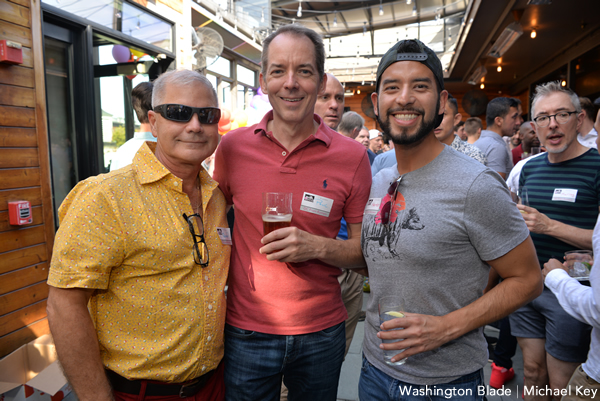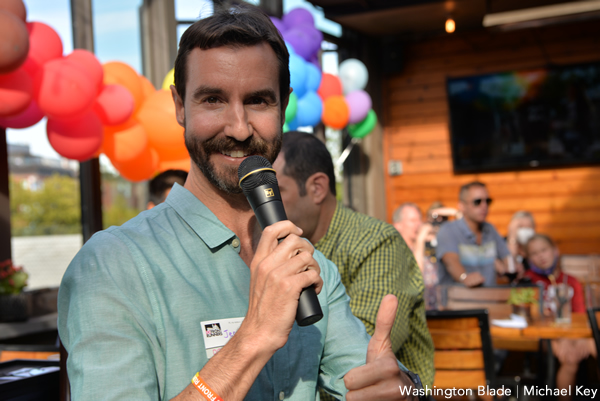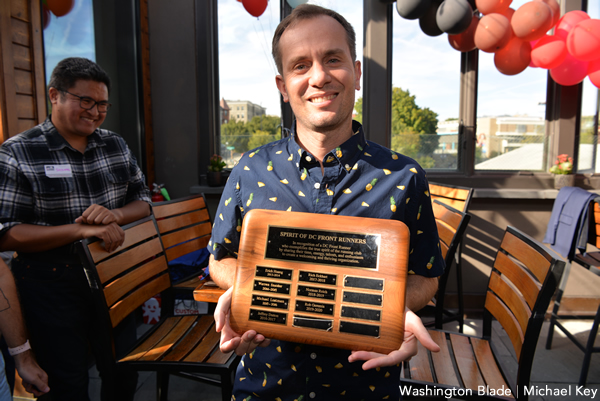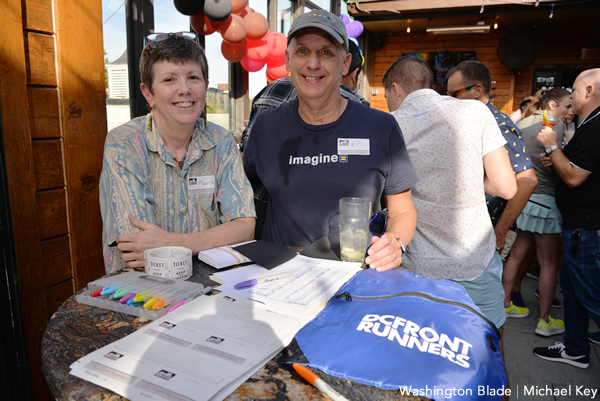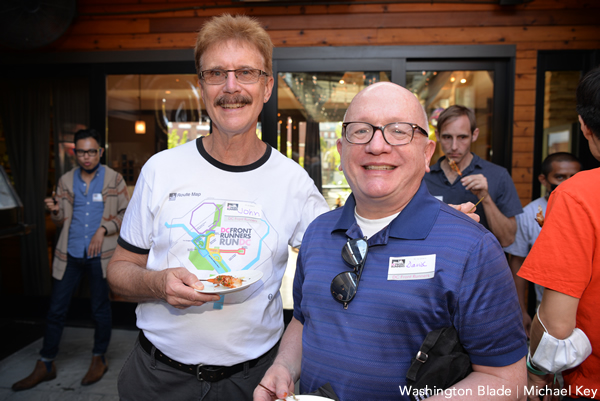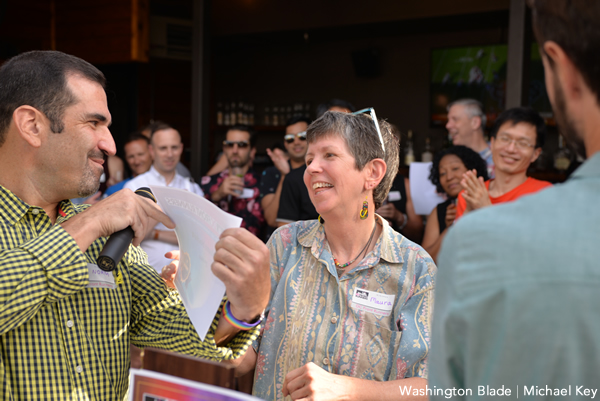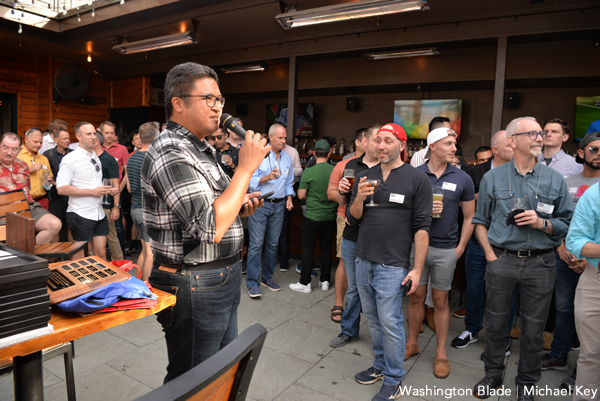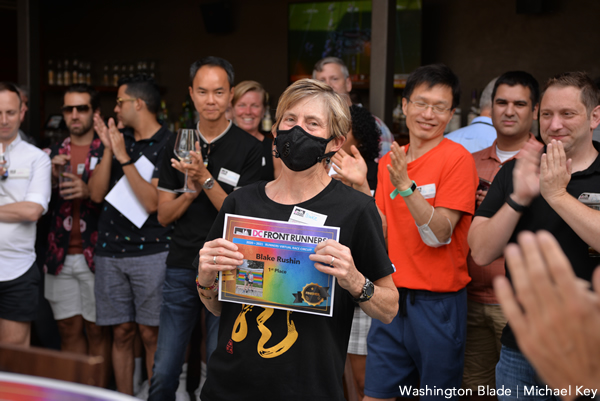 'Doña Rosita' marks reunion of three Spaniards at GALA
An excellent cast and dynamic staging elevate stellar production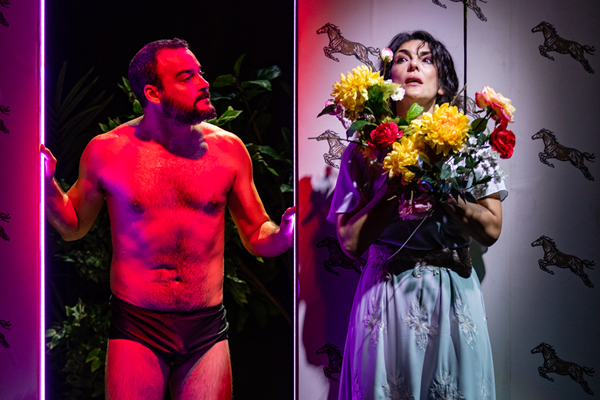 Doña Rosita la soltera
Through Oct. 3
GALA Hispanic Theatre
3333 14th Street, NW
$35-$48
galatheatre.org
In the 1930s, Federico García Lorca, 20th century Spain's greatest poet and dramatist, was writing plays about a woman's place in the world. In fact, Lorca, who was gay, was exploring women's souls in an unprecedented way for Spain, or anywhere really. His insight is frequently credited, in part, to his sexuality.
Now at GALA Hispanic Theatre, Lorca's "Doña Rosita la soltera (Doña Rosita the Spinster)" tells the story of Rosita, an unmarried woman who subsists on definite hopes of marrying a long-distance fiancé. Whether it's to keep the populace at bay or to feed a romantic fantasy, isn't completely clear, but years — decades, in fact — pass, and very little changes.
Set in the conservative world of middle-class Granada (Lorca's native province), the 100-minute play, performed in Spanish with English surtitles, spans the 1880s through the early 1900s, constrictive years for women in Spain. When Lorca wrote "Doña Rosita" in 1935, on the eve of the Spanish Civil War, he appreciated the recent gains made surrounding women's rights and foresaw further, imminent progress. Then, just a year later at age 38 and at the top of his game, Lorca was unlawfully arrested and murdered by Franco's rightwing thugs. All was lost.
Adapted by out writer Nando López, GALA's offering strays from Lorca's original in various ways: there are fewer characters, and the older Rosita serves more as a narrator, interacting with her younger self. Lorca's glorious poetry remains mostly intact.
Still, the title character's tale is clear: Orphaned as a child, Rosita (Mabel del Pozo) goes to live with her devoted aunt (Luz Nicolás) and uncle (Ariel Texidó), an avid gardener. As a young woman, she falls in love with her first cousin (also played by Texidó), and they're engaged. Despite the fiancé leaving Spain to join his aging parents on their sizeable farm in Tucumán, Argentina, the young lovers remain betrothed.
Domestic life goes on. With the support of relations, and the family's devoted but skeptical housekeeper (Laura Alemán), Rosita assembles a first-rate trousseau, and the affianced pair continue to exchange heartfelt letters. At one point, there's talk of marriage by proxy – an idea scoffed at by some of the household and neighbors.
The sameness of the unchanging household is offset by out director José Luis Arellano's dynamic staging, an excellent cast, actors nimbly changing characters onstage with the help of a hat or cravat fished out of a chest of drawers, Jesús Díaz Cortés' vibrant lighting, and incidental music from David Peralto and Alberto Granados. Alemán, so good as the shrewd housekeeper from the country (a place Lorca respected) also assays a spinster who comes to tea. And Catherine Nunez characterizes feminine youth, scornful of Rosita's unattached status. Delbis Cardona is versatile as the worker and Don Martin, a teacher charged with educating the ungrateful offspring of Granada's rich.
After a rare outdoor excursion to the circus, Rosita wrongly claims to have seen her would-be groom working with the troupe, but the housekeeper is quick to point out that the well-built puppeteer is by no means her stoop-shouldered barefoot fiancé, adding that more and more Rosita is seeing her faraway love in the face of the men about Granada. Swiftly, the aunt reminds the housekeeper to know her place – she's allowed to speak, but not bark.
Visually, the passage of time is indicated by the hemline and cut of Rosita's dresses (designed by Silvia de Marta), and the mid-play dismantling of the set (also de Marta), opening the family's rooms and garden to what lies beyond.
After intermission, six more years have passed and the narrative is more straightforward and patently compelling. Rosita's aunt, now a pissed-off, generally miserable widow in reduced circumstances, is packing up to move. It's been hard running a house, she says. And it's harder scrubbing the floors, replies the faithful housekeeper.
And it's here that del Pozo shines with Rosita's revelatory monologue, a searingly true, passionately delivered speech worth the price of a ticket.
"Doña Rosita" marks a collaborative reunion of three Spaniards – writer López, director Arellano, and actor del Pozo – who all worked on GALA's 2015, multi-Helen Hayes Award-winning production of Lorca's politically controversial "Yerma," the story of another complicated Spanish woman.