'Will Power's Flow' a hip-hop tour de force
Justin Weaks on playing multiple parts, theater scene after COVID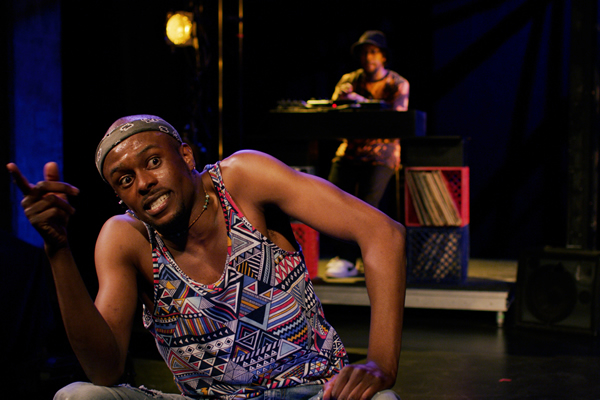 'Will Power's Flow'
Studio Theatre
Streaming through June 27
$37
Studiotheatre.org
Out actor Justin Weaks really digs hip-hop. So, when Studio Theatre asked him to take on the title role in a filmed remount of "Will Power's Flow," an early 2000s hip-hop theatrical piece about music and the storytelling of contemporary urban denizens in the West African griot tradition, it wasn't an impossible stretch.
Growing up in Concord, N.C., a suburb outside of Charlotte, Weaks' household was strictly into soul and R&B. But since living in D.C., he says, it feels like hip-hop music has deeply dug its claws into him.
In "Flow," Weaks, 30, is backed by the hip-hop beats of DJ/composer/sound designer Nick "Tha 1da" Hernandez. "But you'll hear me on some beats too. I have a good time with it."
But the most challenging aspect of tackling "Flow" is playing multiple parts, he adds. In addition to his lead role as performer Will Power (the 7th storyteller), he plays six other storytellers, and about another dozen characters. But this sort of tour de force isn't entirely new to the actor who triumphantly played multiple roles in "Long Way Down" at the Kennedy Center as well as in "Gloria" at Woolly Mammoth, the work that garnered him a Helen Hayes Award nomination.
The D.C.-based actor who describes himself as "happily single," ranks as one of Washington's most gifted talents.
WASHINGTON BLADE: Was it challenging to assay Will Power, a part so associated with a real-life artist?
JUSTIN WEAKS: Actually, this production was my introduction to Will Power. My friend and director Psalmayene 24 reached out to me – he said Studio wanted to remount "Flow" with a new actor, and asked if I was interested. I was blown away by the script. It's a behemoth of a piece. Any yes, any time you're dealing with a piece that was originally performed by its writer, there is an extra responsibility to the work and the words.
BLADE: And how was returning to the stage after a long absence?
WEAKS: The return to Studio felt right. I love the programming at Studio. Like how intimate their spaces are. As a performer you're held by the audience.
BLADE: But because of COVID restrictions, this production was filmed over two days. How was that?
WEAKS: I've had very little film experience. This was my first major rodeo in front of the camera. Everything about it was new. I learned so much while doing it. It's something that's foreign. You have to think of it as a great opportunity to learn, to grow, and see what you need to work on.
I'll admit that I feel incredibly vulnerable with this filmed play being out there. That's new for me. I've experienced vulnerability in real time when I'm on stage but to have the work be done a month ago, edited, and out there, it makes me feel exposed in a way I've never felt.
BLADE: I'm sure you'll get used to that.
WEAKS: After I've done a few feature films, I'll probably feel differently.
BLADE: Was it difficult returning to work after such an odd year?
WEAKS: Returning to work as an artist isn't easy. I consider our return process to be like boot camp. We're different people now. My body sits differently. My voice and breath are different. After isolation and not working much, I had to relearn my instrument again.
BLADE: Is it different?
WEAKS: There is so much that is changing in terms of the industry — theater and film industry. How they hire and pay artists. So many of us made more on unemployment than when we were busy working full-time pre-COVID.
Theaters will be in for a surprise when they reopen doors and find that artists don't want to go back to the way things were before the pandemic. We're in a different time now and we'll rise to the new time rather than shrinking back into what was. Clearly it wasn't serving many of us.
BLADE: And is there anything about Flow that's especially appealing to LGBTQ audiences?
WEAKS: Oh, yes. If you're someone who has struggled at all this past year, then this piece will interest you. If you're figuring out what the future looks like, how to move on, how to cope, how to have faith, or hang on to something real, then this play is for you.
Queer actor on new role: 'Playing villains is a blast'
Jaye Ayres-Brown returns as a contemptible Londoner in 'Red Velvet'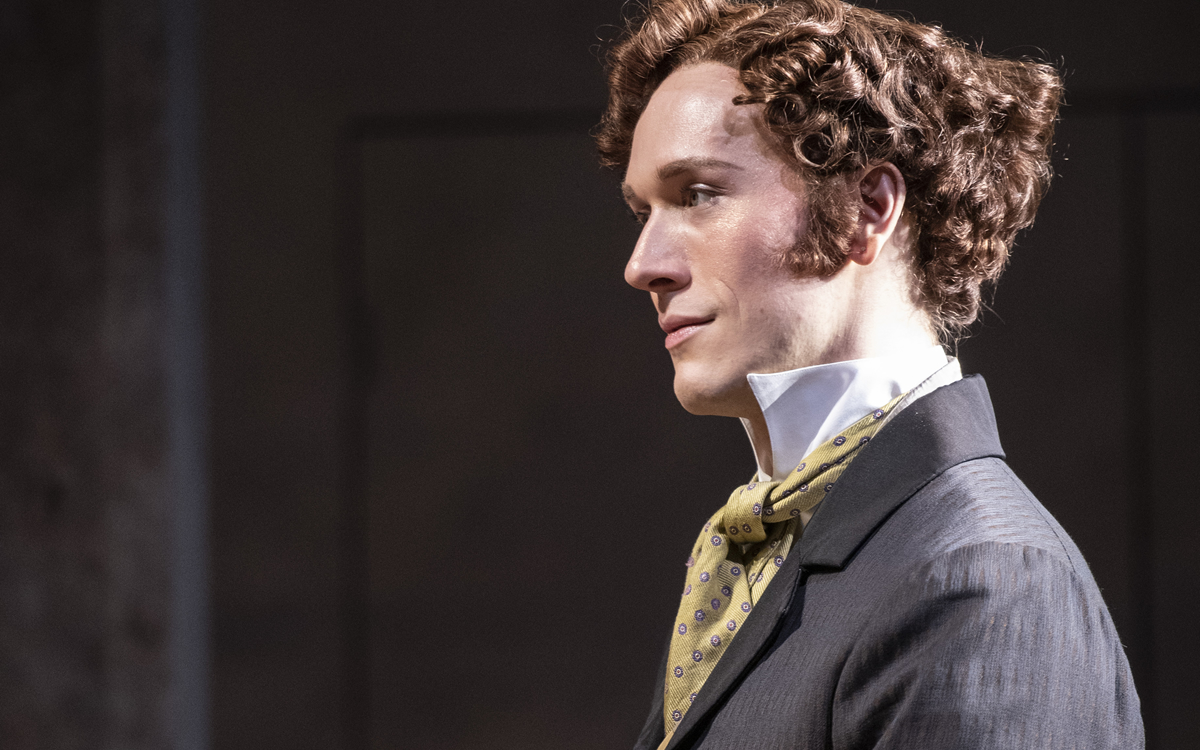 'Red Velvet'
Through July 17
Shakespeare Theatre Company 
Michael R. Klein Theatre at the Lansburgh, 450 7th St., N.W.
$35-$120
Shakespearetheatre.org
After a five-year absence from the stage, actor Jaye Ayres-Brown (queer, gender fluid, non-binary, and trans-femme) returns to the boards as a contemptible cisgender Londoner in playwright Lolita Chakrabarti's "Red Velvet" at Shakespeare Theatre Company's Klein Theatre.
Possessed of presence and genuine warmth, Ayres-Brown, 27, is playing Charles Kean, the smug and dubiously talented son of legendary English actor Edmund Kean. Charles is also the essential antagonist in Chakrabarti's exploration of the life and career of renowned early 19th century African-American Shakespearean actor, Ira Aldridge (Amari Cheatom).
When Aldridge is tapped to play Othello on the London stage, Charles, who's slated to act opposite the star as evil Iago, quits the show. It's 1833 and Charles is deeply opposed to a Black actor playing a Black lead character, and he's even less pleased that his real-life fiancée Ellen Tree (Emily DeForest) is assaying Othello's romantic obsession Desdemona in the production.
Offstage, Ayres-Brown is Aldridge's biggest fan: "He was way ahead of his time. A hundred years before Stanislavsky, Aldridge was introducing a proto naturalist approach to acting. In retrospect, it's hard to disentangle the public's reaction to him. He was something so different. But were white audiences reacting to his innovative acting style or were they showing their racial bias?"
"In the play, I'm that bias," says the New York-based actor.
WASHINGTON BLADE: Joan Crawford famously said, "I love playing bitches. There's a lot of bitch in every woman — a lot in every man."
JAYE AYRES-BROWN: Oh yeah, playing villains is a blast. Ira Aldridge was such a spectacularly heroic person, an amazingly gifted and resourceful artist, he deserves a good villain to push against, a meaningful villain who makes us admire the hero even more. And Amari [Cheatom], the actor who plays Aldridge, is a great artist who deserves a strong antagonist too.
BLADE: Are you enjoying your stay in London 1833?
AYRES-BROWN: No, I hate it! But my character loves it. Charles enjoys tremendous privilege – racial and professionally. He's a cisgender white supremacist committed to the patriarchal power structure of the time. But me, Jaye as a person, is less than charmed by it.
BLADE: But aesthetically, it's quite fine?
AYRES-BROWN: Yes, You-Shin Chen's sets are impeccable, and the period costumes are beautifully rendered by Rodrigo Muñoz. Sometimes, I do feel a little bit like a drag king in Charles' attire. It's a performance of masculinity.
I have an expansive experience of gender in which I include masculinity and I think I have something interesting to say and a unique perspective. Language about gender nonconforming identity didn't exist in 1833, but the people existed, getting by the best way they could. Everyone was either a man or a woman. Who knows today how any of these characters would identify?
My objective is to cram as much humanity in the character as I can. The play is deeply considered with questions about who gets to play what roles. And I try to bring as much of myself to each role regardless of their gender.
BLADE: Charles is very far from who you are?
AYRES-BROWN: For me, the work of playing a character like this is derived largely from the racist lessons all Americans learn. The stereotypes are things that I've been exposed to as someone who grew up white in America. There's the initial desire to distance and highlight contrasts, but ultimately you must mine your own experience even if it's uncomfortable.
BLADE: How is it to be working in live theater again?
AYRES-BROWN: Like Christmas morning! It's my first play in five years, and still my training kicks in. I re-balance on my bike and it's like I've never stopped riding. But mostly, I'm trying to have as much fun as I can.
BLADE: And how was working with young director Jade King Carroll?
AYRES-BROWN: Wonderful! The play deals with some difficult moments, harmful language and ideas. Jade created a space in our rehearsal room where people could be playful while engaging with that. Dealing with concepts of history requires the seriousness it demands, but there's also a need for humor and lightness, and Jade made that possible.
BLADE: Any thoughts on "Red Velvet" being stuck in time?
AYRES-BORWN: No, I think this play is a shockingly contemporary telling of a lost history that feels overwhelmingly resonant as it's related to identity politics and the push for representation. I hope the audience sees a period but appreciates the present-day dynamics, discussions, and language. It's also surprisingly human and very entertaining. To me it's a very funny show. Anyone interested in laughing at posh British folks being stupid might agree.
Be prepared to clap for 'Nollywood Dreams' at Round House
Theatergoers asked to play audience of Nigerian chat show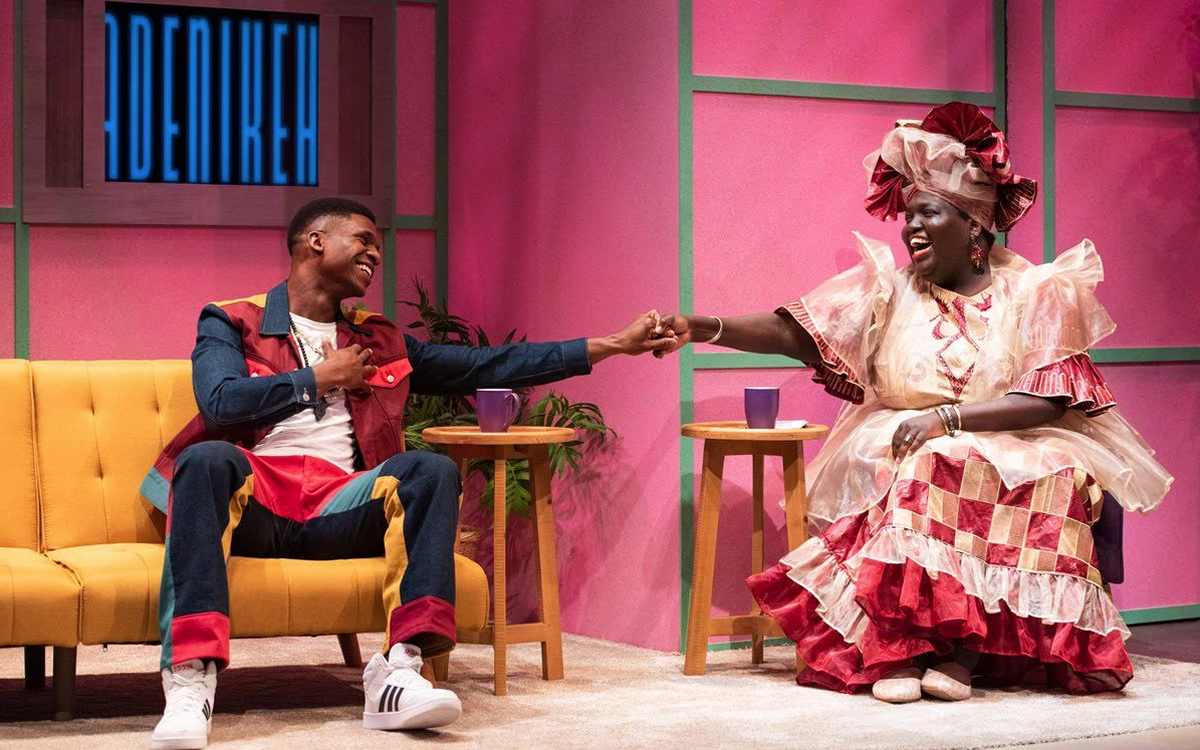 'Nollywood Dreams'
Through July 3
Round House Theatre
4545 East-West Highway, Bethesda, MD 20814
$55-$78
Roundhousetheatre.org
If you see "Nollywood Dreams" at Round House Theatre, be prepared to clap a lot, whether you like it or not.  For almost a third of Jocelyn Bioh's 100-minute-long comedy, theatergoers are asked to play the audience of an Oprahesque Nigerian chat show with a big personality host and large projected words (cheer, applause) prompting the house to make lots of noise. It's tough not to comply. 
Set in '90s Nigeria, it's all about Nollywood, the nickname for the Lagos-based film industry that ranks above Hollywood and second only to India's Bollywood in the number of films produced annually.
Decked out in fabulous traditional attire, the spirited finger-snapping TV host Adenikeh (Jacqueline Youm) leads with niceties before going in for the kill. Her big-name guests prove central to the story: director Gbenga Ezie (Yao Dogbe) recently returned home from America and looking to make a Nollywood hit; gorgeous veteran star Fayola (Yetunde Felix-Ukwu), who's counting on a comeback to revive a slipping career; and Wale Owusu, Nigeria's "Sexiest Man Born," played by the faultlessly cast Joel Ashur.
Glued to the TV in the office of the family travel business, sisters Dede and Ayamma Okafor (played by Renea S. Brown and Ernaisja Curry, respectively) faithfully watch Adenikeh's eponymous program, breathlessly taking in every Nollywood scoop and subsequent development. While elder sister Dede is content to swoon over male pulchritude, Ayamma has aspirations to be more than a fan, she wants to act. When director Gbenga holds an open casting call to find a fresh face for his new love triangle romance, "The Comfort Zone," she grasps at the chance.
A broad comedy broadly acted by an appealing cast, Bioh's storyline is predictable, a Cinderella story without surprise. It's a loud world seemingly inhabited by stock characters – the heartthrob, a shady film auteur, an aging film actress, squabbling sisters – but despite all, they aren't without nuance. The characters prove dimensional and worthy of some investment.
Also, along with the over-the-top comedy, Bioh's work refreshingly shows an Africa that isn't always presented on stage. People's dreams, desires, and relationships are set against a bustling urban sprawl culturally glued together by the cult of celebrity.
The action plays out on Jonathan Dahm Robertson's terrific revolving (sometimes dizzyingly so) set made up of three locales — the travel office, daytime TV set, and Gbenga's well-appointed Nollywood Dreams Studio (with the outsized signage to prove it). It's an energizing and memorable design.
Brandee Mathies's costumes are almost a show in themselves. Exuberantly colorful, they cleverly bring together traditional garb and western silhouettes with joyful flourishes of Nigerian flare. The showbiz folks are costumed, well, showier. It's short skirts and glittery stilettos for fan favorite Fayola, long touted for her Tina Turner legs.
A Ghanian-American writer, playwright and actor, Bioh grew up on Nollywood flicks. In fact, "Beyonce: The President's Daughter" (2006), one of her favorites, was an inspiration for "Nollywood Dreams." Her debut work "School Girls; Or, the African Mean Girls Play," an entertaining tale of teenage trials and tribulations set at a boarding school in provincial '80s Ghana was a great success for Round House in 2019.
And at the helm of Round House's current offering is Theater Alliance's producing artistic director Raymond O. Caldwell. As gay, Black, and Asian, Caldwell sometimes refers to himself as third culture. In this instance, the Helen Hayes-winning director has heartily plunged into Bioh's vision and with relish and created a piece rife with fun and feeling.
'Atemporal' explores intersection of misdiagnosis, identity
Sianna Joslin to star in D.C.'s latest one-person show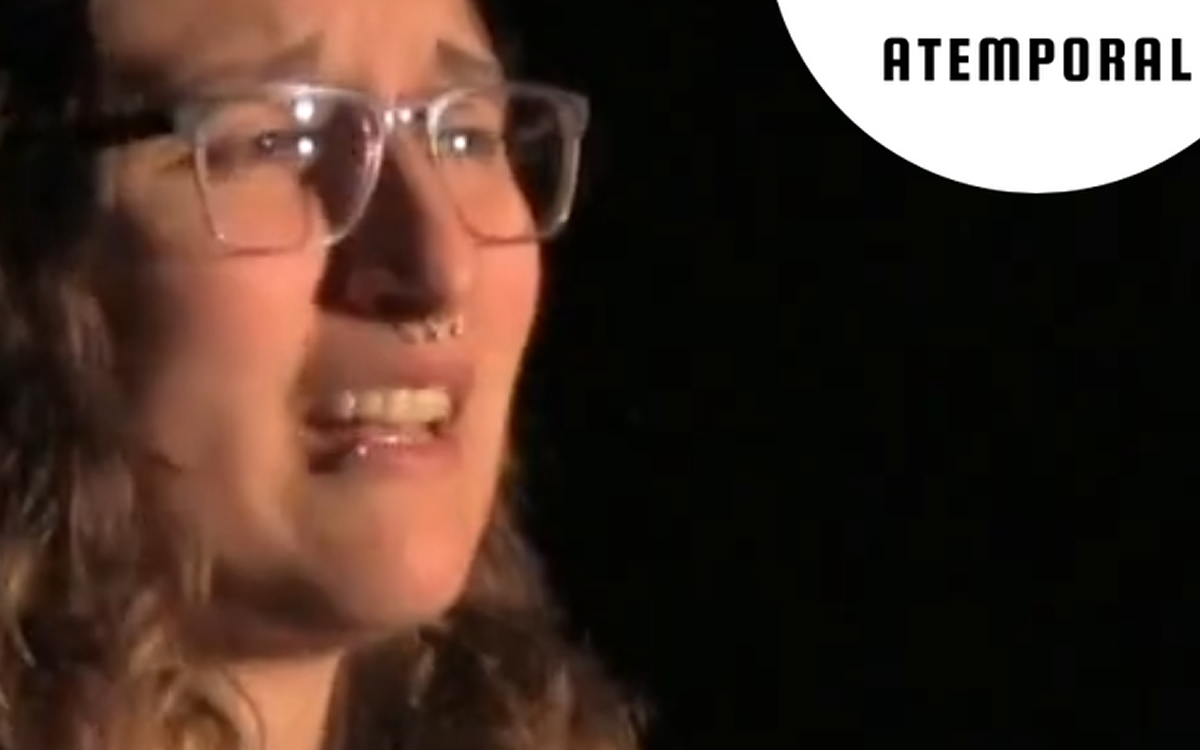 At age 16, Sianna Joslin learned they had a disability. They were diagnosed with temporal lobe epilepsy, a disorder associated with seizures caused by the excessive release of electrical signals from some of the brain's nerve cells. It would not be until a decade later they found out that, from the beginning, they had been misdiagnosed.
This unexpected discovery spurred a period of deep self-reflection, Joslin explained. When coming to terms with her initial diagnosis, she created a 20-minute standup show entitled "Temporal," discussing disability and sexuality. This July, she plans to circle back to her first performance with a new, autobiographical one-person show: "Atemporal," which explores misdiagnosis, disability, trans identity and grief.
"I just naturally gravitated towards the idea of having another show about it," she explained. "It's kind of a requiem for the version of myself that I had built out of this trellis of having a disability."
The show delves into their experience navigating relationships with both disability and gender identity, following Joslin's discovery that they were non-binary in the years following their diagnosis.
"When I got off my epilepsy meds, I realized that I was experiencing some form of gender dysphoria," they said. With "my brain kind of resetting, I viewed myself in an entirely different way. There's so many different intersections between disability, sexuality (and) gender identity."
In the performance, Joslin also looks at the experience of losing her father, and the grief that came from the experience. She never came out to him before his death, which complicates her experiences with memory and identity. The show also opens and closes with musical performances, tapping into Joslin's lifelong passion for music.
"Having done a similar show before, I know that it's emotionally draining," Joslin noted. "But it's so worth it at the end to be able to share something that's so personal."
Joslin hopes that those who do not hold identities examined in the performance — be they cisgender, straight or able-bodied — will be able to learn about experiences that differ from their own. And, perhaps more personally, they want those who relate to experiences outlined in the show to know that they are seen.
"Having been diagnosed with epilepsy for a decade is not something that happens every day," she said. "The individual experiences that I've had going to a club and not being able to look at the strobe lights or going to a concert and having to wear sunglasses, that impacts a lot of people with epilepsy."
"This is something that a lot of people experience," Joslin added, "and we can get through it together."
"Atemporal" will be performed in 3 Stars at 3270 M St. NW, Washington, D.C., on July 15 at 9:30 p.m., July 16 at 2:15 p.m., July 17 at 7 p.m., July 23 at 5 p.m. and July 24 at 6:30 p.m.
The show takes part in the 2022 Capital Fringe Festival, a series of shows hosted by local arts nonprofit Capital Fringe. Tickets can be purchased for $15, and more information can be found at the Capital Fringe Festival website or the show's webpage.