House resolution apologizes for treatment of LGBTQ troops, federal workers
U.S. gov't workers once faced explusion for being gay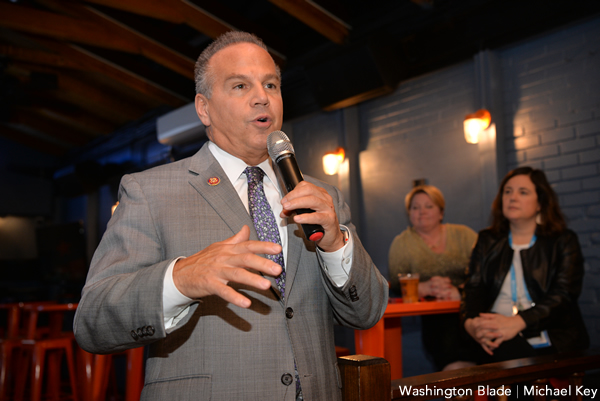 A new resolution introduced in the U.S. House apologizes for the federal government's treatment of LGBTQ federal civilian workers and U.S. service members, who were once subject to expulsion from their positions because of their sexual orientation or gender identity.
The measure, introduced on Wednesday by Rep. David Ciciline (D-R.I.), is a companion to an identical resolution introduced last month in the U.S. Senate by Sens. Tim Kaine (D-Va.) and Tammy Baldwin (D-Wis.).
"Our government spent years persecuting or wrongfully terminating LGBT individuals for no reason other than they loved the wrong person," Cicilline said in a statement. "The call to service is one of the greatest acts of patriotism, but to be denied that opportunity because of who they were is one of our country's greatest injustices. It's long past time the government acknowledged this horrific practice, apologize to those who were harmed and commit to full equality for all Americans."
LGBTQ federal civilian workers, Foreign Service officers and U.S. service members are addressed in the apology in the resolution. Although they can now serve in their positions freely, that is a change after decades of policy and law requiring them to be discharged for being LGBTQ.
The 1993 law known as "Don't Ask, Don't Tell" required the discharge of U.S. service members for being openly gay, although that law was repealed in 2010 under former President Obama. Previously, the U.S. military had an administrative policy that allowed investigations into service members and their discharge if they were found to be gay.
Civilian federal workers also have a history of facing discharge for being gay. Most famous is Frank Kameny, who was fired from his job in the U.S. government as an astronomer in 1958, prompting his work as a gay rights pioneer.
Most recent among the categories enumerated in the resolution are transgender service members, who until the Biden administration were essentially barred from military service as a result of policy under President Trump. Biden reversed that prohibition in his first week in office via executive order.
Joining Cicilline in introducing the resolution as an original co-sponsor is Rep. Mark Takano (D-Calif.), who along with Cicilline is an openly gay member of Congress and a co-chair of the Congressional LGBTQ+ Equality Caucus.
"LGBT civil servants and service members have served with honor, distinction, and often, in the face of intense discrimination and fear of termination," Takano said in a statement. "They heroically committed their lives to the betterment of our nation, only to be met with longstanding policies barring them from service or forcing them to conceal who they are. In our ongoing effort to create a more equal, inclusive, and accepting country, we must acknowledge our past shortcomings and reaffirm our commitment to treating all people with fairness and respect.
Damning N.Y. AG report on Cuomo ensnares HRC president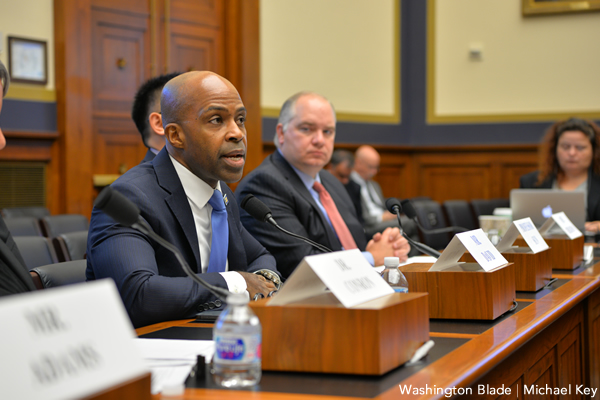 The damning report finding New York Gov. Andrew Cuomo violated the law by sexually harassing as many as 11 women on his staff has ensnared the president of the nation's leading LGBTQ advocacy group, Alphonso David of the Human Rights Campaign.
Although David insists the report does not indicate any wrongdoing on his behalf, the findings indicate after his tenure as counselor to Cuomo, that he kept the personnel file for an employee within the office accusing the governor of sexual misconduct, then assisted in efforts to leak that file to the media in an attempt to discredit her.
Further, the report finds David allegedly said he would help find individuals to sign their names to a draft op-ed that sought to discredit the survivor, but went unpublished, although he wouldn't sign the document himself. Also, the report indicates David was involved in the discussions about another staffer secretly calling and recording a call between a former staffer and another survivor in a separate effort to smear her.
The explosive report from New York Attorney General Letitia James sent shockwaves when it came out Tuesday at a time when the country is still grappling with the treatment of women in the workplace after the "Me Too" movement, prompting fellow Democrats — including President Biden — to call on Cuomo to resign. Cuomo has denied the conclusions of the report and not given any indication he'll step down from his position as governor.
Nearly a dozen references are made in the report to David, who prior to his tenure as president of the Human Rights Campaign served as counsel for Cuomo. In fact, the report came out on the two-year anniversary of David's joining the Human Rights Campaign after his time in public service for the State of New York.
Following the issuing of the report on Tuesday, David joined the chorus of high-profile individuals calling on Cuomo to resign as governor. David tweeted, "After reading the AG's devastating report that concluded Gov. Cuomo engaged in a pattern of sexual harassment, in violation of both federal and state law, he should resign." The tweet, however, ignores his mentions in the findings or alleged participation in discrediting sexual harassment survivors.
Criticism of David emerged from both the right and left in the aftermath of the report at a time when morale among many in the LGBTQ movement is low amid states advancing and enacting anti-transgender legislation and inaction on the Equality Act in Congress.
The Human Rights Campaign itself has had significant turnover, including in the communications department. Last year, the organization laid off 22 employees, citing the coronavirus pandemic, at a time when the latest IRS 990 for the organization revealed former president Chad Griffin and David drew combined compensation of more than $825,000 in fiscal year 2019. (From January-August 2019, Griffin earned $570,446 plus $18,771 in other compensation; David earned $229,332 and $7,016 in other compensation for the balance of that year after taking over the job.)
David, responding to the report on Cuomo in an email to board members of the Human Rights Campaign and in a phone interview late Tuesday with the Washington Blade, is standing firm in denying any wrongdoing.
In the email to board members, David said the findings "are beyond comprehension to me and they break my heart as a former employee," referencing the tweet he made calling for Cuomo to resign but also addressing the sections pertaining to himself. David confirmed the accuracy of the email to the Blade.
Maintaining he "had no knowledge of the allegations of harassment outlined in the report," David said he informed the board of ignorance on the issue "earlier this year" and except for one person, he doesn't know any survivors referenced in the report. Further, David said that one person "never disclosed" any allegations of sexual misconduct. David discloses his "substantive engagement" with this survivor "involved an investigation of her regarding allegations of racial discrimination by other employees."
"A final conclusion was ultimately memorialized in a privileged and confidential memo drafted and retained by counsel's office," David writes. "After initially being unable to find the file, the Governor's office requested a copy of the electronic memo from me which I provided (as I am required to do as a former counsel) but my copy was subsequently not relied on because the office found the full official file."
Addressing the unpublished op-ed intended to discredit the survivor, David writes Cuomo's office "had reached out to many former employees requesting that we sign a letter supporting the Governor and the office," but he "declined to sign the letter and it was never released."
Speaking with the Blade, David confirmed the survivor whom he knows is Lindsey Boylan, a former senior staffer for Cuomo, who was among the first to accuse him of sexual misconduct in the workplace last year.
Meanwhile, the board of the Human Rights Campaign has shown no sign of turning on David. In fact, HRC announced it renewed David's contract on his two-year anniversary for five more years.
Morgan Cox, chair of the Human Rights Campaign board of directors, and Jodie Patterson, chair of the non-profit Human Rights Campaign Foundation board of directors in a joint statement to the Washington Blade affirmed both boards "have full confidence in Alphonso David as president of the organization."
"In recognition of his extraordinary leadership during extremely challenging times, we were proud to extend his contract to stay on in his role for five more years," Cox and Patterson said. "For the last two years he has been boldly leading the organization as it works to achieve its mission: full equality for all LGBTQ people, in the midst of a global pandemic, a nationwide reckoning on racial justice, and the most important presidential election of our lifetimes."
Speaking with the Blade, David also said he has no intention of stepping down from his position as president of the Human Rights Campaign voluntarily.
"This is my life's work," David said. "I've been a civil rights lawyer for 20 years. This is what I've been doing, this is what I did in government. I wrote the marriage equality law. I drafted the Paid Family Leave Law, drafted the minimum wage law, drafted regulations to prohibit discrimination against trans people. This is my life's work. So, I intend to continue the work that I've been doing because the work of marginalized communities, the work to actually represent marginalized communities is too important."
David's role in the report stems mostly from the situation with Boylan. According to the report, Cuomo commented on her attractiveness, including comparing her to a former girlfriend; physically touched her on various parts of her body, including her waist, legs, and back; made inappropriate comments, including saying to her once on a plane, words to the effect of, "let's play strip poker"; and kissed her on the cheeks and, on one occasion, on the lips.
After Boylan went public, the report says Cuomo's aides "actively engaged in an effort to discredit her" as a survivor. Among the efforts cited in the report are "disseminating to the press confidential internal documents that painted her in a negative light and circulating among a group of current and former Executive Chamber employees (although not ultimately publishing) a proposed op-ed or letter disparaging Ms. Boylan that the Governor personally participated in drafting."
David is mentioned in the report both during his tenure as counsel to Cuomo and during his time as Human Rights Campaign president. As part of a workplace conflict in 2018 noted in the report as unrelated to the sexual harassment but otherwise not described, David in his capacity as counsel was charged with managing the situation, the report says. Boylan tendered her resignation from the governor's office. David, in his capacity as counsel, asked to create a file on Boylan and added the incident to her personnel file, according to the report.
After Boylan tweeted Cuomo is "one of the biggest abusers of all time" a secretary of Cuomo's, Melissa DeRosa, reached out to David, who was serving as Human Rights Campaign president, on Dec. 9 for a request to see the "full file" for Boylan. David said another staffer would have the information in her possession and be able to provide the file. Days later, David sent files relating to his investigation into Boylan shortly before her departure from the governor's office, the report says.
David is quoted in the report as saying he kept a copy of Boylan's files because it "may have been the only instance where [he] was actually involved in a counseling of an employee when [he] was in the Executive Chamber."
It's not immediately clear whether David keeping a confidential personnel file of an employee after leaving the workplace violates any laws. A New York State Bar Association spokesperson said the organization has "no ethics opinion on this issue.
The report, in a subsequent section, continues to address the personnel file from which Cuomo's office distributed unflattering information about Boylan, saying it came from "counsel's office," suggesting the information, at the end of the day, didn't come from David.
A connection between David and Boylan comes up again in the report in a discussion about a potential op-ed from Cuomo's office that was intended to discredit Boylan, but was never published. The report says David signaled he wouldn't be among the signatories of the letter, but would help gather signatures. According to a footnote in the report, DeRosa told other former staff members whom she had asked to sign the letter David said he would sign the letter "if we need him."
David, commenting on the unpublished op-ed when speaking with the Blade, said there were multiple iterations of the document in a draft form. Although one version was focused on more positive aspects of the workplace under Cuomo, David said another was more focused on Boylan and he wouldn't sign it.
"I wasn't willing to sign it because it included facts I couldn't verify," David said. "I was not aware of it. I wasn't personally involved and had no personal knowledge, so I refused to sign the letter and I think everybody else did."
David comes up in the report in the description of another survivor's account of Cuomo's alleged sexual misconduct, identified in the report by her first name Kaitlin.
After coming forward with sexual misconduct allegations, Kaitlin says she suspected she would be smeared for going forward, the report says. True to her predictions, Cuomo allegedly attempted to call her and surreptitiously record her, but nothing came of the effort, the report says.
David and other Cuomo staffers were involved in the internal discussion of plans to call Kaitlin and secretly record her in an effort to defame her, according to the report.
David, speaking with the Blade, said he doesn't deny that aspect of the report, but his role in the conversation about Kaitlin was limited and pertained to his duties as counsel to Cuomo.
"In that instance, it was simply asking me, in my role as a former counsel what the law was, not the context," David said.
Charles Moran, managing director of Log Cabin Republicans, was among those seizing on the report as evidence corporate donors should reconsider their support for the Human Rights Campaign.
"It should disturb every corporate donor to the HRC that its president Alphonso David colluded with Gov. Cuomo to smear one of the women Cuomo sexually harassed," Moran said. "Alphonso David's behavior is disqualifying and he should resign immediately, but the fault doesn't just lie with him. The Human Rights Campaign markets itself as champions for LGBT Americans. In reality, it champions left-wing Democrats – apparently even those guilty of sexual harassment – and bullies anyone who gets in their way."
Max Micallef, a queer rights activist who serves on the Advisory Council of EqualityNY and as the Public Policy Coordinator with GLSEN Lower Hudson Valley, issued a statement on Tuesday calling for both Cuomo and David to resign.
"We all deserve so much better," Micallef said. "The LGBTQ+ community does not stand for this level of complicity and cowardice. Along with Gov. Cuomo himself, Director McMorrow and President David must step down from their positions immediately as they have clearly failed to represent the interests of LGBTQ+ New Yorkers, and advocate against their systemic violence."
Monika Nemeth to run for Ward 3 D.C. Council seat
First known trans elected official in city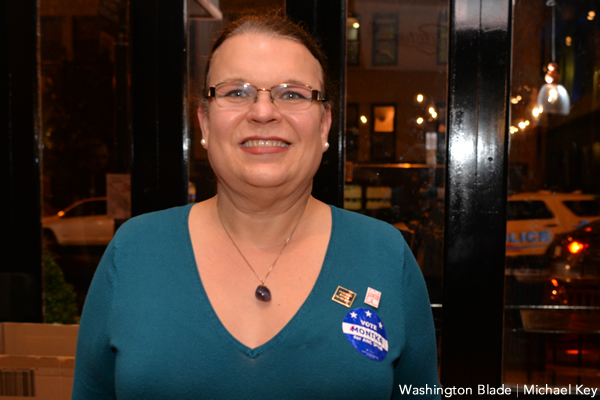 Ward 3 Advisory Neighborhood Commissioner Monika Nemeth, who became the first known transgender person to win election to public office in D.C. when she won her ANC seat in 2018, says she plans to run as a Democrat for the Ward 3 D.C. Council seat currently held by incumbent Democrat Mary Cheh.
Nemeth is a former president of D.C.'s Gertrude Stein Democratic Club, which recently changed its name to the Capital Stonewall Democrats. She currently serves as chair of the ANC Rainbow Caucus, which advocates for LGBTQ issues. She holds the seat for ANC 3F 06, which represents the neighborhoods of North Cleveland Park and Wakefield.
Nemeth's LinkedIn page says she has worked for more than 25 years in the Information Technology field. She says she currently manages a team of software developers for an IT company.
"Yes, I am planning a run for Ward 3 D.C. Council in 2022," Nemeth told the Washington Blade. "I will be running as a Democrat, so I plan to be on the Democratic primary ballot," she said. "I will pursue the public finance option for my campaign."
When asked what she would do differently from Cheh, who is a longtime supporter of LGBTQ rights and who is expected to run for re-election, Nemeth said only that she will announce her platform at the time she formally announces her candidacy, which she expects to happen in early September.
Cheh was first elected to the D.C. Council in 2006. She is an attorney and tenured professor of constitutional law at George Washington University Law School.
The Washington City Paper has reported that at least one other candidate is considering running against Cheh for the Ward 3 Council seat – Washington Metropolitan Area Transit Authority attorney Petar Dimtchev. Dimtchev received the Washington Post endorsement when he ran unsuccessfully against Cheh in 2018 as an independent, according to the City Paper.
Shelters for LGBTQ asylum seekers on Mexico-US border 'overwhelmed'
Nearly 50 people living at Jardín de las Mariposas in Tijuana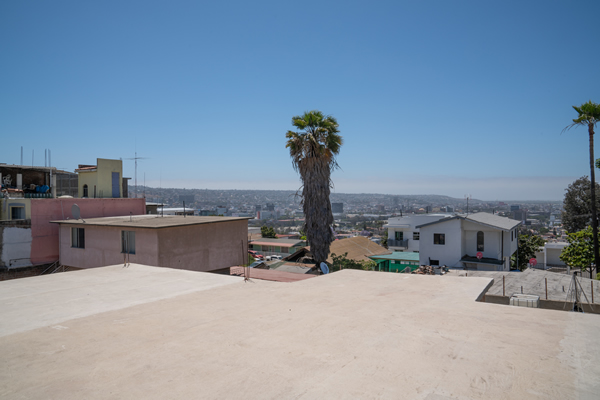 Editor's note: International News Editor Michael K. Lavers was on assignment for the Washington Blade in Mexico, Honduras and El Salvador from July 11-25.
TIJUANA, Mexico — Marvin is a 23-year-old gay man from Dulce Nombre, a municipality in Honduras' Copán department.
He left Honduras with a migrant caravan on Jan. 13, 2020, in order to escape the discrimination he said he would have suffered if his family and neighbors knew he is gay. Marvin spent eight months in the custody of Mexican immigration officials until they released him last November.
He was in the Mexican border city of Tijuana in April when a cousin told him his younger brother had been murdered. Marvin, who is currently living at Jardín de las Mariposas, a shelter for LGBTQ asylum seekers in Tijuana, began to sob when the Blade saw a picture of his brother's body in the morgue in San Pedro Sula, Honduras' second-largest city.
"He didn't mess with anyone," said Marvin.
Marvin is one of 47 people who were living at Jardín de las Mariposas when the Blade visited it on July 12. The shelter's maximum capacity is 40.
A lesbian woman who asked the Blade not to publish her name said she fled El Salvador in January after MS-13 gang members threatened to kill her because she could not pay them the money they demanded from her. She said members of 18th Street, another gang, attacked her son after he refused to sell drugs.
"They hit him very hard; very, very hard," the lesbian woman told the Blade at Jardín de las Mariposas, speaking through tears.
Olvin, a 22-year-old gay man from El Progreso, a city in Honduras' Yoro department, left the country in January.
He said he and his partner of three years lived together in Tapachula, a city in Mexico's Chiapas state that is close to the country's border with Guatemala, for several months. Olvin said gang members threatened them and they suffered discrimination because of their sexual orientation.
Olvin told the Blade he rescued his partner from an apartment building one night after he refused to sell drugs, and they ran to a nearby park. Olvin, who was crying when he spoke with the Blade at Jardín de las Mariposas, said he left Tapachula a few days later without his partner.
Olvin arrived at the shelter a few hours before the Blade visited. He said he wants to ask for asylum in the U.S.
"I want to live in a safe place," said Olvin.
Kelly West is a transgender woman who fled discrimination and persecution she said she suffered in Jamaica.
She flew to Panama City and then to Mexican city of Guadalajara before she arrived in Tijuana on June 16. West said she and a group of eight other LGBTQ asylum seekers tried to "run over the line at the border" between Mexico and the U.S., but Mexican police stopped them.
"We had to run for our lives," West told the Blade at Jardín de las Mariposas. "I even ran without my shoes. I jumped over a bridge."
She said she and three of the other asylum seekers with whom she tried to enter the U.S. went to another shelter for LGBTQ asylum seekers in Tijuana, but it was full. West said the shelter referred them to Jardín de las Mariposas.
"I really like it here," she told the Blade. "Here I can be who I want, I can dress how I want to. I can wear my heels, I can wear my hair. I can just be feminine everyday."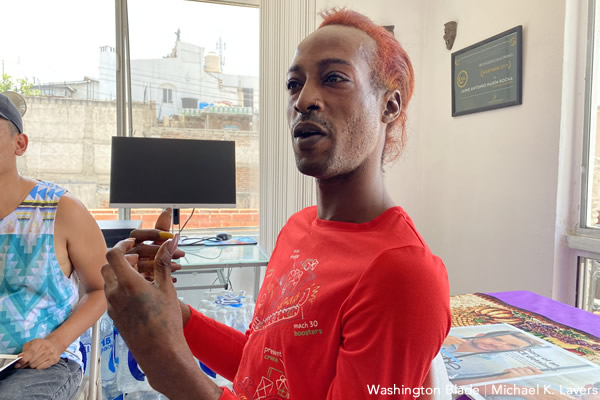 Jaime Marín, who runs Jardín de las Mariposas with his mother, Yolanda Rocha, noted some residents were sleeping in a tent in the backyard because the shelter is over capacity.
"We're overpopulated with a lot of residents," Marín told the Blade.
Title 42, a Centers for Disease Control and Prevention rule that closed the Southern border to most asylum seekers and migrants because of the coronavirus pandemic, remains in place.
Vice President Kamala Harris and other administration officials have publicly acknowledged that violence based on sexual orientation and gender identity is one of the "root causes" of migration from Honduras, El Salvador and Guatemala. The White House has told migrants not to travel to the U.S.-Mexico border, but Marín said the number of people who have traveled to Tijuana since President Biden took office has increased dramatically.
The previous White House forced tens of thousands of asylum seekers to pursue their cases in Mexico under its Migrant Protection Protocols program. The Biden administration on June 1 officially ended MPP.
"The process has been easier, which means they're no longer staying months or years," Marín told the Blade. "They submit their application, let's say today, and they get a response for a date in two weeks. They're basically in the United States within a month."
Marvin hopes to use the picture of his brother's body in the morgue and Honduran newspaper articles about his murder as evidence to support his asylum case. Marvin, however, has yet to find someone to sponsor him.
"My goal … is to go to the United States," he said.
Marín told the Blade the two other shelters for LGBTQ asylum seekers in Tijuana are also at maximum capacity. Marín said U.S. immigration officials are also "overwhelmed" with new asylum applications.
"It might take a little bit longer than a month because of the number of people that are basically coming and we just have to increase the work we do as well because we are getting a lot more work too," he told the Blade. "We are overwhelmed as well."
Fire destroyed lesbian-run Mexicali migrant shelter on July 9
Centro Comunitario de Bienestar Social (COBINA) in Mexicali, a border city that is roughly 2 1/2 hours east of Tijuana, is a group that serves LGBTQ people and other vulnerable groups.
It runs three migrant shelters in the city, which borders Calexico, Calif., in California's Imperial Valley. An electrical fire that destroyed COBINA's Refugio del Migrante on July 9 displaced the 152 migrants from Guatemala, El Salvador, Honduras and other countries who were living there.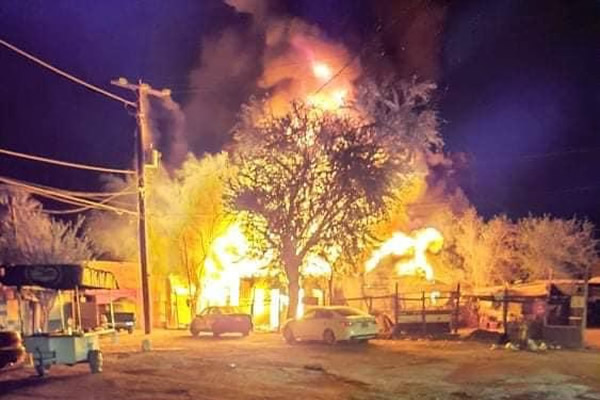 Some of the shelter's residents were living in COBINA's offices when the Blade visited them on July 12.
"We need resources to rebuild the shelter, to buy wood, to buy everything that is needed," COBINA President Altagracia Tamayo told the Blade.
The Organization for Refuge, Asylum and Migration has raised $2,600 for COBINA to use to buy clothes, food and diapers for the displaced migrants and their children. The ORAM funds will also allow COBINA to buy portable air conditioning units. (The temperature in Mexicali was 108 degrees when the Blade reported from there.)
Tamayo told the Blade that COBINA has been working with the U.N. Refugee Agency and the International Organization for Migration to assist the displaced migrants.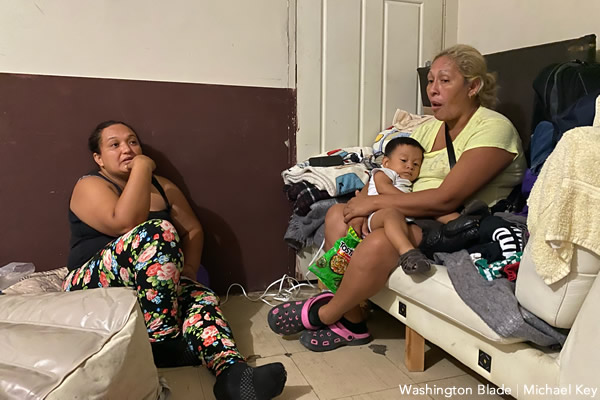 Jardín de las Mariposas moved into a new house in May. It is less than four miles from El Chaparral, the main port of entry between Tijuana and San Diego.
Alight, formerly known as the American Refugee Agency, recently worked with ORAM to install security cameras and purchase new furniture for Jardín de las Mariposas. They also painted the shelter and a mural, installed solar heaters on the roof, planted plants and renovated the backyard.
This work is part of Alight's "A Little Piece of Home" initiative that works to improve shelters for migrants and refugees along the border.
"This is beautiful because they are helping us and not letting us down," Marín told the Blade. "They're basically giving us hope to continue this fight that we have."