Comings & Goings
Alexander-Reid headed to LA-based tech startup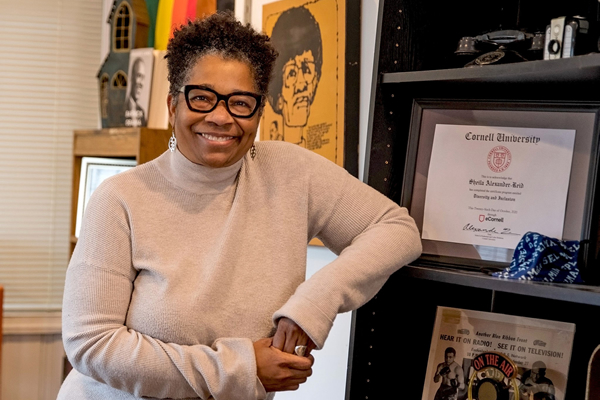 The Comings & Goings column is about sharing the professional successes of our community. We want to recognize those landing new jobs, new clients for their business, joining boards of organizations and other achievements. Please share your successes with us at [email protected]
The Comings & Goings column also invites LGBTQ college students to share their successes with us. If you have been elected to a student government position, gotten an exciting internship, or are graduating and beginning your career with a great job, let us know so we can share your success.
Congratulations to Sheila Alexander-Reid the new senior vice president of tech startup
BiasSync based in Los Angeles. Michele Ruiz, CEO of Bias Sync, said, "We started BiasSync to help businesses create more fair and respectful work environments. And we believe that assisting individuals to learn more about themselves helps make us all better humans."
Most recently, Alexander-Reid served as director of the D.C. Office of LGBTQ Affairs in the Office of Mayor Muriel Bowser. In that role she advised the mayor on the implementation of discrimination protections and diversity and inclusion policies that support D.C.'s LGBTQ residents.
Prior to that, she served as vice president of Strategic Branding and Digital Initiatives for the Washington Blade; director of Strategic Engagement and business development manager for the Washington City Paper; and is founder/principal of Branding4Change.
She was selected by Stanford University to conduct a groundbreaking "Privilege and Power" workshop at its Graduate School of Business Executive LGBTQ Leadership Program. In addition, she was a radio show host and programmer for "Inside Out" and founder of Women in the Life Inc./ Women in the Life Magazine/Women in the Life Association.
She earned her bachelor's degree from Spelman College in Atlanta.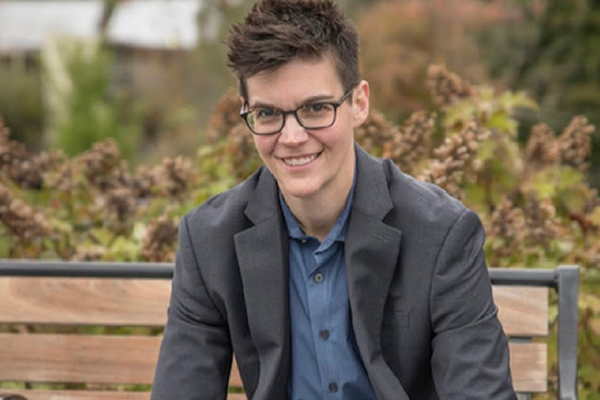 Congratulations also to Lee Westgate, MBA, on his new position as manager of Policy and Advocacy with the National Association of Social Workers (NASW). When accepting the position, Westgate said, "Being a social worker has been one of the great gifts of my lifetime. It is an honor and privilege to serve at NASW in this capacity and to engage in work that is both important and humbling. The broad portfolio of this work is absolutely essential in order to recognize the countless and routinely unseen contributions of social workers and to affect meaningful social change."
NASW is headquartered in D.C. and has 55 state/territorial chapters. Westgate will work in collaboration with numerous coalitions and other policy stakeholders to advance NASW's advocacy agenda. He is an out transgender advocate with more than 15 years of professional experience in social work policy, practice, research, and education. He has held numerous leadership roles and has served as an educational consultant to a variety of associations and organizational clientele. Westgate will continue to serve as a graduate faculty member and Clinical Instructor at the University of Maryland, School of Social Work.  
Westgate has contributed to many publications, including Population Health Management – The Social Work Connection, Social Work Today, 2017; Poised to Take the New Payment Leap, Provider Magazine, 2016 and The Limitations of Traditional EAP Metrics, Journal of Employee Assistance, 2008. He participated in the design of inter-professional curriculum through the University of Maryland focused on "Bridging Curriculum Gaps in Pediatric and Adolescent Transgender Care." He received a Superstar Award, Sinai Hospital in 2014.
Westgate earned a bachelor's degree in English with a minor in Philosophy from Dickinson College, Carlisle, Pa., and two master's degrees — in social work from the University of Maryland, the other in business administration from Towson University/University of Baltimore.
Vandals target 2 Rehoboth Beach LGBTQ-owned businesses
Staff discovers graffiti on walls, doors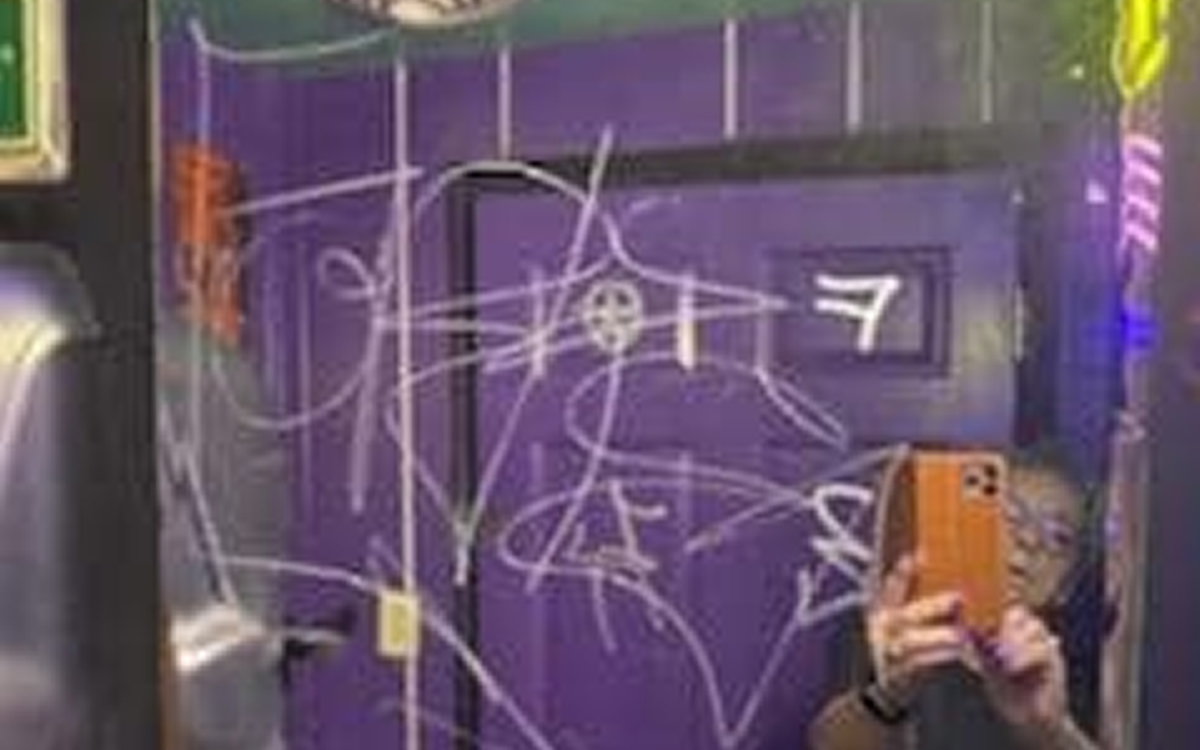 Freddie's Beach Bar and the Purple Parrot — two LGBTQ+ bars and restaurants in Rehoboth Beach — discovered that their establishments had been vandalized on Monday, according to a series of posts to the Purple Parrot's Facebook page made by Hugh Fuller, the restaurant's owner.
The vandal, whose identity remains unknown, painted on the walls and carved graffiti into the mirrors of the Purple Parrot's bathroom, and painted graffiti on the front door of Freddie's Beach Bar, the posts recounted. The establishments have since filed police reports with the Rehoboth Police Department.
Tony Rivenbark, a manager at Freddie's, said that a staff member first noticed the vandalism around 10:30 a.m. on Monday, and that it was dry to the touch, leading restaurant management to believe it was painted early in the day. Upon discovering the graffiti, restaurant staff reported it to local police and were told that other nearby locations had similarly been vandalized, he said.
Between its Rehoboth and Arlington, Va. locations, Rivenbark has worked at the establishment for almost two decades, and added that this was the first instance of vandalism at the Rehoboth venue, which has been open for less than one year. He noted that Freddie's management is currently reviewing security footage for further information, and is likely to soon install additional security cameras.
At the establishment's Arlington, Va., location, "we've had some minor spray painting done, we've had some rocks thrown at windows," he recounted. "Mostly I have attributed it to drunken antics, not so much hate. Hopefully that's the case here as well."
Rivenbark added that Freddie's staff remains positive despite the circumstances. "It doesn't seem like a huge issue. It's something we'll probably just paint over tomorrow," Rivenbark said. "I'd much rather it be some kid that's got a new little airbrush … than it being somebody that's targeting LGBT businesses."
The Rehoboth Beach Police Department declined to comment or to confirm details of the reports filed.
Pride Run returns after two-year hiatus
1,500 participants to join 10th annual event on June 10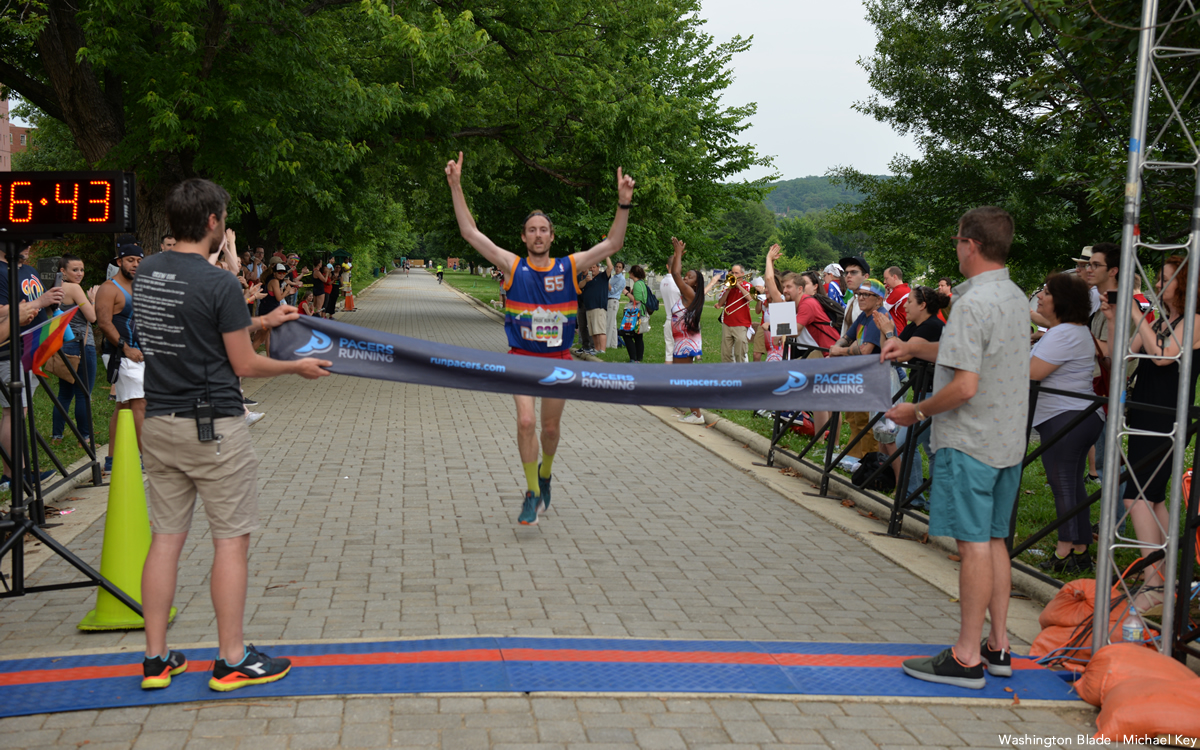 After a two-year pandemic hiatus that saw the Pride Run go mostly virtual, the DC Front Runners Pride Run 5K is elated to once again welcome nearly 1,500 runners, walkers, volunteers, and spectators back to the Historic Congressional Cemetery for their Tenth Anniversary Race on Friday, June 10.
As an official Capital Pride Partner Event, the Pride Run 5K kicks off Capital Pride weekend with a bang. Well perhaps more of a "On your mark, get set, GO!"
Join us as we run, walk, skip, shantay, and sashay on a course that starts near the cemetery's "Gay Corner" where many LGBTQ rights activists, such as Leonard Matlovich, are interred. The race then winds along the Anacostia Riverwalk Trail to finish where you started.
Gates open at 5 p.m. for packet pickup with the race beginning at 7 p.m. The post-race party includes beer and hard seltzer provided by DC Brau along with a DJ playing music until 9 p.m. Be sure to check out the return of the DCFR dance troupe performing to a hyped-up crowd.
Race proceeds benefit the following local LGBTQ and youth-supporting organizations via the Pride Run Foundation: Ainsley's Angels (National Capital Region), Casa Ruby, Team DC Student-Athlete Scholarship, SMYAL, The Wanda Alston Foundation, The Blade Foundation, and Teens Run DC. You can help support these amazing charities by registering for the race or donate directly at DCPrideRun.com.
A special thanks to the presenting sponsors, Capital One Café, Choice Hotels, KNEAD Hospitality + Design, Shake Shack, and Wegmans Food Market to the premier sponsors DC Brau, Pacers Running, and Wilkinson Barker Knauer, LLP, and our elite sponsors, AHF Healthcare Centers, Avalon Bay Communities, Casey Trees, Endorphin Fitness, and Starbucks, and of course our special partner the Historic Congressional Cemetery. Last, but not least, a big thank you to all individual donors who contribute via the race website directly to our incredible charity partners. Together, we proudly celebrate who we are in a festive, safe, and inclusive event.
Mattachine Society of D.C. donates documents to William & Mary
New LGBTQ archive established at Swem Library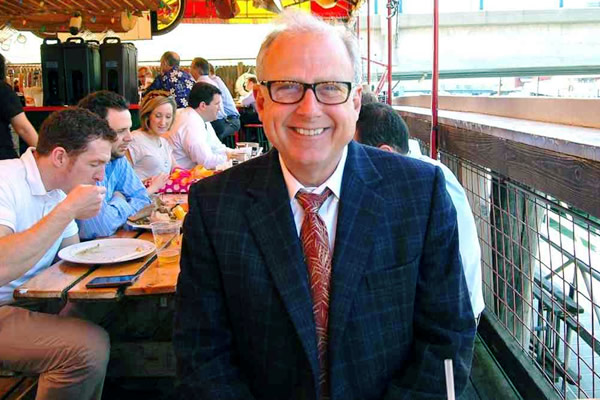 The Mattachine Society of Washington, D.C., the group that collects historic documents related to the federal government's discrimination against and persecution of LGBTQ people in past years, announced this week that it is donating all its documents to a newly created Archive of American LGBTQ Political and Legal History at the College of William & Mary.
The Williamsburg, Va., based college announced last week that its new LGBTQ archive is being established at its Swem Library in memory of the renowned gay historian John Boswell, who was a 1969 Bachelor of Arts graduate in history at the College of William & Mary.
"There are many fabulous collections of LGBTQ historical materials in libraries across the country, but this archive will have a unique focus on the political and legal architecture of the movement," said Carrie Cooper, dean of University Libraries at William and Mary.
"Our motto 'Archive Activism' brings us to this decision to donate all of our collection to William and Mary, for the benefit of historians, researchers, and students nationwide," said Charles Francis, co-founder of the reestablished Mattachine Society of Washington, D.C. The group was originally founded by D.C. LGBTQ rights pioneer Frank Kameny in the early 1960s as D.C.'s first politically active LGBTQ organization.
"This exciting new archive will collect materials that illuminate the history of LGBTQ Americans' struggle to secure their rights through the political process and legal systems of the nation," according to LGBTQ rights advocate and former William & Mary Rector Jeff Trammell.
Trammell is donating to the new archive material collected from his tenure as the first openly gay board chair of a major public university, a statement released by William & Mary says. It says Trammell's donation is the second donation after the Mattachine Society of Washington, D.C., which made the first of what is expected to be many more LGBTQ-related documents to be donated to the new archive.
The Mattachine donation includes "original, declassified documents obtained by meticulous research into sources such as the Library of Congress, the National Archives and Records Administration, numerous presidential library archives, and public and university libraries, to name just a few, according to attorney Pate Felts, the other Mattachine co-founder.